Cubs star Kris Bryant stays humble despite MVP spotlight
Updated March 23, 2017 - 1:47 pm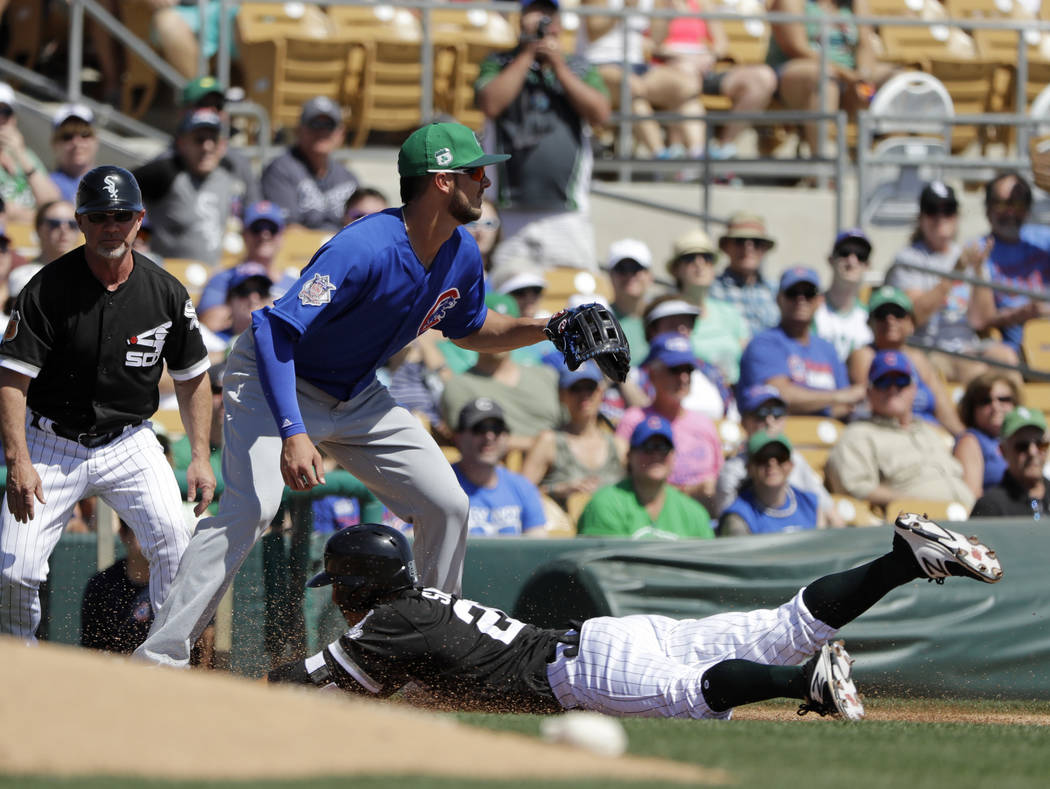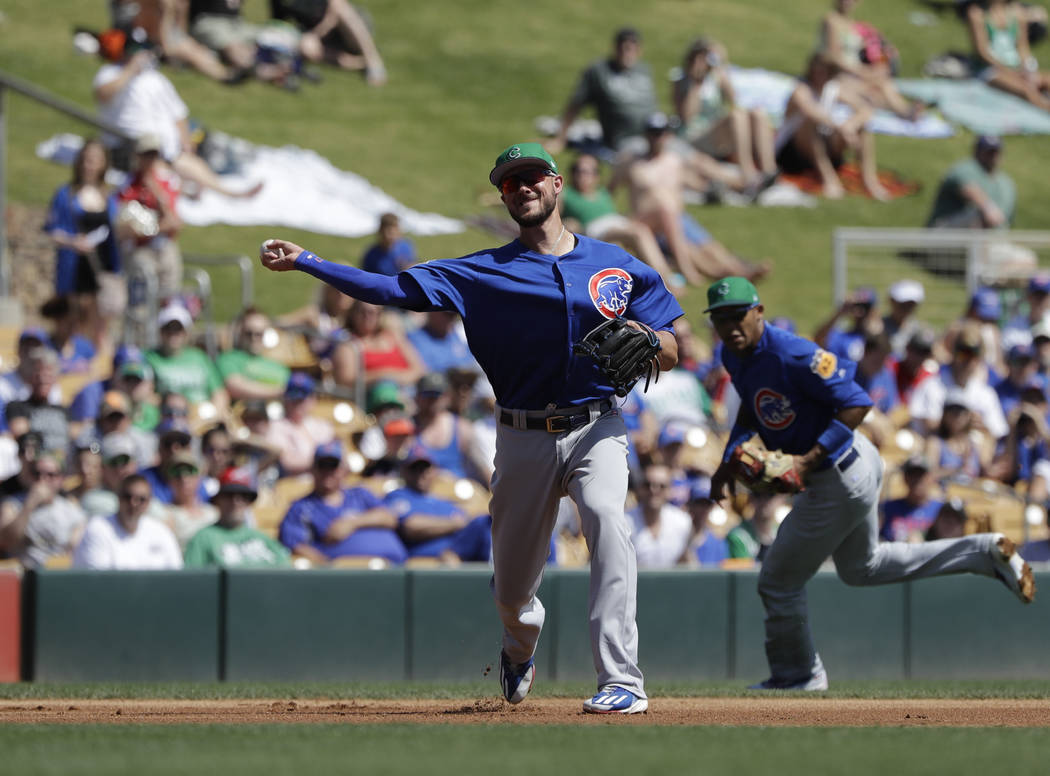 MESA, Ariz. — Kris Bryant was browsing furniture selections at RC Willey with his wife last offseason when he was approached by an autograph seeker, baseball in hand.
It's commonplace now for Bryant to be stopped when he leaves the house, but while out furniture shopping, it caught him a bit off guard.
Bryant has had a whirlwind past two years, being named the National League Rookie of the Year in 2015 and league Most Valuable Player last year while helping the Chicago Cubs break a 108-yearlong World Series championship drought. In the process, he's emerged as one of the faces of Major League Baseball.
But while the 25-year-old will return to his Las Vegas hometown with the Cubs to play in Big League Weekend on Saturday and Sunday at Cashman Field with plenty of accolades to his name, he remains the same person he's always been, unfazed by his burgeoning superstardom.
"There's no need for me to change who I am just because I'm on a stage with brighter lights. I'm going to be the same person that got me to this point," said Bryant, a Bonanza High School graduate. "That's just how I look at it and how I was raised. My parents were always really good role models for me, so I just follow in their footsteps."
That means he's still going to spend hours at the cage at his parents' house under his father Mike's watchful eye during the offseason, and he's still going to abstain from alcohol, eschewing parties for Netflix.
Bryant, a self-described homebody, is now learning how to balance his fame while maintaining a sense of normalcy off the field.
Once Mike Bryant, a former minor leaguer, realized his youngest son had what it took to reach the big leagues, he started preparing him.
"I said, 'You know, you're not going to know until you experience it, all the attention you're going to get, you just have to be respectful to people. It's going to be a pain in the butt at times, but if you just be yourself, you're going to be fine,' " Mike Bryant said.
"The fame and stuff, he's not going to get egotistical. He's just not that way."
On a recent golf outing last offseason with friends, Kris Bryant was approached by a group of fans before teeing off.
Bryant obliged all the requests for photos and autographs, delaying his tee time.
"He easily could have been like, 'I'm out of here to have fun (and) play golf,' and kind of blow them off, but he's not that kind of person. He just took the time and said hello to everybody," said former little league and college teammate Paul Sewald, now a New York Mets prospect. "It's crazy to see that just because he just seems like Kris to us, but to the rest of the world, he's the MVP."
'JUST SCRATCHING THE SURFACE'
Cubs shortstop Addison Russell has a theory.
It's one NL pitchers would prefer not to be true, but Russell, who has a front-row seat to everything Bryant does on the field, is steadfast.
"He's just scratching the surface," Russell said twice in a two-minute span.
And if that's true, watch out.
Bryant, an All-Star in each of his first two seasons, hit .292 with 176 hits, a league-leading 121 runs scored, 39 home runs and 102 RBIs last season.
He also cut down on strikeouts in his MVP season, going from a league-high 199 in 2015 to 154 last season. His focus this year has been on improving his opposite-field hitting, spending hours with his father in the cage.
"Kris has worked really hard for what he's got. He wasn't anointed, if you will," Mike Bryant said. "He's always operated under the radar. He's been a great player all his life, but he's always operated under the radar. He knew he had to work for it."
The reason Bryant could operate "under the radar," so to speak, was because of another kid across town, who at age 16 was on the cover of Sports Illustrated with a bold headline "Baseball's Chosen One."
This week, as the MLB season nears its return, Bryant is on the cover of Sports Illustrated, not Bryce Harper.
In the story, Bryant is deemed "baseball's crown prince."
If it wasn't obvious already, there's no more operating under the radar for Bryant, on the field or in public.
"I've always said I like to sit on the couch and watch my TV shows and just feel like a normal person. I think that's kind of what keeps me grounded, keeps me who I am," Bryant said. "It's a balance that you have to go out there and you have to learn. It's part of the learning process of coming into Major League Baseball, but I wouldn't have it any other way. I'm enjoying it every step of the way."
Contact Betsy Helfand at bhelfand@reviewjournal.com. Follow @BetsyHelfand on Twitter.
BIG LEAGUE WEEKEND
Who: Cincinnati Reds vs. Chicago Cubs
Where: Cashman Field
When: 1:05 p.m. Saturday and Sunday
Tickets: Sold out