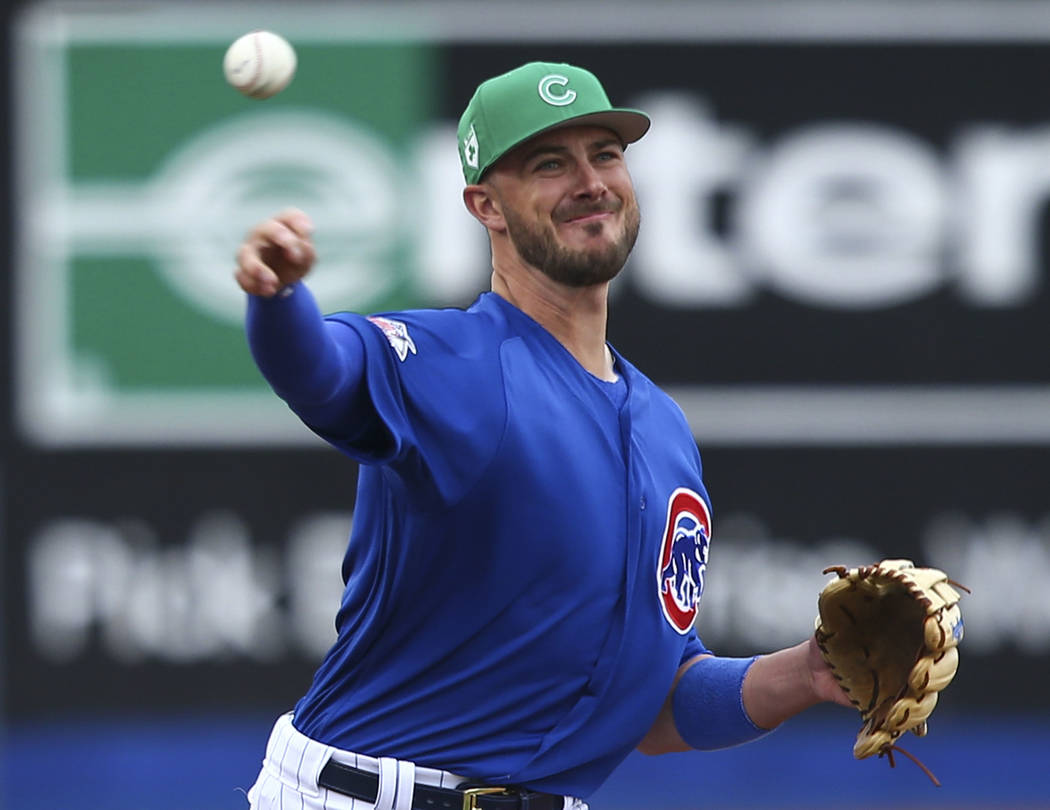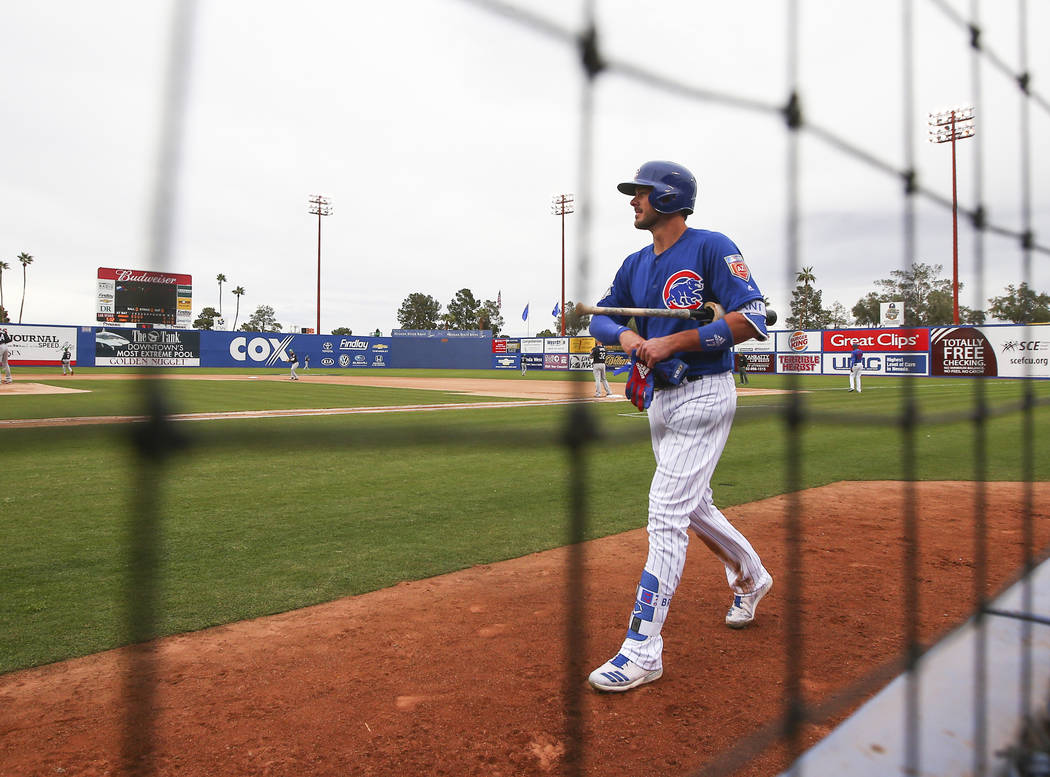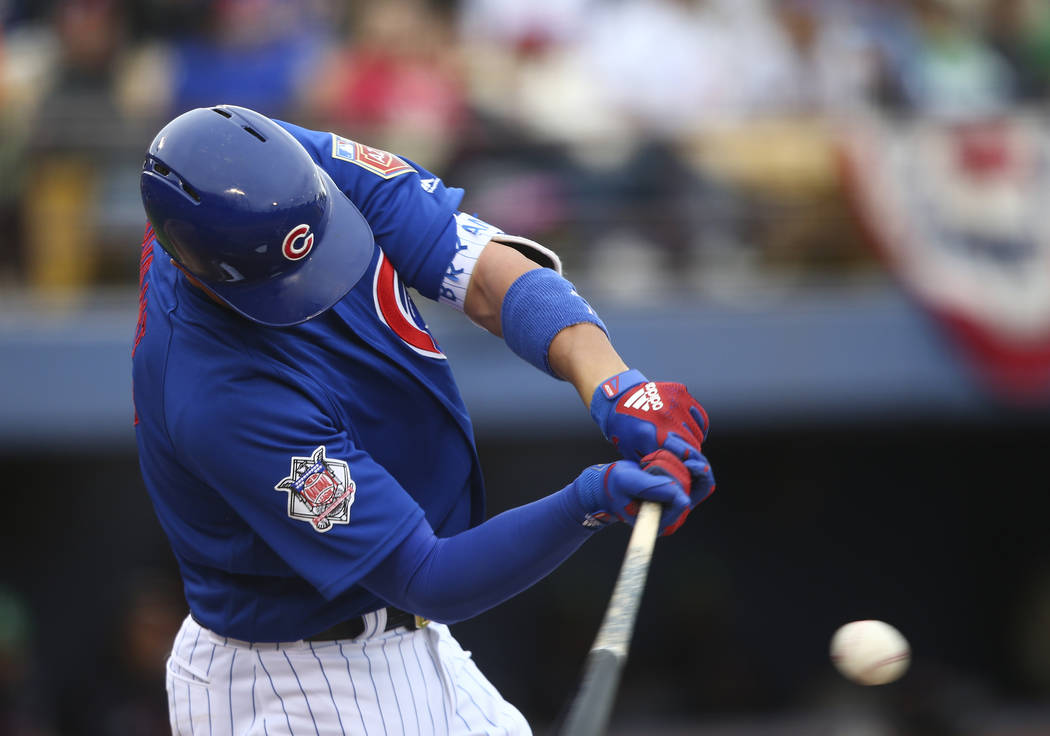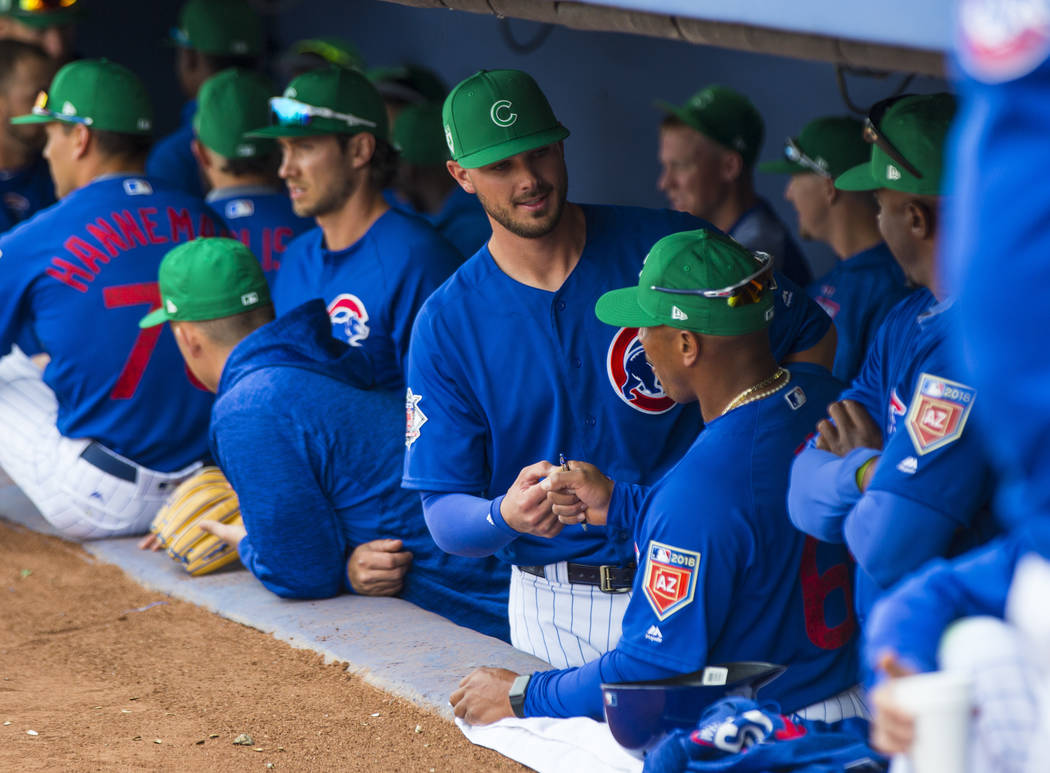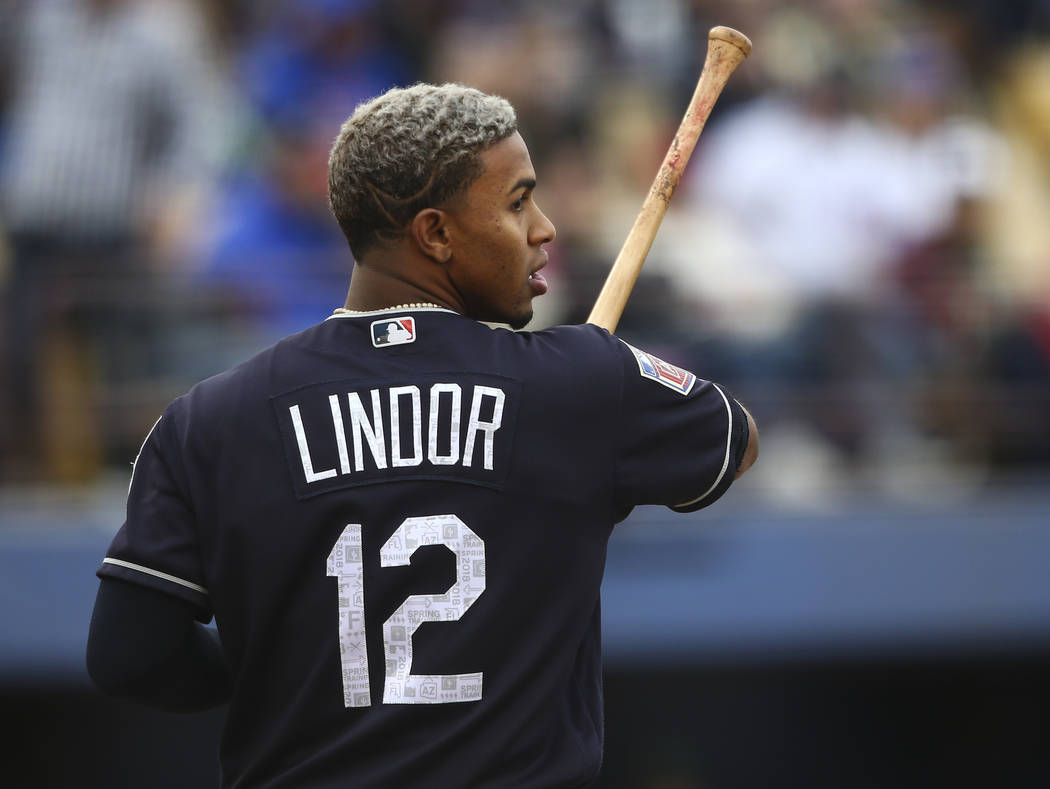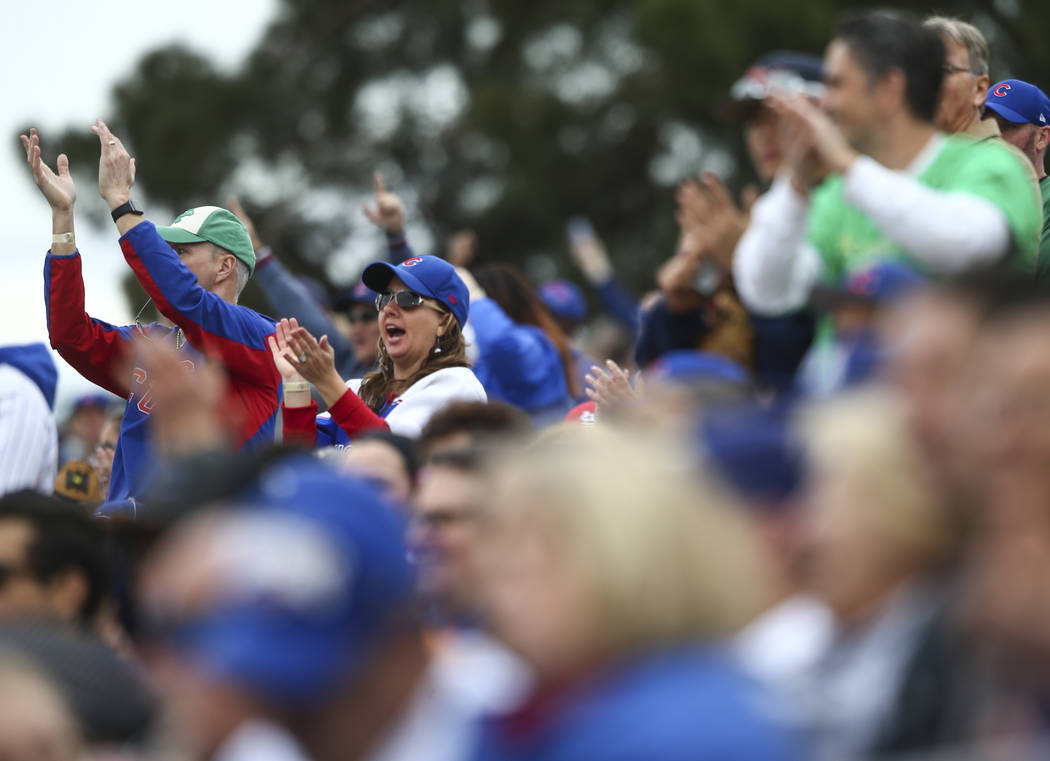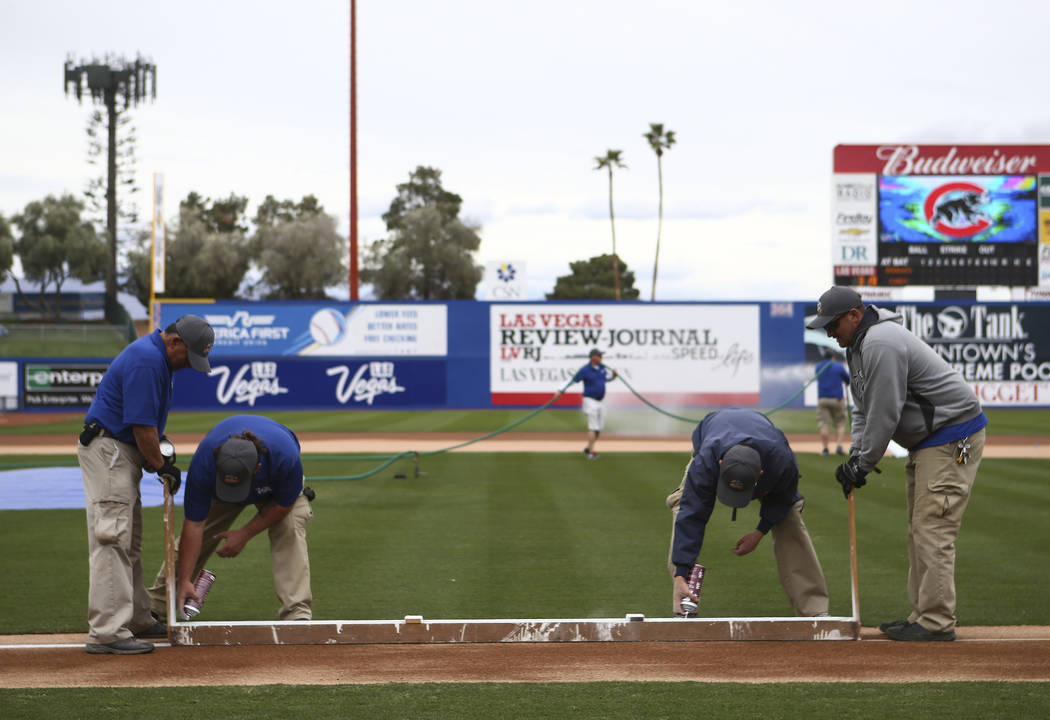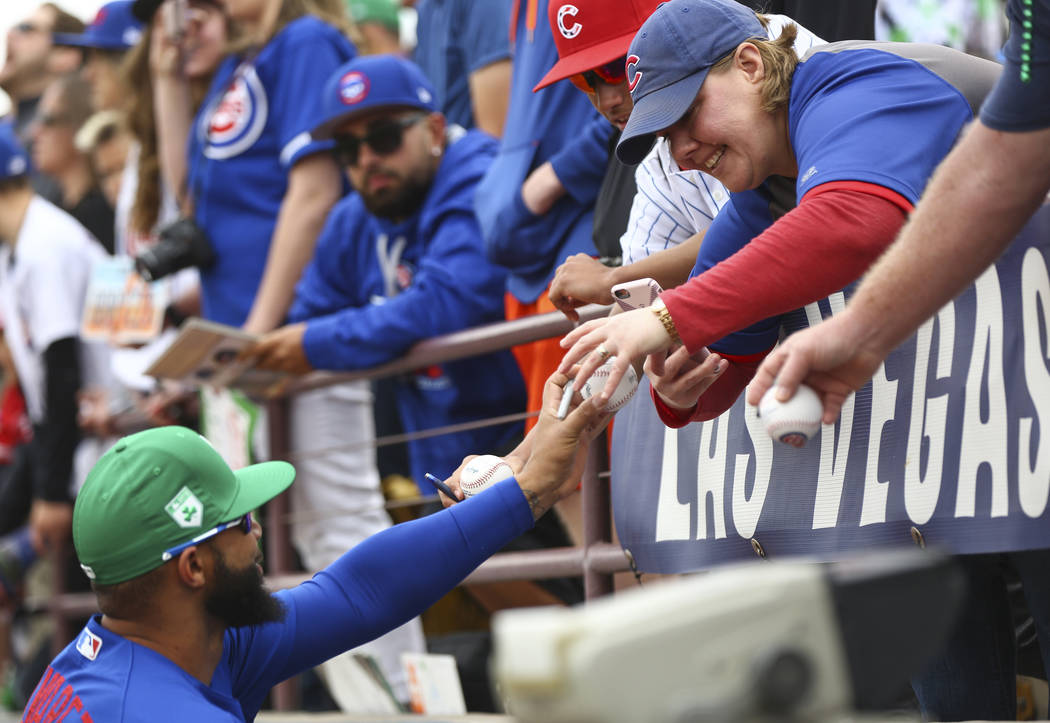 He's the star of the weekend, surrounded by fans and autograph seekers everywhere he turns at Cashman Field.
Kris Bryant doesn't seek this attention. It just finds him, especially in Las Vegas. But he thoroughly enjoys visiting his hometown.
The Bonanza High graduate is with the Chicago Cubs, who defeated the Cleveland Indians 11-4 on Saturday, as part of Big League Weekend. It's a trip he looks forward to every year.
"Growing up having a pro team in Vegas, it's just something that you look up to these guys, and now I'm kind of on that same field as them," Bryant said. "It's been really special for me."
Fans swarm the humble superstar, who at age 26 already has been National League Rookie of the Year (2015), NL MVP (2016) and a two-time All-Star. The third baseman also has played in three consecutive NL Championship Series.
Bryant has been making the Cubs' annual trip to Las Vegas since he was drafted second overall in 2013.
"Those first couple times I came, I guess I was a little nervous." said Bryant, who singled in three at-bats Saturday before leaving the game after four innings. "A lot of people here, a lot of my family, and you just want to impress them, but where I'm at now in my career and kind of settled in, now I really just enjoy this and enjoy playing in front of my (family)."
Bryant hit .295 with 29 home runs and 162 hits in 151 games last season for the Cubs, who lost to the Los Angeles Dodgers in the NLCS. He's excited about the team's chances this season, touting its offseason acquisitions.
"We made it to three consecutive NLCSes, and when you start getting spoiled over that, I think there's other things we need to look at, but we realize it's going to be tough to win the World Series every year, it's going to be tough to get there every year," Bryant said. "I think if we can just continue on what we've been doing, we've put ourselves in pretty good position."
The Cubs' season begins March 29 in Miami. But for Bryant, this weekend was all about coming home.
"This is something I always look forward to just because it's like a mini vacation before we start the whole season," he said. "It's nice to see family and friends and hang out at my house. I just can't get enough of this city. I love everything about it."
Contact Betsy Helfand at bhelfand@reviewjournal.com. Follow @BetsyHelfand on Twitter.
Game day
Who: Chicago Cubs vs. Cleveland Indians
What: Big League Weekend
When: 1:05 p.m. Sunday
Where: Cashman Field
Tickets: ticketmaster.com
Quintana, offense lift Cubs past Indians, 11-4
Cubs starter Jose Quintana threw six scoreless innings as Chicago defeated the Cleveland Indians 11-4 on Saturday at Cashman Field before an announced crowd of 10,651 for the first of two Big League Weekend games.
Quintana allowed one hit and struck out eight.
The Cubs struck early, scoring two in the first, two in the second, four in the third and one in the fourth.
Addison Russell hit a solo home run, Jacob Hannemann had a two-run homer and Mark Zagunis belted a three-run shot for Chicago. Russell, Hannemann and David Bote each had three hits.
Bonanza High graduate Kris Bryant singled in three at-bats for the Cubs. He played four innings.
Mike Napoli hit a two-run homer in the seventh inning for the Indians, and Brandon Barnes had a two-run shot in the ninth.