Las Vegas 51s' Beck Wheeler reflects on boating accident that altered career
Updated July 8, 2017 - 6:25 pm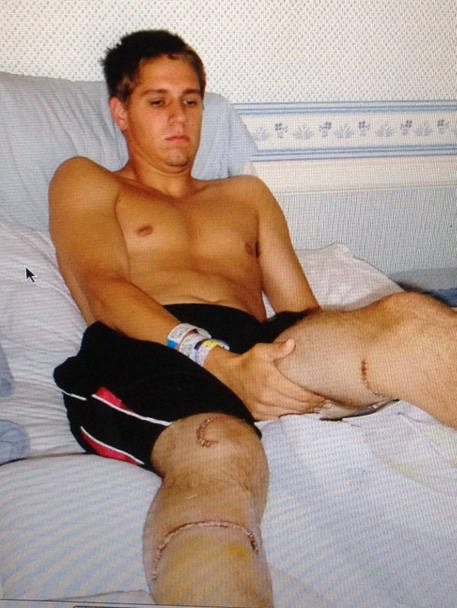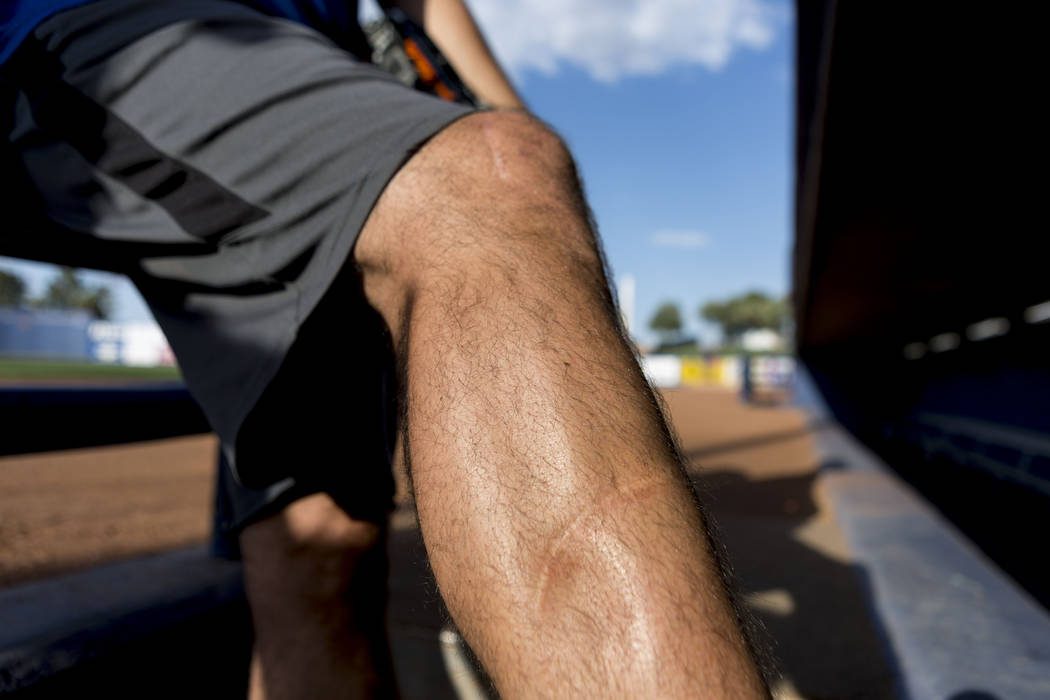 Beck Wheeler will head to the ballpark Sunday in Albuquerque, he'll stretch, he'll suit up in his No. 47 uniform and join his teammates in the bullpen. Maybe he'll pitch an inning or two. Maybe he won't.
In a season of 142 games, it's just another day for the Las Vegas 51s.
But Wheeler doesn't take those days for granted. The fact that he could get in a game is an accomplishment in and of itself because after a boating accident 10 years ago Sunday, Wheeler had no idea if he'd ever walk again, much less play baseball.
It was a phone call no parent wants to receive.
His parents, Karen and Jeff Wheeler, had gone over to Karen's grandmother's house, along with her aunt and uncle.
Karen had left her phone in the kitchen, not thinking much of it.
By the time her sister reached her, about an hour had passed.
She led the conversation with, "Beck is going to be OK, but…" That was somewhat of a relief, but still marked the beginning of a distressing phone call.
Beck, then 18, had gone out wakeboarding on July 9, 2007 on Mission Bay in San Diego with a group of his friends.
It was getting a little later in the evening but the sun was still beating down. Wheeler said he decided to jump in the water to cool off.
When he tried to get back up on the boat, he couldn't get the ladder down. The music was blaring on the wakeboard tower, and when he tried to yell for help, nobody heard him.
A friend operating the boat, thinking everybody was aboard, put the motor in reverse. Nobody was drinking and there were no drugs involved, according to Wheeler and his mother Karen. It was simply an accident.
"(It) kind of sucked me under and I pushed away from the boat as hard as I could and started swimming," Wheeler said.
His doctor later would tell him he was lucky. If he hadn't moved, he easily could have lost a leg.
Instead, it left him with deep lacerations on both legs. His left hamstring was severed and had to be reattached. On his right leg, Wheeler could see bone in two separate places.
"There were massive amounts of blood," friend Conner Greenspan said. "We thought initially that it was a shark attack, but then Beck started screaming that he got hit by a propeller. We kind of all froze."
'He might never walk again'
Luckily, one friend aboard was training to be an EMT. He sprang into action, jumping into water. Wheeler was out of the water within a few minutes with friends applying pressure to his legs with towels to help minimize the bleeding.
Wheeler was taken to the hospital where he underwent surgery from about 9 p.m. to early in the morning while friends and family crowded in the waiting room.
The end result was 84 staples and three stitches.
"We are very, very, very fortunate and very blessed that we have him with us still because it easily could have been the end of him," Karen Wheeler said. "At one point, we didn't even know if he was going to walk again."
Walking was one thing, but playing baseball was quite another.
The accident happened on a Monday. He was supposed to leave for Hawaii with his parents and best friend on Friday as a graduation present, so when he was at the hospital, he asked the doctor if he might still be able to go on the trip, not fully grasping the severity of his injury.
The response was that he might never walk again.
After about a week, he left the hospital and went home, beginning the rehab process.
A trainer came to his house to work with him. He went from a wheelchair to a walker and eventually crutches, before he could walk on his own. It took him about a month to walk again.
Wheeler was a shortstop, but the accident had limited his lateral quickness and mobility, so after his junior year, he took up pitching.
He wound up throwing just four collegiate innings. He has his accident to thank for altering the course of his career, though. Without the injury, he would have stayed a shortstop and doesn't believe he would have had a career post-college.
"The scars remind me. I see (them) and think about it maybe once a day, but it doesn't affect me," Wheeler said. "It's mostly a thanking God of a reminder, thanks for keeping me here and really a blessing in disguise that I started pitching because of it."
Making the most of it
Chris Becerra was doing his friend a favor.
Becerra, now the New York Mets' senior director of international scouting, was a friend of Wheeler's pitching coach in college. In 2007, he was a scout in Southern California and as a favor, he came out to watch Santa Barbara's six or seven seniors each throw a bullpen.
Wheeler knew he needed to stand out. He knew he needed to throw first or last. He decided to throw first.
The draft came and went. Wheeler wasn't selected. A day later, he received a call.
The Mets wanted to sign him as a pitcher — he had a fresh arm and they could mold him however they wanted.
"When he said 'Guess what? I'm going to sign with the Mets as a pitcher, we were like, 'Really?' " Karen Wheeler said. "And then he had to really teach himself so much. When he signed he thought, 'This is going to be great, there's pitching coaches that are going to teach me,' but he got there and they're "Okay you guys, you're here for a reason, you know what to do, go for it."
But Wheeler, 28, has worked his way through the minor-league system since 2011, reaching Triple-A for the first time last year.
Coming into Thursday, the right-hander was 3-3 with a 7.54 ERA in 37 innings.
"His curveball and his split finger are both major-league pitches. The one Achilles' heel he has from the start always been the fastball command," 51s pitching coach Frank Viola said. "You see glimpses of it, but you just don't see it consistently enough. I just pray that he's able to figure it out because his storyline, his makeup, his personality, it's everything you wish for in a kid."
Viola, who first met Wheeler in 2012, has never seen him have a bad day. A little bit down to him is "down tremendously for everybody else," Viola said.
"He was that close to not even having a chance to do something like this," Viola said, putting his thumb and index finger close together. "And now he's in his sixth or seventh year. He hasn't made it to the big leagues, but he's awful damn close. He's got to be thankful for the opportunity. … Those are the stories that you throw all this stuff out the window, and you just say thank God he's alive and enjoy every moment."
And that's what he's done.
Sunday will be 10 years.
He'll put on a gray No. 47 jersey and join his teammates in Albuquerque in the bullpen.
Maybe he'll pitch. Maybe he won't.
"When you look back and think that it's been 10 years since this happened, we easily could have lost him that night," Karen Wheeler said. "The 10 years that we've had with him, and the 10 years that he's had of living, he's definitely made the most of those 10 years and enjoyed every minute of them. I think he has such an appreciation for life and we're just going to celebrate that he's here with us."
Contact Betsy Helfand at bhelfand@reviewjournal.com. Follow @BetsyHelfand on Twitter.