Sewage problem resurfaces at Cashman Field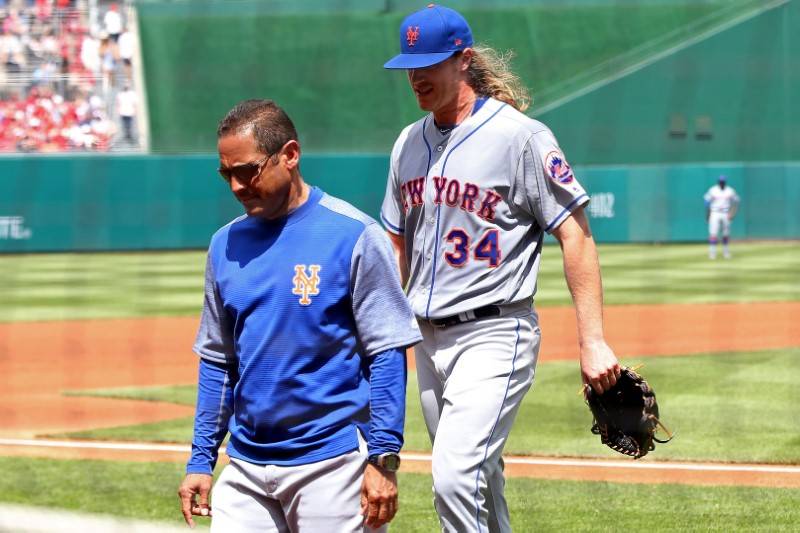 Two years ago, raw sewage backed up into the 51s dugout. The stench forced players out of the dugout and into plastic seats right in front of it.
That following offseason, Branch Rickey III, the President of the Pacific Coast League, wrote a letter admonishing the Las Vegas Convention and Visitors Authority, in it writing that the Cashman facility "is deteriorated," and that the problem was "representative of what are more regular and pervasive infrastructure issues."
Sunday, the sewage problem crept into a different area of the ballpark, backing up into the team's administrative offices and the convention center.
It was yet another reminder of why the 51s have been pushing for a new stadium in Downtown Summerlin for years.
With the Mets, hectic month of roster moves
It's been a hectic first month of the season filled with injuries and roster moves for the New York Mets.
Mets' ace Noah Syndergaard left Sunday's game with a possible lat strain, meaning the Mets might come calling down for a pitcher at some point. Three pitchers with Las Vegas — Paul Sewald, Rafael Montero and Erik Goeddel roster — though only Montero is a starter in Triple-A. Montero and Sean Gilmartin, who was recently called back up and pitched Sunday after Syndergaard left his start early, would be the most likely options for spot starts.
Both Lucas Duda (elbow) and Wilmer Flores (knee infection) went on the disabled list last week and would be eligible to return this week. They've both started rehab assignments with the St. Lucie Mets, though Duda had "slight elbow discomfort on full extension," setting him back.
Expect more of the same in May, meaning more of a roster jumble for the 51s.
Brandon Nimmo on rehab
Brandon Nimmo, who spent most of last season with the 51s, started his rehab this week for the St. Lucie Mets.
Nimmo has been out since mid-March when he strained his hamstring during the World Baseball Classic. He reaggravated in the injury later in spring and reportedly also suffered a bruise hand that set him back.
Nimmo started his rehab assignment on Wednesday. He collected a hit and three runs in his first game.
On Sunday, he went 2-for-5 with a home run and he has now played in five games for the St. Lucie Mets.
Upcoming at the park
After a hectic weekend at the park that included Star Wars Night with fireworks, a throwback jersey giveaway and Bark in the Park, the 51s will have more promotions in store for the rest of the homestand.
Monday, which will conclude the series against Albuquerque, will be Smith's Value Menu Monday. On Wednesday, the game will start at 10:35 a.m. as the 14th annual school day game, Thursday is Budweiser Dollar Beer Night and Friday will feature fireworks.
Contact Betsy Helfand at bhelfand@reviewjournal.com. Follow @BetsyHelfand on Twitter.