Tim Tebow goes 0 for 3 in debut for Mets — VIDEO
Updated March 8, 2017 - 5:49 pm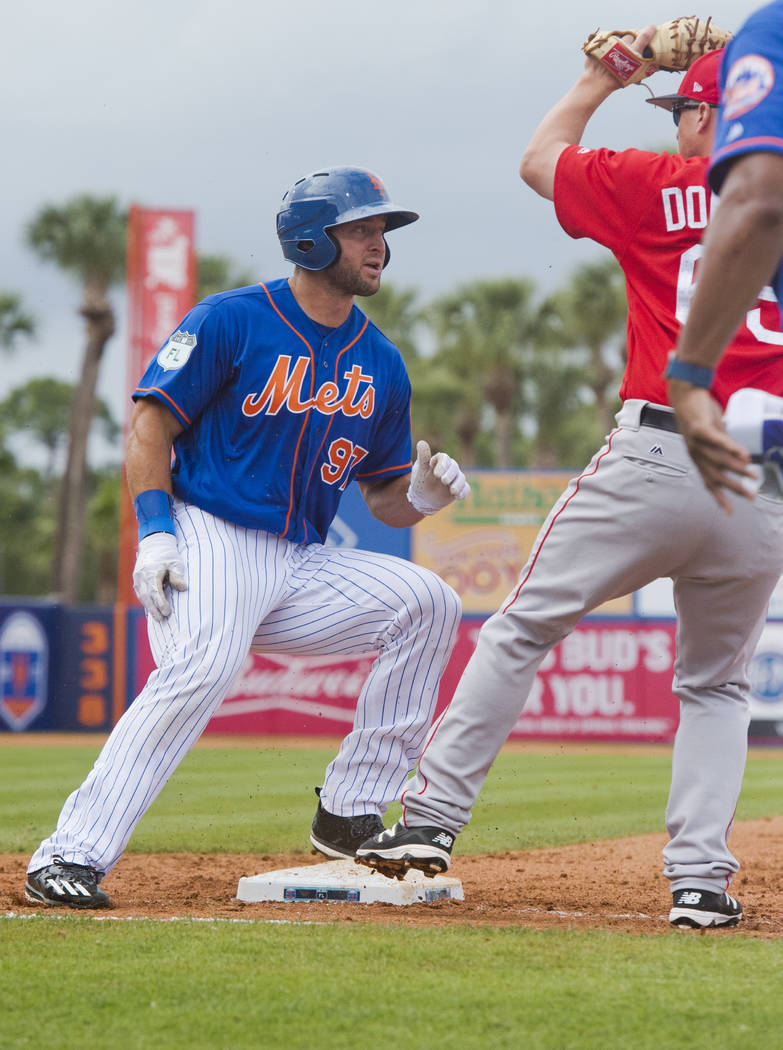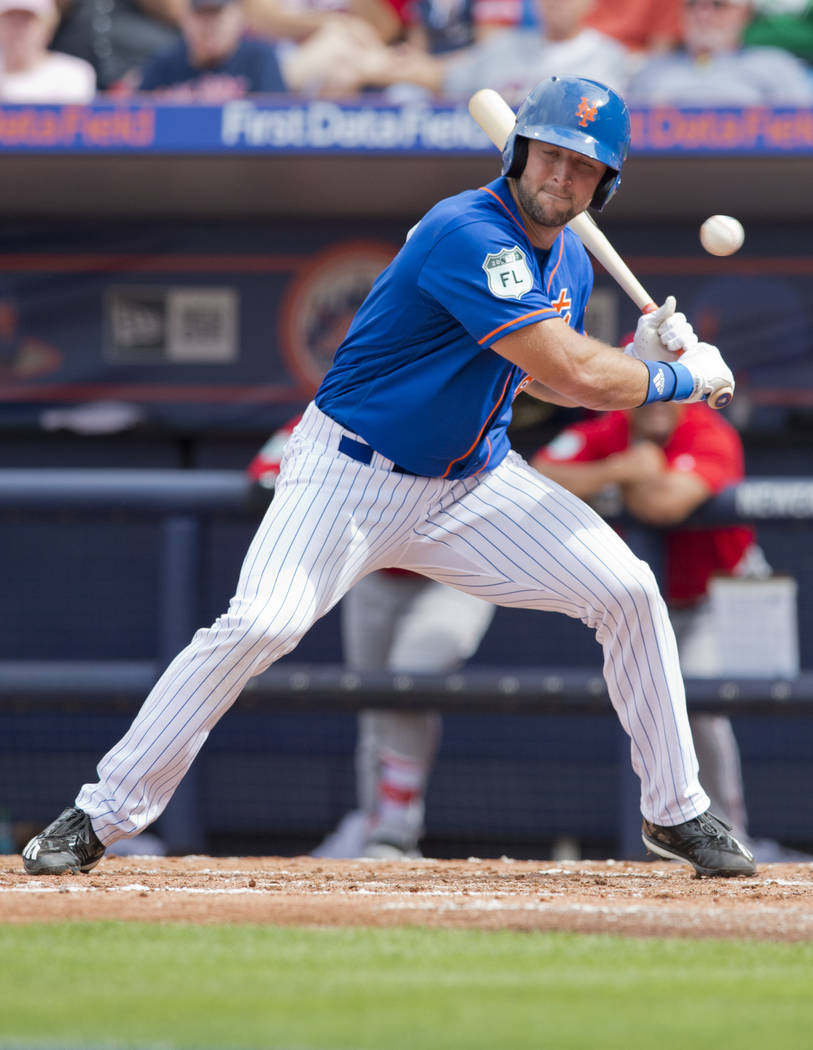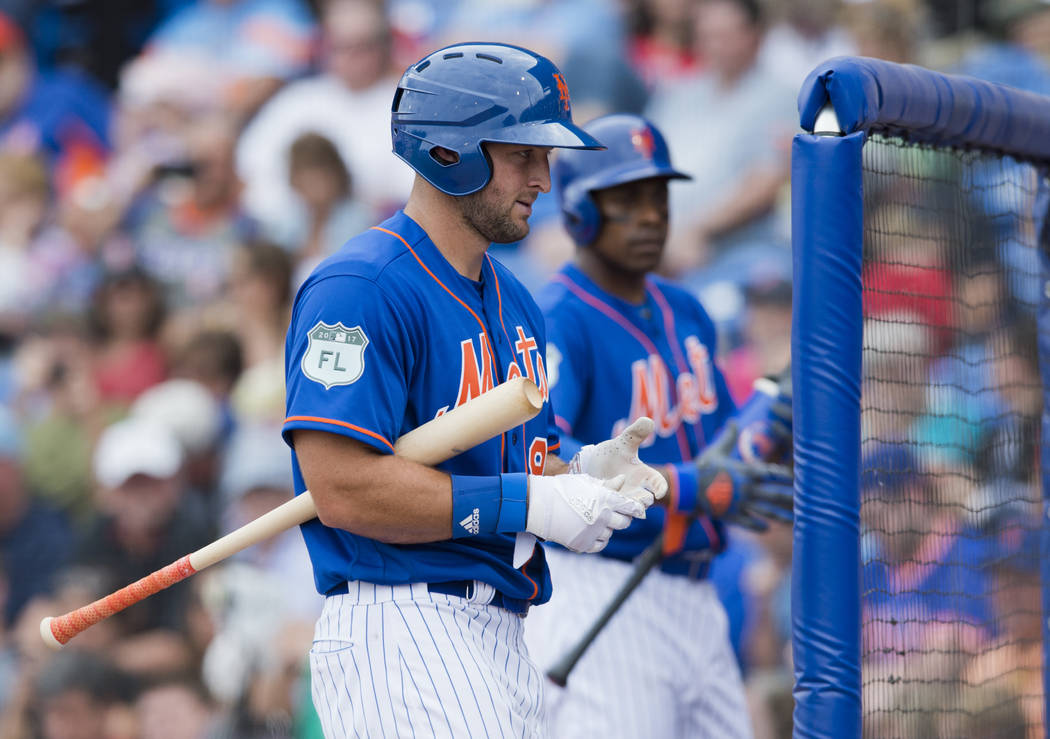 Tim Tebow made his first rookie mistake even before stepping into the batter's box.
The New York Mets newcomer walked behind home plate and took his practice swings near Boston's on-deck circle.
"I didn't know who that was back there. I thought it was the ball boy," AL Cy Young Award winner Rick Porcello said.
The former NFL quarterback's debut as a big leaguer didn't go much better Wednesday.
Tebow went 0 for 3, twice looking at strike three and also grounding into a double play with the bases loaded in a spring training exhibition against the Red Sox.
The 2007 Heisman Trophy winner did safely reach when he was hit by a pitch in the right shoulder from fellow Florida alum Brian Johnson. But Tebow's stay on base was brief — he got doubled off first on a line drive.
"It was a first day for me getting to compete. I'll learn a lot from it. It's kind of what I expected from a competition level," Tebow said after an 8-7 win.
The 29-year-old Tebow batted eighth as the designated hitter. Signed last fall, he's in camp on a minor league contract, hoping to make it as an outfielder. He's next scheduled to play for the Mets in a split-squad game Friday against Houston, and manager Terry Collins said Tebow would be in the field.
"With almost anything I do, I get a little nervous because I care about it, the outcome and my teammates," Tebow said. "But I'd also get nervous if I was going to talk to a high school football team before a game."
Tebow was set to lead off the third inning for his first at-bat. The lefty hitter emerged from the Mets' third base dugout and crossed over to the Boston side, drifting toward the Red Sox on-deck circle and inching his way into Porcello's view.
"I thought you walked around because you're a left-hander. I found out you don't do that," Tebow said.
Porcello threw a fastball past Tebow, then got him to look at strike three. Tebow had a smile and friendly word for plate umpire Ryan Additon after getting called out.
Porcello was struck on the pitching hand by Yoenis Cespedes' grounder in the fourth. The righty stayed in, but exited after Jay Bruce and Lucas Duda doubled.
"It's fine right now," Porcello said. "It happens quickly, so you're just trying to get the sting out of it. I was able to throw a couple of pitches, and the second warmup pitch I was able to get down in the zone, and didn't think it would affect me making pitches."
better. I've got a couple of mechanical things I'm still battling."
Porcello was 22-4 with a 3.15 ERA last season.