WNBA President Lisa Borders blesses basketball in Las Vegas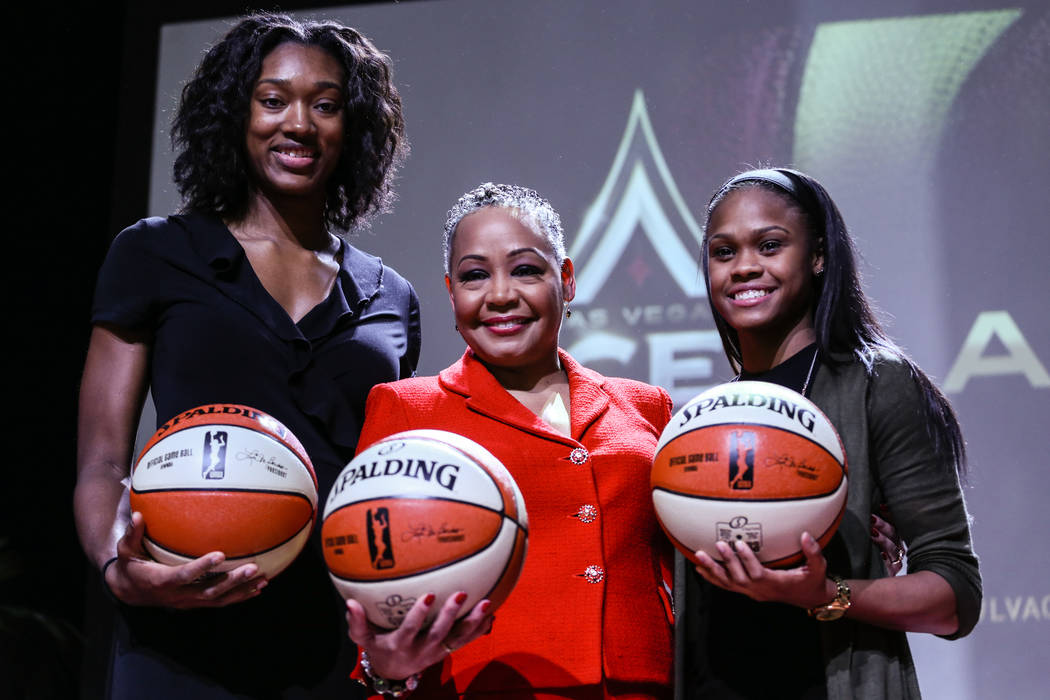 WNBA president Lisa Borders attended two home openers last week.
She made sure there was time for a third.
Borders arrived at Mandalay Bay Events Center on Sunday, and sat courtside to watch the Aces play the Storm in their first-ever regular season home game.
"To be a part of history, to plant the flag for professional basketball, it's a global sport — it's being played in 104 countries," said Borders, who helped christen the team, and its relocation from San Antonio, at its launch party in December.
"But it's being played here in Vegas now," she added, "and that says a ton about what Vegas thinks about professional basketball, in particular the (WNBA)."
Borders elaborated about the national importance and visibility of Las Vegas, which continues to grow as it welcomes professional franchises like the Golden Knights and the Raiders.
She highlighted the commitment from MGM Resorts International, who bought the team in the fall, and praised A'ja Wilson and Kelsey Plum, who were both selected No. 1 overall and figure to be foundational for the Aces and the WNBA.
"We are a dynamic young league at 22 years of age," she said. "This gives us the ability to be very nimble and very innovative in not only what we do, but how we do it."
Borders presented rings to the defending WNBA champion Minnesota Lynx at their opener last Sunday, and attended the New York Liberty's first game at Westchester County Center on Friday.
The Aces were a priority, too, she said, citing the importance of the the relocation. She praised the arena and its intimate feel, and seemed genuinely excited for the franchise and its potential in its new hometown.
"This is an inaugural launch for this team," she said. "You want to make sure that everybody from the league, everybody that's our fans today, our potential fans that this is important. How do you know that? Because the president is here."
More Aces: Follow our Aces coverage at reviewjournal.com/aces and @RJ_Sports on Twitter.
Contact reporter Sam Gordon at sgordon@reviewjournal.com. Follow @BySamGordon on Twitter.