NBA Summer League Day 9: Big games in losses; semifinals set
Updated July 15, 2023 - 10:18 pm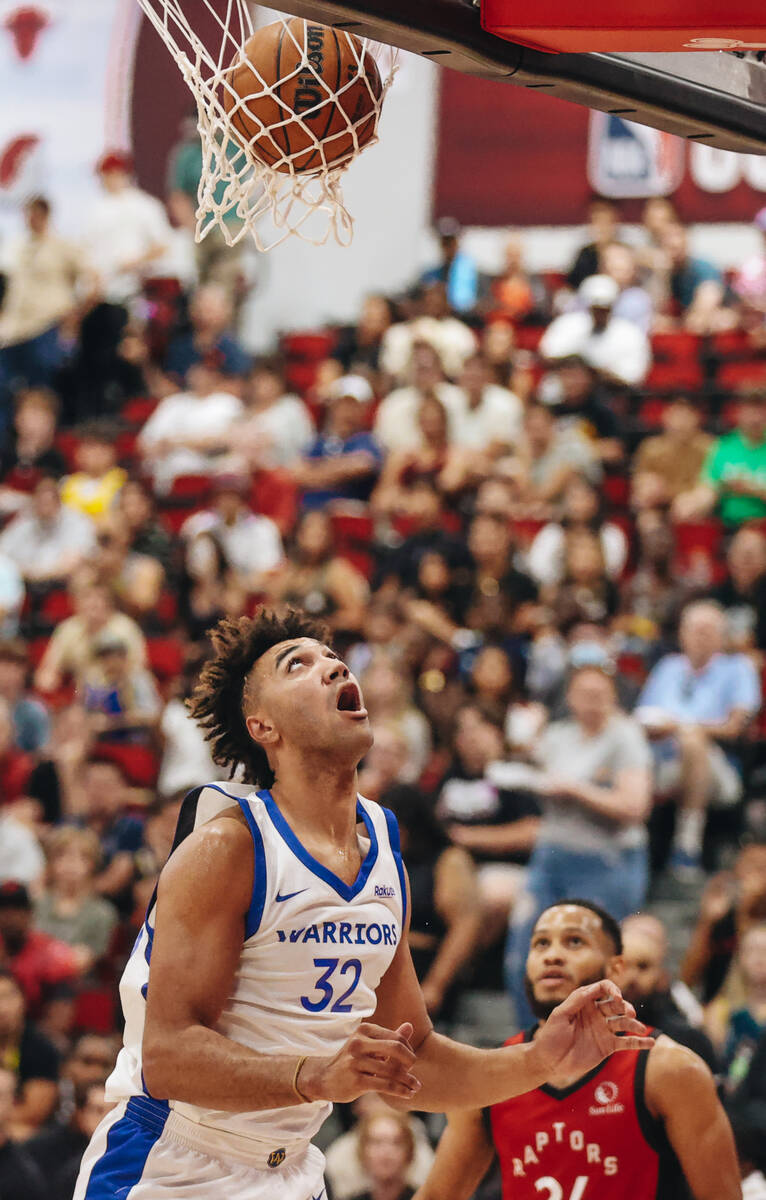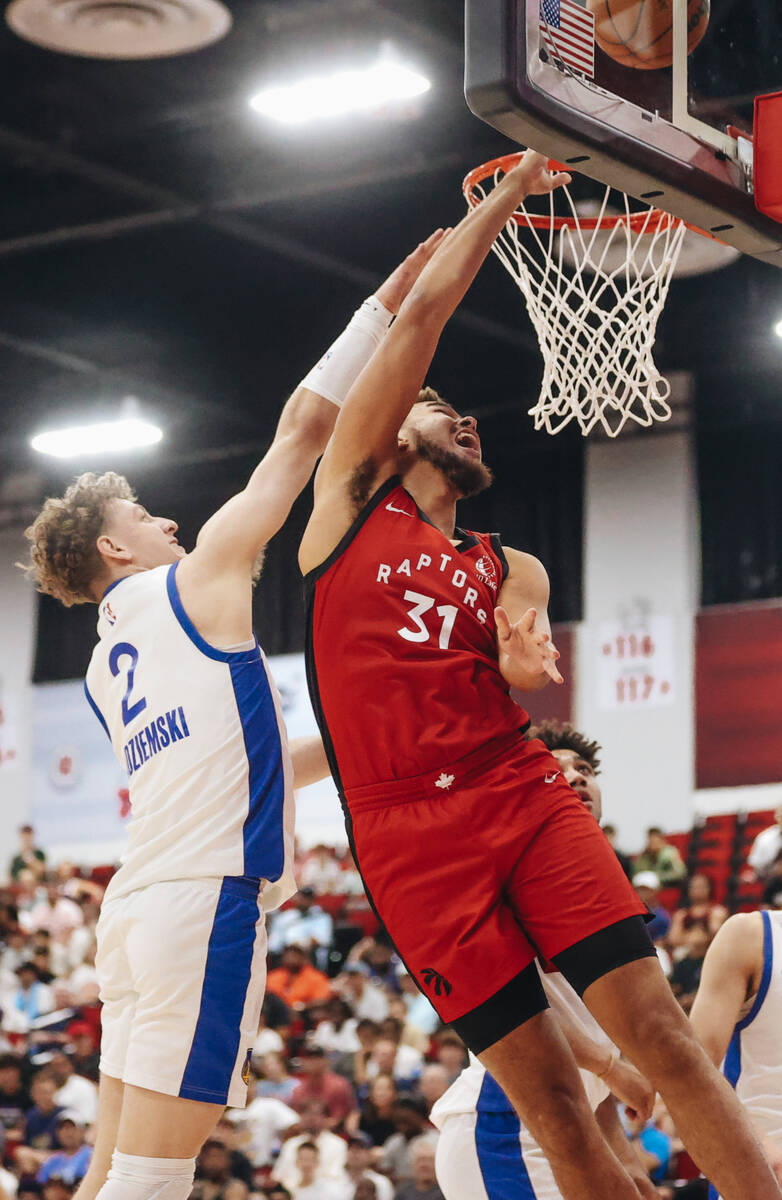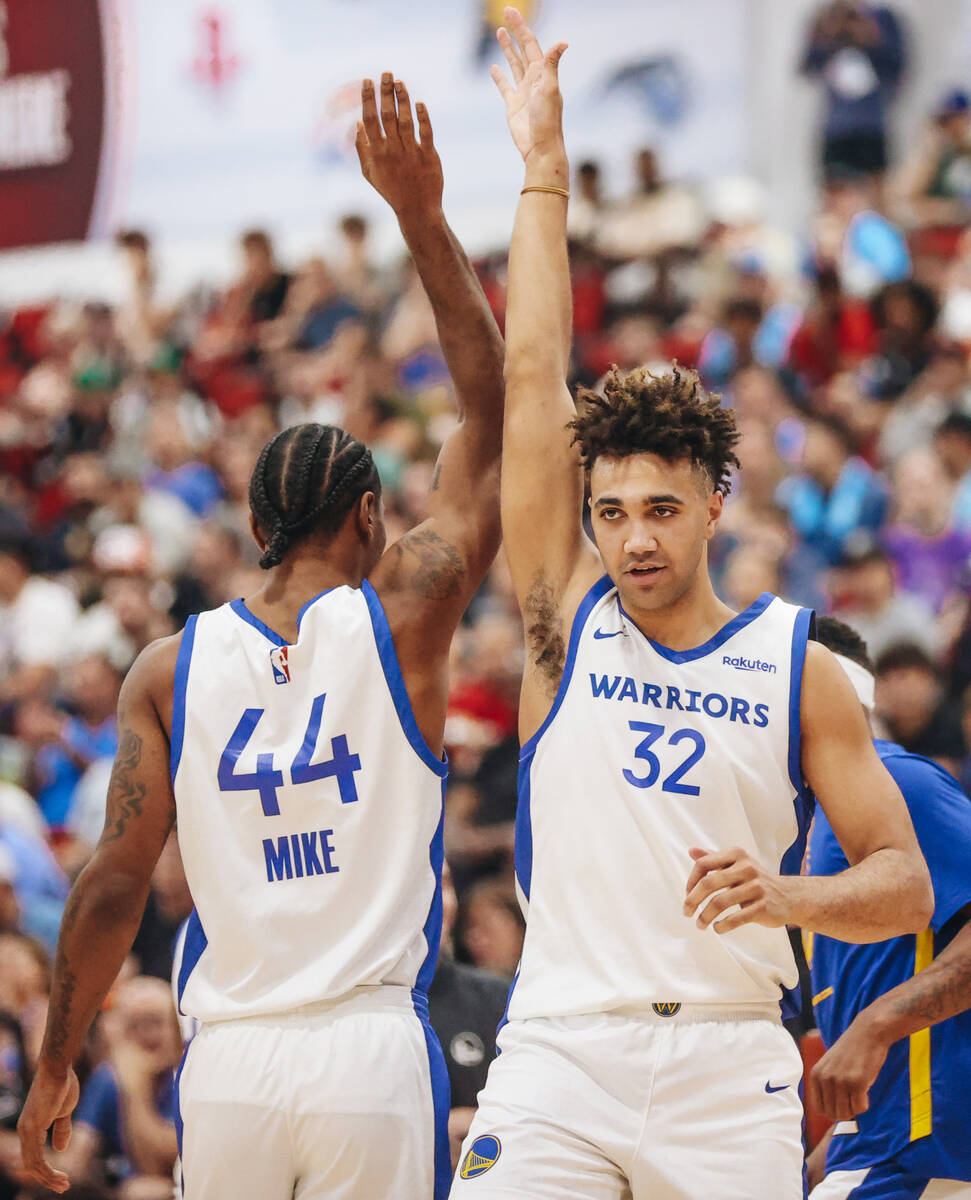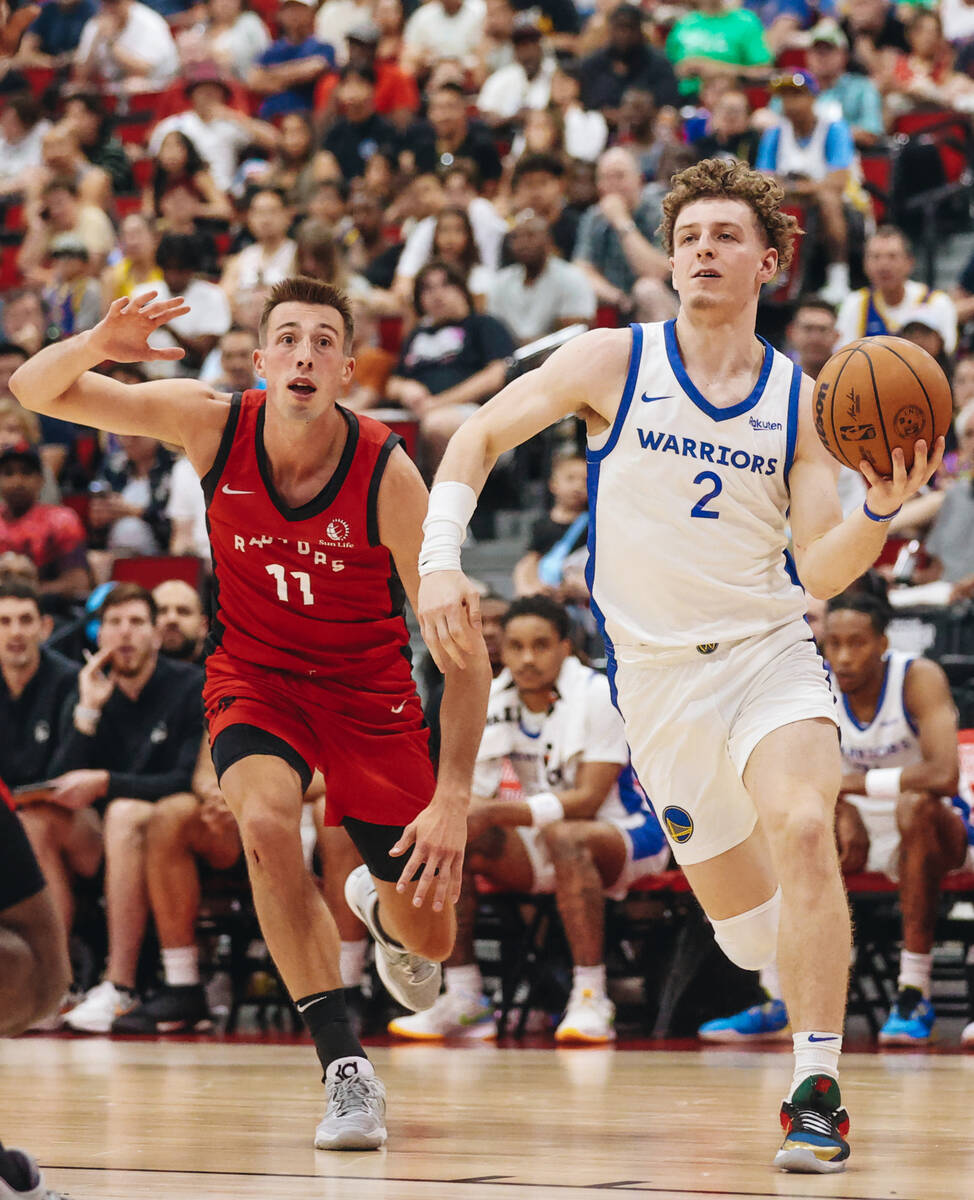 NBA SUMMER LEAGUE: DAY 9
Who: All 30 NBA teams
When: Sunday and Monday
Where: Thomas & Mack Center and Cox Pavilion
Tickets: Start at $35 for children and seniors, and $45 for adults for single-day pass
Saturday's scores
Charlotte 109, Minnesota 92
Toronto 108, Golden State 101
Sacramento 92, Milwaukee 84
Chicago 90, Washington 85
Boston 94, Orlando 77
Denver 89, New York 86
Phoenix 102, Memphis 79
Sunday's schedule
Tournament semifinals
No. 4 Brooklyn vs. No. 1 Cleveland, 1 p.m., Thomas & Mack, ESPN
No. 3 Utah vs. No. 2 Houston, 3 p.m., Thomas & Mack, ESPN2
Consolation games
Philadelphia vs. New Orleans, 12:30 p.m., Cox Pavilion, NBAtv
Detroit vs. Indiana, 2:30 p.m., Cox Pavilion, NBAtv
Oklahoma City vs. San Antonio, Cox Pavilion, 4:30 p.m., NBAtv
Miami vs. Portland, Thomas & Mack, 5 p.m., ESPN2
Atlanta vs. Dallas, Cox Pavilion, 6:30 p.m., NBAtv
Los Angeles Lakers vs. Los Angeles Clippers, 7 p.m., Thomas & Mack, ESPN2
Stars of the day
Lester Quinones, Golden State Warriors forward
A valiant 32-point effort from Quinones wasn't enough as the Warriors squandered a 14-point third-quarter lead in their loss to the Raptors. Quinones led a late charge, cutting the Raptors' 12-point lead to five late, but the Warriors couldn't complete the comeback.
The 6-foot-4-inch stretch forward made four 3-pointers and went 12 of 13 from the free-throw line. He added six assists, four rebounds, three steals and two blocks.
Quinones was last season's G League Most Improved Player and was named to the G League all-rookie team after averaging 20.2 points, 6.2 rebounds and four assists with the Santa Cruz Warriors. Quinones signed a two-way contract after going undrafted out of Memphis last year, and he appeared in four games with Golden State late last season.
Javon Freeman-Liberty, Chicago Bulls guard
The Bulls needed Freeman-Liberty's 24 points to hold off Washington and finish off their Summer League with a win. Freeman-Liberty shot 50 percent from the field, made three 3-pointers and added seven rebounds and five assists.
Washington was within a point of Chicago, after nearly eliminating a double-digit fourth-quarter deficit, but Freeman-Liberty's outside shooting and ability to finish at the basket helped the Bulls hold on for the win.
Freeman-Liberty, a 6-4 guard, averaged 14.8 points, 4.9 rebounds and 2.8 assists with the Bulls' G League team, Windy City, last season. After averaging 21.7 points as a senior with DePaul, he went undrafted but signed with Windy City's training camp roster before the start of last season.
Chris Livingston, Milwaukee Bucks forward
Livingston accounted for just over 25 percent of the Bucks' scoring Saturday, collecting 22 points while making 9 of 14 (64.3 percent) of his field goals. He added five rebounds, two assists and two steals as the Bucks came up just short against Sacramento.
Livingston was the last pick in this year's draft when the Bucks selected him with the No. 58 overall pick out of Kentucky. (Two draft picks were forfeited this year due to Chicago and Philadelphia breaking the league's tampering rules.)
The 6-6 forward was a five-star recruit out of high school and a member of the SEC's all-freshman team last season.
Faces in the crowd
With the Summer League winding down, Saturday's crowd was much smaller than previous days of the event.
Many of basketball's top stars migrated over to Michelob Ultra Arena to watch Saturday night's WNBA All-Star Game.
New Golden State general manager and 15-year NBA veteran Mike Dunleavy Jr. arrived early in the day to see a high-scoring affair between the Warriors and Raptors. Dunleavy took over for Bob Myers, who stepped down in May.
Alex Wright Review-Journal