UConn delivers early knockout punch in rout of Arkansas
Updated March 23, 2023 - 11:24 pm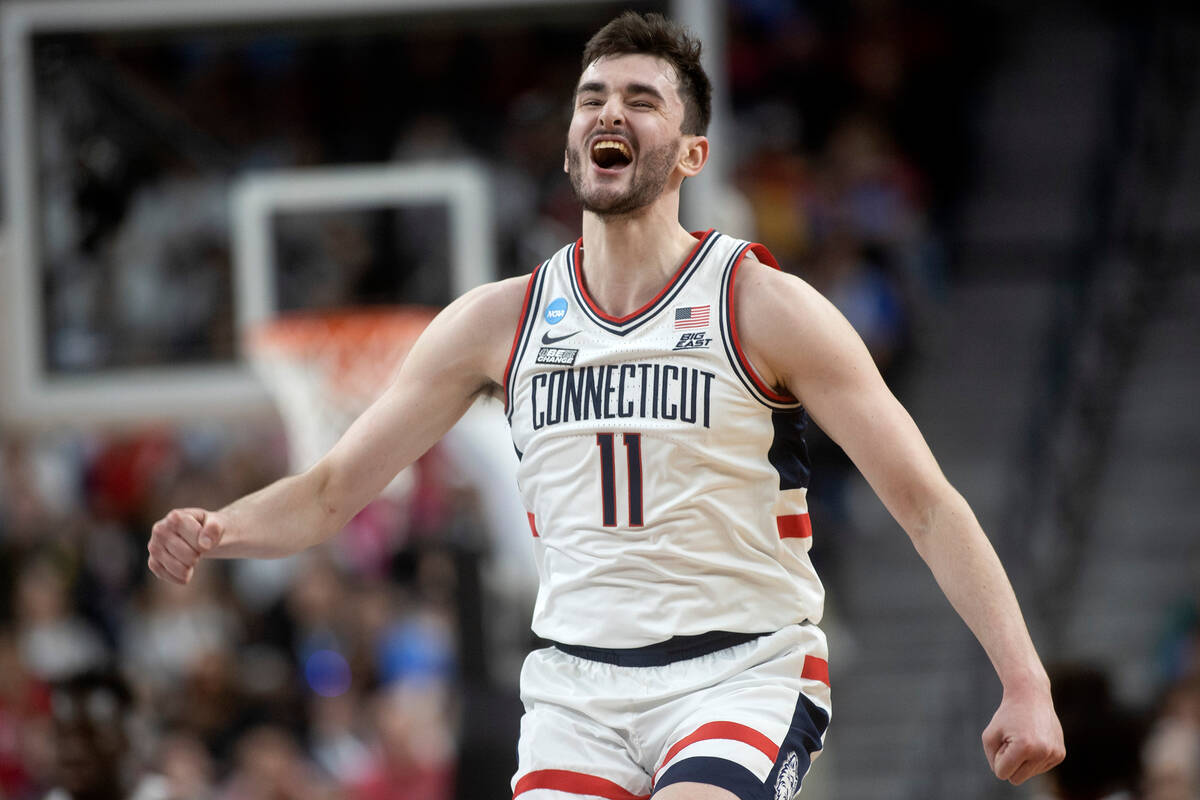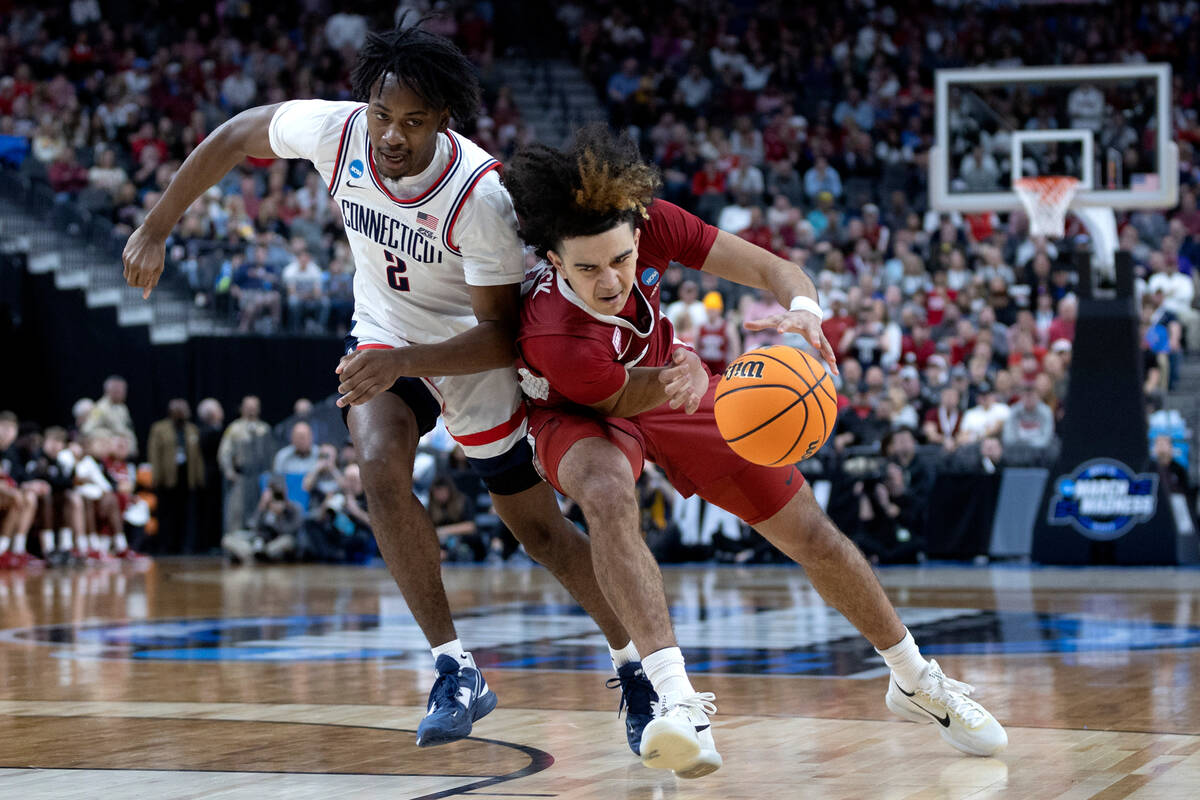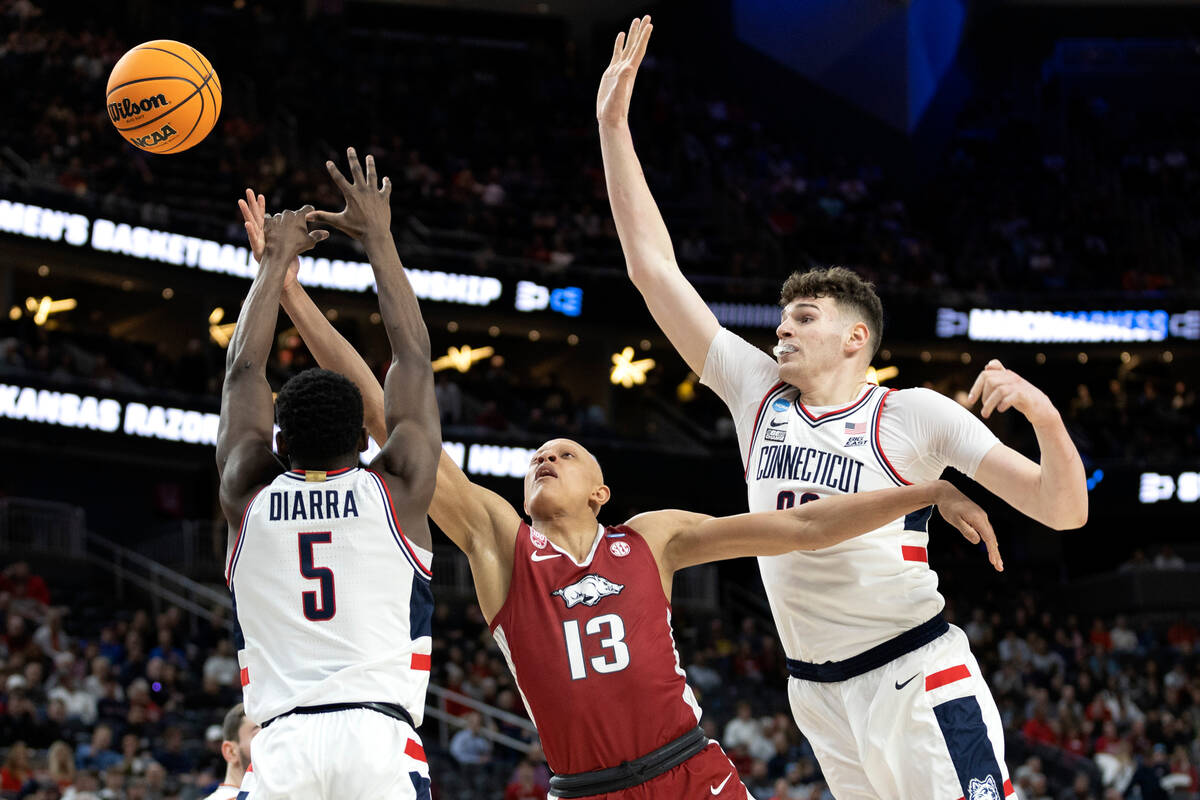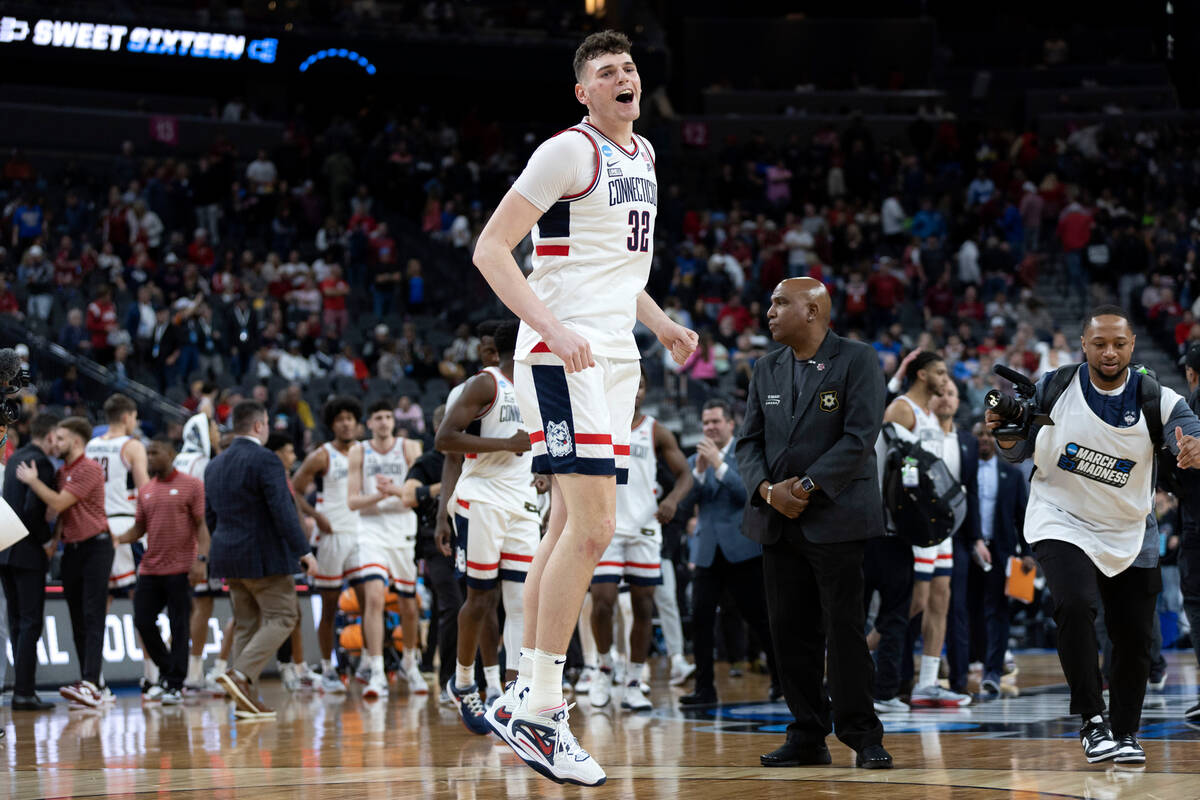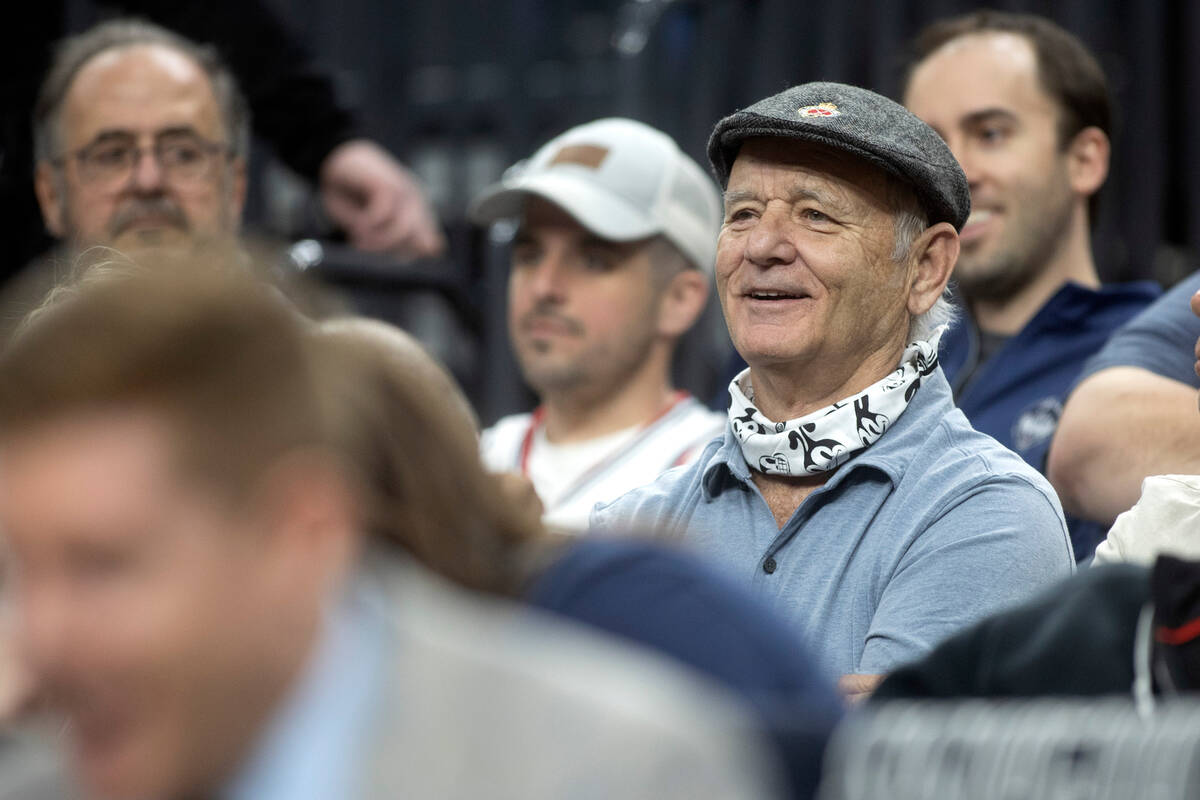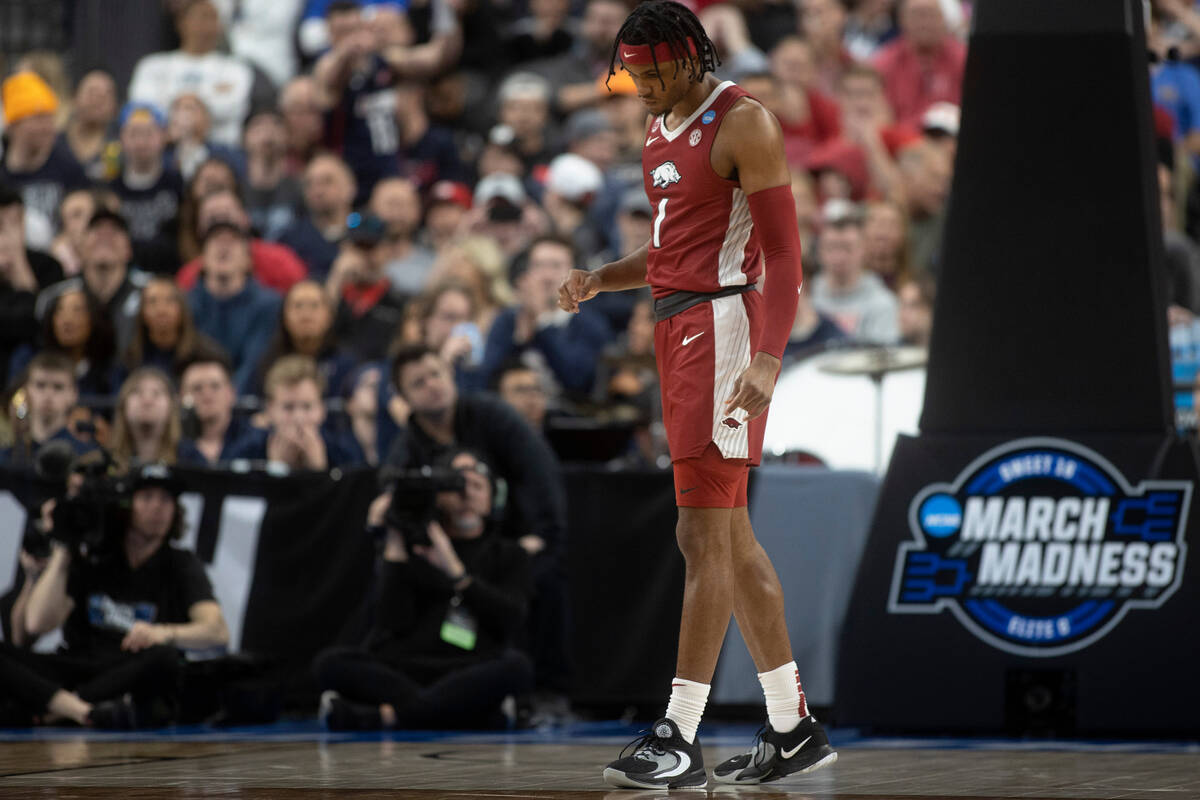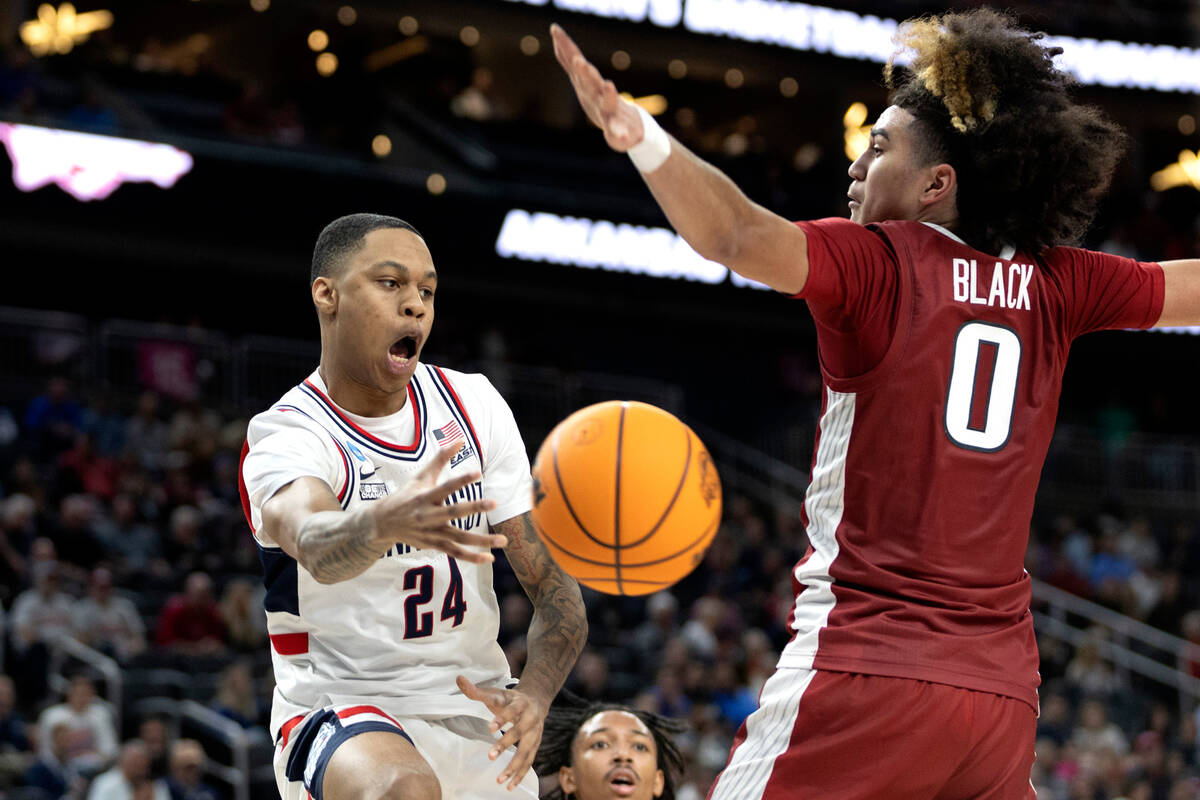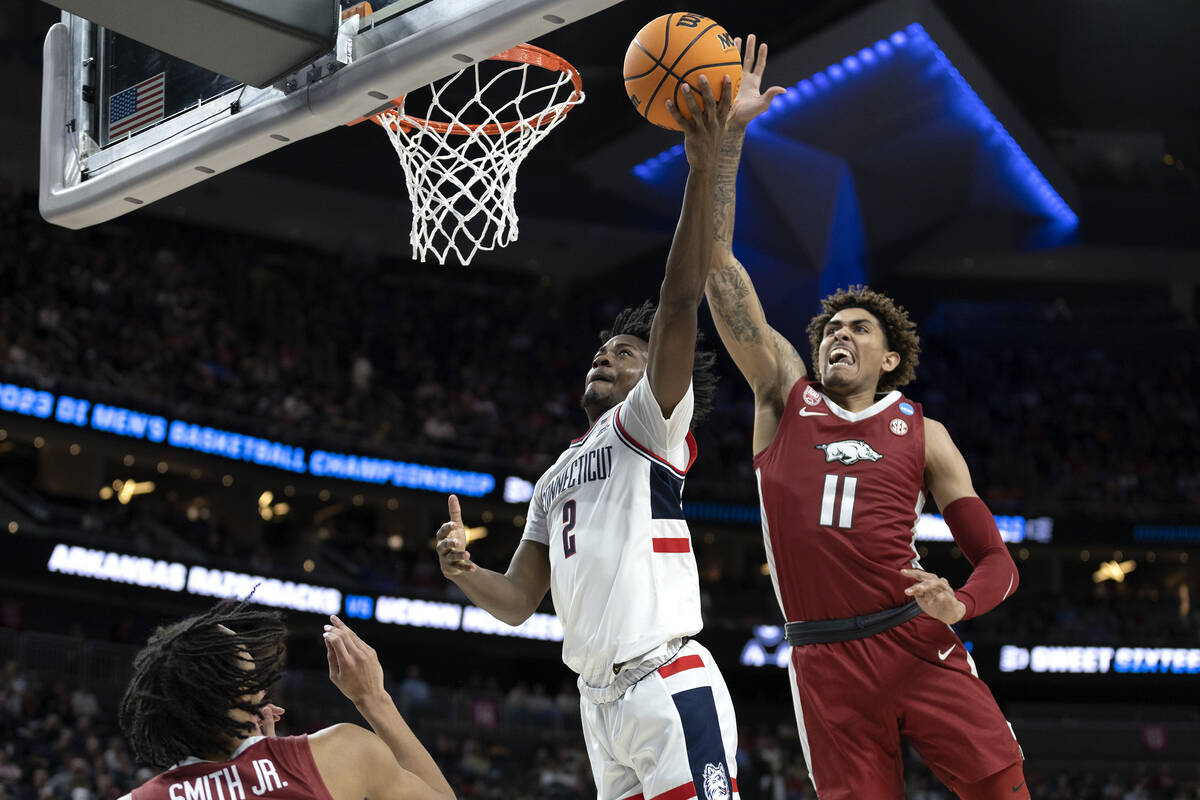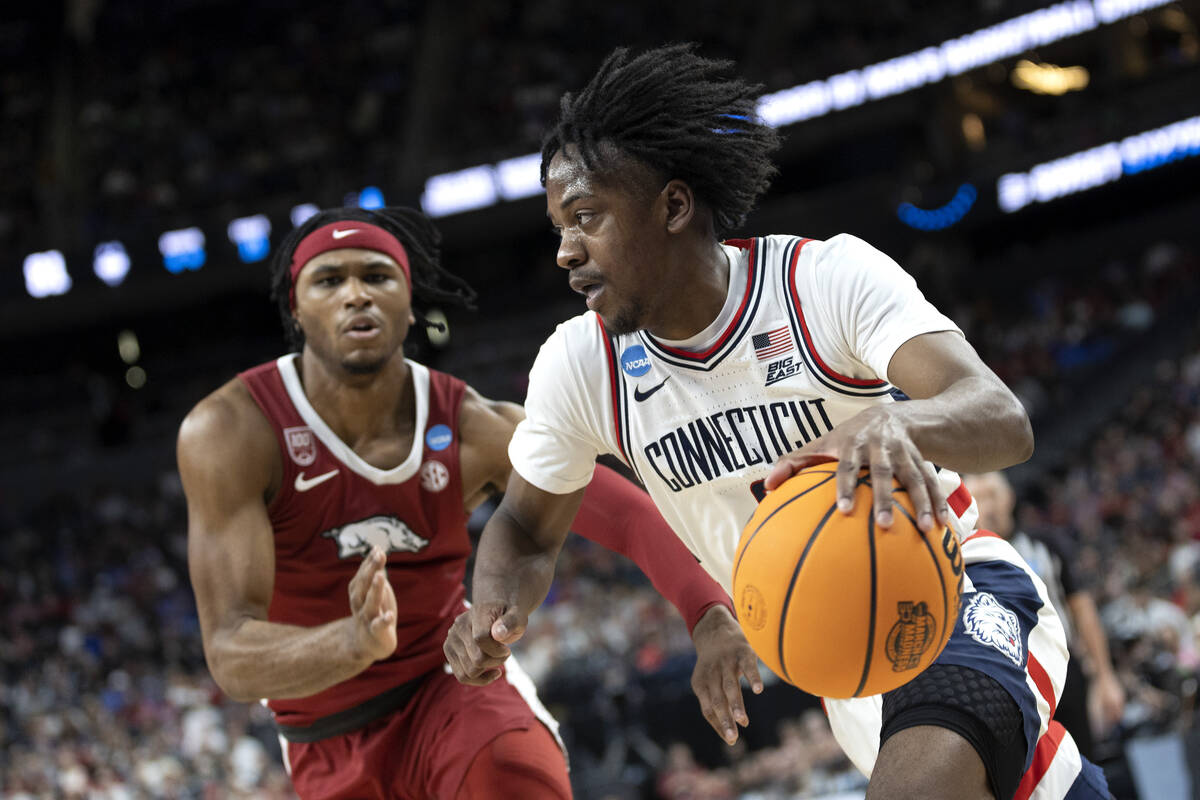 It was mid-December, and an unbeaten Connecticut basketball team was ranked second nationally, its highest climb up a Top 25 poll since March 2009.
It was Thursday night when that team showed up again in the biggest of moments this season.
The Huskies have made a habit of such this March Madness.
They are really good right now.
It was a beatdown at T-Mobile Arena in the first West Regional semifinal, UConn never allowing Arkansas much life in an 88-65 victory before an announced crowd of 18,544.
You could make the argument it wasn't that close.
"We had to come out with a first punch," UConn guard Jordan Hawkins said. "That's how you come out with teams like that. That's what we did. We jumped out to an early lead and just continued playing physical."
What it means: Connecticut advances to the Elite Eight on Saturday against Gonzaga, a 79-76 winner over UCLA in the second semifinal. The winner advances to the Final Four in Houston.
Las Vegas welcomed its first NCAA Tournament action, and UConn was ready from the opening tip, leading by 17 at halftime and never looking back.
UConn played elite defense. It hurt the Razorbacks inside and out. It dominated the boards 43-31. Its movement offensively was stellar. Its passing —UConn had 22 assists — was even better. Its cutting was excellent.
A team playing like it can cut down the nets in Houston.
"We knew that they had lost 13 games on the season," UConn coach Dan Hurley said. "We thought if we played at a high level, they might fracture a little bit just because of how their season has gone."
Arkansas broke in half.
Connecticut dropped six of eight games in late December and into January, losing its way and lofty ranking and not resembling anything like what the nation witnessed Thursday. But then the calendar flipped to February, and the winning began all over again.
It's a tough matchup to solve, having to deal with the power of Adama Sanogo (18 points, eight rebounds) inside and the shooting of Hawkins (24 points) outside. Of the depth around them, including a wing in Andre Jackson (seven assists) who makes everything go.
Arkansas just couldn't get any clean looks. UConn was stifling. The Razorbacks shot 32 percent, including 31 percent on 3-pointers.
Its starting five was 14-for-46.
A lasting message
"I thought their offense was just as effective as their defense, which is what their metrics tell you is they're really good on both sides of the basketball," said Arkansas coach Eric Musselman, whose team had reached the Elite Eight the past two seasons. "There's not a lot of teams that have been to three straight Sweet 16s in the entire country, and we are one of them. So we're really proud of that. The culture is strong.
"Just give UConn … I think our whole team — I'm speaking for all the players and coaches — give UConn a ton of credit. I thought they came out with a great sense of urgency."
It was after a first-round NCAA Tournament defeat last March when Hurley gathered his three leaders — Hawkins, Jackson and Sanogo — and relayed this message:
"I apologized to them for not having enough around them," Hurley said. "In terms of enough shooting and enough different ways to open up things for them, and that I'm going to build a roster around you … You're going to have enough help around you … That we will not be back in this position feeling like we do again next March."
They weren't.
They aren't.
They're playing as well as anyone left in the bracket.
This, after a beatdown at T-Mobile Arena.
Contact Ed Graney at egraney@reviewjournal.com. Follow @edgraney on Twitter.