Rebels erase huge deficit but fall short in OT at MW tournament
Updated March 9, 2023 - 10:14 pm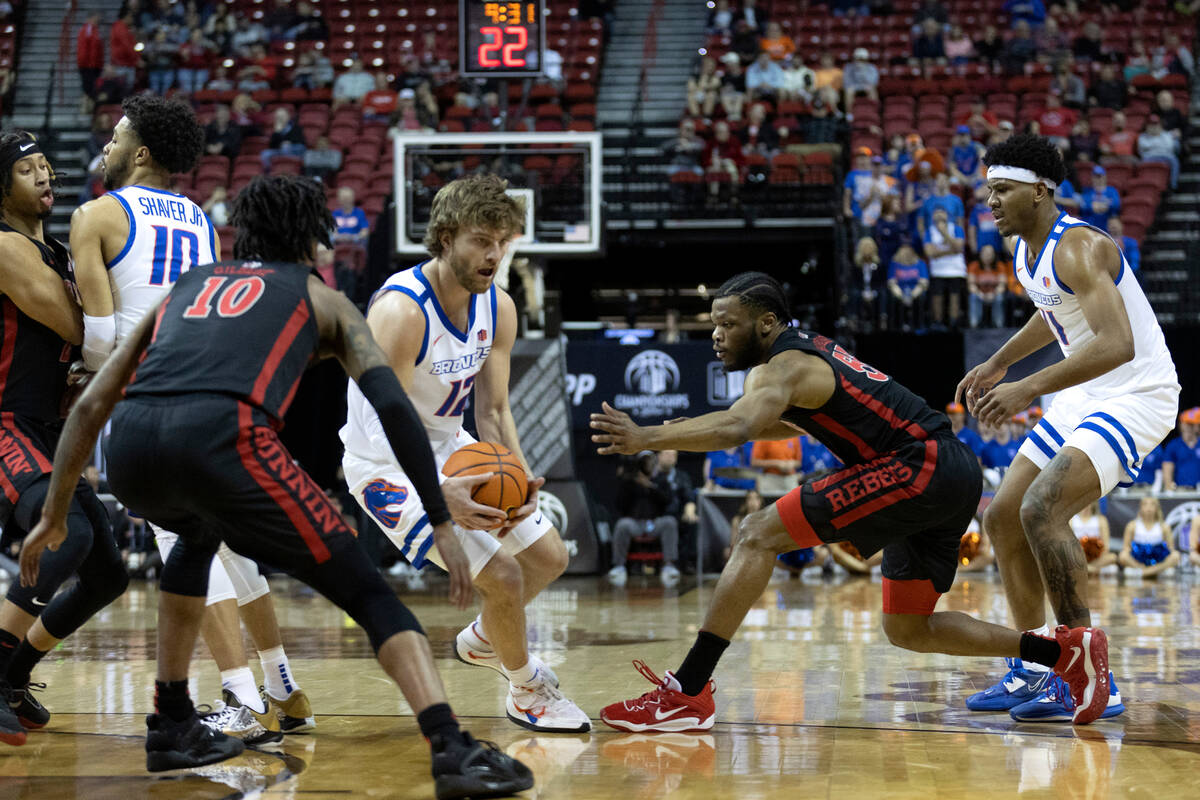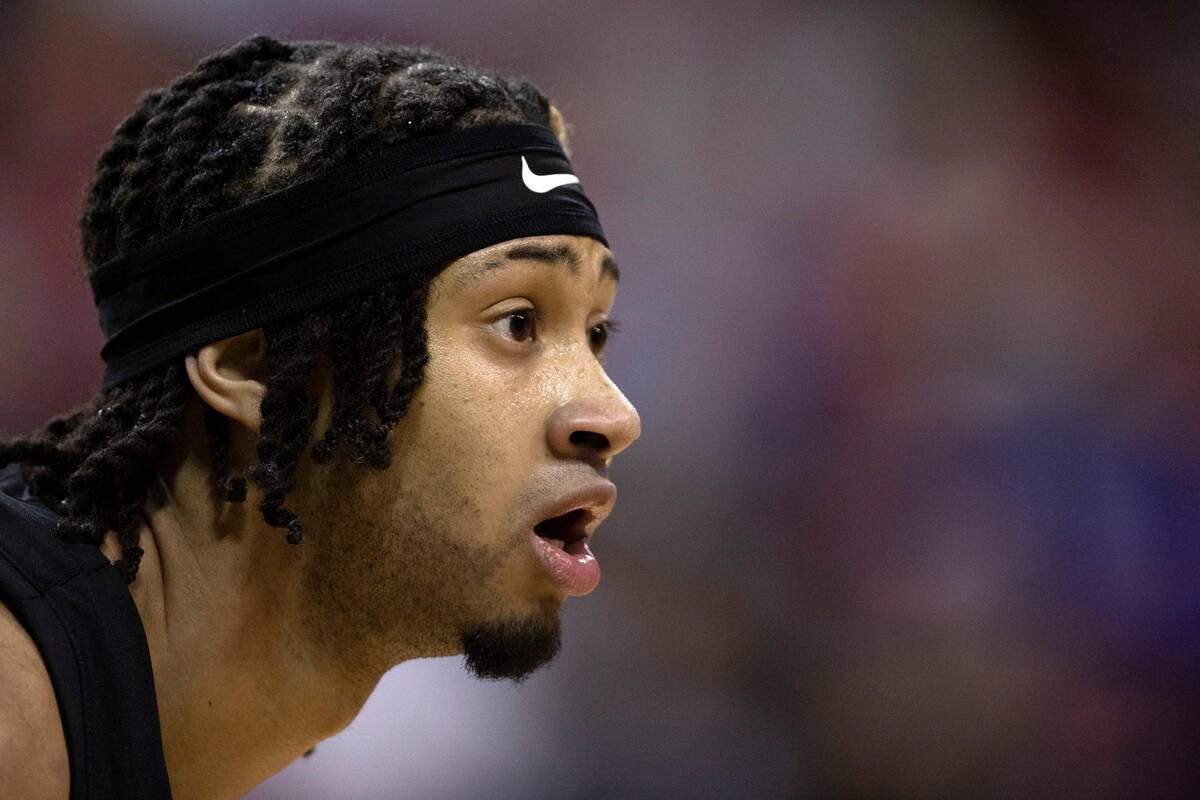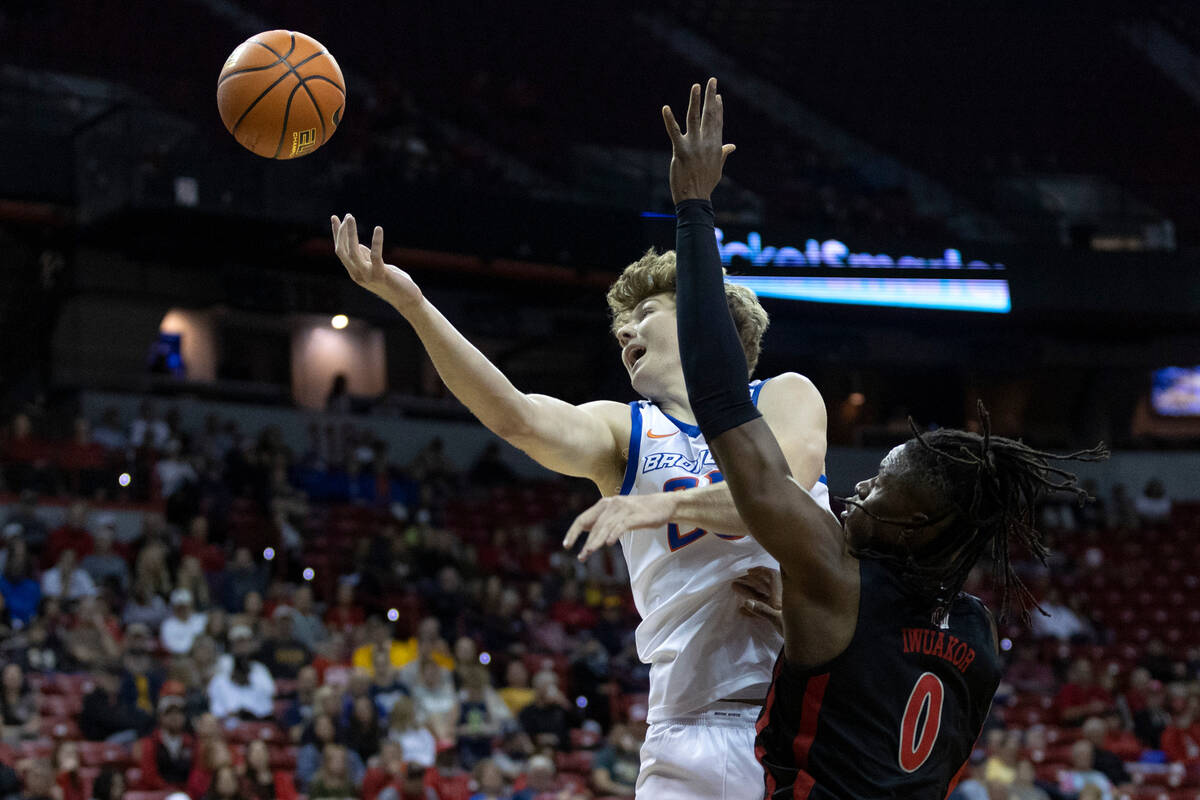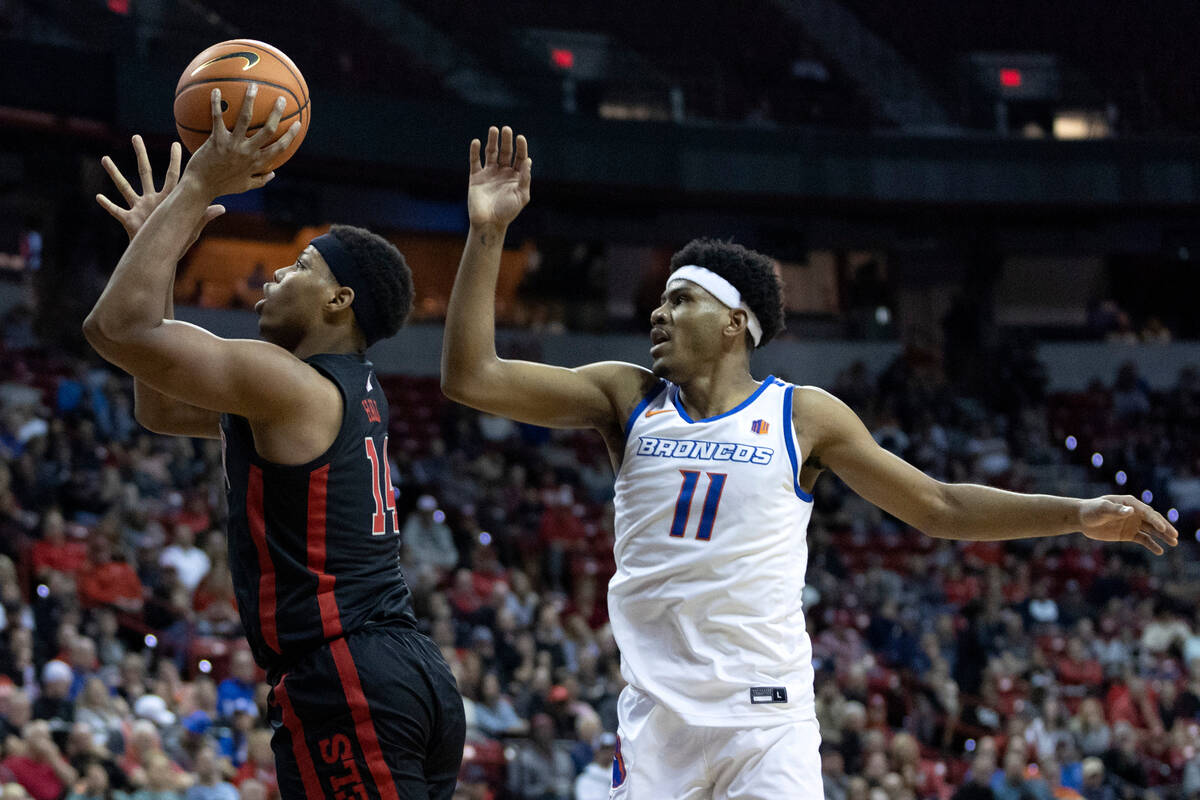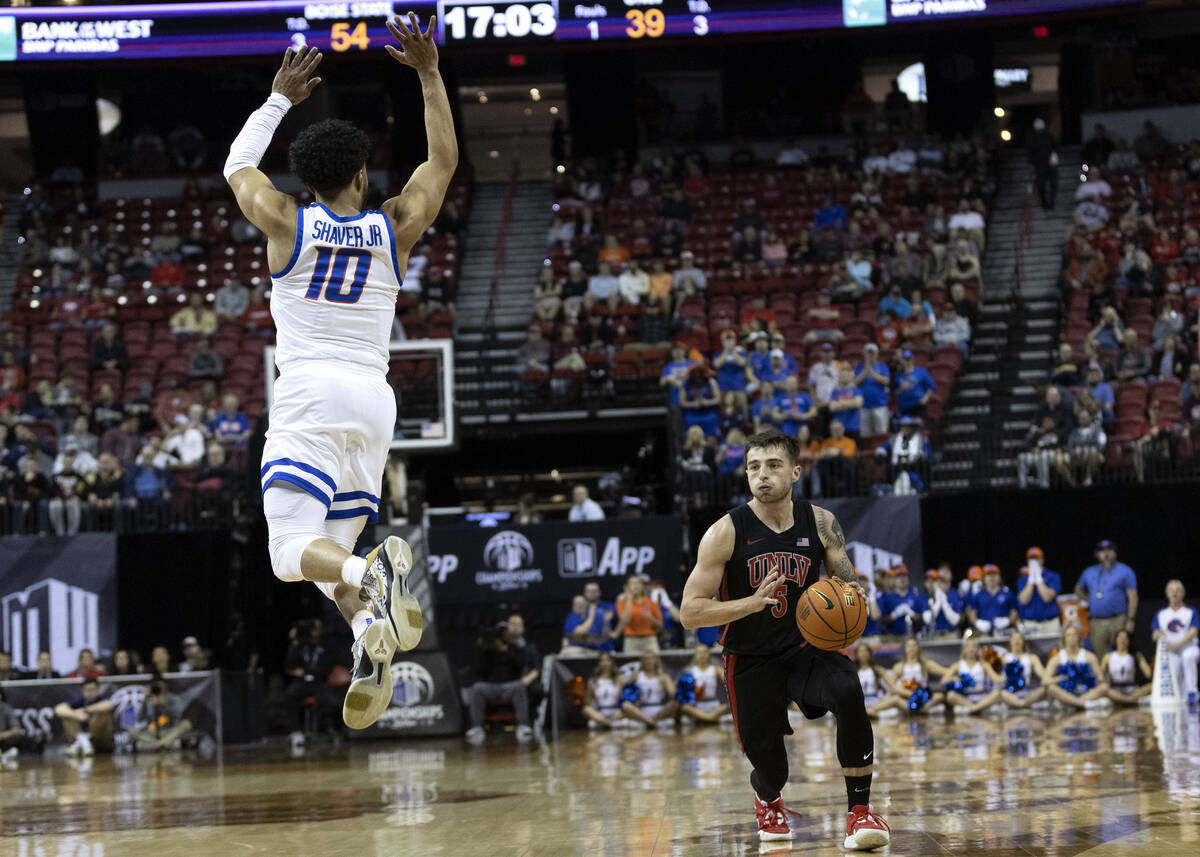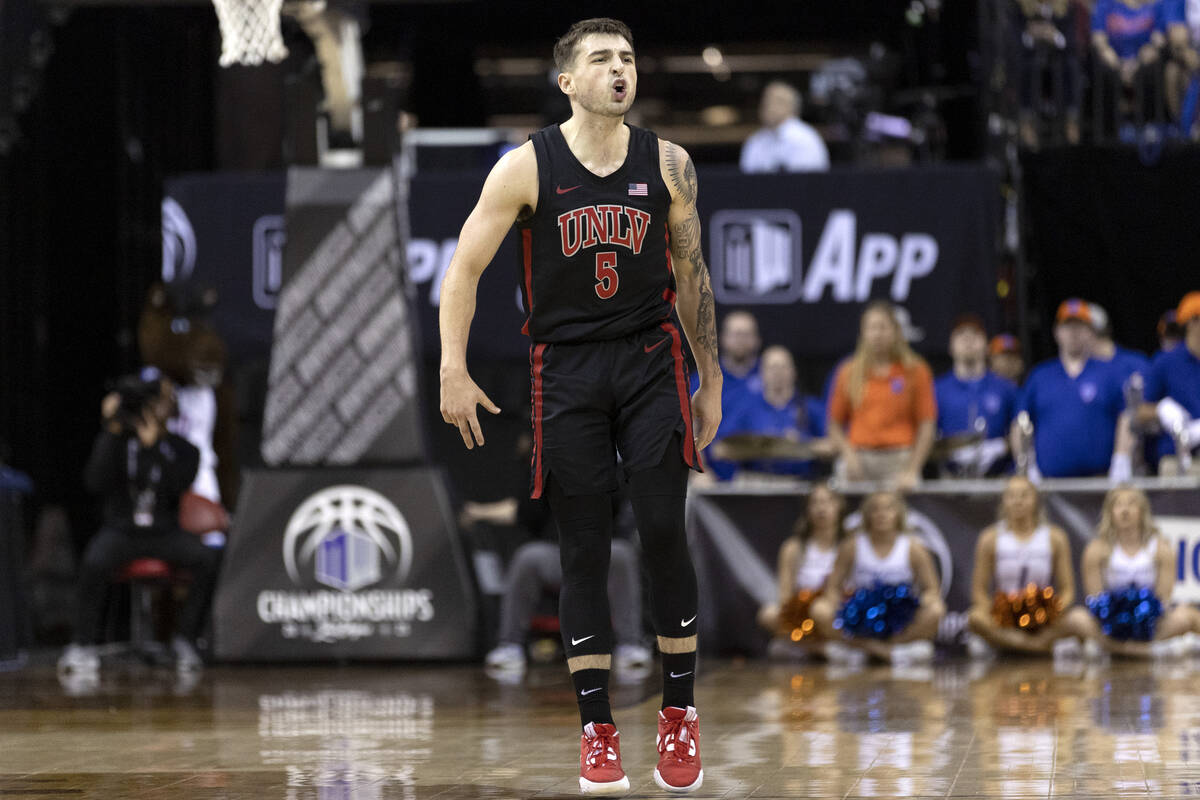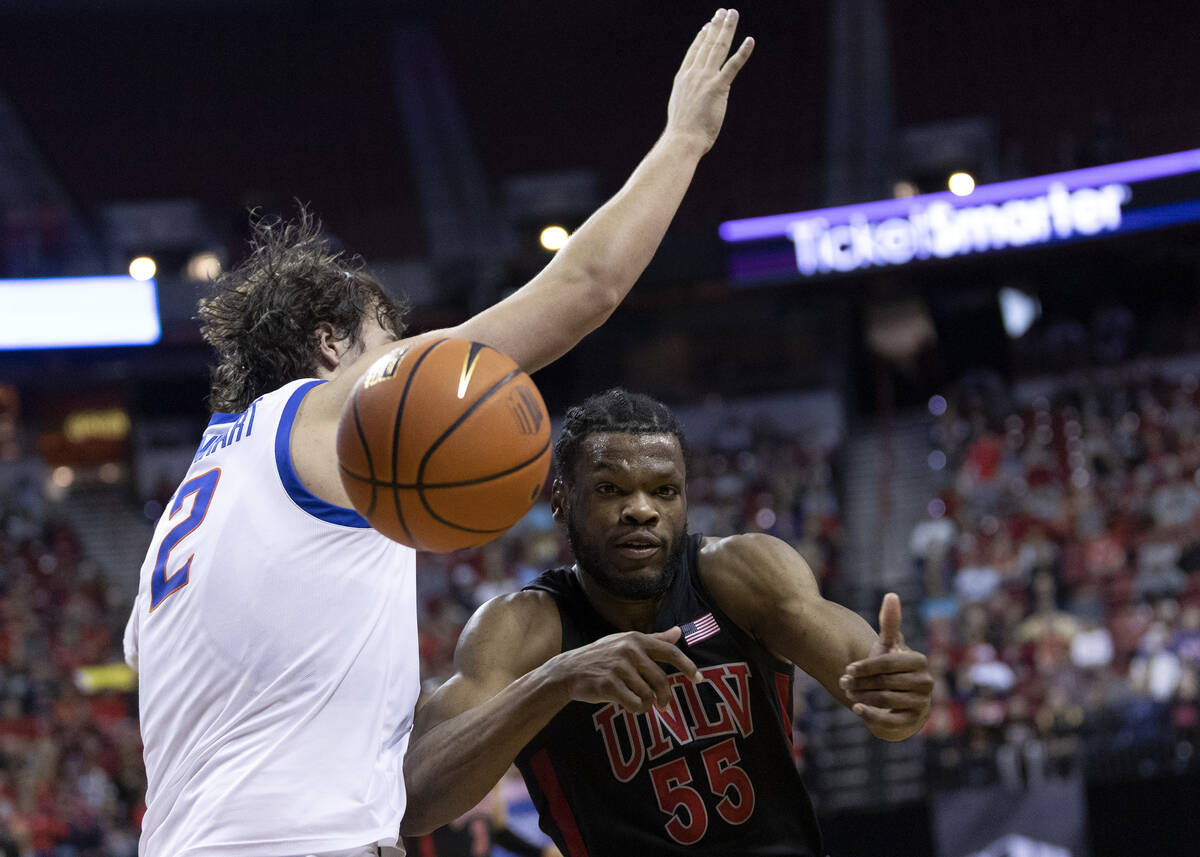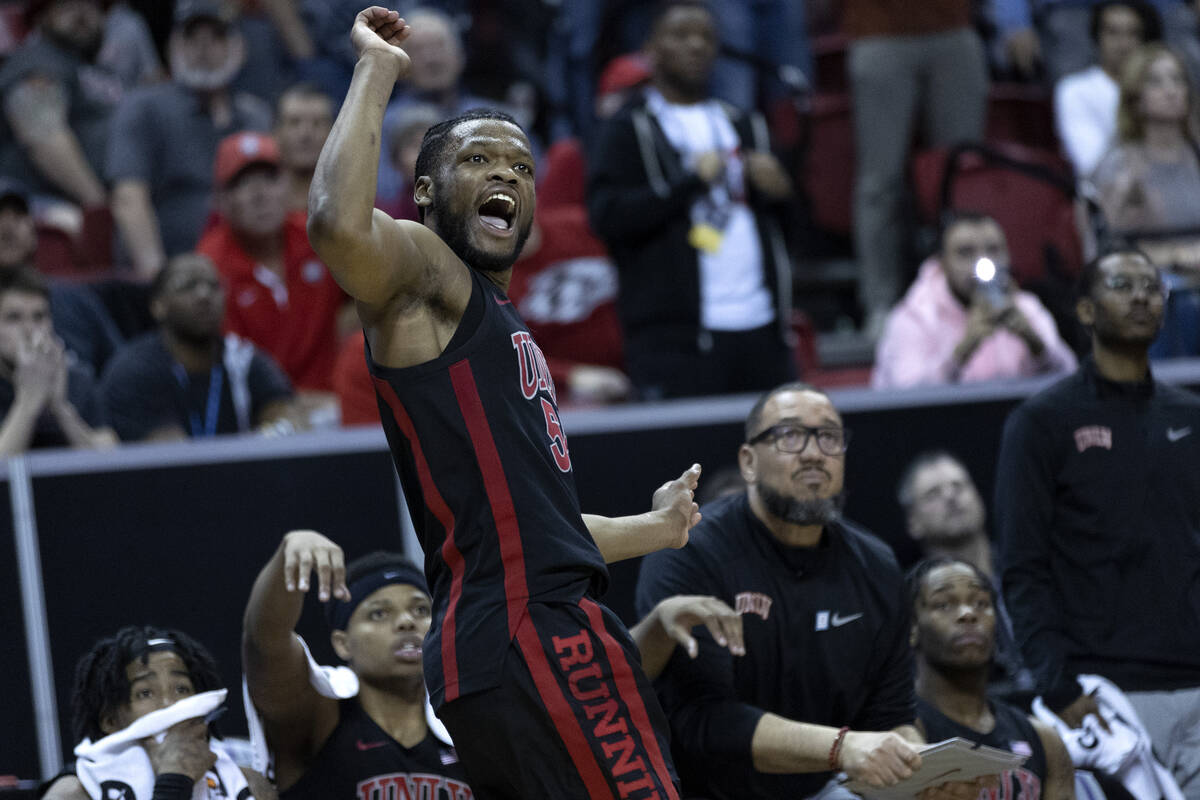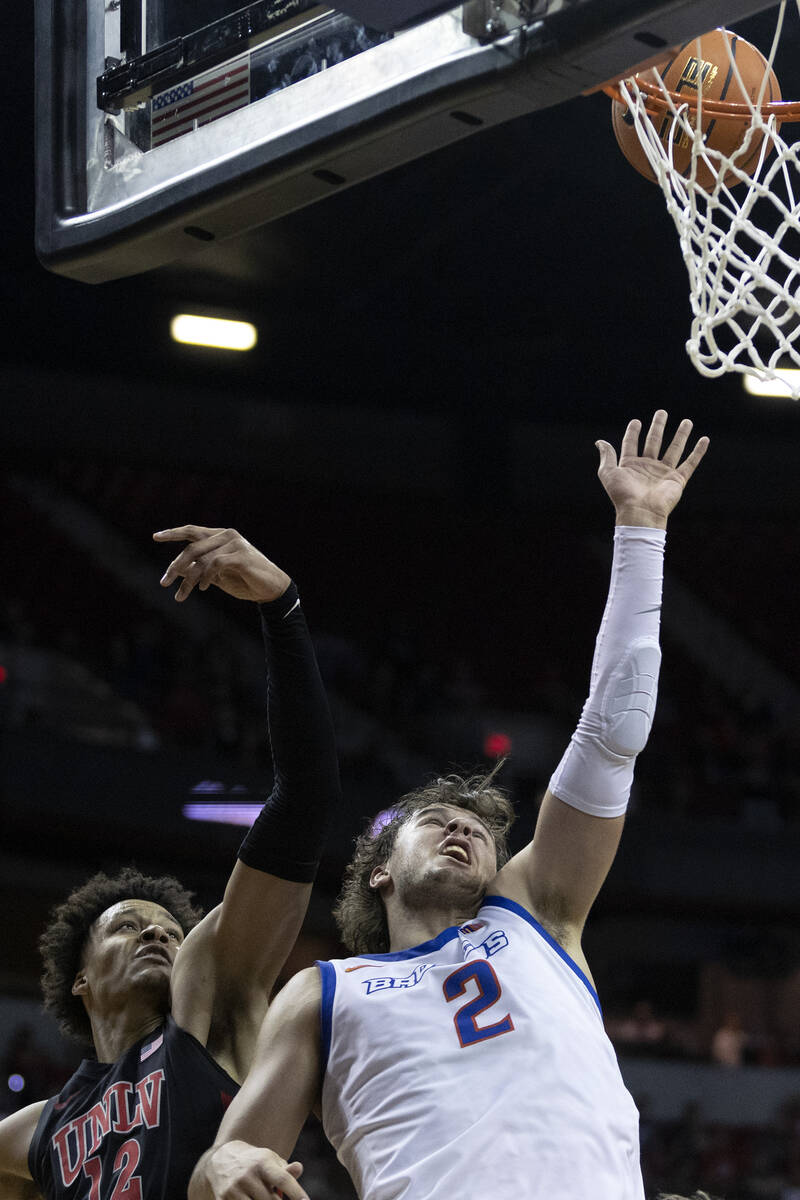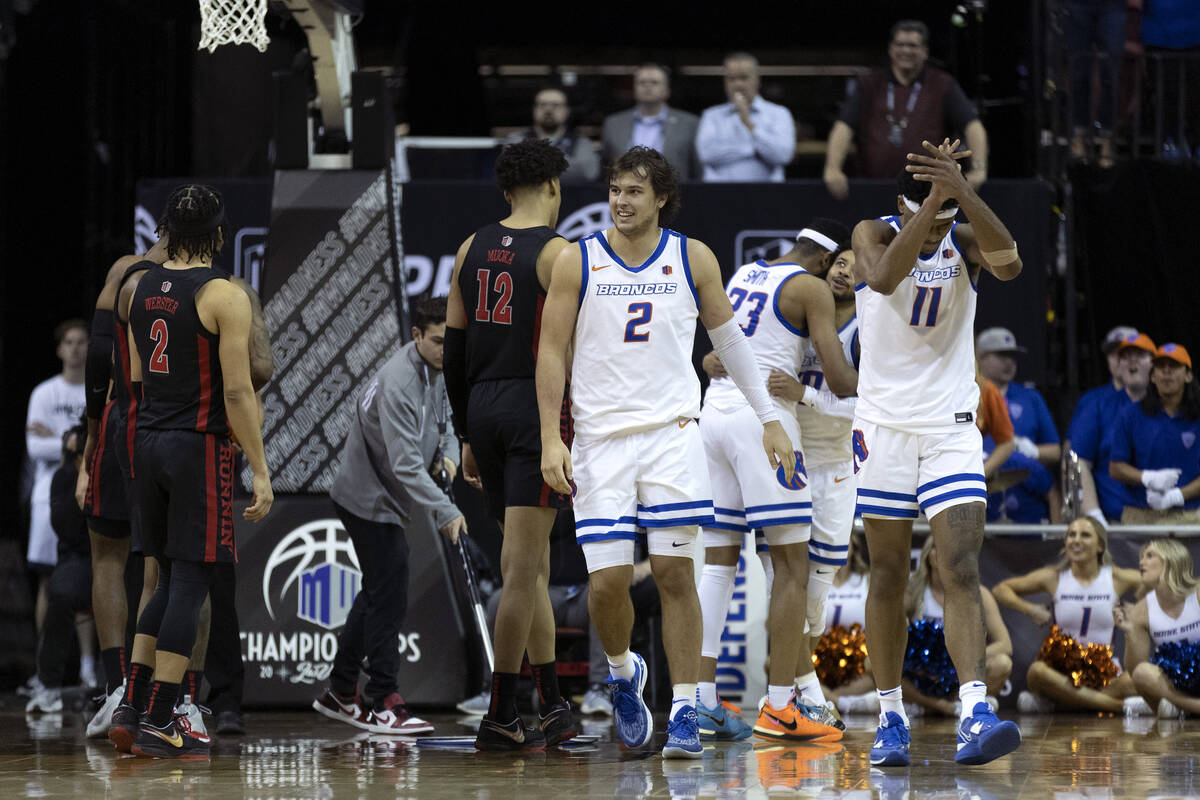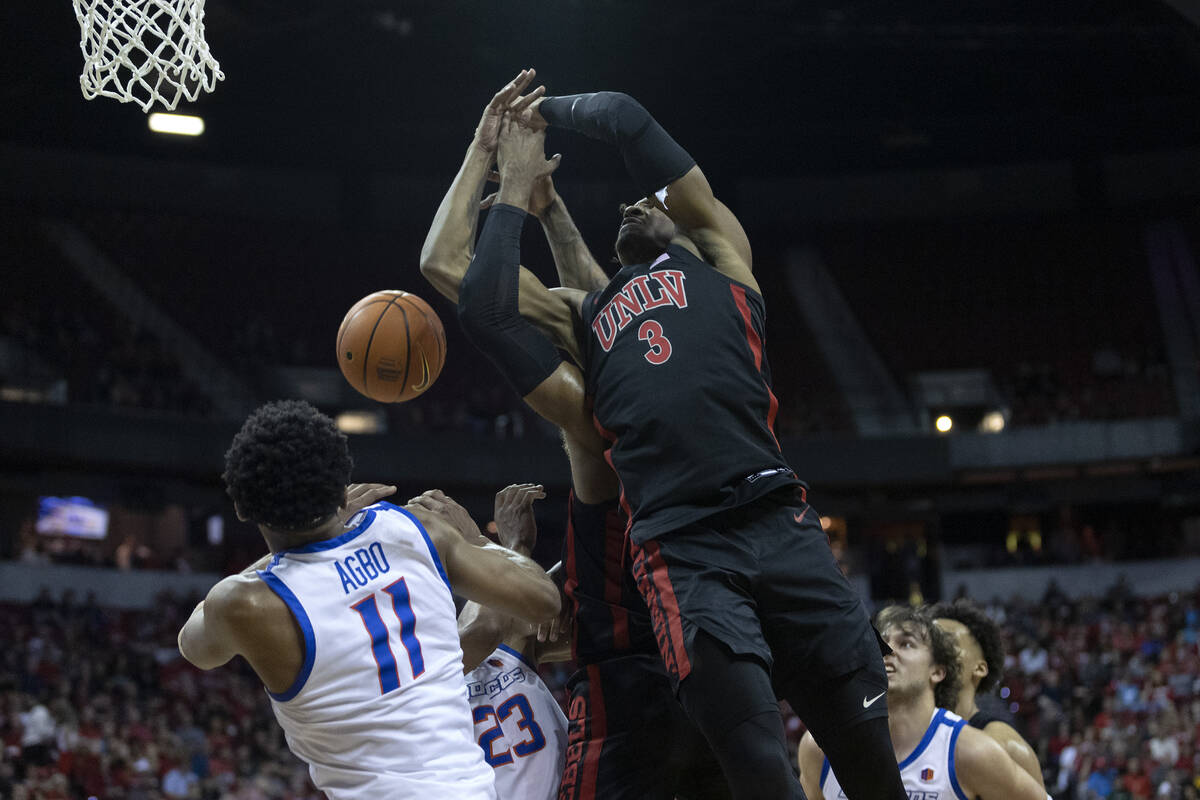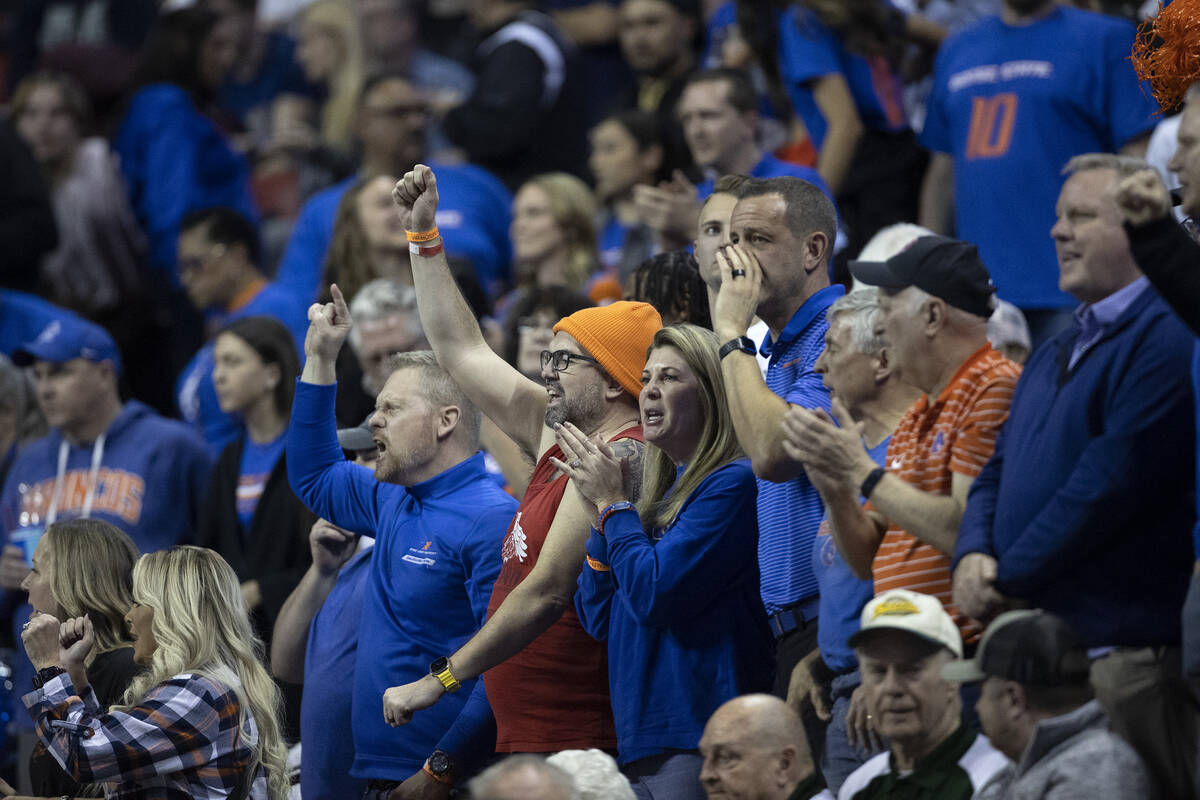 By the time EJ Harkless left the court, the game was essentially finished. UNLV's comeback attempt had fallen short.
With 49 seconds remaining in overtime of UNLV's 87-76 loss, the fifth-year guard tried to tie up Boise State guard Max Rice for a jump ball. Instead, he was called for a fifth foul.
His furious arguing with the referees also earned Harkless a technical foul for his troubles, causing him to exit the court for possibly the final time in his collegiate career.
It was evidence of the fight that he and coach Kevin Kruger say defined this UNLV team.
"They should be remembered as a group which competed like crazy," Kruger said. "Every night, guys battled."
No. 7-seeded UNLV's furious second-half comeback erased a 22-point deficit, but it was not enough to defeat No. 2 Boise State on Thursday in the quarterfinals of the Mountain West tournament at the Thomas &Mack Center. Sophomore Shane Nowell's corner 3 with one second remaining in regulation tied the game, but the Rebels weren't able to keep up in their second overtime game in two days.
Harkless had 18 points and seven assists for UNLV (19-13), while senior Justin Webster also scored 18 and went 5 of 10 on 3-pointers. Fifth-year guard Jordan McCabe added 10 points on 50 percent shooting, and Nowell finished with eight. All five starters reached double figures for Boise State (24-8), led by Naje Smith's 18 points.
The loss continues UNLV's Mountain West tournament semifinals drought. The Rebels haven't made it past the quarterfinals since 2014.
Harkless said the team is set up for success in the future if this season's contributors return.
"I super credit (Kruger)," Harkless said.
The game started poorly for the Rebels. The Broncos unleashed a barrage of 3s in the first half, shooting 70.4 percent from the floor and going 10 of 14 from beyond the arc. Kruger said UNLV took several minutes to adjust to Boise State's more traditional offense after preparing for No. 10 seed Air Force's player-movement-heavy style for several days before the tournament began.
The Rebels built some momentum near the end of the first half and carried it over into the second. UNLV went on an 18-4 run to start the period, and the Rebels' defense clamped down, holding the Broncos to 30.8 percent shooting from the field and just 2-of-13 shooting from 3 in the half.
UNLV also found some shooting in Webster, McCabe and Nowell, who combined to go 6 of 10 from 3.
"The ball wasn't sticking," Webster said. "We moved the ball, and guys were able to get easy looks."
The game almost seemed finished with 23 seconds remaining, though, as Harkless slipped and turned the ball over with the Rebels down two. UNLV fouled, but Boise State's Marcus Shaver Jr. split the free throws. Harkless got another chance, but his wild shot from 3 missed with five seconds remaining.
However, Nowell outfought Tyson Degenhart for the offensive rebound and ran to the left corner, and with the 6-foot-7-inch Boise State forward in his face, nailed a 3-pointer at the buzzer to send the game to overtime tied at 73.
Fatigue caught up to UNLV in extra period. Boise State outscored the Rebels 14-3 to end their comeback and possibly their season. UNLV will wait to see if it can earn a bid to a postseason tournament.
"Couldn't be more proud of them," Kruger said. "I thought that second half was certainly the representation that the team deserves to be remembered by, just how hard they fought and how hard they competed."
Contact reporter Andy Yamashita at ayamashita@reviewjournal.com. Follow @ANYamashita on Twitter.