Washington State makes school history with Pac-12 women's title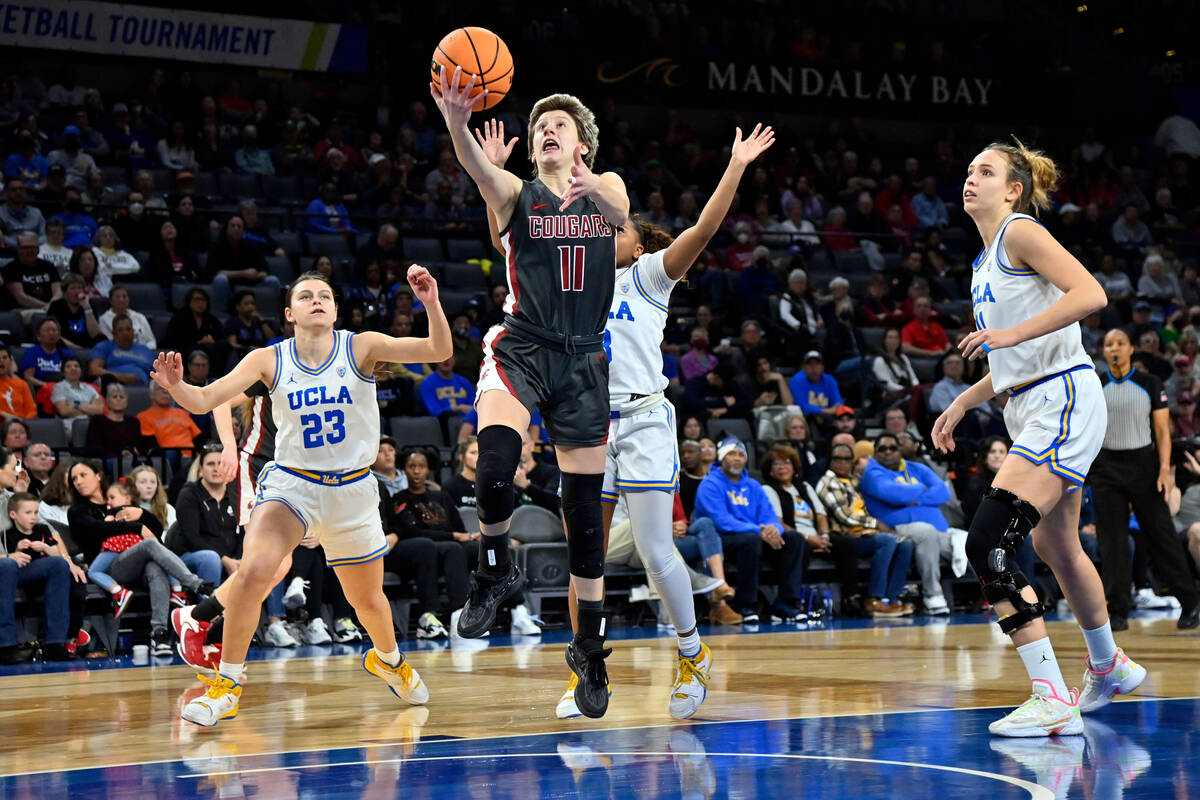 The town of Pullman, Washington, is nestled in the southeast corner of the state, housing Washington State's campus — and roughly 32,827 people.
"It can be very hard to recruit to a small town," Cougars senior forward Ula Motuga said. "It's not the most glitzy, glamour city."
But it is the city of champions.
Pac-12 women's basketball champions for the first time.
The seventh-seeded Cougars won the first conference tournament title in program history with a 65-61 victory over fifth-seeded UCLA on Sunday at Michelob Ultra Arena. What's more is that the championship represents the first for either basketball program at Washington State — and the first conference title for any of the women's programs that represent the Cougars.
"I would have never thought we can do it. I don't even think when I took the job I thought this was possible in this kind of league and these kinds of coaches and these athletes we're going up against," Washington State coach Kamie Ethridge said. "It's a testament to 'Anything is possible.' … If you get the right people in place that believe and work and are committed to each other, you can accomplish amazing things together."
Washington State's program was among the worst in the Power Five, finishing with a losing record in 30 of the 36 seasons that preceded Ethridge's arrival in 2018-19. But her club has qualified for the NCAA Tournament in three consecutive seasons and will vie for the program's first tournament victory this month.
Ethridge, formerly Kansas State's associate head coach for 18 years, emphasized international recruiting — and nine of Washington State's 13 players hail from abroad. Like New Zealand native and junior guard Charlisse Leger-Walker, who had 23 points and seven rebounds against the Bruins and was named the tournament's Most Outstanding Player.
Or senior center Bella Murekatete, a native of Rwanda who scored 21 points and was an all-tournament honoree.
"That is a really hard job," Bruins coach Cori Close said, "and what (Ethridge) has done and done it creatively with really committing to international recruiting and then playing a style that really takes advantage of their high IQ players. … I think that her staff, they've gotten players that fit what they're trying to do."
To Close's point, the Cougars (23-10) utilize a methodical brand of offense and rely on ball movement, player movement and fundamentally sound screen-setting to score. They built a 32-28 halftime lead and didn't trail by more than two possessions in the second half, allowing Leger-Walker and Murekatete to close by combining for their final 12 points.
Only ninth-seeded Auburn in 1997 won a conference championship as a lower seed than the Cougars, who finished 9-9 in league play and then beat California, No. 3 Utah, No. 20 Colorado and the No. 19 Bruins to capture their Pac-12 crown.
"To get up there, cut down the net, actually soak in that we're champs, it's been such a process," said Leger-Walker, a championship cap tipped backward atop her head.
"This win, this championship, it means so much to so many people."
Charisma Osborne scored 19 to lead UCLA (25-9).
Contact Sam Gordon at sgordon@reviewjournal.com. Follow @BySamGordon on Twitter.
All-tournament team
Charlisse Leger-Walker, Washington State (Most Outstanding Player)
Emily Bessoir, UCLA
Cameron Brink, Stanford
Bella Murekatete, Washington State
Charisma Osborne, UCLA
Kiki Rice, UCLA