Could World Cup bring more betting attention to women's sports?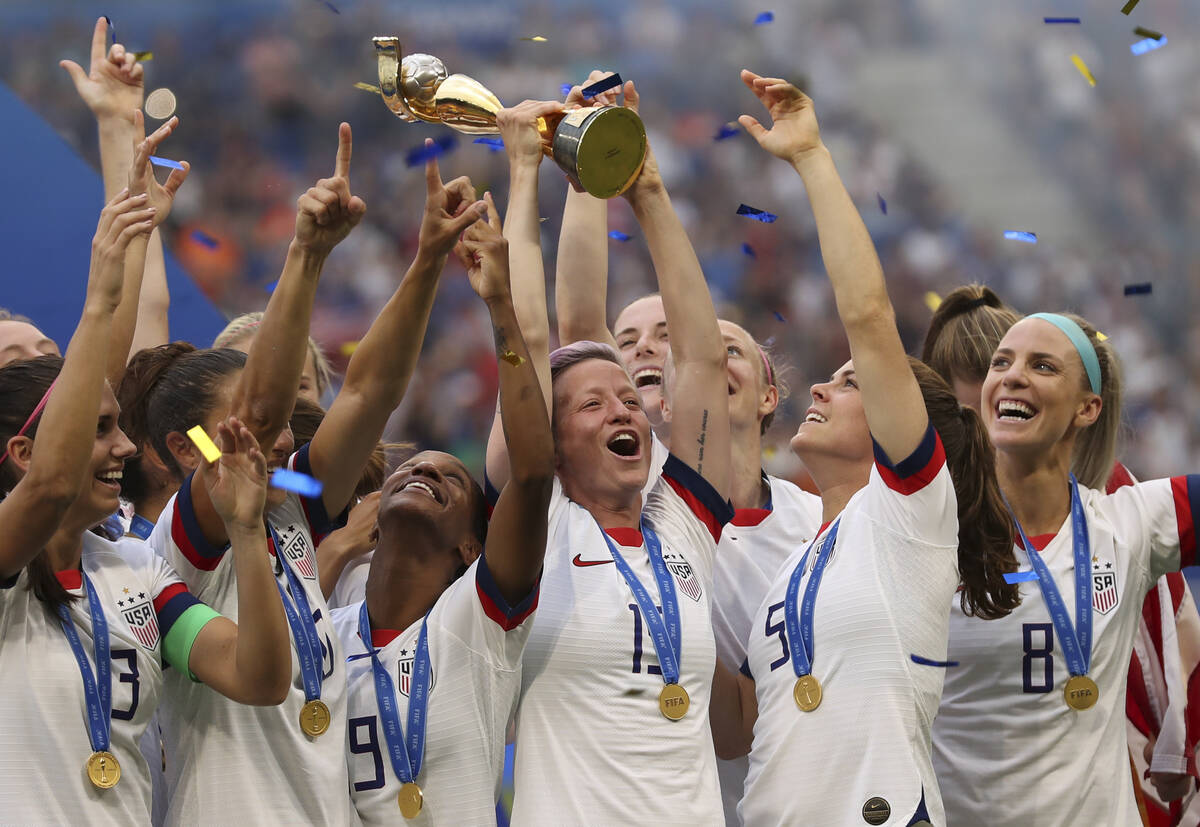 The country's most elite female soccer players on Team USA are attempting to achieve its third consecutive win at FIFA Women's World Cup, which kicked off Thursday, and gamblers around the country are placing their bets that the team could go all the way.
Several women's leagues and athletes have driven the conversation and attention to their sport in recent months. With more attention on major events — the Women's March Madness title game this spring set a viewership record of more than 9 million people — industry watchers and advocates hope to attract larger stages and increased betting attention.
"The fact that there are so many betting companies right now that have lines developed on the Women's World Cup is an indicator that tells us the market for women's sport is alive and well, and growing in ways it hasn't in the past," said Nancy Lough, a UNLV professor specializing in sport management.
Still, some sportsbook leaders and industry analysts are mixed on how this year's World Cup could influence betting on women's sport at large.
Underrepresented on the wagering menu
It's unclear exactly how much wagering options favor men's leagues compared with women's in the U.S. But researchers at UNLV say female athletes and their competitions are vastly underrepresented in betting menus across the country.
Much of that has to do with the available media coverage of a given sport. A United Nations report found that outside of major sporting festivals, 40 percent of all sports participants are women but women's sports receive about 4 percent of sports media coverage.
"Without the media coverage, the entire economic model breaks down," Lough said. "Because sponsorship relies on media coverage, advertising relies on media coverage, viewership relies on media coverage. It's about audience building."
Without the audience, sportsbooks are less likely to have a league expert on their staff. There are also less opportunities to get statistical data on the games and players that help set the odds, Lough said. Researchers say the question of demand is hard to answer when there are less betting options on a book's menu.
"It's almost like a catch-22," Brett Abarbanel, executive director of the UNLV International Gaming Institute, said. "There's not enough demand to justify having a desk that's dedicated to say WNBA or the NWSL. But the catch-22 is they (don't) have the desk so they're not necessarily creating the line to see what the demand might be and if it even exists in the first place."
Variety in sports
Some in the industry point out that parity in betting menus exists depending on the sport. John Murray, director of race and sports at SuperBook Sports, said they have historically received an even betting volume during tennis events like Wimbledon. Christopher Bennett, sportsbook director at Circa Sports, said UFC fight cards include women nearly every week and many bettors will wager on each matchup.
And it works the other way around. When asked if the upcoming World Cup might bring more betting attention to the National Women's Soccer League, Murray said it's unlikely – but suspects that has more to do with domestic soccer interest.
"It seems like women's soccer becomes such a huge focus every four years and during the Olympics, but the domestic league doesn't seem to move the needle much," Murray said. "It's the same way with the MLS."
Sports betting experts say some of the reasons the betting menu is skewed toward men's sports is because of the relatively young industry.
Chris Grove, a sports betting industry analyst for Eilers & Krejcik Gaming, said that since the U.S. Supreme Court overturned the Professional and Amateur Sports Protection Act in 2018, most books have been focused on getting their operations running in other states. To do that, they prioritize the leagues with the largest betting markets: the NBA, NHL, MLB and NFL.
"As sportsbooks and suppliers don't need to put in so many resources toward the obvious sports, and start having a little bit more flexibility to prioritize a broader range of sports," Grove said. "Women's sports will become a greater part of conversation. That balance is going to start to shift as sportsbooks start looking for more innovative ways to reach new customers."
Better bettor attention
Several sportsbook leaders in Southern Nevada say that shift is already happening. They all point to more wagering choices than recent years on the WNBA, and more specifically, on the Las Vegas Aces.
Chuck Esposito, Red Rock Casino's race and sportsbook director, said it has seen an uptick in the overall handle, or total amount wagered, on the WNBA as the defending champions perform well throughout the season. He said the book is putting up lines for player props, live in-gaming wagering, number of 3-pointers and other options.
"(We're doing) things like that to increase the overall interest in it and expand that wagering menu for games that are in our own backyard," he said. "(They) really appeal to our guests."
Murray, of the SuperBook, also attributed a growing increase in WNBA betting handle as part of the impact of the Aces. In the book's 12-month rolling report, NBA handle outpaced the WNBA 30-to-1. He suspects the gap can close because of the Aces' hot streak.
In fact, the team's success is drawing so much attention from interested bettors that the sportsbook's staff is having to study the games closer for better risk management.
"Because the Aces are winning by such big margins, customers are betting Aces first half," Murray said. "By the fourth quarter, all the starters are out of the game. We're actually having to pay attention to that. I don't recall ever having to pay attention to WNBA first half."
World Cup outlook
Despite the interest and star power on Team USA, some oddsmakers say the betting volume may be suppressed in this year's tournament because the competition is in Australia and New Zealand. Some games will be played at midnight Pacific Time.
And the team's success is a double-edged sword. Casual bettors may know that the team is the best but don't understand by how much — and that can stop them from placing a bet.
"They can't tell you if Team USA is four goals better or 10 goals better," Bennett, of Circa Sports, said. "That's what makes it tough. (If) people don't have some sort of opinion or feel for what the lines would be and what would be a good bet is, they're probably not going to bet."
McKenna Ross is a corps member with Report for America, a national service program that places journalists into local newsrooms. Contact her at mross@reviewjournal.com. Follow @mckenna_ross_ on Twitter.