'Definitely got very lucky': Circa Survivor winners tell $6.1M story
Updated January 14, 2023 - 9:22 pm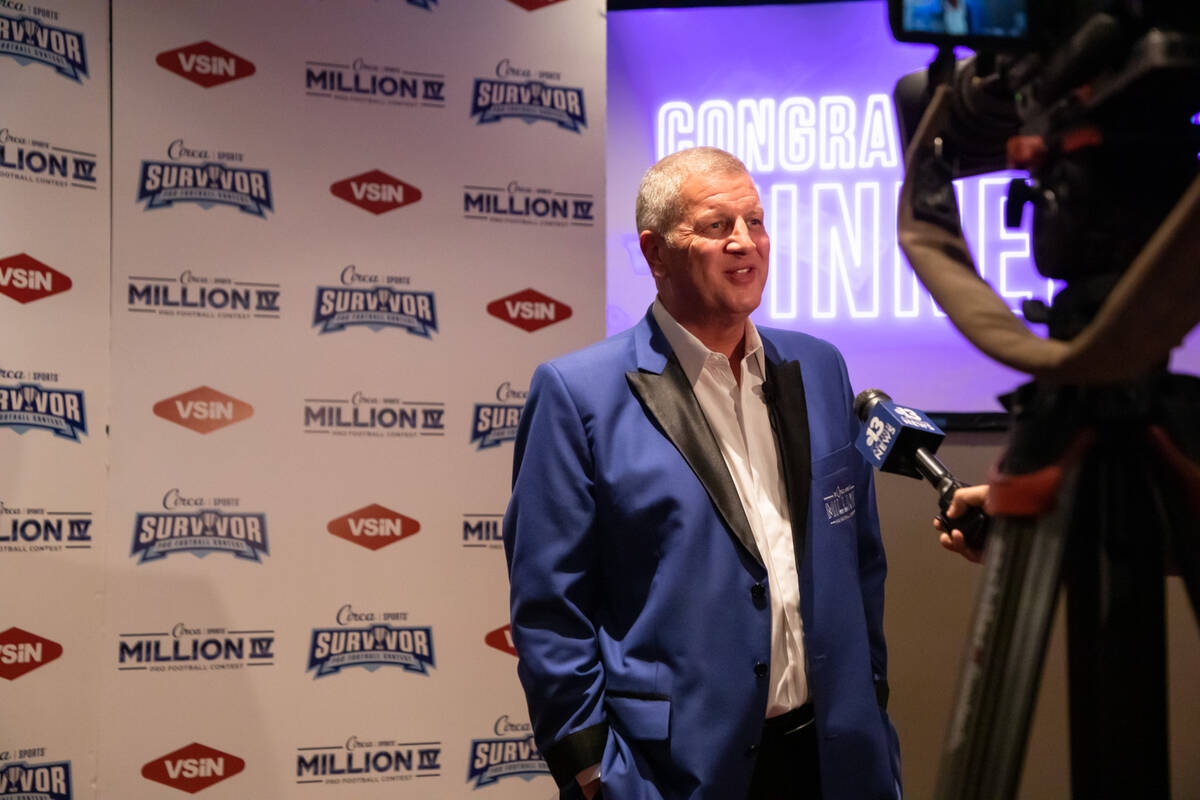 The two Circa Survivor winners took vastly different approaches to the contest.
But they arrived at the same destination Friday night for a victory celebration at the D Las Vegas, where they each collected an oversized check for $3,066,500.
The two entries made 20 straight winning selections to split the $6,133,000 prize in the contest, in which contestants pick one straight-up NFL winner each week but can use each team only once.
A field of 6,133 entries paid $1,000 each. Alex Brown, a 31-year-old Henderson resident who is engaged, had only one entry, named Browna. But that was all he needed to become a multimillionaire.
"I never imagined it would turn out quite like this," Brown said. "It's pretty incredible. I definitely got very lucky."
A group of four friends — New York resident Jeremy Wien and Las Vegas residents Jeff Abraham, Russell Rosenblum and Mike Buchmiller — comprised the other winning entry, named Jed.
They each bought the maximum six entries allowed for a team total of 24. The quartet was down to nine entries early in the upset-filled season when it failed to submit seven of them by the deadline.
Abraham, 65, CEO of Absorption Pharmaceuticals, said he was at work when he noticed seven entries weren't submitted in the contest.
"I looked at my marketing rep and said, 'Who's the dumbass that went this far and didn't put their entries in? Was it a group or seven individual idiots?'" he said. "I found out two days later it was us."
They were down to one entry by Week 6, but still survived.
"We never thought we had a chance to win," Abraham said. "It's a great feeling. It's a wild ride. The money's great, but the experience is really worthwhile."
Brown said eight of his 20 selections were trailing or tied in the fourth quarter, including three of his final four.
"It was very stressful coming down to the wire," he said.
Surviving Christmas
It was cold on Christmas Eve in Las Vegas, but both entries were sweating their picks on Pittsburgh as the Steelers trailed the Raiders in the final minute.
Pittsburgh rookie quarterback Kenny Pickett fired a 14-yard touchdown pass to George Pickens with 46 seconds left to lift the Steelers to a 13-10 win.
On Christmas Day, considered a separate contest week, both entries had Tampa Bay over Arizona.
"It was a nerve-wracking Christmas," Brown said.
That's because the Buccaneers trailed the Cardinals by 10 in the fourth quarter before rallying for a 19-16 overtime win.
Tampa Bay cut the deficit to 16-13 with 8:03 left on a Tom Brady touchdown pass, then caught a huge break on the ensuing drive when Cardinals rookie Keontay Ingram fumbled a pitch from third-string quarterback Trace McSorley to help set up Ryan Succop's tying field goal with 2:27 left.
"I'm Jewish," Wien said. "But that's a Christmas miracle."
After that week, the contest was down to three entrants, including Mike Barth of Houston with the entry The Enemy Within. All three cruised to blowout wins in Week 17, setting up a Week 18 showdown for the $6.1 million prize.
Chopping it up
That's when they agreed to a partial three-way chop of the pot.
"Everybody was like, 'How bad would this suck to come in second and get zero?'" Abraham said. "We had to reach out to the others. We tracked them down and said, 'Let's split this.' We agreed to a partial chop, which is nice."
It was especially nice for Barth, who had the Colts over the Texans.
"We limited some of the risk," he said. "But we were still playing for a lot."
Barth suffered an all-time bad beat in a 32-31 defeat. Indianapolis, leading 31-24 in the final minutes, allowed Houston to convert a fourth-and-12 before Davis Mills threw a 28-yard TD pass to Jordan Akins on fourth-and-20 and a go-ahead two-point conversion pass to Akins.
"If you're talking about ending up with nothing, it's a horrible thing," said Barth, 60. "But we were well-hedged and came out beautifully for the event."
Brown, who went to the University of South Carolina and rooted against rival Clemson quarterback Trevor Lawrence, needed Lawrence's Jaguars to beat the Titans to cap his perfect 20-0 season.
Jacksonville trailed Tennessee for more than 57 minutes before Rayshawn Jenkins sacked Titans quarterback Joshua Dobbs and knocked the ball loose, and Josh Allen returned the fumble 37 yards for a go-ahead touchdown with 2:51 left in the Jaguars' 20-16 win.
"It would've been fitting if I lost on Trevor Lawrence," Brown said. "But it worked out in the end."
Brown, who works in financial services and also won $20,000 for placing fifth in the William Hill College Pick'em football contest (50-30 against the spread), said the money will be life-changing for him.
"It still hasn't really hit me yet," he said. "I'll try to be smart about it."
The final sweat for the Jed entry was the Seahawks over the Rams. Seattle trailed 16-13 late in the game before tying it on Jason Myers' 22-yard field goal with 2:19 left.
Myers then lined up for a game-winning 46-yard field goal with three seconds left, but the kick hit the right upright and was no good.
Wien, who won a World Series of Poker bracelet in 2018, was keeping one eye on the game at home during his daughter's seventh birthday party.
"At that point, we had already hedged a lot of it. But we're all competitors and we want to win," he said. "They're doing the cake right now, and I ask, 'Can we do it between regulation and overtime?'
"I don't want any cake. But my daughter says, 'Daddy, you don't want any cake?' Of course I want cake."
Wien and his pals got the proverbial icing on the cake as Myers kicked a 32-yard field goal in OT to give Seattle a 19-16 win.
"When Seattle came through, I thought, 'I'm actually going to be one of those guys holding the giant check,'" Abraham said. "It's like a childhood dream."
Contact reporter Todd Dewey at tdewey@reviewjournal.com. Follow @tdewey33 on Twitter.