Las Vegas casino owner bets $363K on first round of NCAA Tournament
Updated March 12, 2018 - 5:58 pm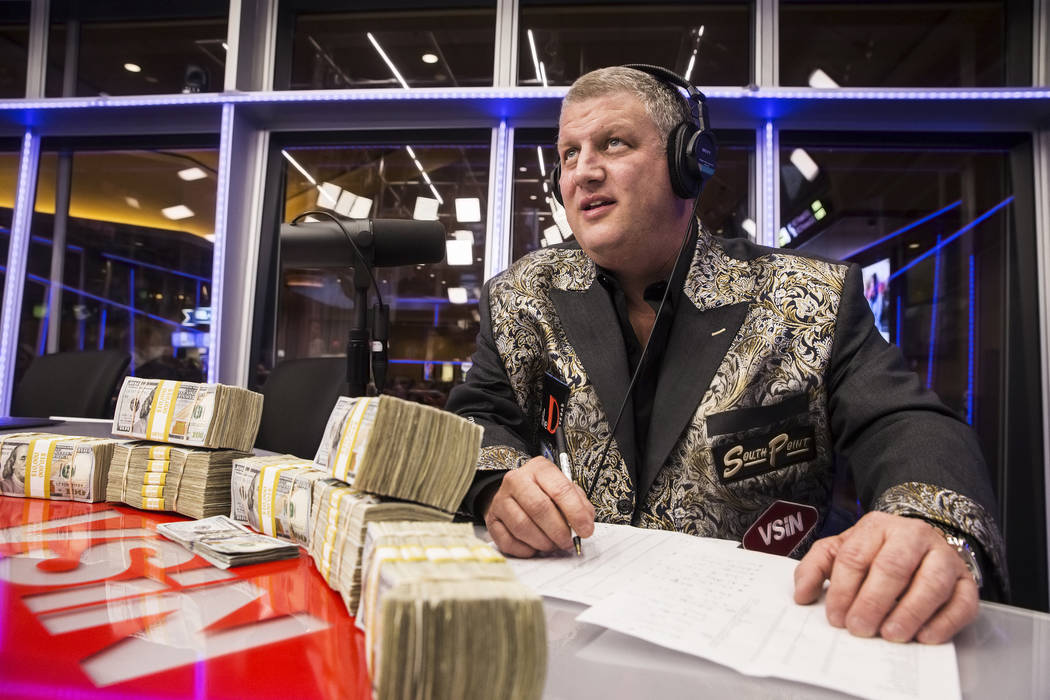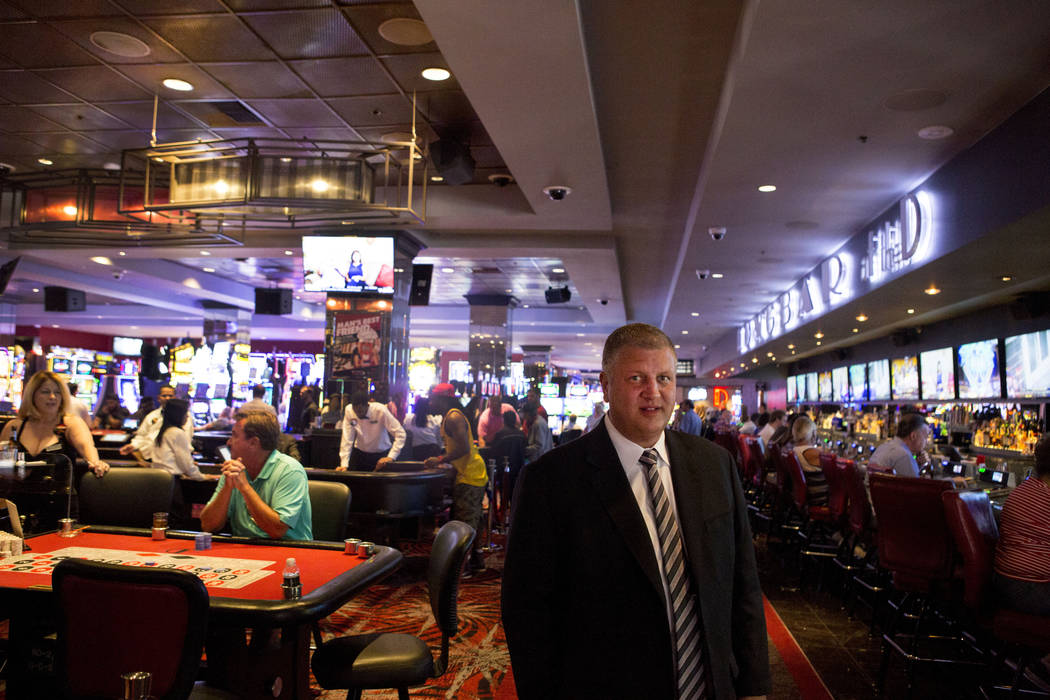 Las Vegas casino owner Derek Stevens inadvertently upped the ante during his second annual NCAA Tournament betting binge.
For the second straight year, the owner of the D Las Vegas and Golden Gate wagered $11,000 to win $10,000 on each of the 32 opening lines moments after they were posted Sunday during a live show on VSiN.com hosted by broadcaster Brent Musburger.
But when the stacks of cash settled into the coffers of the South Point and Golden Nugget sports books, Stevens had actually wagered a total of $363,000 — or $11,000 more than the $352,000 he bet last year.

That's because he accidentally took Loyola-Chicago — a 2½-point underdog to Miami — twice as he and four of his D Las Vegas employees quickly placed his bets on mobile apps at the South Point and Golden Nugget.
"That was a mistake. We bet Loyola at both places," Stevens said. "The pressure's on when you're in the studio. The cameras are on and the lines are popping. Doing it live is a whole different story than sitting back and placing your bets."
The Ramblers were one of 17 underdogs Stevens backed in his bid to better last year's live binge, in which he finished 10-19-3 ATS and lost $109,000.
"Last year was kind of tough. I had to make every bet within 10 seconds of being told the line," he said. "To try to do it by yourself is impossible. This year, we had some of our team come down and they kind of helped me out. And we used two books to get all 32 bets in at a little better number."
Stevens went 0-4 on the First Four games last season en route to a 3-14-2 start before going 7-5-1 on Friday's games.
"I certainly like my chances to do better. I couldn't do much worse than last year," he said. "It adds a lot of energy to our party on the 12th floor of the D. It's a great chance to either congratulate me or rip me a little bit. I'll take the heat one way or the other."
Stevens' First Four picks are Radford (-3) and UCLA (-3) on Tuesday, and North Carolina Central (+6) and Syracuse (+1) on Wednesday.
Americans expected to bet $10 billion
The American Gaming Association estimates that Americans will wager more than $10 billion on the NCAA Tournament, with only about $300 million, or 3 percent, wagered legally at Nevada sports books.
The AGA also estimates Americans illegally bet at least $150 billion annually on sports through bookies, offshore websites and sports pools such as March Madness brackets. An estimated 10 percent of American adults, or almost 24 million people, reported spending almost $3 billion in the past year on college basketball pools.
College basketball betting seminars
The Cosmopolitan of Las Vegas will host a free college basketball betting seminar at 1 p.m. Wednesday. The panelists include CG Technology sports book vice president Matt Holt, CG Technology sports book director Jason Simbal, radio host TC Martin and Brian Benowitz, The Cosmopolitan's senior vice president of casino operations.
Sunset Station sports book director Chuck Esposito also is hosting a free seminar from 6 to 7:30 p.m. Tuesday. It will feature handicappers Brian Blessing, Bruce Marshall, Bernie Fratto and Andy Iskoe.
More betting: Follow all of our sports betting coverage online at reviewjournal.com/betting and @RJ_Sports on Twitter.
Contact reporter Todd Dewey at tdewey@reviewjournal.com. Follow @tdewey33 on Twitter.