Suns' odds to win NBA title slashed after Kevin Durant trade
Updated February 10, 2023 - 2:12 pm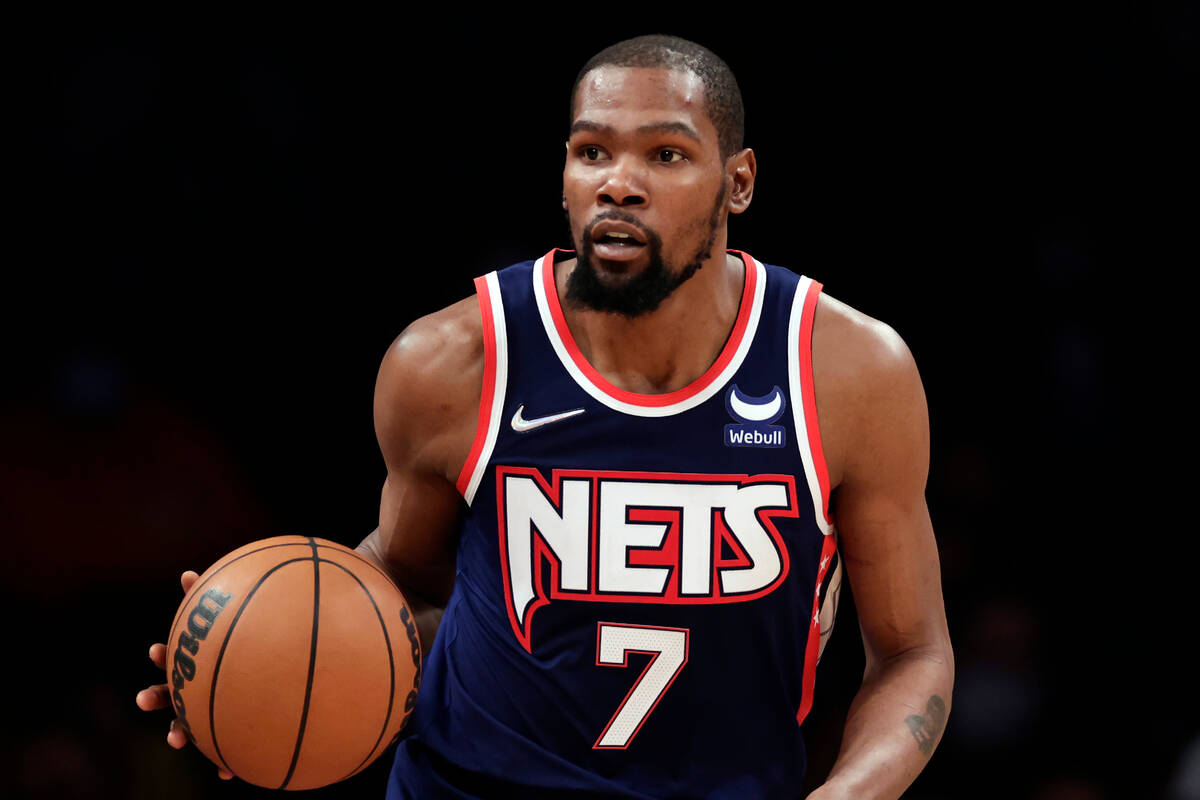 The Suns have seen their odds to win the NBA championship dramatically improve after acquiring former league MVP Kevin Durant on Wednesday night in a blockbuster trade with the Nets.
Phoenix dropped from 12-1 at the Westgate SuperBook to win it all to the 4-1 second choice behind the Boston Celtics, the 3-1 favorites to win the title.
The Suns sent Mikal Bridges, Cam Johnson, Jae Crowder, four first-round draft picks and a 2028 pick swap to Brooklyn for Durant and T.J. Warren.
Durant will form a formidable foursome with Devin Booker, Chris Paul and Deandre Ayton.
"They have the best starting five," SuperBook NBA oddsmaker Jeff Sherman said. "You can make an argument with Golden State. But now they're dealing with Steph Curry's injury that might keep him out for a prolonged period of time.
"The only thing you can question is the Suns' lack of depth. But they get days off between playoff games, when teams tend to shorten their rotation."
The Suns, who have supplanted the Denver Nuggets as the +190 favorites to win the Western Conference, were as high as 30-1 long shots to win it all a couple weeks ago.
"They had been playing poorly, and Devin Booker had been out so long," Sherman said. "Unless they made a major move, it looked like they were going to have an uphill battle this season."
Phoenix was 20-1 last week when the Westgate dropped it to 12-1 in anticipation of new billionaire owner Mat Ishbia making some moves.
"I thought he would be aggressive and make some upgrades right away," Sherman said. "Not Durant, but an aggressive move, which obviously was as aggressive as you can be getting Durant."
The Dallas Mavericks also saw their title odds slashed from 25-1 to 12-1 before inching back up to 16-1 after they acquired eight-time All-Star guard Kyrie Irving on Sunday in a trade with the Nets.
"As good as Irving is, there's baggage that comes with him," Sherman said. "The Mavericks made it to the conference finals with the Warriors last year, when they had Jalen Brunson. I don't see that large a discrepancy with what they had last year to what they have now.
"I don't think their odds should be cut in half, but money spoke and we went with it."
Sherman initially lowered the Mavericks from 25-1 to 20-1 after the trade. But bettors kept wagering on Dallas at 20-1 and 16-1 before the number settled at 12-1.
After lowering the Suns, Sherman bumped up other teams, moving the Nuggets from 6-1 to 8-1, the Clippers from 10-1 to 12-1 and the Lakers from 40-1 to 50-1.
The Lakers on Wednesday acquired Minnesota's D'Angelo Russell, Malik Beasley and Jarred Vanderbilt in a three-way trade that sent Russell Westbrook and a first-round pick to the Utah Jazz, and Mike Conley and picks to the Timberwolves.
"Initially, I thought it was an OK trade for them," Sherman said of the Lakers. "But nothing that will move the needle too much. This (Durant deal) sets them back."
The Lakers also traded center Thomas Bryant to the Nuggets and acquired Mo Bamba in a trade with the Orlando Magic for Patrick Beverley.
The Milwaukee Bucks, who acquired Crowder on Thursday in a three-team trade, are the 5-1 third choice to win the title. They're followed by the Nuggets, Clippers and Philadelphia 76ers (14-1), with the Mavericks, Warriors and Memphis Grizzlies at 16-1.
Contact reporter Todd Dewey at tdewey@reviewjournal.com. Follow @tdewey33 on Twitter.