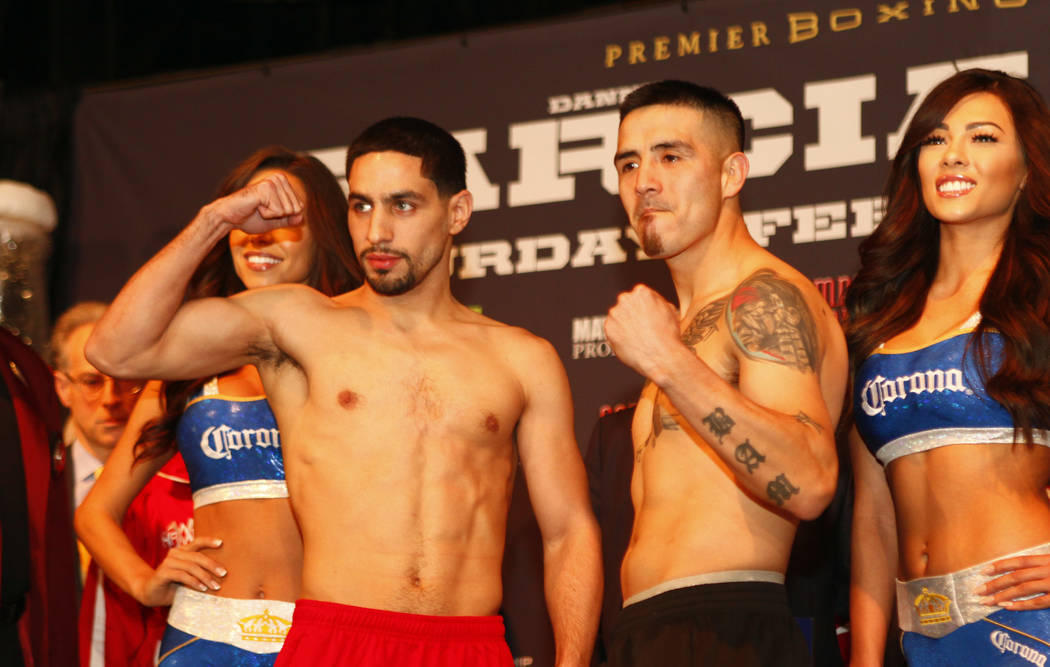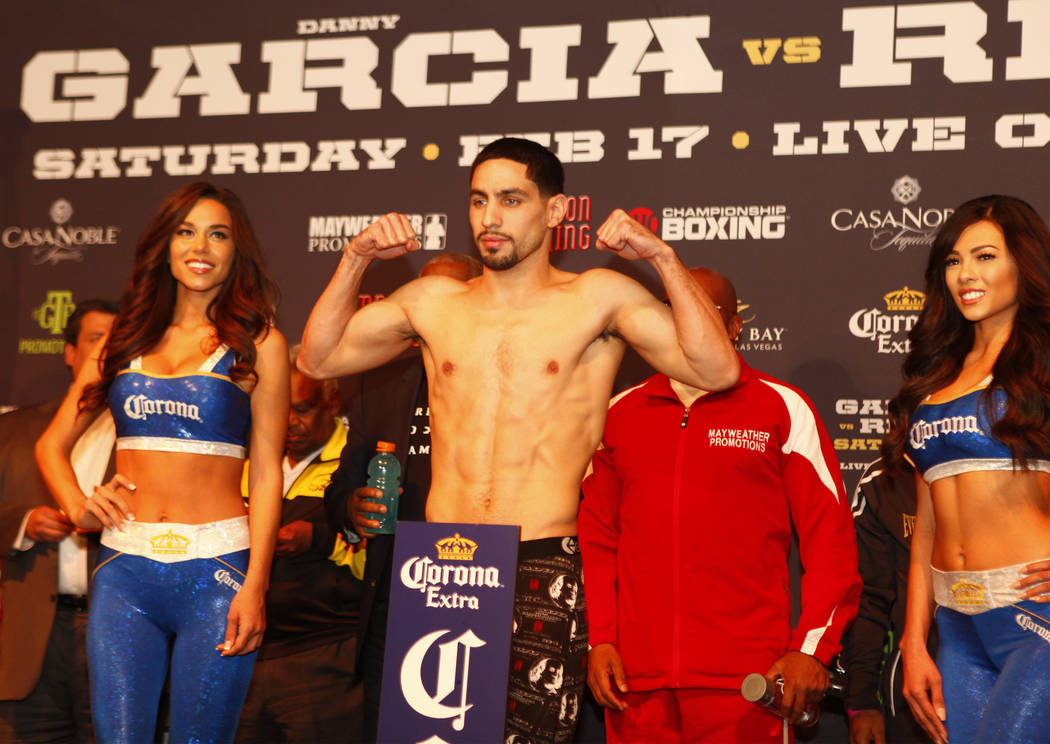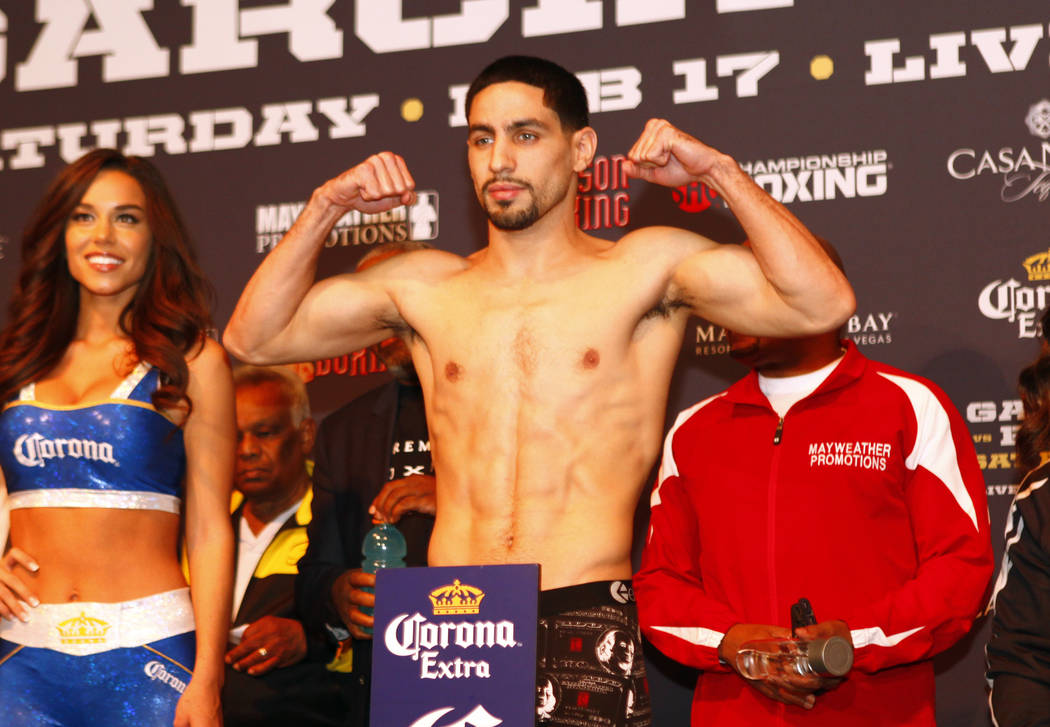 Brandon Rios sat between Ronald Gavril and David Benavidez as he played the role of instigator during Thursday's final news conference at the Rhythm and Riffs Lounge inside Mandalay Bay.
Rios whispered remarks as Gavril and Benavidez traded insults. Rios' opponent, Danny Garcia, ignored the raucous and stared at his flashy gold watch.
"It's 'Swift' time," said Garcia, who goes by "Swift."
It's #Swift time! 🎭 pic.twitter.com/WadvT87Vyd

— Danny 'Swift' Garcia (@DannySwift) February 16, 2018
Garcia has had a calm demeanor during fight week. Maybe too calm.
Coming off his first career loss, Garcia will end an 11-month layoff Saturday when he faces Rios in the main event of a Showtime-televised boxing card at the Mandalay Bay Events Center. Garcia is a minus 2,500 favorite at the Westgate sports book.
There's mutual dislike between Saturday's co-main event fighters, Gavril and Benavidez. The same can't be said about Garcia and Rios, who have shown a mutual respect.
Garcia, arguably the biggest star in the welterweight division who is 33-1 with 19 knockouts, probably treated his bout against Rios as a tuneup. Rios, known for trash talk, might have been too focused on making weight.
The respect went out the window during Friday's weigh-in.
Rios got Garcia's attention when he comfortably made weight at 146.5 pounds. This wasn't the out-of-shape Rios that Garcia might have expected.
Instead of getting a tuneup, Garcia might be in for a ring war. Garcia, who also weighed 146.5 pounds, unleashed "Swift" when he barked at Rios' team and predicted a knockout.
Rios (34-3-1, 25 KOs) responded to Garcia's remarks by getting in his face during the ceremonial staredown, and the two needed to be restrained.
"I'm going to do what I want to do," Garcia said. "It's the Danny Garcia show. I'm going to put him to sleep."
Said Rios: "When I do it right, when I'm disciplined and I'm concentrated and I'm focused, I'm an animal. I'm going to win this fight."
Garcia, 29, was part of the most-watched fight in 2017 when he lost his WBC belt to Keith Thurman by split decision at the Barclays Center in Brooklyn, New York.
The fighter from Philadelphia didn't rush back to the ring because he wanted to regroup and spend time with his family.
"Sometimes rest is more important than fighting, a lot of people don't realize that," Garcia said. "People just work, work, work, and that's how you get burned out, and that's how you don't get good results."
Garcia's two biggest victories came in Las Vegas against Lucas Matthysse and Amir Khan. He was the underdog in both fights.
Before making the jump to 147 pounds, Garcia cleaned out the junior welterweight division and fought in Las Vegas 10 times. He hasn't fought on the Strip since 2013.
"My best performances are probably in Las Vegas," Garcia said. "We're back on the West Coast, and we want to get back to the top this year."
Garcia took a lot of flak on social media for accepting a fight against Rios instead of a top-1o welterweight contender.
Garcia said he was never offered a fight against former welterweight champion Shawn Porter. Garcia pushed for a rematch against Thurman, who injured his elbow during the fight and isn't expected back until May.
"I'll probably never get over it," Garcia said of the loss. "I believe I won the fight. He was the one who needed surgery. I wasn't hurt."
Garcia said there was no need to rush into another big fight because he has potential bouts against Errol Spence, Porter and Thurman looming.
"I'm in the prime of my career," Garcia said. "I'm the biggest name, and those fights will be there. If I move up to 154, I'll be the biggest name in that division, too."
Contact Gilbert Manzano at gmanzano@reviewjournal.com. Follow @GManzano24 on Twitter.
Fight Night
When: 3:05 p.m. Saturday
Where: Mandalay Bay Events Center
Main event: Danny Garcia vs. Brandon Rios
Co-main event: David Benavidez vs. Ronald Gavril
TV: Showtime (telecast starts at 7 p.m.)
Tickets: Axs.com
Purses and weights
Danny Garcia: $1.25 million, 146½ pounds
Brandon Rios: $500,000, 146½ pounds
David Benavidez: $400,000, 167 pounds
Ronald Gavril: $125,00, 167¼ pounds