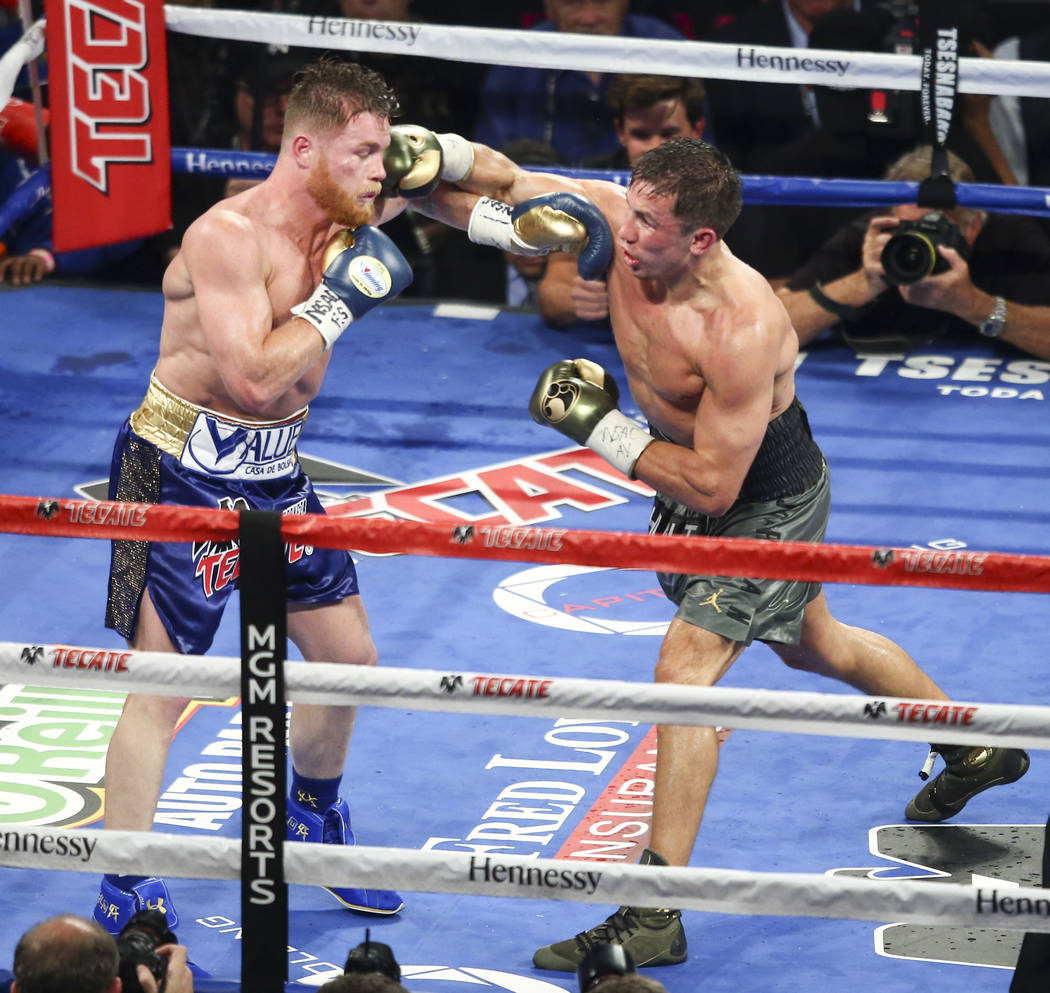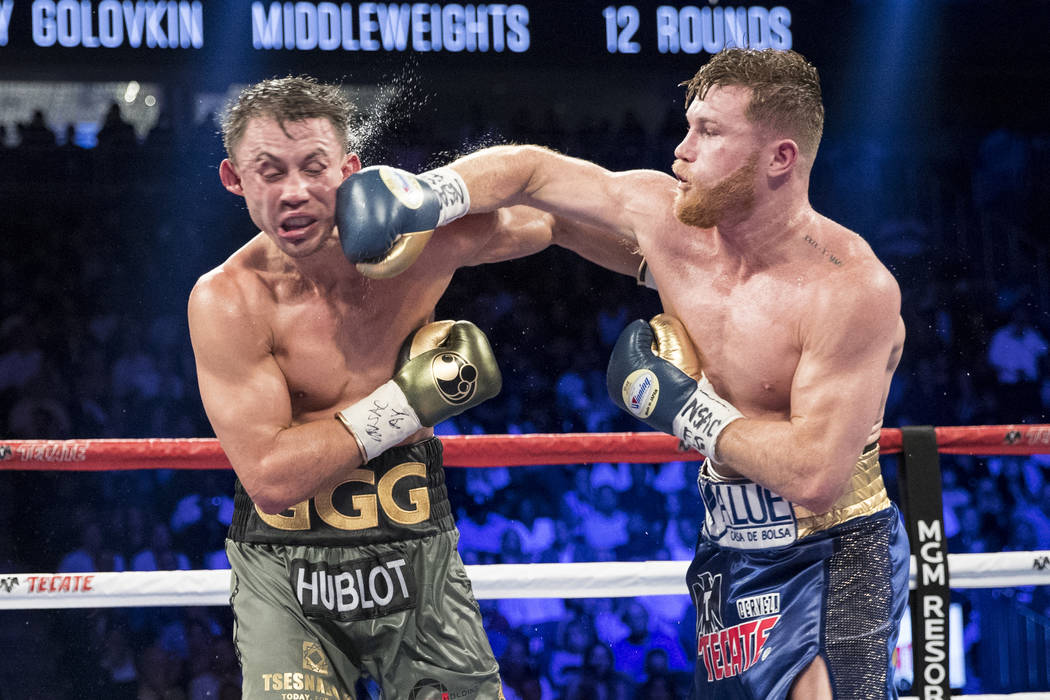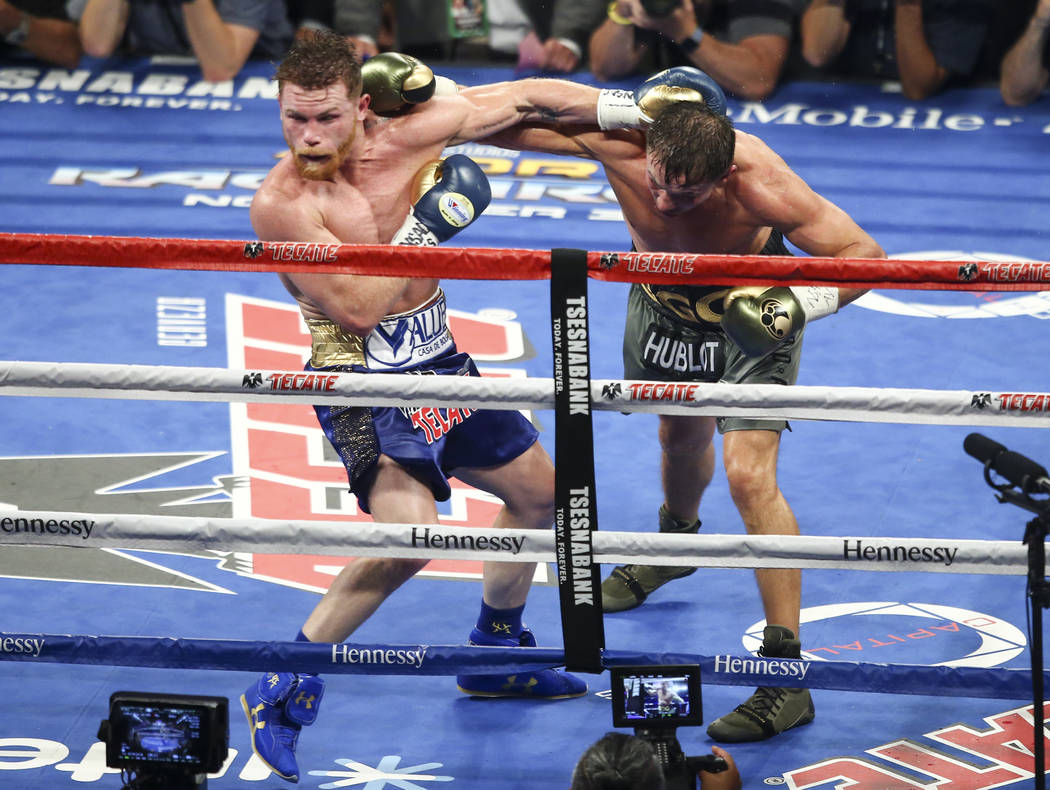 Adalaide Byrd was trending on social media Saturday night, a name not many knew before she turned in her shocking scorecard for the megafight between Saul "Canelo" Alvarez and Gennady "GGG" Golovkin.
Hardcore boxing fans knew all about Byrd's erratic track record as a judge, but even they were surprised by the numbers they heard.
Byrd was thrust into the national spotlight after ring announcer Michael Buffer revealed her 118-110 score in favor of Alvarez. The two others judges had it much closer, with Dave Moretti scoring it 115-113 for Golovkin and Don Trella deciding on a 114-114 draw. Byrd only gave Golovkin the fourth and seventh rounds.
The Review-Journal scored it 114-114 as did many others on press row. The ones that didn't have a draw, had Golovkin winning by a narrow margin.
Golovkin wasn't happy with the outcome and the scoring by the judges.
"This is terrible for the sport of boxing," said Golovkin, who retained his three middleweight belts. "It's unbelievable."
Golovkin was right. Instead of talking about the instant classic the two gifted boxers delivered at T-Mobile Arena, nearly every question during the postfight news conference was about Byrd's scorecard.
"I thought that one of the judges had her card filled out before she came to the fight," said a suspicious Abel Sanchez, Golovkin's trainer. "But that's unfortunate, that in Vegas they seem to go to different schools to learn how to judge a fight.
"But if Canelo wants a rematch, I'm sure that they'll put it together and we'll have another great one."
Even Alvarez's promoters, Oscar De La Hoya and Eric Gomez, were left speechless by Byrd's eye-popping scorecard. De La Hoya said he had it seven rounds to five in favor of Alvarez.
One media member berated Nevada Athletic Commission executive director Bob Bennett and asked what he will do to punish Byrd for her scoring.
"Let's pause on all that," Bennett said. "There's nobody sitting in this room that hasn't had a bad night at their job. She was off her mark tonight."
De La Hoya said Alvarez will exercise his rematch clause, but now the question is whether it will take place in Las Vegas. Golovkin and his team might push against it, but without the victory, they don't have much say with Alvarez, who's the clear A-side when it comes to negotiations.
"There is no question that Gennady won the fight," said Tom Loeffler, Golovkin's promoter. "There are no issues to doing a rematch. I just hope it takes Canelo and Golden Boy less time to do it than it did to make this fight. Enough drama, let's get them back into the ring. Gennady is a true champion. He runs from no one."
Alvarez put up a valiant effort and proved he could hang with arguably the best middleweight of the last decade. But not many could make a case he did enough to win. The Mexican star came out swinging in the first three rounds before fading in the middle rounds. Alvarez regrouped and hurt Golovkin in the 1oth with a massive right hand.
All three judges had Alvarez winning the final three rounds. Alvarez landed more power shots than Golovkin, a 114-110 advantage according to CompuBox. The fighter from Kazakhstan connected on 218 punches out of 703. Alvarez landed 169 of his 505 punches thrown.
Golovkin dominated the middle rounds by stalking Alvarez with the jab and lowered his head so Alvarez wouldn't be able to let fly his fast combinations.
The brawl might not have been better than the heavyweight championship fight between Anthony Joshua and Wladimir Klitschko in April. But a case could be made for Golovkin-Alvarez being the best pay-per-view bout in a long time.
It could have been a shining moment for boxing if Byrd didn't dominate the headlines.
Last year, Top Rank tried to remove Byrd as one of the judges for the Vasyl Lomachenko-Nicholas Walters bout. The commission denied the request.
The commission might get a lot more requests regarding Byrd in the near future.
Canelo-Golovkin Score Card by Las Vegas Review-Journal on Scribd
Contact Gilbert Manzano at gmanzano@reviewjournal.com. Follow @GManzano24 on Twitter.
Related
Canelo-GGG middleweight title fight ends in draw
It's time for Nevada Athletic Commission to get serious about judges