Check out these things on our Las Vegas sports fan Bucket List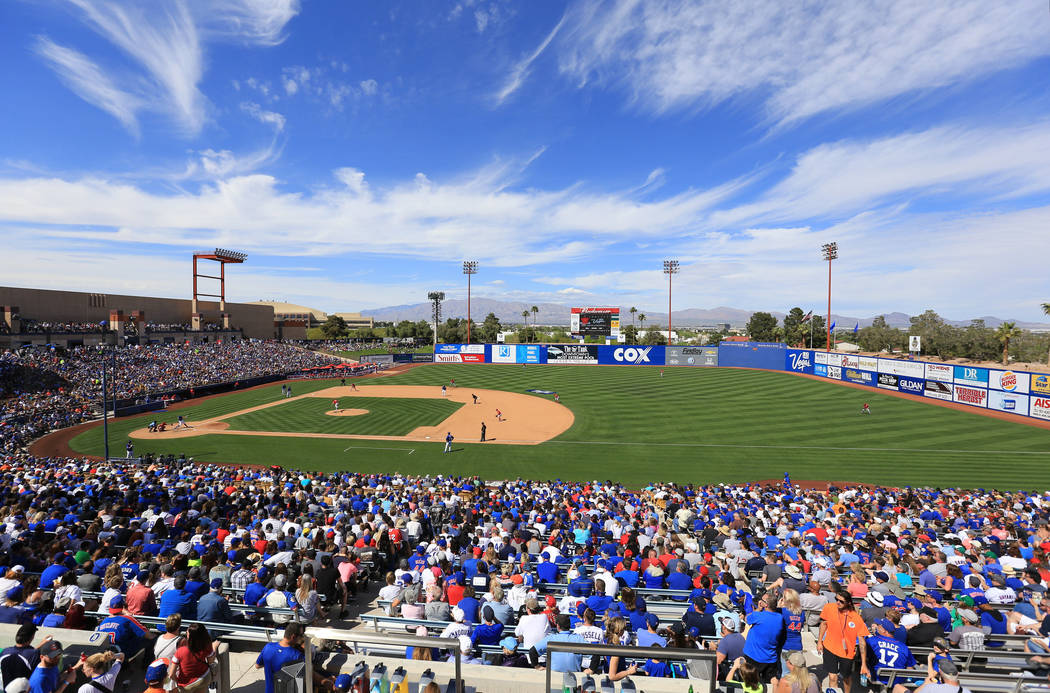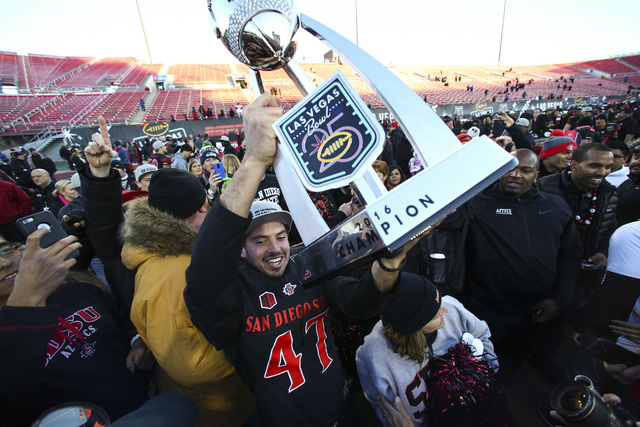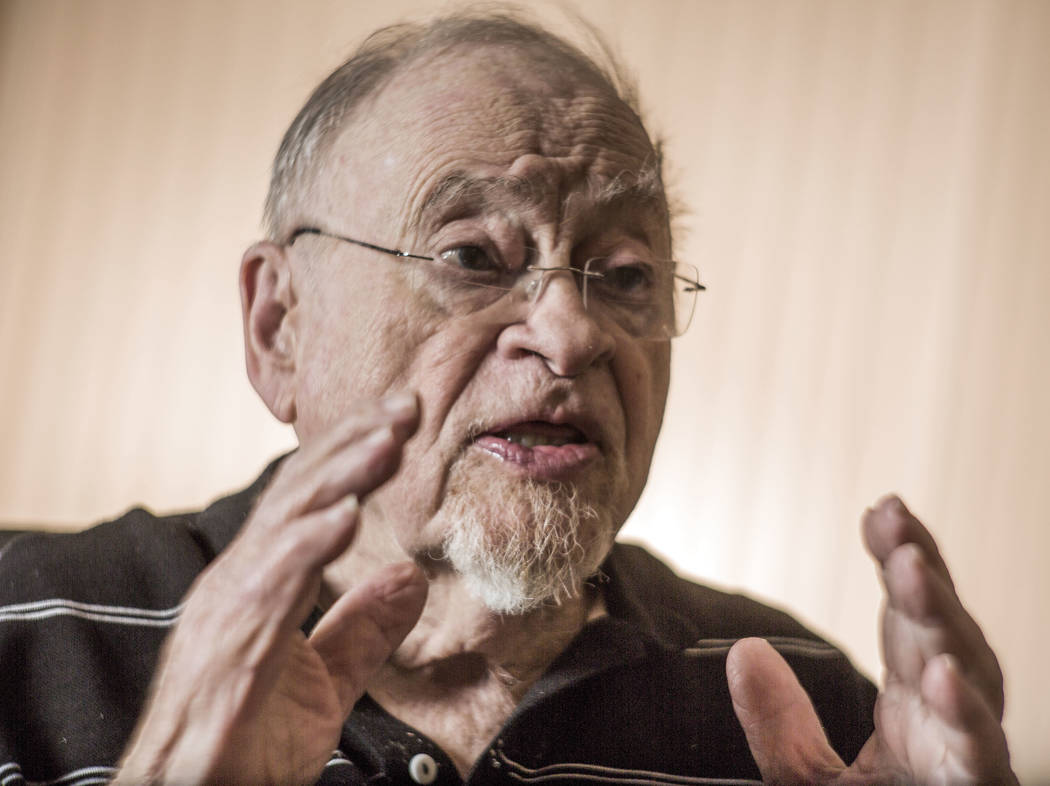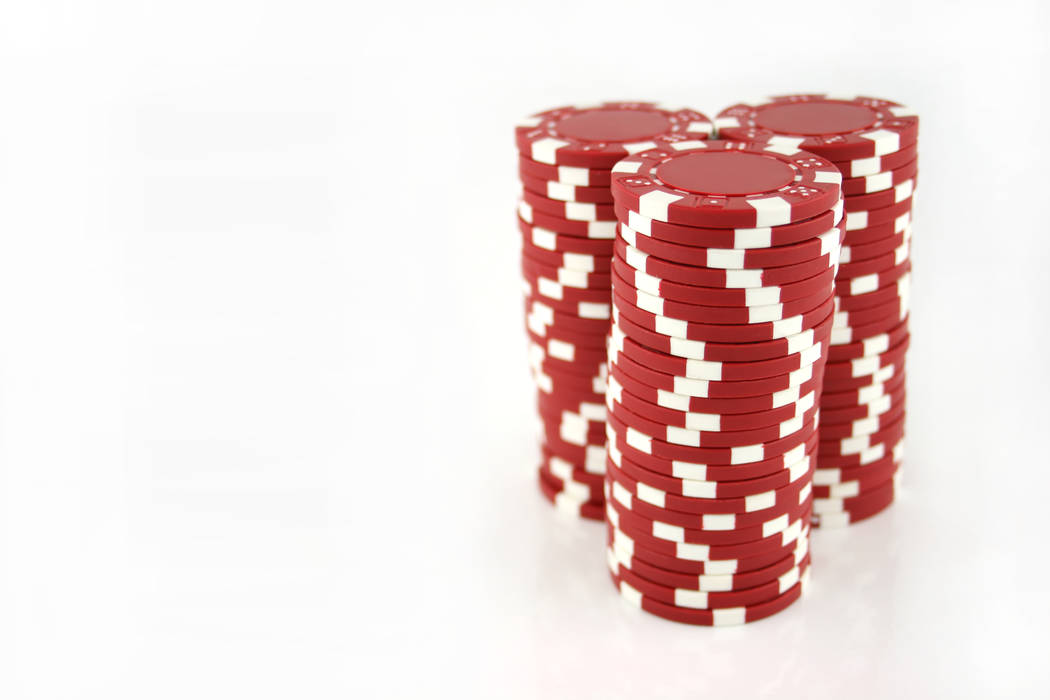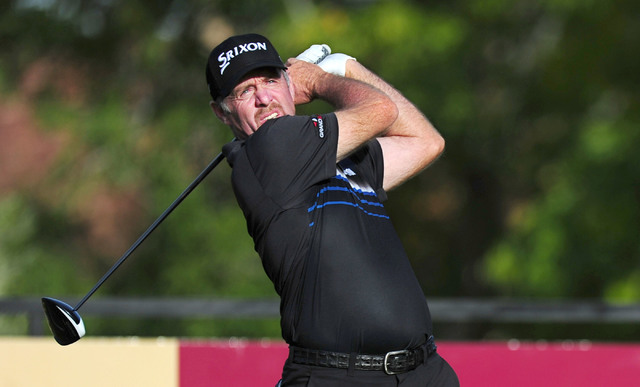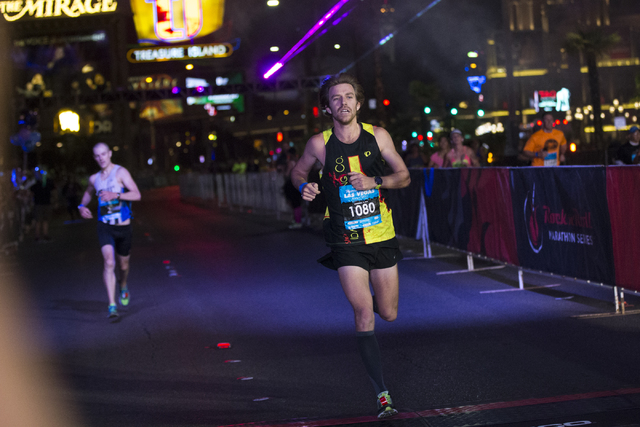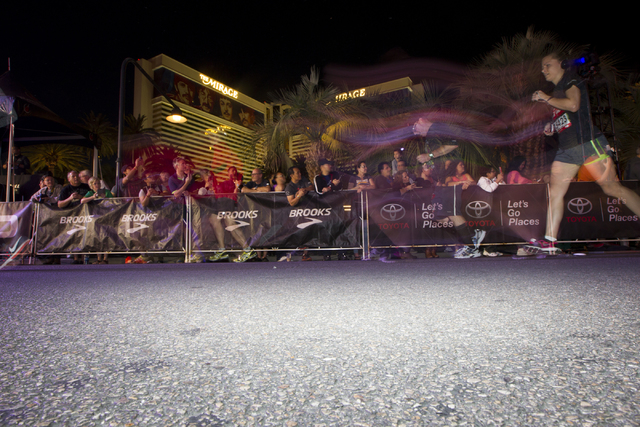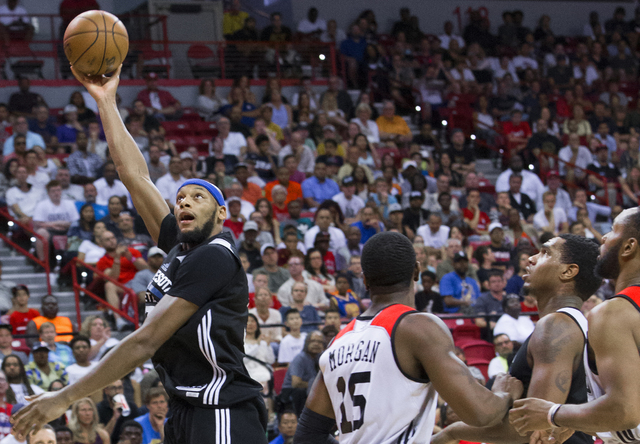 In the movie "The Bucket List," Morgan Freeman and Jack Nicholson go skydiving, drive a Shelby Mustang, fly over the North Pole, eat dinner at Chevre d'or in France, visit the Taj Mahal, ride motorcycles on the Great Wall of China, go on safari in Tanzania and trek to Mount Everest in Nepal. Only to find it obscured by clouds.
With the exception of driving a Shelby Mustang — the auto racing pioneer was based here before his death, and there's a Carroll Shelby Museum near the junctions of Interstates 15 and 215 in close proximity to McCarran International Airport — you can't check the boxes on any of those typical Bucket List things if you're a Las Vegas sports fan not planning to venture far from home.
But you could do all of the following, very few of which would be hampered by cloud cover:
Buy a ticket from a scalper for Gonzaga vs. Saint Mary's
By now you are well acquainted with Vegas Madness, four conference basketball tournaments spread over two weekends in March that usually decide whether Gonzaga will be a two or a three seed. The West Coast Conference in 2009 was first among the outsiders to show you can sink the 'J' and get back on defense without being corrupted by all our town has to offer, and when Gonzaga and Saint Mary's face off in the championship game at Orleans Arena, seats are difficult to come by. But if you can bum a seat off a Santa Clara or Loyola Marymount fan, by all means do it.
Play pickup basketball at Sunset Park
You think you got game? Then bring it on during a 3-on-3 run at Las Vegas' iconic outdoor courts. Back in the day, you could catch a lot of former UNLV and local prep stars and future Jesus Shuttlesworths turning the Sunset asphalt into Southern Nevada's answer to Rucker Park. Once the sun goes down and they turn on the lights, you still can catch the odd Rebel and others who got game working on their crossover dribbles. Just don't call too many ticky-tack fouls.
Play pickup basketball at old Boulder City gym
You won't find too many Basketball Joneses hooping it up and calling ticky-tack fouls at the nostalgic Boulder City Recreation Center gym. But you can smell the quaintness, and, if you time it right, the fresh varnish on the ancient hardwood. The well-preserved gym on Arizona Street offers old-school basketball ambiance, the kind that comes with satin shorts and black high-top Converse and cheerleaders in poodle skirts. Jimmy Chitwood and the cast of "Hoosiers" would have loved this place.
Spend a day at the NBA Summer League
It's affordable ($25), it's indoors during the middle of July and you can take in as many as eight games in a day if you time it right. That's just over $3 a game to watch the future of the NBA, and the future of the Turkish League. It's also cool to see what Cox Pavilion looks like filled to the rafters. But if you're sitting down low, you might want to keep your texting to a minimum — you never know when the next NBA or Turkish League phenom might bounce a no-look pass off your noggin.
Drop in on NCAA D-III hoops at South Point
Every holiday season there are a bunch of college basketball tournaments at South Point Arena. One is for obscure schools, most with directions or hyphens in their names. These games will remind you of 1964 — almost all of the players stand 6 feet 3 inches tall or shorter, and seldom do they dunk. They take care of it, though, and they run plays, set screens and make their free throws. Be sure to pick up a roster sheet at the door — in Division III hoops, there are no names on the back of the jerseys.
Experience the Las Vegas Bowl
Our postseason gridiron classic usually attracts a big crowd, and sometimes the representative from the Mountain West beats the representative from the Pac-10, because the Pac-10 rep is usually coming off a disappointing season, in which case its coach might have just been fired and the defensive coordinator has taken over. But it still feels like big-time college football. And every now and then you'll witness something very cool, such as Steven Jackson of Eldorado High scoring five touchdowns for Oregon State, or a female kicker from New Mexico attempt an extra point.
Buy a cold one from Beer Man Bruce
You haven't really seen a 51s game until you've bought BEER! WATER! NUTS! from Beer Man Bruce Reiner at Cashman Field. "I say 'BEER!' You say 'HERE!' — Beer Man Bruce is bombastic and 51s fans love him, and so when it's still 105 degrees in the bottom of the third, they spritz him with cold water. If you don't know Beer Man Bruce, you'll see him soon enough, and you'll hear him long before that. I know guys who will pony up $6.50 for a Michelob Ultra on Dollar Beer Night at Cashman, just because Beer Man Bruce is working the right-field line.
Stand in line on Big League Weekend
The annual Cactus League ballgames between the Chicago Cubs and another major league team not as popular pack Cashman Field to where it is uncomfortable, and so one often has to stand in line for three innings to get a hot dog or use the restroom. The Cubs usually bring a split squad, meaning that half of their lineup is comprised of minor leaguers wearing high jersey numbers. But they also bring local star Kris Bryant, and he usually hits a home run (or two). And so one doesn't really mind standing in line for three innings to get a hot dog or use the restroom.
Watch a UNLV baseball game with the 335 Club
It is 335 feet from home plate to the foul poles at Wilson Stadium, home of the UNLV baseball team. In the 1980s, when gruff but lovable Fred Dallimore was the Rebels' coach, a few guys would back up a pickup truck to the left-field fence and drink beer out of it, and when the Rebels swept UC Irvine, they would hoist brooms in the air. When Tim Chambers took over as coach, he built a grandstand for the 335 Club right on top of the right-field wall. Brooms aren't hoisted in the air as much anymore, but when the Rebels turn it around, the 335 Club will be there.
Hang out at a local boxing gym
Remember those boxing gyms you'd see in the movies, where washed-up pugs that coulda been contendahs trained young palookas and shady guys wearing fedoras were always hanging around? They still exist in Las Vegas. You won't find many shady guys wearing fedoras at Top Rank Gym off Dean Martin Drive, and Floyd Mayweather's place in Chinatown doesn't exactly smell like liniment. Johnny Tocco's on West Charleston still mostly does. You might even seen a shady guy wearing a fedora at Tocco's, where, according to the sign, they've been training champions since 1953.
Save up for a Big Fight Night
It was known simply as the outdoor arena at Caesars Palace, and on Big Fight Night, the electricity it generated would make the little hairs on the back of your neck stand on end, and they wouldn't fall back into place until Tuesday. They don't have big fights at Caesars anymore, because the outdoor arena was torn down for a shopping mall. But the MGM Grand Garden has done a nice job recreating the Big Fight Night experience, and T-Mobile Arena probably will do the same. No, seats to Big Fight Night aren't cheap, but then neither are tickets to the Rolling Stones or Andrea Bocelli.
Bet on Super Bowl or March Madness
It's getting to where holding a betting slip on whether there will be a safety in the Super Bowl, or who will score more points, the Patriots or Russell Westbrook, is almost better than being at the game itself. Especially if you bet Westbrook, who scored 42 points, while the Pats scored 34. Same for March Madness. Although with March Madness, it's minus-180 that an obnoxious frat boy from Michigan State or one of the other Power 5 conferences will spill a beer on your shoes before halftime.
Watch some table hockey
By next year at this time, sitting in the T-Mobile Arena nosebleed sections when an Original Six team comes to town probably will top the bucket lists of Golden Knights' fans who didn't pony up for season tickets with a consortium of buddies. Until then, there's the Las Vegas Table Hockey Club, where the little plastic puck moves so fast that not even Marc-Andre Fleury could stop it. Sometimes there are big tournaments at a ballroom on the Strip, and Claude Lemieux comes out of the stands to challenge the experts, and guys put on display the old table hockey sets they played on as kids. Game on!
Buy a ticket to the Bone Game
Every fall, Rancho High and rival Las Vegas play a football game with the winner being awarded Sir Herkimer's Bone — a large bone from a cow. The first showdown for Sir Herk's Bone resulted in a 13-13 tie in 1958, and the tradition continues to this day (though Las Vegas High almost always wins). If you're busy on Bone Game night, there's always Chaparral vs. Eldorado for Merlin's Cleat — a bronzed football cleat once worn by NFL Hall of Famer Merlin Olsen.
Check out the USBC Parade of Champions
A couple of years ago, the South Point opened a $35 million bowling center so it can host these giant United States Bowling Congress tournaments in which amateurs from Milwaukee and other bowling places show up around February, leave around July and spend lots of money on rooms and meals. Before the tournament, the lights are dimmed and hundreds of amateur bowlers stroll through the bowling center. This isn't as cool as actually bowling yourself, but it still is pretty neat if you've never seen it.
Roll strikes and spares at Boulder Bowl
If you'd rather try for a strike on the Brooklyn side yourself instead of watch somebody from Milwaukee do it, it's hard to beat the throwback charm of Boulder Bowl in Boulder City. It still uses over the lane ball returns. You'd swear that Ralph Kramden was about to come crashing through the door with the Raccoon Lodge bowling team at any minute. Boulder Bowl, which opened in 1947, has been featured on History Channel's "American Restoration." Tell 'em Ed Norton sent you.
Make a Mad Dash at NFR
One of the toughest tickets in town is the National Finals Rodeo — it sells out in a hoof beat every December at the Thomas & Mack Center. But those born in Oklahoma or one of the other rodeo states might want to take advantage of the Mad Dash. For $39.50 or thereabouts, you can pay general admission and sit in any unoccupied seat, with the caveat that once the seat holder arrives, you have to find another unoccupied seat, or get your money back and watch the closed-circuit feed from Sam's Town or some place like that.
Get a book signed by Jerry Izenberg
Hall of Fame sports writer Jerry Izenberg is one of two media types who has covered every Super Bowl. He now makes his home in Henderson, where, at age 86, he still writes about the big game and the big fights and the big horse races for the Newark (New Jersey) Star-Ledger. Izenberg is a prolific author of sports-themed books, and if you buy one at one of his frequent signings at Barnes and Noble, he'll tell you a sports story as only he can. (Tip: If you catch him at the Thursday Lunch Bunch at Main Street Station downtown, he'll tell a story without one having to buy a book.)
Watch rocks being curled at the Orleans
There isn't a sports fan walking the planet who doesn't find the ancient sport of curling — which sometimes is referred to as Canadian bowling, though it originated in Scotland — mesmerizing and enthralling. There's a big-time curling tournament almost every year at The Orleans in which Canadians curl the rock, and other Canadians sweep the ice with little brooms. Other countries are invited. Lots of Canadian beer is consumed, and everybody seems to have a great time.
Run the Rock 'n' Roll Marathon — or at least half of it
One year at the Las Vegas Rock 'n' Roll Marathon, a couple from Indiana were the last runners to start the race. They were about a half-mile from the starting line, where most of the Kenyans were. There were a lot of people wearing tutus between where the Kenyans were, and where they were; there were 26.2 miles to run, or to walk and hold one's side. Plus the half-mile or so to the starting line. The couple from Indiana said they were only running the half-marathon, so they were only half-crazy.
Do a NASCAR Weekend at Las Vegas Motor Speedway
Starting next year, there will be two NASCAR Weekends at LVMS from which to choose, and tickets won't cost nearly as much as before, because NASCAR's popularity has waned somewhat. But it's still a rush when the gentlemen and Danica Patrick start their engines. And should Kyle Busch get into a paint-trading snit with another driver, and punches wind up being thrown on pit road, people around the water cooler at work will be chatting about it the next day.
Watch Night of Fire light up the sky
For auto racing fans on a more limited budget, the Night of Fire at the LVMS Bullring on Fourth of July is a slice of Americana served with RPM sprinkles. In addition to a full slate of grassroots racing, something unusual always happens, such as a car powered by turbine jets melting down a bunch of disco records, or something being chained together and raced, such as old boats or school buses. Mayhem usually ensues, and then at the end of the night, Neil Diamond's "Coming to America" is played over the public address system to the accompaniment of fireworks.
Grip it and rip it at The Hill
The Hill is actually a giant tent overlooking the finishing holes at the Shriners Hospitals for Children Open at TPC Summerlin. You don't even have to go inside to enjoy the setting. You can spread out a blanket on the slope leading up to The Hill, kick off your shoes and watch some of the PGA Tour's best golfers hit 'em dead solid perfect. It's the ideal place to imbibe in one-too-many adult beverages and holler "It's in the hole!" when Phil Mickelson attempts a long putt on 18. Even when Phil isn't playing.
Count the hoodies at the World Series of Poker
Because frat boys and some other guys don't have poker faces, they often wear hooded sweatshirts and dark glasses while playing cards for big-time money at the WSOP at the Rio Convention Center. Amarillo Slim and Doyle Brunson and the cast of "Deadwood" never could have foreseen this. Maybe Johnny Chan could have foreseen it. At the WSOP, I think one also can look for three stacks of society hidden in a cigar box, or whatever Matt Damon said at the beginning of "Rounders."
Contact Ron Kantowski at rkantowski@reviewjournal.com or 702-383-0352. Follow @ronkantowski on Twitter.