Cowboys' Bryant accuses reporter of using racial slur during locker room rant
November 12, 2015 - 5:29 pm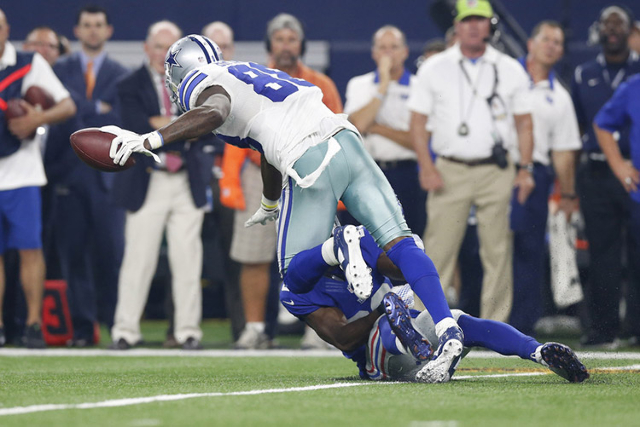 Dallas Cowboys wide receiver Dez Bryant was limited in Thursday's practice because of a knee injury and afterward went on a rant aimed at reporters.
Coach Jason Garrett said Bryant's surgically repaired foot, which caused him to miss five games, is not a problem. However, Bryant didn't practice Wednesday and was being held back Thursday to make sure the injury won't prohibit him from contributing at Tampa Bay on Sunday.
In the locker room after practice, Bryant accused a reporter of using a racial slur directed at a teammate and used expletives to berate ESPNDallas.com writer Jean-Jacques Taylor. Later, when Robert Klemko of Sports Illustrated tweeted about the altercation, Bryant went off on him.
"What are you —— doing?" Bryant yelled. "If you're going to report something, report it right. Report the whole thing. Don't single me out like that. … That's the —- I(m talking about right there."
Bryant then yelled at Cowboys media relations director Rich Dalrymple to intervene.
"How about you fix this —-, Rich?" Bryant yelled. "How about you fix it, Rich? You're talking to the wrong people. You're talking to the wrong people. I'll make sure I'll put it out then. Since y'all not going to say nothing."
When Cowboys coach Jason Garrett walked in, Bryant said, "Dirty, dirty, dirty, dirty, dirty, dirty. They —— dirty, coach! They're dirty! They're dirty! All of them! And especially (Klemko)!"
Later, Bryant tweeted, "Yeah I blew up on the media but report why I blew up on y'all… Saying I don't give (expletive) about me and calling players n—– is not professional…
"If you're going to tell something tell the whole thing…I'm done with the situation… I hope everyone is having a great day."
Quarterback Tony Romo practiced on a limited basis Thursday as scheduled, participating in individual drills and throwing on the side. Romo is recovering from a broken collarbone. He's scheduled to return Nov. 22 at Miami.
Like Sports News on Facebook: