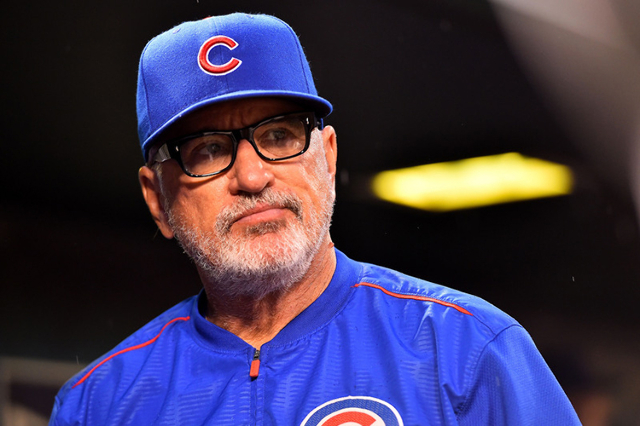 Forget the Billy Goat Curse and Steve Bartman. If the Cubs lose in the playoffs this season, don't be thunderstruck if Chicago fans blame it on the Curse of AC/DC.
After Starlin Castro made one of three Cubs errors in Monday's win over the Milwaukee Brewers at Wrigley Field, manager Joe Maddon blamed the second baseman's miscue on dirty deeds perpetrated by the legendary rock band from Australia.
"That error was not his fault. That was a bad hop. Since the AC/DC concert, we've had a little bit of trouble," Maddon said in referring to the Sept. 15 performance at Wrigley Field. "I don't know if they were out there taking ground balls before the game, or if they had nine-inch heels or spikes.
"They have totally messed up our infield … and it has nothing to do with the groundskeepers. I've seen a bad hop at third, and a bad hop at second. I didn't see one bad hop all year. We just got to get it ironed out because I think Starlin has done a nice job at second base. I don't want anyone blaming him on that error. It was a weird hop."
For the record, the infield was blocked off and covered for the concert and Castro has been a problem child on defense this season, making 24 errors, third-most in the majors.
Maddon can blame AC/DC for turning Wrigley Field into a veritable highway to hell, but money talks for the Ricketts family, which owns the Cubs. They've staged several other concerts at The Friendly Confines this season, including the Zac Brown Band on Sept. 11, the Foo Fighters on Aug. 29 and Billy Joel on Aug. 27.
On the subject of Cubs' curses, Takeru Kobayashi teamed up with three other competitive eaters to devour a 40-pound goat in about 12 minutes Tuesday night at Chicago's Taco In A Bag restaurant in an attempt to help reverse the Billy Goat Curse.
This makes perfect sense. To make peace with Billy Goat Tavern owner Billy Sianis — who was outraged over being kicked out of a 1945 World Series game at Wrigley because his pet goat smelled — four fans inhale a goat in furious fashion. Talk about dirty deeds.
You can check out the video above.
Like Sports News on Facebook: