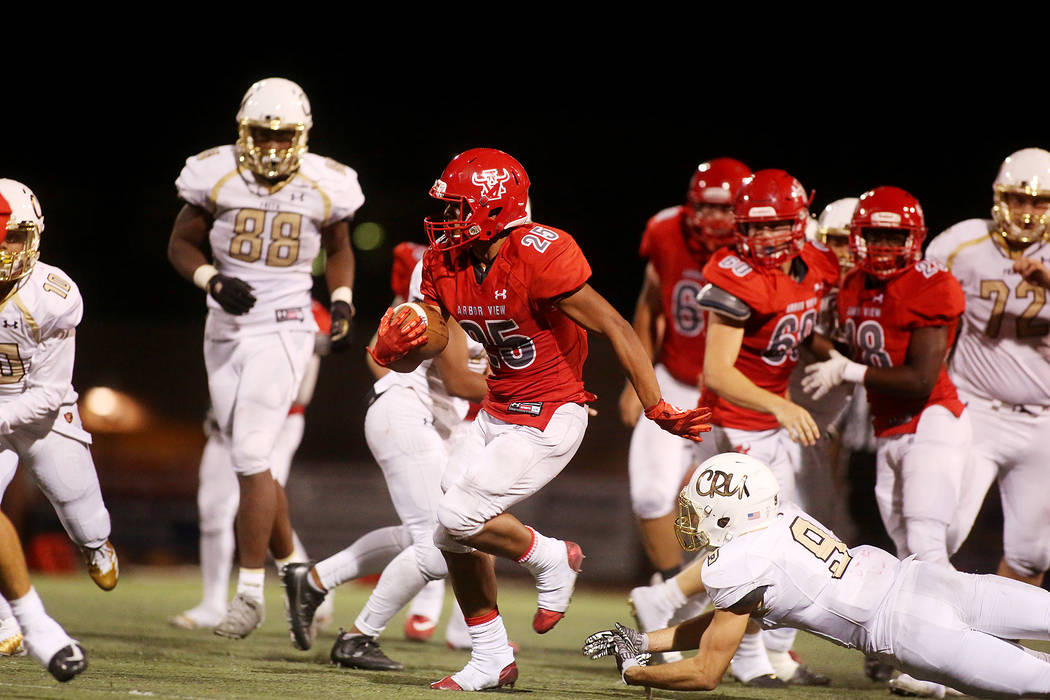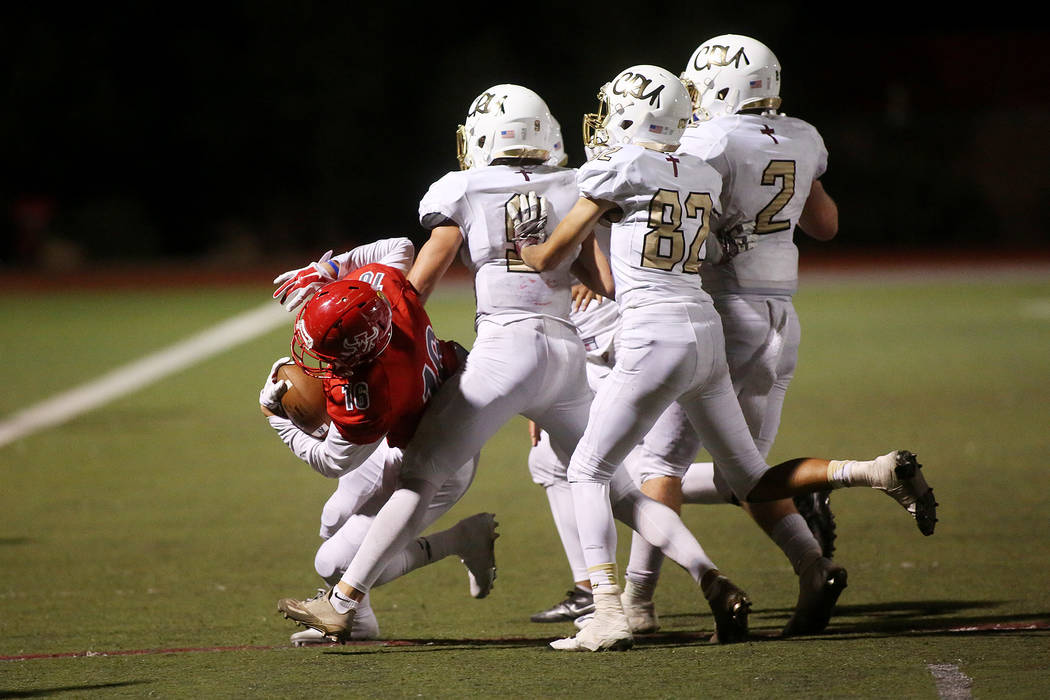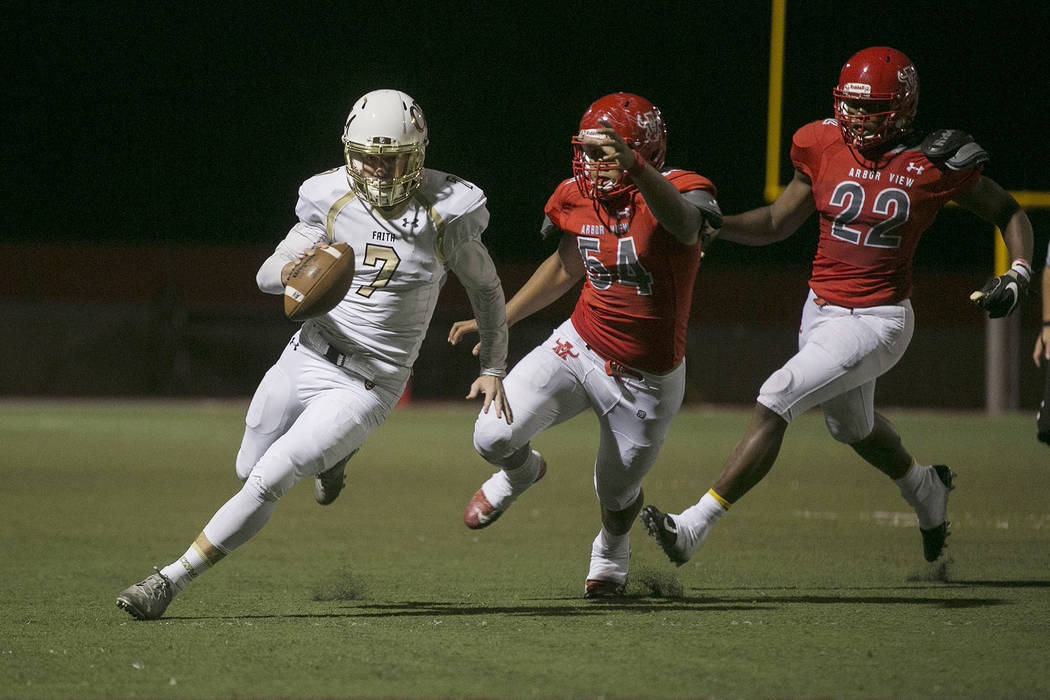 Arbor View found itself in an unfamiliar position Friday night: Playing from behind.
But when all was said and done, it was a familiar sight, as the Aggies wore down Faith Lutheran to grind out a 27-24 home victory in the Northwest League opener for both teams.
"Over here, Arbor View football is just down your throat," junior running back Kyle Graham said. "It's just punch it down your throat, hard football. We're just going to run the time out."
The Aggies (3-0) ran the ball 63 times for 365 yards and three touchdowns, controlling the ball and consuming time even on the possessions in which they didn't score.
"For us, what we did tonight, we went back to running double wing, Arbor View football," Arbor View coach Dan Barnson said. "And that's who we are."
It was a contrast in styles from the beginning, as the no-huddle Crusaders (0-3) struck first, going 70 yards in three plays, capped by a 3-yard TD run by quarterback Sagan Gronauer for a 6-0 lead 57 seconds into the game.
And even though the Aggies didn't score on their first possession, it set the tone, as they ran 15 plays and took 9:56 off the clock before an interception ended the drive.
Arbor View lost yards on only one rush, a sack on that first drive, and the Aggies never punted.
Faith Lutheran added a field goal and took a 9-7 lead into halftime, but Graham said the team came out of the locker room prepared to take control.
"We just got our team together, we just rallied and we just found all the mistakes we were making and fixed them and came out with the intensity higher," he said.
Graham rushed for a game-high 136 yards on 16 carries, mostly pounding straight ahead from the fullback position.
"I don't know if he's a fullback, but he's an athlete and he's a running back," Barnson said. "And we find a way to put our best 11 on the field. So we put Bubba where he can help us. That was one play: Trap right and trap left, and they kept running it and running it and running it."
Faith Lutheran led 16-13 after a 1-yard TD run by Gronauer with 5:05 left in the third quarter, but the Aggies responded with a 10-play, 74-yard drive, capped by a 26-yard TD run by Deago Stubbs with 10:55 to play.
Jaquari Hannie added a 1-yard TD run with 2:47 left to make the score 27-16, and the Aggies held on despite a Faith Lutheran touchdown in the final minute.
Arbor View did a fantastic job on Faith Lutheran star receiver Elijah Kothe, who has committed to San Diego State. Kothe didn't have a catch despite Arbor View losing cornerback Isaiah Herron to a shoulder injury on the first series.
"That's big for us, because he's one of our better guys," Barnson said. "But that kind of shows our depth, too."
Hannie rushed for 90 yards on 22 carries, and Stubbs added 87 yards on 12 attempts.
"We're going to build on this," Barnson said. "This is going to make us better, 100 percent. When the playoffs start and those tight games come, this is what makes you better, these type of games. They're better for tonight, just as much as we're better for tonight."
More preps: Follow all of our Nevada Preps coverage online at nevadapreps.com and @NevadaPreps on Twitter.
Contact prep sports editor Damon Seiters at dseiters@reviewjournal.com or 702-380-4587. Follow @DamonSeiters on Twitter.