Bishop Gorman suspends football coach Kenny Sanchez
Updated April 7, 2017 - 8:26 pm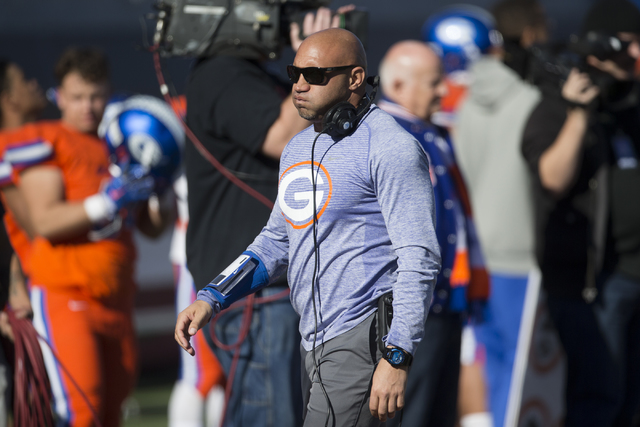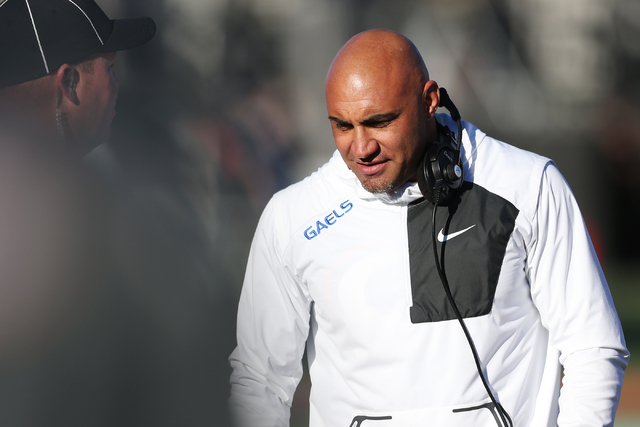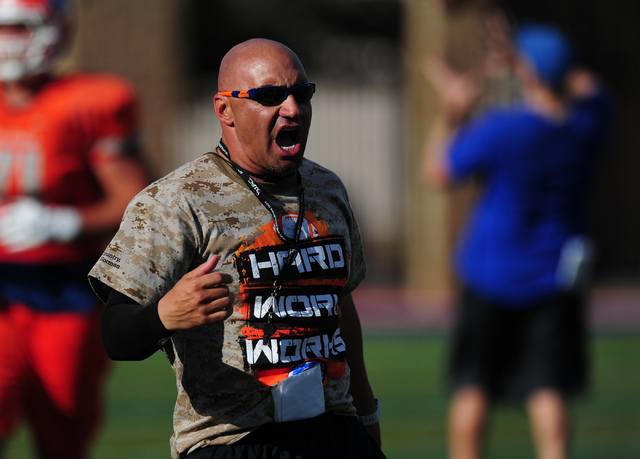 Bishop Gorman High School announced Friday it has suspended football coach Kenny Sanchez after he was charged Thursday with domestic violence.
"You may have seen the stories in the news regarding allegations made against Coach Kenny Sanchez," Gorman president John A. Kilduff wrote on Twitter. "We wanted to let you know that we take any allegations involving our faculty and staff very seriously. While we cannot comment on personnel matters, as is our standard practice, Coach Sanchez has been suspended pending the outcome of the review."
Sanchez did not respond to a phone message, and Gorman athletic director Sally Nieman declined to comment on the situation.
According to court records, Sanchez, 36, was arrested Tuesday on a warrant for a Christmas Day incident involving his former girlfriend and the mother of his son. Sanchez allegedly struck Brooke Jade Stewart repeatedly after picking up their son at her residence.
Sanchez declined comment Thursday, and his attorney, Ross Goodman, said Sanchez was unaware that he had a warrant for his arrest.
"Kenny came behind me and pulled my hair out of my head, punched me in the eye," Stewart said in the police report. "As I was going down, he punched me on the side of my face and put his hands around my neck. He held me on the ground and ran to his car and drove away."
Goodman appeared Thursday on his client's behalf for an arraignment in Las Vegas Justice Court on one count of domestic battery, a misdemeanor. Sanchez was arrested after he called police to report a separate incident, the attorney said.
Bishop Gorman's stance seemed to change from a statement released Thursday that said: "Today's court proceeding involving allegations against Kenny Sanchez is a pending legal matter, and as such, it is inappropriate for us to comment publicly. We are closely monitoring the situation."
Rachel Wilkinson, director of communications for Gorman's public relations firm The Rogich Communications Group, said "the only statement we have is from yesterday, and that's all we're going to have."
Sanchez, the brother of UNLV football coach Tony Sanchez, has been the Bishop Gorman coach for two years, in which time the Gaels have gone 30-0, won two state titles and two mythical national championships. They are on a 54-game winning streak, which began in 2013.