Desert Pines' Darnell Washington: From poverty to prized recruit
Updated September 30, 2018 - 5:15 pm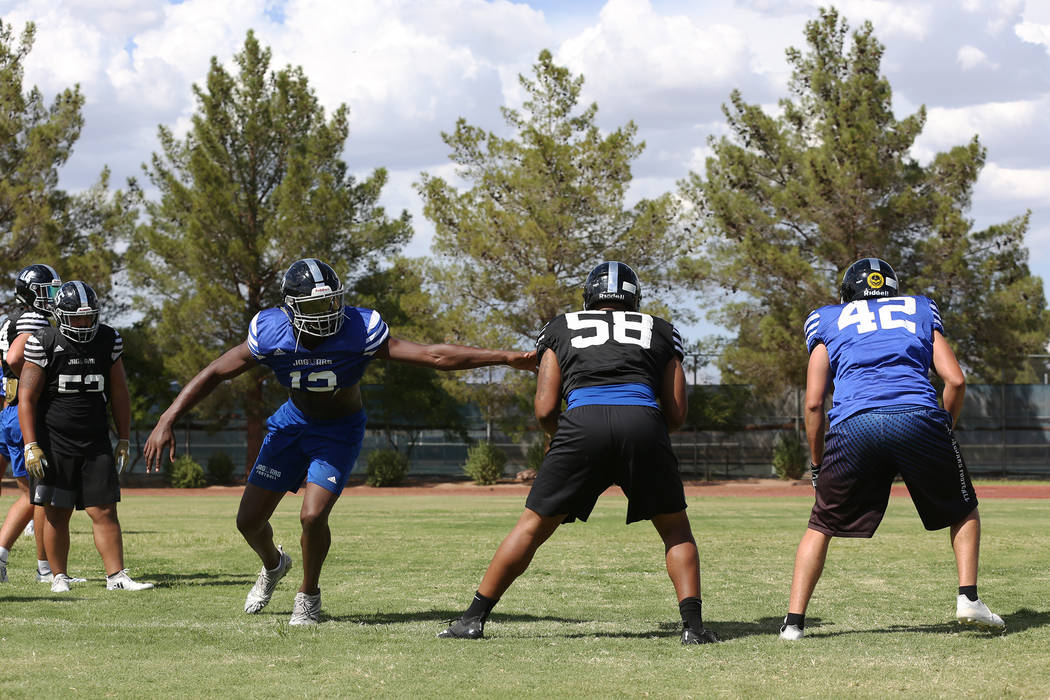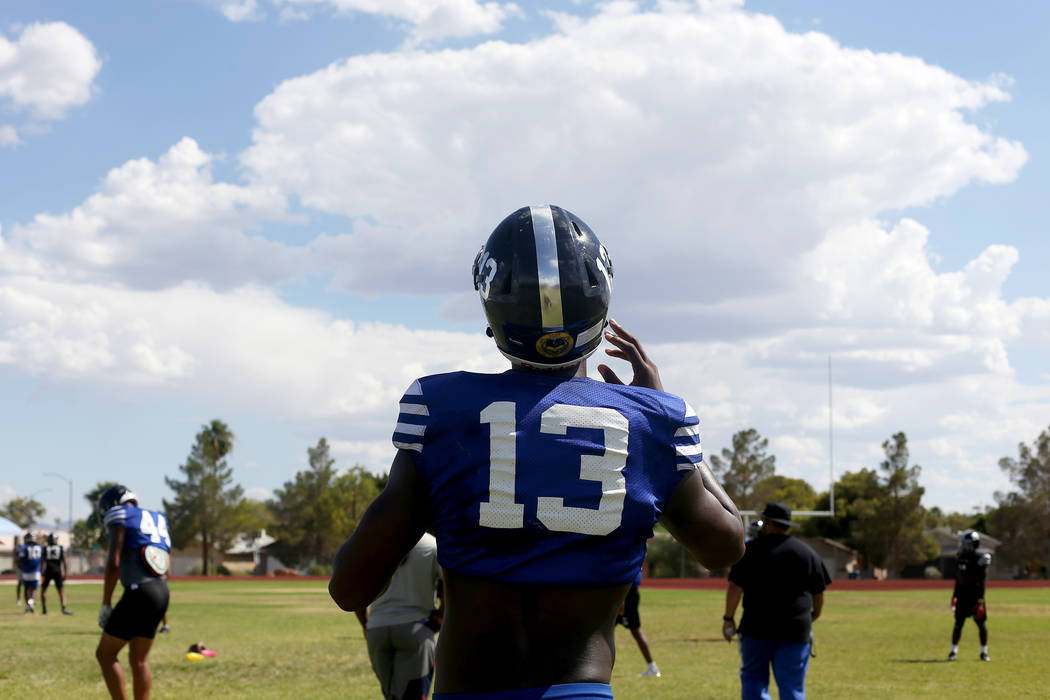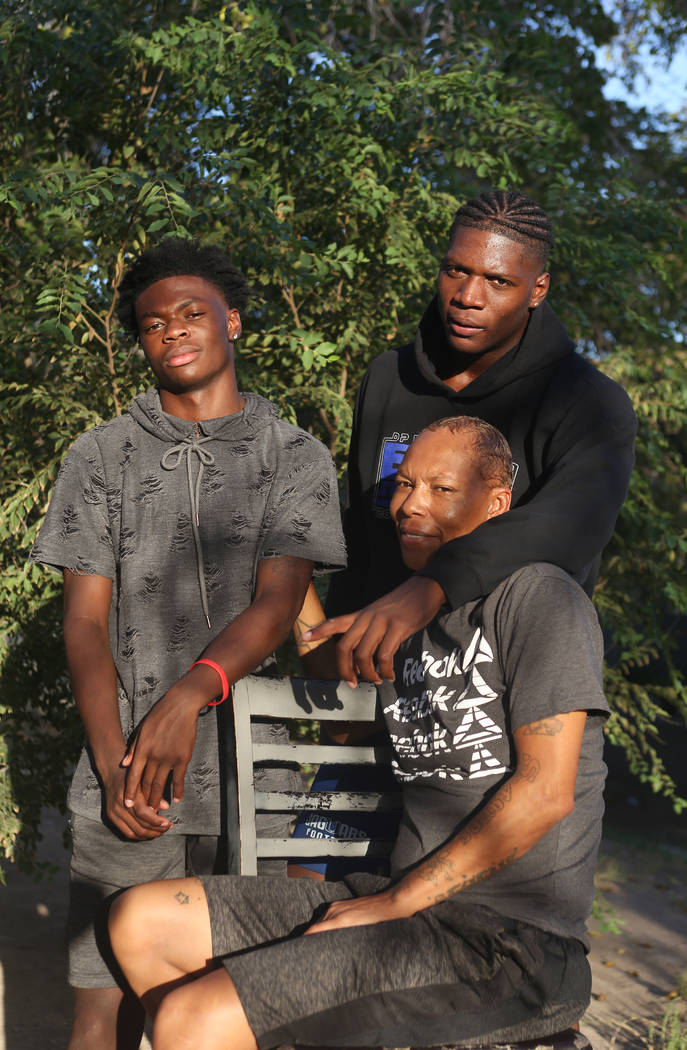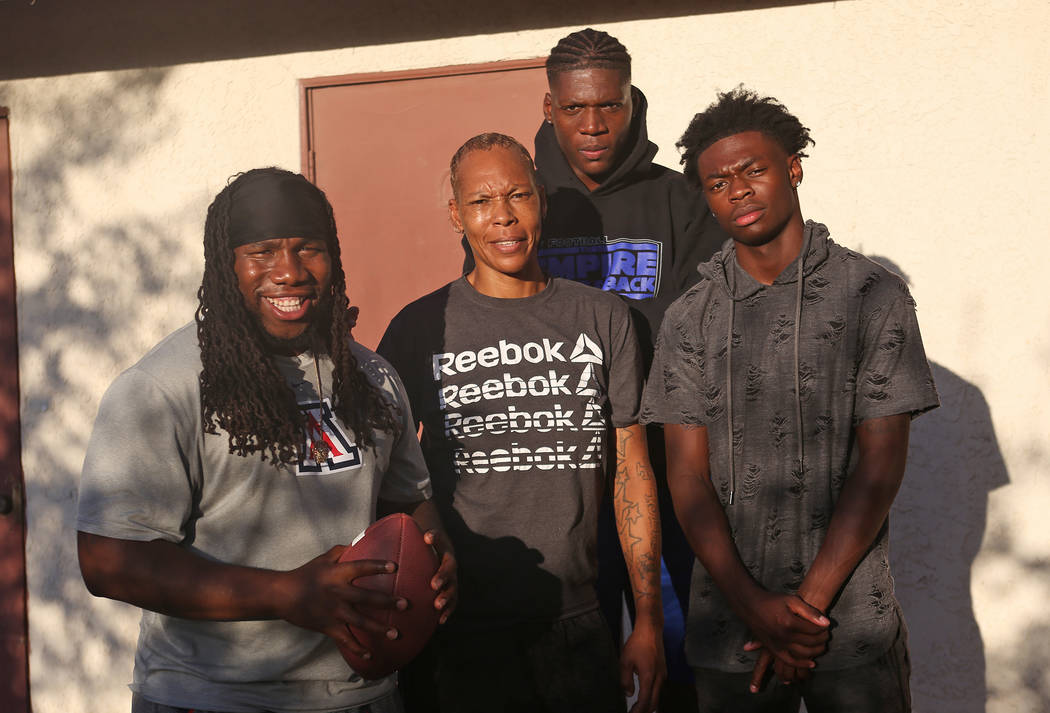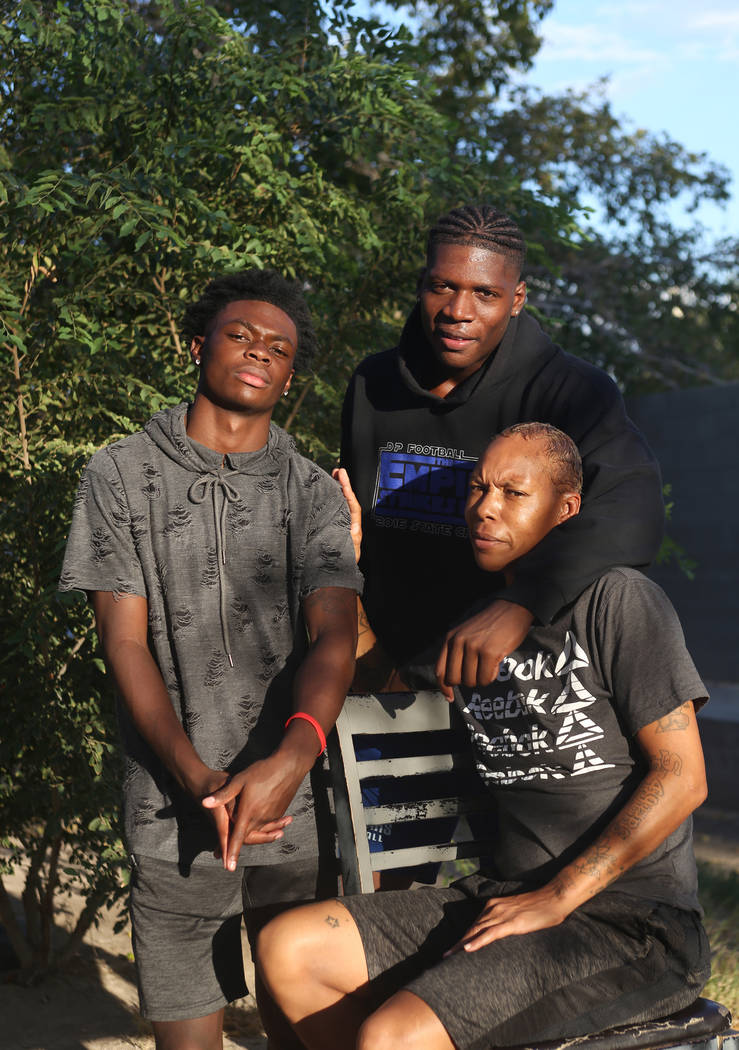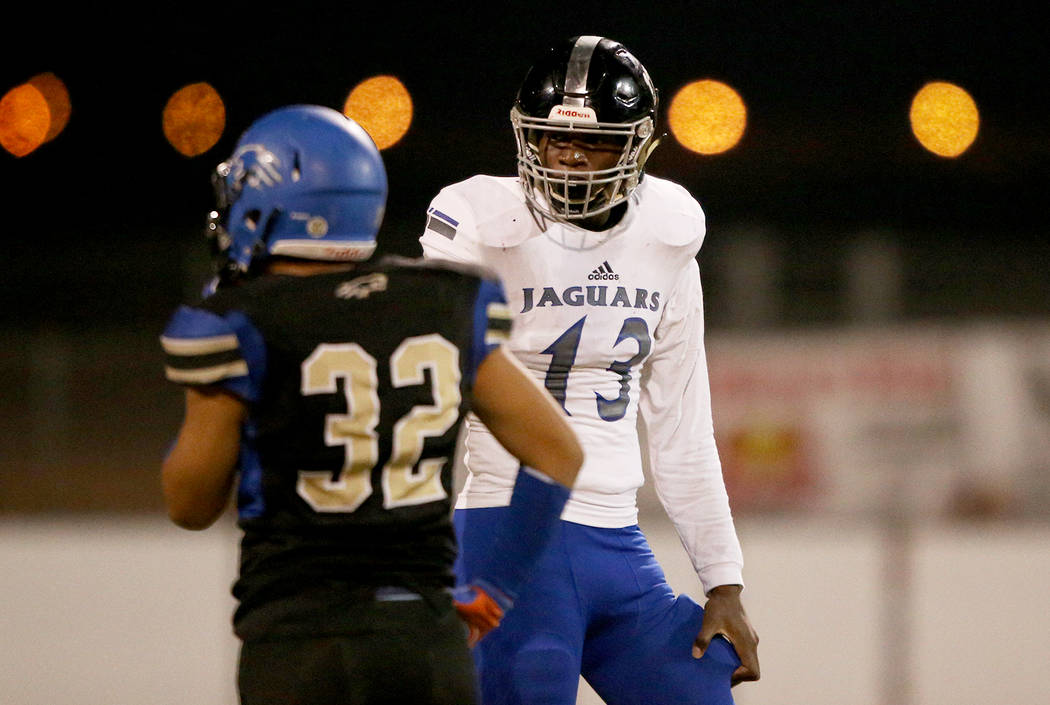 Katrina Graves sat comfortably in the living room of her tiny eastside apartment, flanked by her two youngest sons, Ezekiel and Darnell Washington.
A maintenance worker a few feet away drilled under the kitchen sink fixing the broken garbage disposal, several weeks after she filed a work order.
But the noise didn't detract from her loquacious recollection of the circumstances that shaped the fiber of her sons and their upbringing.
There was the departure of their father, who abandoned the boys for reasons they still can't quite understand.
There were her automobile accidents — one of which knocked her into a coma and another of which relegated her for four months to a rehabilitation facility away from her children.
And there was the moving.
Ah, yes. The moving. From couch to couch. Apartment to apartment. School to school. Over and over.
But that was some time ago, and this was a balmy Wednesday afternoon in early September.
The rent on the apartment is paid until May with cash acquired in a settlement from one of the car wrecks. It's small and simple, yet tidy and welcoming, with photos of her eight children adorning the interior and warming the feng shui.
Ezekiel's and Darnell's athletic awards are displayed on an overhang above the kitchen counter, and more honors line their bedroom wall alongside an extensive collection of football cards and recruiting letters.
Graves is proud of her sons, all right. So proud that she tattooed their names on the inside of her left forearm. So proud that she unabashedly gushes about even their most modest achievements.
And she's certain the best is yet to come.
Ezekiel is an 18-year-old senior at Desert Pines High School, a wide receiver on the football team with a 3.9 GPA who embodies the moral decency his mother worked so diligently to instill.
Darnell is a 17-year-old junior at Desert Pines, a tight end and defensive end on the team who embodies that same moral decency, albeit in a 6-foot-8-inch, 260-pound frame and as one of the most prized football recruits in Las Vegas history. So athletic that he also was a starting power forward on the state championship basketball team and won the Class 3A state shot put last season.
The Washingtons have used academics and athletics to veer away from the cyclical perils of generational poverty and pave a path toward the prosperity that has eluded their family for years.
Ezekiel is in line to earn an academic scholarship to the school of his choosing.
Darnell is ranked by Rivals.com as the No. 1 tight end in the country in the 2020 class and has scholarship offers from more than 20 Division I universities, including Alabama, Georgia, Auburn, Louisiana State, Texas and Oklahoma. Programs reserved for the best of the best. Programs unaware of his mere existence until last fall.
His recruitment is flourishing in part because the rest of his life is, too.
He knows he has a place to sleep every night with food in the refrigerator, power and running water. He's attending the same school for the second straight year and has a supportive group of teammates, teachers and coaches that are invested in his success.
And he doesn't take any of it for granted.
"I know what I went through," he said. "I just don't know where to start."
Life in Las Vegas
Let's start with the father who deserted Darnell and Ezekiel when they were 6 and 7, forcing Graves to protect her boys to the best of her ability. She did just that while trying to preserve the natural innocence of childhood.
But they still grew up too fast amid the reality of impoverishment in the Las Vegas Valley.
They have six older siblings — three brothers and three sisters — but were raised almost entirely by Graves, who, as a single mother, has spent the majority of her life working odd, low-wage jobs to support her children and finance their athletic endeavors.
Mainly football.
Ezekiel often served as the coach, using YouTube to teach footwork and technique to his younger brother. The sport provided a temporary escape from their perilous living conditions and the abandonment of their father.
Until they realized the ramifications of his disappearance and the strain it put on the family.
"When we failed, we never had help," Graves said. "We never had anyone that we could call to say, 'Well, we need a place to stay,' without us having to pay something that I didn't have, or spending my food stamps."
So they bounced around the city, living for a few months where they could afford rent until they were subjected to eviction. The boys enrolled at several elementary and middle schools and relied on each other as they worked to make new friends.
Eventually Darnell accepted the constant state of change and stopped pursuing meaningful relationships with classmates. Making a friendship meant ending a friendship, and he hardened, socially, to shield his emotions from the pain of another loss.
"I just kept it to myself," Darnell said. "Me and my brother. I really didn't let no one in."
Graves, at times, didn't have a car or sufficient income to qualify for the majority of housing complexes at which she inquired about residency. She inevitably would settle for the most inexpensive place she could find because a home is a home, no matter how temporary.
"For Ezekiel and Darnell, it was a weekly conversation where they were going to live," said Dominique Remy, who taught both boys in elementary school and still keeps in touch with the family "If you've been batting against the same pitcher for years and can't get a hit, it has to feel impossible."
Remy worked with Graves to find housing while helping build self-esteem in Darnell and Ezekiel, who were always charismatic in the classroom. But self-esteem doesn't pay the rent, so Remy was ultimately limited on his influence.
Graves was particular in her recounting of a stint at a complex near Maryland Parkway and Sierra Vista Drive. She shuttered while detailing drug abuse, violence and abandonment, and professed guilt about leaving her sons unattended.
"I didn't feel myself safe as a mother living there, but we had to live there because the rent was cheap," she said. "There was always babies being found in dumpsters."
Graves injured her back in a car accident and required surgery and rehabilitation. The boys, teenagers at that point, were essentially left to fend for themselves with occasional assistance from their siblings. They'd go to the hospital to see her, enduring long, lonely bus rides. The visits provided temporary reprieve, but at the end of the day, Darnell said they "were just finding our own way."
"At night, thinking about it put tears in my eyes," he said.
The boys never missed school but missed dozens of meals in her absence and often asked classmates for leftovers during lunch. Practicing on an empty stomach turned football into a chore.
Graves recovered in four months and returned to her sons. They soon moved from the apartment on Maryland Parkway to affordable housing in Henderson, where she toiled to provide bare necessities while they attended Basic High School.
Until they moved again.
To eastside Las Vegas.
A future in football
Desert Pines football coach Tico Rodriguez was delighted to see a couple of strangers trickle in to the school's weight room last summer. Granted, they weren't invited, but that's beside the point.
One looked like a prototypical NFL tight end and the other like a speedster fit to thrive in the Jaguars' offensive schemes.
Rodriguez didn't know much about the Washingtons. Only that they had played at Basic while living in Henderson and struggled to conform to the constraints of its systems.
But they were obviously looking for a home on his team and quite frankly they belonged — in talent and, more important, in character.
Ezekiel played sparingly last season behind a talented group of senior receivers, but Darnell was too big and fast to keep off the field. He caught 19 passes for 309 yards and thrived on offense, defense and special teams.
College coaches visiting Desert Pines to recruit other players were invariably drawn to his frame and potential. He received his first offer in November from Arizona State,
"Nobody even knew who he was. He was just a big kid," Rodriguez said. "Once they saw him playing and they saw his size … coaches were just lining up."
Darnell and a couple of teammates toured the country in the summer with Jaguars assistant football coach David Hill, stopping at several pre-eminent college powers to see campuses and meet coaches.
He subsequently received more offers, reaffirming his billing as a top prospect and instilling more confidence in his abilities. He tapes some of the recruitment letters on his bedroom wall, while others are filed away in boxes or drawers that are stuffed to the brim.
"Since we've been on the road, he's been opening up to more and more coaches, telling them things that I didn't even know," Hill said. "I just see him getting more and more comfortable, seeing that stage, it's where he's going to be very successful."
He's successful now as one of the most destructive two-way forces in the valley. He's powerful and graceful — fast enough to demand double teams on offense and strong enough to destroy them on defense.
Because of his pedigree, he's a target now, and Ezekiel, his self-proclaimed "manager," shields him as best he can by being an impeccable role model with a great work ethic and an equally great report card.
The two pray together away from the team before every game — a reflection of a bond forged from the years of hardship and their reliance on each other. Ezekiel will graduate in May and leave Darnell behind in pursuit of something greater.
He isn't worried, though, about his younger brother. He doesn't need to be.
Because there's an abundance of hope in that household, along with food in the refrigerator, power and running water. And the rent is paid until May.
He also knows that Darnell is beloved at Desert Pines, where a wealth of people are invested in his well-being.
The older brother doesn't take it for granted, either.
"I know how hard we've worked throughout the years," Ezekiel said. "I'm always going to appreciate the little things that come our way because I know that we've been in many spots where we had nothing. … There's always sunlight at the end of the tunnel."
More preps: Follow all of our preps coverage online at nevadapreps.com and @NevadaPreps on Twitter.
Contact reporter Sam Gordon at sgordon@reviewjournal.com. Follow @BySamGordon on Twitter.