Giants RB says he was told not to score late in game against Cowboys
September 14, 2015 - 2:30 pm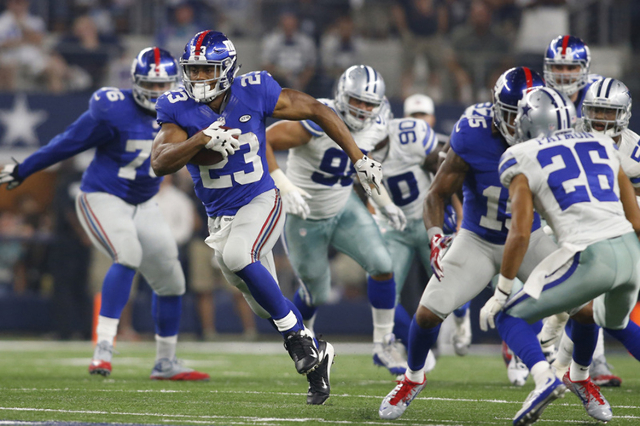 New York Giants running back Rashad Jennings said that he was ordered not to score a touchdown on two late running plays during the club's 27-26 loss to the Dallas Cowboys on Sunday.
The Giants held a three-point lead and had the ball inside the Dallas 5-yard line with under two minutes remaining when Jennings was instructed not to cross the goal-line. New York settled for a field goal and the Cowboys responded with a game-winning touchdown drive.
"On the first-down play, I was told, 'Rashad, don't score,'" Jennings told reporters on Monday. "On second down, 'Rashad, don't score.' I was tempted to say, 'Forget it,' and go score because I could. But I didn't want to be that guy. But definitely, I was asked not to score."
Jennings said he was told not to score in the huddle by quarterback Eli Manning.
After the contest, coach Tom Coughlin took blame for the late-game, play-calling snafus, but on Monday the head coach insisted that an order for Jennings not to score did not come from the sideline.
"My intent was to go up 10," Coughlin told the New York Daily News in a conference call.
Coughlin said Manning was "confused" by the number of timeouts that the Cowboys had left after a penalty on an earlier play erased a timeout that Dallas apparently had called to stop the clock.
"It's never happened before," Coughlin said. "I completely trust Eli. Always have. His mind was in the right place. He just didn't have all the facts right. Unfortunately we didn't get it corrected."
Jennings asserted he wasn't second-guessing the decision.
"I'm not mad," Jennings said. "We're doing this as a team, and we thought it was best for us not to score at that point. Of course I wanted to, but that's just the football player in you."
Manning threw an incomplete pass on third down of that final Giants series, stopping the clock and leading to a field goal that gave the Giants a four-point lead.
The Cowboys then drove for the winning touchdown, scoring with seven seconds remaining.
Manning said during an interview on WFAN that he made a "mental mistake" near the end of the game. When his receiver wasn't open on the third-down play, he should have taken a sack to keep the clock running instead of throwing an incompletion.