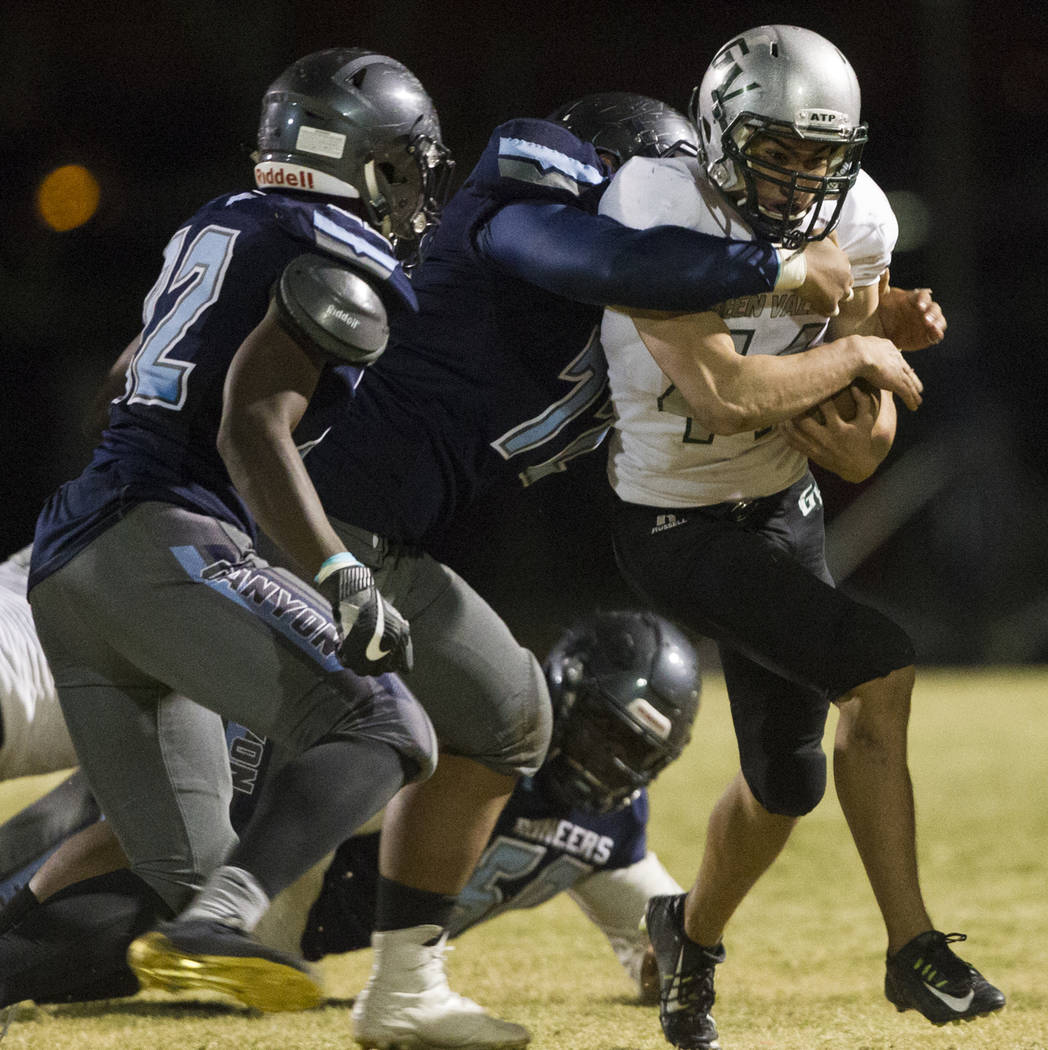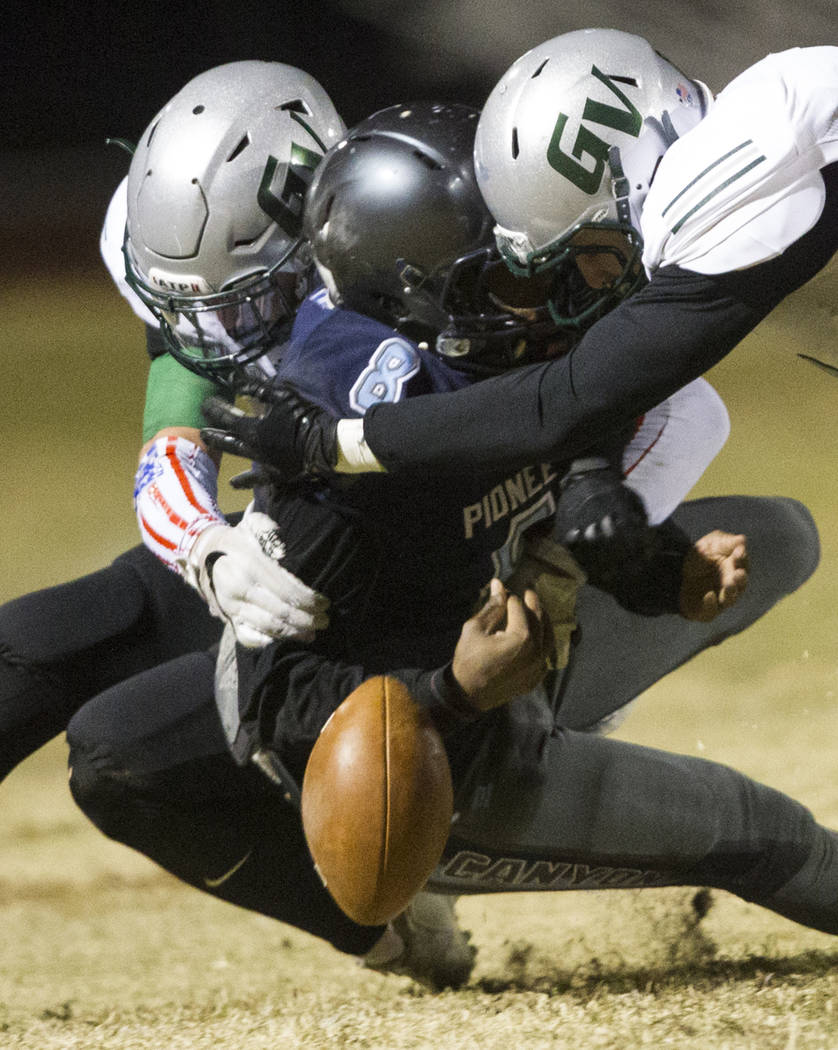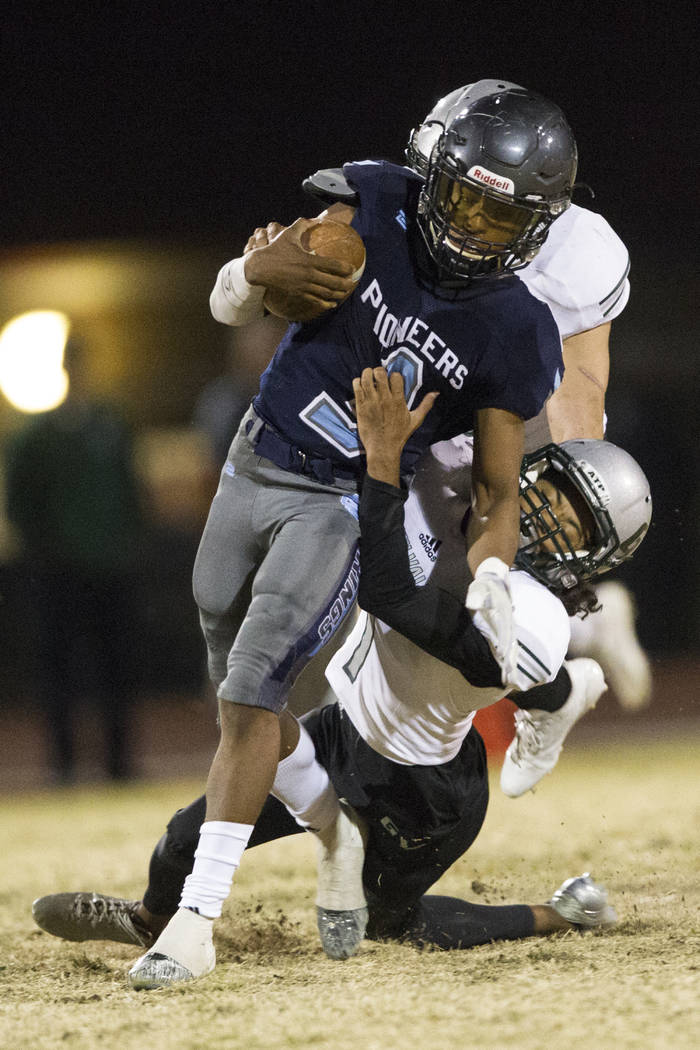 Green Valley senior Kobi Black, who transferred after playing at Coronado last season, could tell from the first game his new team had something special.
Thursday night at Canyon Springs, Black helped turned that potential into a reality.
Black made the biggest play of the night, a 55-yard interception return for a touchdown, in the Gators' dominant defensive effort against the Pioneers in the Sunrise Region semifinals. Green Valley defeated Canyon Springs 14-7 to advance to a region title game for only the second time in school history, where it will face Liberty on Nov. 17.
"It's amazing," Black said. "We've been wanting this since week one, since (playing) El Toro. We went out there, we beat them, now we're back on the road and we're going for Liberty."
Green Valley (10-1, 4-1 Southeast League) reached double-digit wins for the first time in coach Brian Castro's seven-year tenure with the victory, a year after missing the playoffs for the first time since 2010.
While the Gators rolled through most of their schedule this season behind an offense that entered Thursday averaging more than 35 points per game, their defense allowed them to get past an athletic Canyon Springs team.
The Pioneers (6-5, 4-0 Northeast League) actually outgained Green Valley 247 yards to 223, but they turned the ball over four times and struggled to sustain drives.
"We just had to go out and drain the clock," Green Valley sophomore running back Noah Hawthorne, who had 22 carries for 95 yards, said. "(The defense) kept us in this game. (They) got half our points. We couldn't win without them."
The Gators offense scored its only points on its opening possession, with running back Julian Hulse capping off a 10-play, 50-yard drive with a 3-yard TD run. The score ended a shutout streak for Canyon Springs defense that totaled 160 minutes, 19 seconds, but the team started a new one that lasted the rest of the game.
It didn't matter though after Black leaped up to grab a tipped pass at the end of the first quarter and raced to the end zone, giving Green Valley a lead that proved insurmountable.
"I just saw the end zone," Black said. "It's whatever. I just do my thing out there."
The Pioneers were able to get on the board late in the third quarter with a 1-yard TD run by quarterback Kayjon Edwards, but the Gators were for the most part able able to limit him and athletic playmaker DiaMante Burton.
Castro said he was proud of how his defensive linemen stayed vigilant to contain Canyon Springs' athletes, and their diligence translated to one of the biggest victories in school history.
"I'm so happy. I've been playing with these guys my whole life," Hawthorne said. "Our chemistry is amazing."
More preps: Follow all of our Nevada Preps coverage online at nevadapreps.com and @NevadaPreps on Twitter.
Contact Ben Gotz at bgotz@reviewjournal.com. Follow@BenSGotz on Twitter.