Martel throws 6 TDs, Gorman stomps Reed, 70-28
December 6, 2014 - 7:37 pm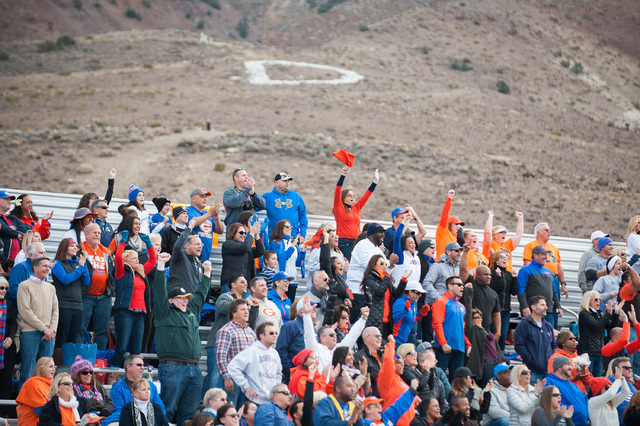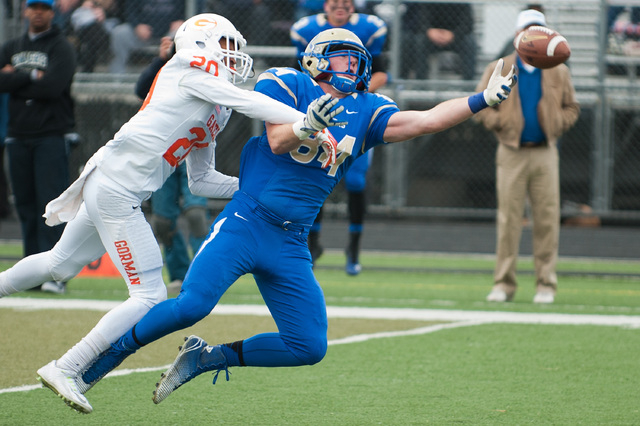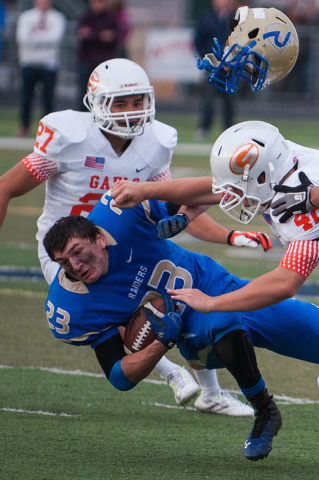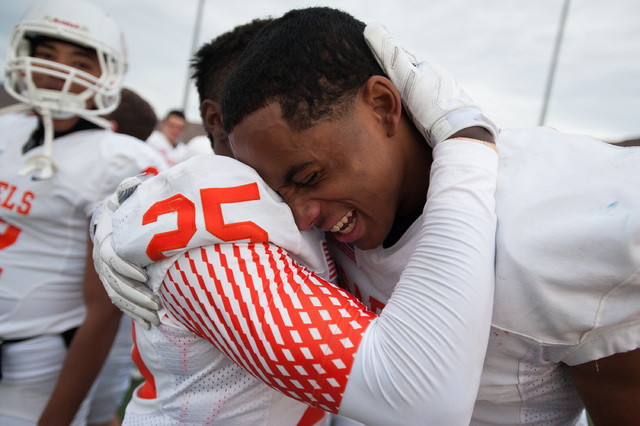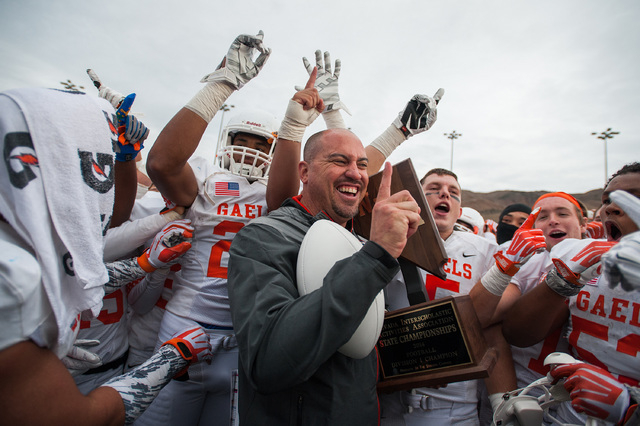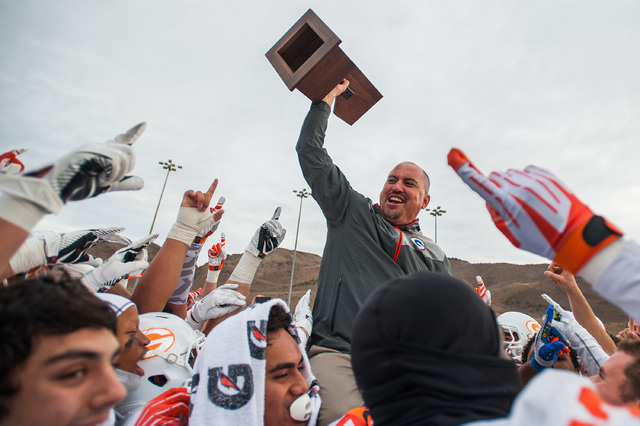 RENO — Tate Martell opened the season splitting time with Bishop Gorman's second team.
He finished the season with an incredible performance in leading the Gaels to their sixth consecutive state football championship before a crowd that included former heavyweight boxing champion Muhammad Ali.
Martell threw six touchdown passes and ran for another score to lead Gorman to a 70-28 win over Reed at Damonte Ranch High for the Division I title.
"It was good for us from the start," Martell said of Gorman's passing game. "We were thinking we were going to have to run the ball to open up the pass. But it was obviously the opposite way for us."
Martell's first three passes went for touchdowns. The Gaels, ranked No. 1 in the nation by USA Today, got an 83-yard kickoff return by Brandon Gahagan to start the game. That set up Martell's first scoring pass, a 6-yard toss to a leaping Cordell Broadus to put the Gaels up 7-0 with 11:05 left in the first quarter.
He hit Tyjon Lindsey in stride down the left sideline to cap the next possession with a 24-yard TD pass that made the score 14-0.
He added a 37-yard touchdown pass to Austin Arnold that made it 21-7 with 5:09 left in the first quarter.
But Reed wouldn't go away. Matt Denn's 69-yard TD run got the Raiders on the board with 6:09 left in the first quarter.
After Arnold's TD catch, the Raiders drove 71 yards on 13 plays, capped by a 13-yard pass from Denn to Nathan Foreman with 11:54 left in the half.
After forcing a punt, Reed went 55 yards on 12 plays, capped by a 1-yard TD run by Jorden Carter that tied the score with 5:46 left in the half.
The Raiders even had a chance to take the lead when Gorman's Kekailoa Tyndall fumbled the ensuing kickoff and Reed's Brett Handlin recovered at the Gaels 35. But the Raiders couldn't pick up a first down, with Denn's pass on fourth-and-3 falling incomplete.
It was all Gorman from there.
"They did what we expected them to do," Sanchez said of Reed. "They showed up, and they played like what a gutsy, tough football team does. It doesn't surprise me. Those kids, they work just like our kids do. They're champions for a reason. They showed up early, and they played extremely well."
The Gaels scored two touchdowns in less than a minute to push the lead to 35-21 at halftime.
Martell capped a seven-play, 72-yard drive with a 2-yard TD run with 1:37 left in the half, then hit Lindsey with a 63-yard scoring pass on the first play of Gorman's next drive with 46 seconds left.
"It was a little nerve wracking, because I knew we had all the talent that we needed to beat these guys and we let them in our wheelhouse," Gorman senior lineman Jackson Perry said. "We let them hang with us. What we should have done from the get-go was kept them suppressed and kept them not getting any momentum. And that's what we did in the second half."
Senior Russell Booze, who finished with 229 yards rushing on 19 carries, scored on a 51-yard run to make the score 42-21 with 5:54 left in the third quarter.
Martell would add a 14-yard TD pass to Broadus and a 21-yard scoring pass to Lindsey. Martell finished 9-for-13 for 200 yards and the six TDs despite playing without leading receiver Alize Jones, who was out with an ankle injury.
"We have so many athletes," Martell said. "I think that we have the best receiver group in the country. When you can miss your top target and I threw for six touchdowns, that's just crazy."
Sophomore Biaggio Walsh, the grandson of Ali, had TD runs of 34 and 92 yards in the second half for the Gaels. He finished with 137 yards on just four carries for Gorman, which ran for 371 yards, including 222 in the second half.
After giving up 212 yards in the first half, Gorman's defense yielded only 129 in the second. The Gaels sacked Denn seven times, including two by sophomore Haskell Garrett.
"Obviously we had a tough first half, and things were going in an interesting direction," Sanchez said. "But after we had the fumble on the kick return, our defense immediately started getting three-and outs and got stops. I thought they did a great job of collecting themselves and playing good."
Now the Gaels must wait to find out if the dominating win was enough to stay atop the national rankings and claim the mythical national title.
"I don't think that anybody can doubt in their mind that we've earned this," Perry said. "It's no doubt, no question. If you want to schedule somebody else, we'll play them. There's no doubt in our minds that we're the best team in the land."
Another question is whether Sanchez will return to Gorman. He's widely rumored to be the top candidate to take over at UNLV.
Right now, I'm excited to be celebrating the day and celebrating the win," Sanchez said. "I'm just going to enjoy this day with my kids."
Contact prep sports editor Damon Seiters at dseiters@reviewjournal.com or 702-380-4587. Follow him on Twitter: @DamonSeiters.
Complete coverage of high school sports.