#NVprepsfb top defensive player countdown — No. 5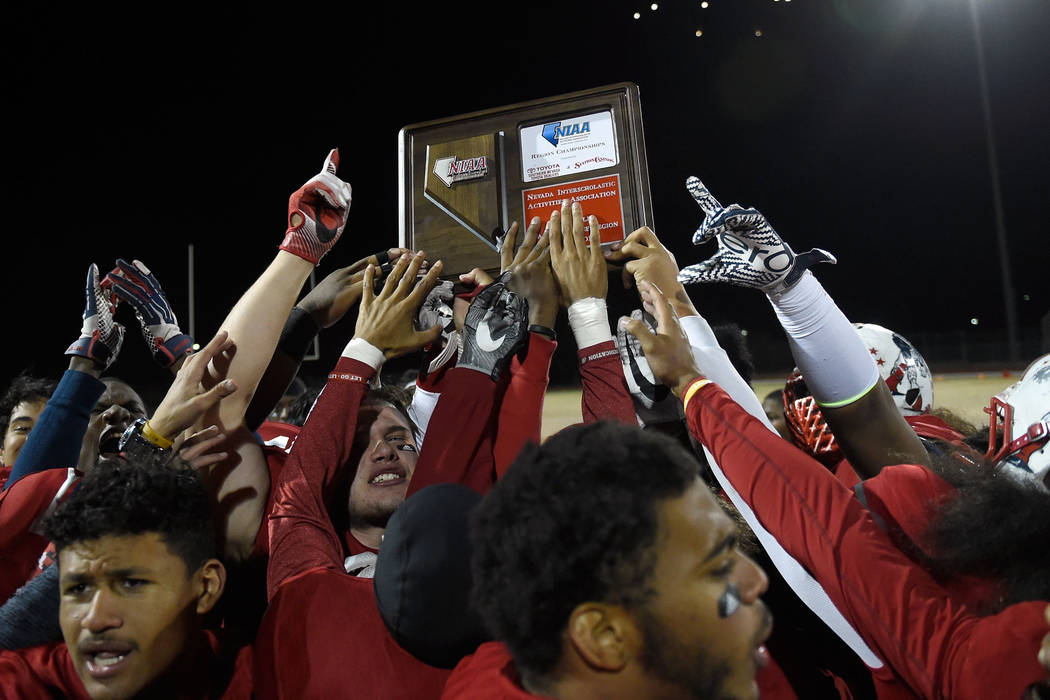 Liberty defensive back Allan Mwata comes in at No. 5 on our #NVprepsfb list of Southern Nevada's top defensive players.
To create the list, we spoke with coaches from the Sunrise and Sunset Regions in both Class 4A and 3A. A couple of the base questions were: "Who is the top high school defender today?" and "Who would you pick to start a team?"
Then we grabbed the statistics from last season, looked at the player's collective rankings on recruiting websites and used our own judgment to fill holes.
This resulted in the #NVprepsfb defensive players rankings. The list is based off high school productivity and not college or professional potential.
#NVprepsfb Defensive Player Rank: Liberty defensive back Allan Mwata No. 5
Class
2018
Vitals
5 feet, 11 inches; 180 pounds
Honors
All-state honorable mention (2016); First-team All-Southeast League (2016)
Recruiting
Mwata, a three-star recruit, committed to San Diego State on July 3. He originally committed to Brigham Young on April 22.
Last Year's Stats
Mwata had three interceptions and 46 tackles for a Patriots team that won its seventh consecutive Sunrise Region championship. He had 11 tackles in the Sept. 2 victory against Westlake (Texas), which helped Liberty earn its first national ranking in program history.
What they are saying?
— "I would go with Allan every day," one Sunrise Region football coach said. "He's a stud — fast, physical. I like him a lot."
— "Mwata is a better player (than teammate Octavion Bell)," one Sunset Region football coach said. "He's a leader back there. He stands out. He's very smart, physical. He's a perfect free safety, very rangy and can play cover three and man (defense). He's very vocal and leads the defense. He's the quarterback of their defense."
— "I think he's a great cover kid," one Sunrise Region football coach said. "His talk backs up his play. I saw that in passing league, too."
— "He's on the radar for a lot of colleges," one Sunset Region football coach said. "I didn't think he would be, size-wise. But he's got very good technique for a defensive back — not too many guys get by him and (Liberty's) scheme is really good, as far as putting him in a good position. He's a good talent and a legit Division I guy."
— "He probably gets the nod over (teammate Octavion Bell) because he's more versatile," one Sunrise Region football coach. "He's good in zone. He's physical. He's a leader. And kids respect him."
— "It's hard to judge with (Liberty) guys sometimes because they're front line is so good," one Sunrise Region football coach said. "The ball has to be gone so fast from the quarterback. But he's an athlete and a ball hawk."
To get involved in the discussion, use #NVprepsfb on Twitter. You also can follow along @nevadapreps.