RJ reporter takes stab at building fantasy lineup for Super Bowl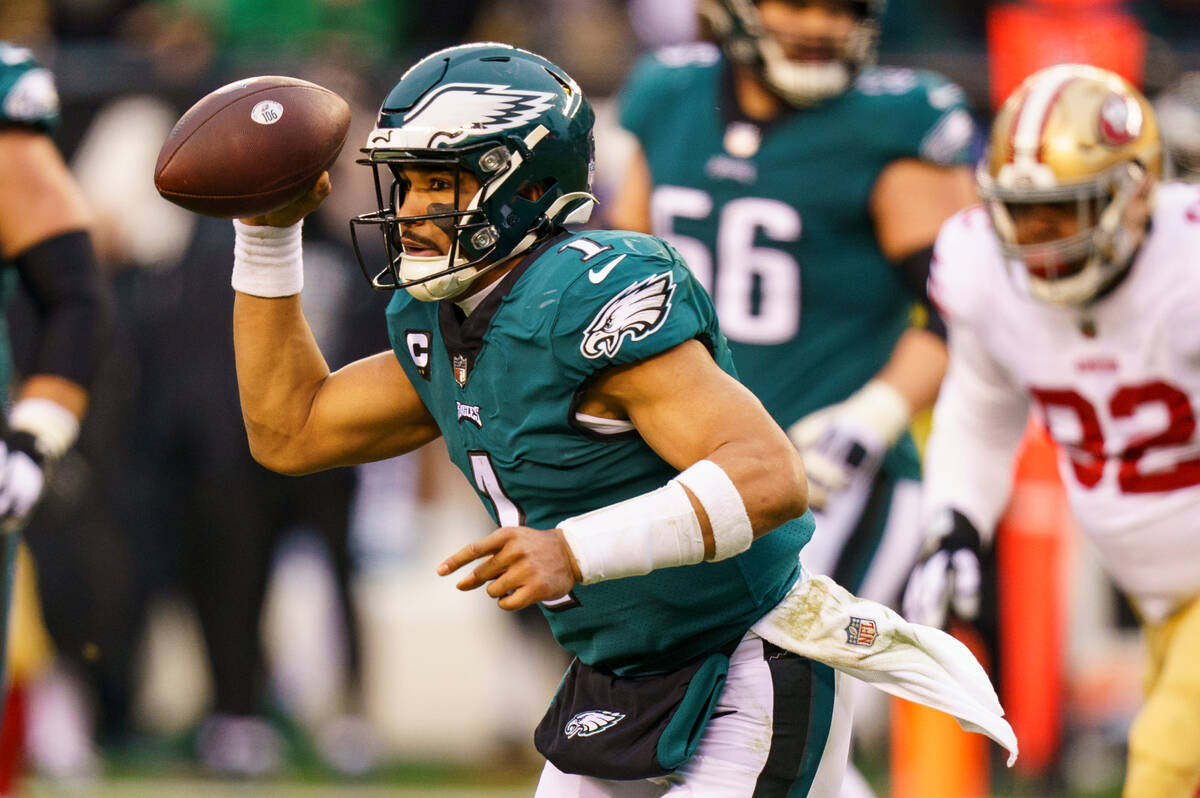 Even as sports betting becomes more and more acceptable around the nation, daily fantasy sports still aren't legal in Nevada.
Still, plenty of people will find a way to enter a lineup for Super Bowl Sunday.
The two most popular sites are DraftKings and FanDuel. There are slight differences in roster size and salary, so the roster construction process is a bit different depending on which app is used.
We will do our best to try to put together a lineup for each of them while keeping in mind the key differences.
The most popular DraftKings lineup for single-game contests includes six players with a cap of $50,000. On FanDuel, it's a five-player lineup for $60,000.
Both versions call for one captain spot that earns 1.5 times points. On DraftKings, the salary is also multiplied by 1.5, while on FanDuel the points are multiplied but the salary is not.
DraftKings contests are also a full point per reception, while FanDuel awards a half-point per catch.
Both contests include only flex spots, which means it's possible to use both quarterbacks and both kickers on the same team.
The first decision is whether to include both quarterbacks in the lineup.
Eagles quarterback Jalen Hurts provides not only points in the passing game but also carries immense value as a rusher. While Kansas City quarterback Patrick Mahomes might be a bit hobbled by a high ankle injury, the Chiefs are going to go only as far as his right arm takes them.
It would be risky to exclude one of them, but the reward for doing so could be massive should the one left off the lineup falter with the vast majority of entries likely to include both quarterbacks. For what it's worth, Hurts is slightly more expensive on DraftKings, while Mahomes carries the biggest salary on FanDuel.
One way to differentiate a lineup is to make a nonquarterback a captain and hope hehas a huge game. Kansas City tight end Travis Kelce will be a popular choice for those lineups because he's the most likely pass catcher to go off.
Correctly predicting someone else to be that secondary player to have a massive statistical performance could be the path to winning a lot of money.
Do you try to play a kicker or defense? Maybe. Those are affordable options that could pay rewards, but the unpredictable nature of those positions makes that a tricky proposition.
All of the Eagles' top pass catchers are viable. DeVonta Smith, A.J. Brown and Dallas Goedert should have roles and aren't extremely expensive. Smith has been the busiest lately, but Brown might be the most explosive player on the field.
In the backfield, Miles Sanders is capable of finding the end zone, but his lack of a role in the passing game makes him tough to include in a DraftKings lineup with full PPR scoring. Kenneth Gainwell and Boston Scott also have value depending on preference.
Isiah Pacheco has given the Chiefs a true running threat, but his value is somewhat capped similarly to Sanders. It might be more tempting to use Jerick McKinnon because of his receiving skills and the trust level Kansas City has in him in the most important situations. For that reason, he is slightly more expensive than Pacheco on DraftKings.
As far as the Chiefs receivers, good luck. Mahomes does such a good job spreading the ball around. There is a case to be made for JuJu Smith-Schuster, though. He should see the most snaps and routes as long as he has recovered from the knee injury he suffered in the AFC championship game. He's expected to play.
One of the real keys is finding a low-priced player to make the salaries of the stars fit into your lineup.
With that in mind, remember the name Noah Gray. The Chiefs backup tight end is one of the cheapest players available, but he's one of the hottest names among sharp players this week. He was in on more than 60 percent of the offensive snaps in the AFC championship game and has averaged more than a yard per route run this season.
Gray hasn't filled stat sheets, but he draws the occasional red zone target and doesn't need to do much to justify his salary.
Remember, it all comes down to maximizing every dollar spent against the cap.
Contact Adam Hill at ahill@reviewjournal.com. Follow @AdamHillLVRJ on Twitter.
Adam Hill's DFS lineups
DraftKings
Captain: Patrick Mahomes ; $16,500
Flex: Jalen Hurts ; $11,200
Flex: Travis Kelce ; $10,600
Flex: Dallas Goedert ; $6,400
Flex: Harrison Butker ; $4,000
Flex: Noah Gray ; $1,200
FanDuel
Captain: Jalen Hurts ; $17,000
Flex: Travis Kelce ; $14,000
Flex: Dallas Goedert ; $10,000
Flex: Jerick McKinnon ; $9,500
Flex: JuJu Smith-Schuster ; $9,000