Capitals throw block party in path of Golden Knights
Updated June 6, 2018 - 7:25 pm
If the Washington Capitals are successful in capturing the Stanley Cup, they'll do so with plenty of black-and-blue bruises underneath their red, white and blue uniforms.
Ankles. Legs. Knees. Chests. Shoulders. Virtually everyone in a Washington uniform is hurting somewhere from having blocked a shot against the Golden Knights.
Heading into Game 5, the Capitals have blocked 85 shots. The Knights have 41 blocks.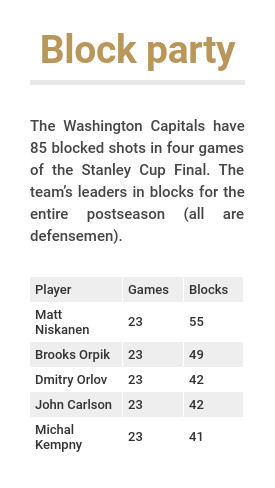 In Monday's 6-2 Game 4 victory, Washington owned a 24-8 edge in blocked shots.
The Capitals, who have a 3-1 lead in the best-of-seven Stanley Cup Final, say their shot-blocking exploits have been all about effort.
"If guys have time and space, they're going to be able to sift one through," forward Devante Smith-Pelly said. "For the forwards, it's just going out there pretty hard and just getting in the way."
For the Knights, who are trying to play more of a north-south game, the Capitals seem to know where to be when the shots are released.
"They're getting into the (shooting) lanes, and we need to move more," forward Ryan Reaves said. "It's frustrating getting your shot blocked, so we have to find a way to get the puck on goal."
Coach Gerard Gallant said the Capitals deserve credit for disrupting the Knights' offense.
"They've been doing a great job," Gallant said of the Capitals. "They have a defensive system. They play a tight box in there, and they make it hard to get the puck through.
"The last game, I thought we had more chances. We attacked a little more. It didn't pan out, but we have to have more of a mentality of putting pucks at the net."
Washington's forwards have done a good job with their speed, closing the space the Knights' shooters have and forcing them to release the puck a little quicker than they'd like.
"We had some good looks, but we need to bury those chances," forward Jonathan Marchessault said. "As a line, we've taken pride all year in our ability to do the job, and we have to find a way to get more shots on their goaltender."
Marchessault's line, with center William Karlsson and wing Reilly Smith, had seven shots on goal in Game 4, and Smith scored in the third period to cut the deficit to 4-2. They also had six shots blocked.
"I think it's giving them a lot of confidence," Marchessault said of the Capitals. "It's helping their offense when they block a shot and get it out of their zone."
Washington goaltender Braden Holtby said there's an art to blocking shots.
"There's more to blocking shots than just going out there and trying to get hit," Holtby said. "We're doing a great job of creating the right layers, guys going out there strategically to know which lane I'm picking for sight lines and they're taking away the other half and making big blocks."
The Knights need to figure out a way to end the Capitals' block party if they hope to keep their season going into the weekend.
"We've got to create more havoc in front and pressure their D," Reaves said. "We did that in Game 4, and we need to do more of it (Thursday)."
Or, as Gallant said half-kidding before Game 4, "If you're going to take shots, make sure they pay a price for blocking those shots. Shoot it harder."
More Golden Knights: Follow all of our Golden Knights coverage online at reviewjournal.com/GoldenKnights and @HockeyinVegas on Twitter.
Contact Steve Carp at scarp@reviewjournal.com or 702-387-2913. Follow @stevecarprj on Twitter.