Fans rally to send off Golden Knights to Los Angeles
Updated April 14, 2018 - 7:23 pm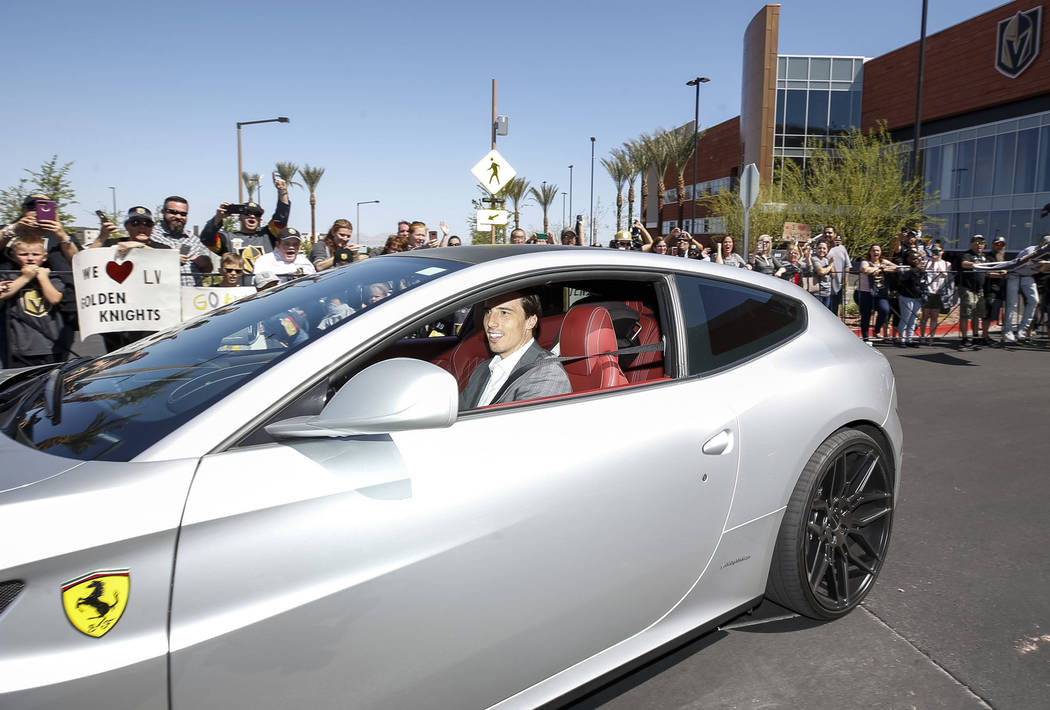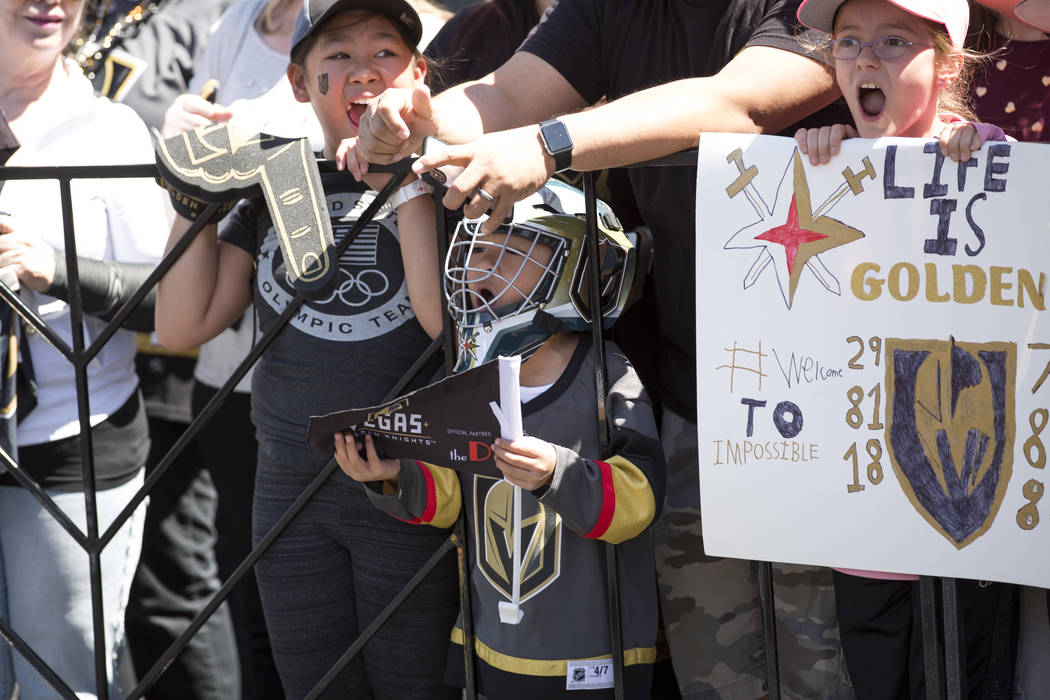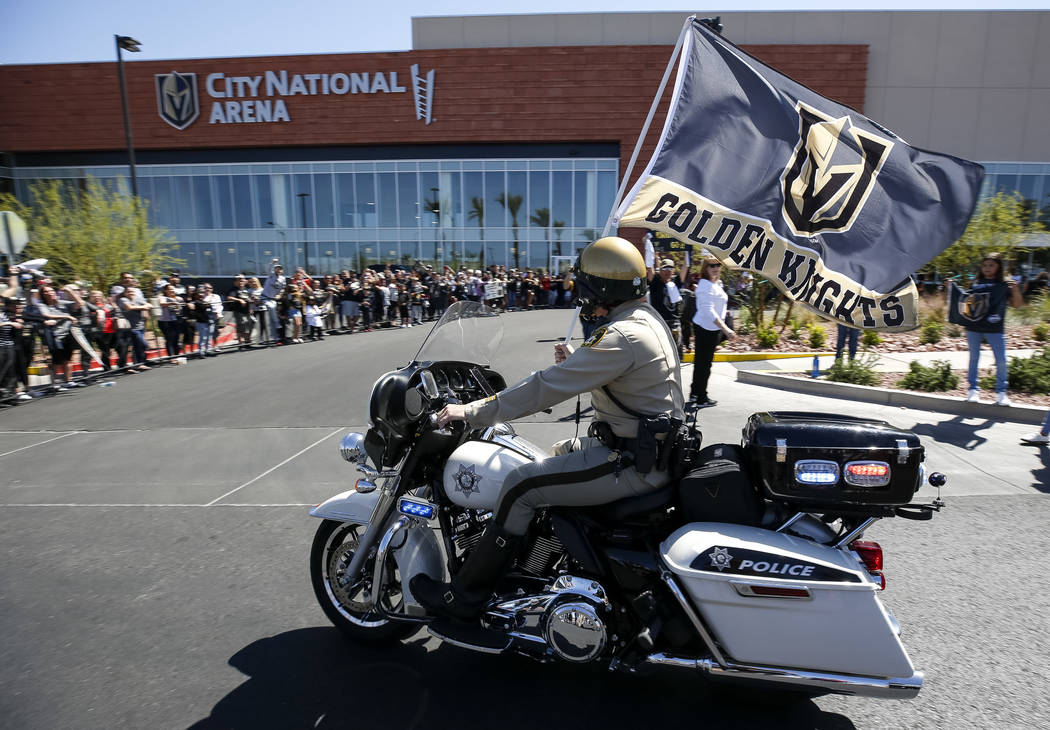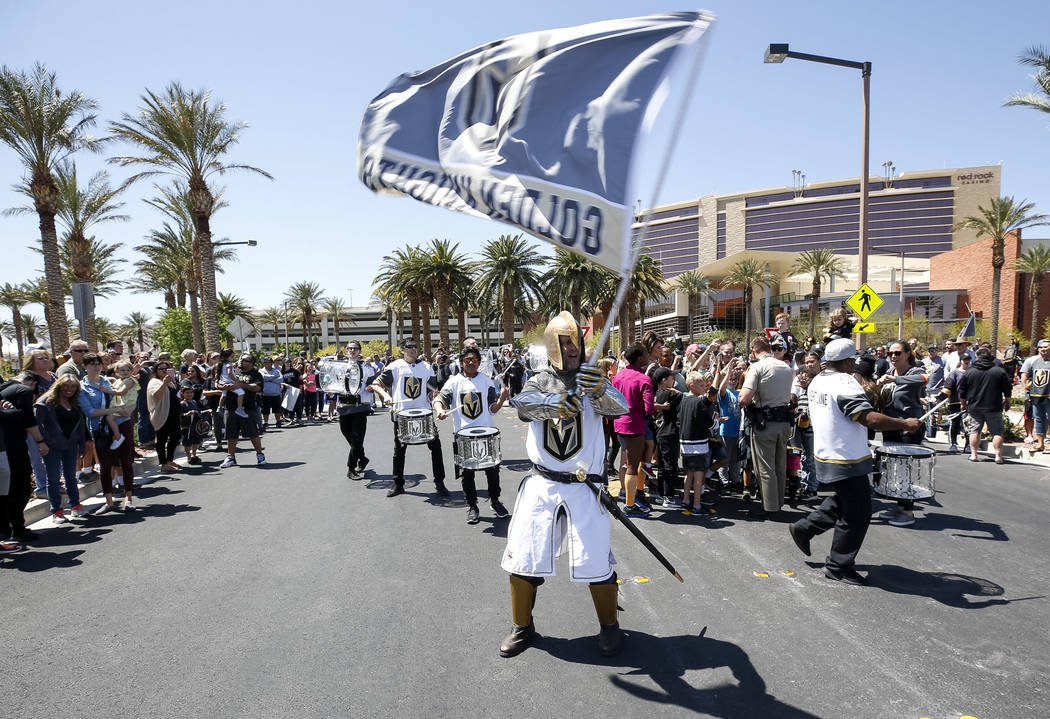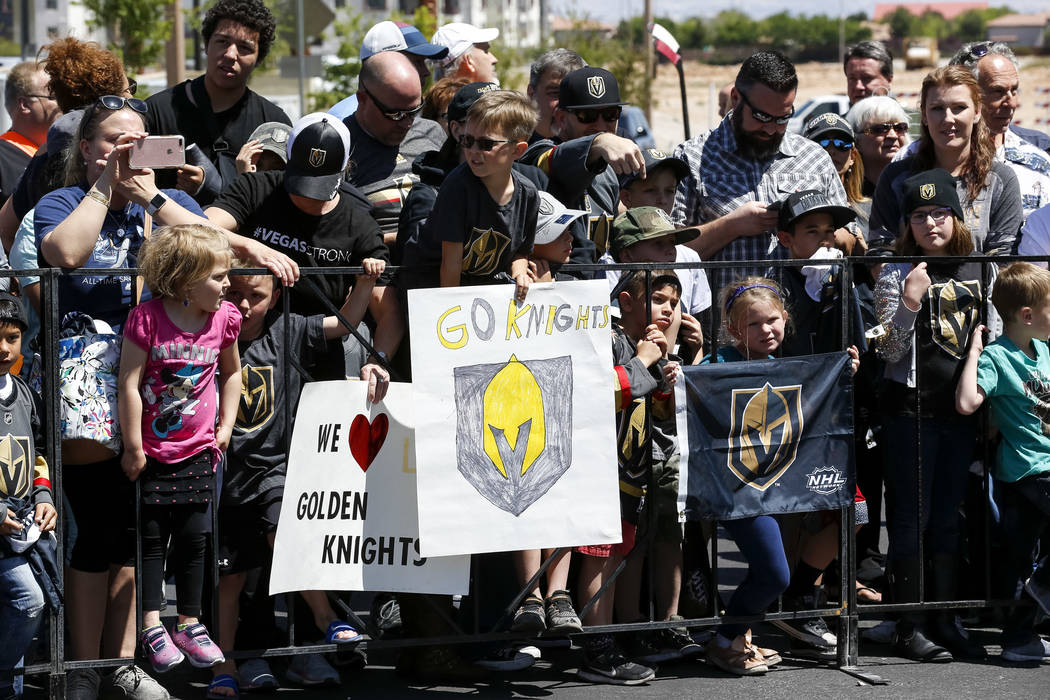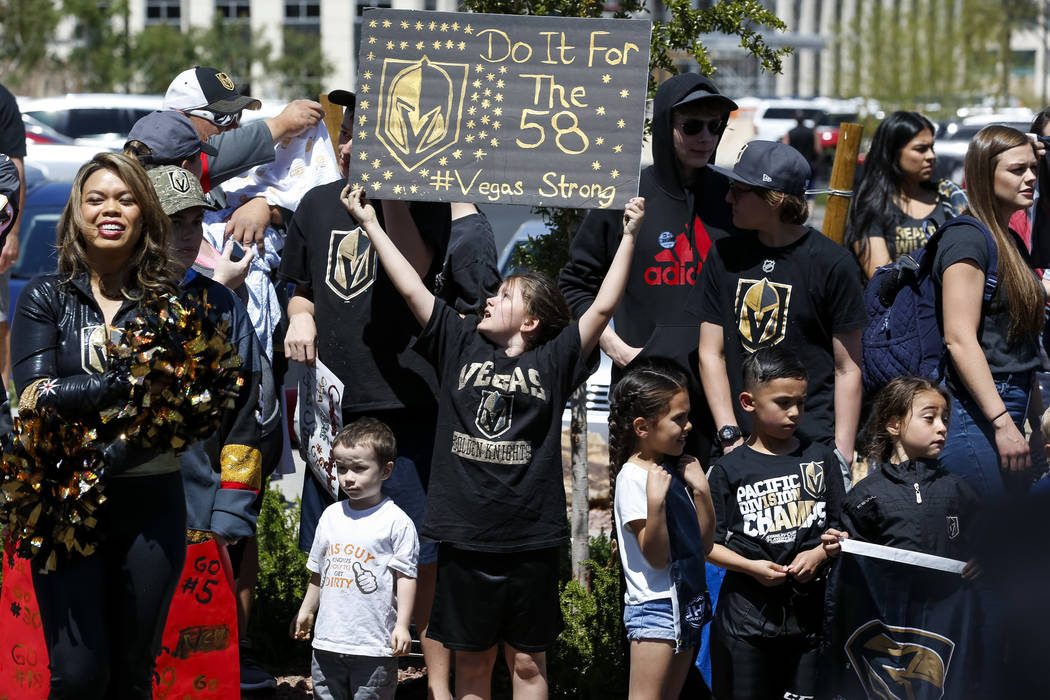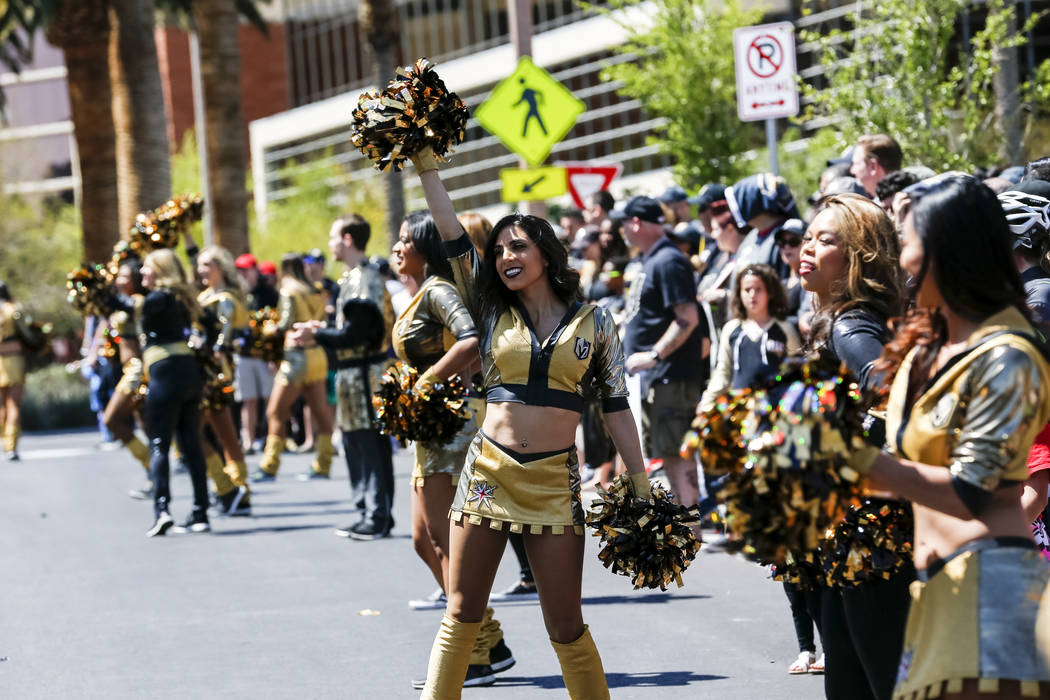 After the Golden Knights' double-overtime win Friday night, the team left for Los Angeles Saturday with a 2-0 series lead and the support of hundreds of fans wishing them luck.
Droves of Las Vegas fans lined up Saturday afternoon outside of City National Arena in Downtown Summerlin to send off their hometown Knights as they continue the series against the Los Angeles Kings on the road.
Fans chanted "Go Knights, go" and "Beat LA" as the players whose jerseys many of them wore — Deryk Engelland, Reilly Smith and David Perron, to name a few — drove past and waved. Team owner Bill Foley, wearing a black Golden Knights tee, sunglasses and khakis, estimated there were between 1,500 and 1,600 people in attendance.
"We've worked hard to be part of the community, and to have the community support us this way is just great," he said.
Justin and Lynnanne Knippel waved Golden Knights flags as the Knight Line drum line rat-a-tat-tatted in marching order in front of them. Neither was a hockey fan before the Knights came to town, but now that the team is here, the couple is ready to cheer them all the way to a Stanley Cup victory. They're buying season tickets for next season, they said.
The Knights are the first major sports team Las Vegas residents could call their own, Justin Knippel said, with his wife adding the team and the fans have a strong bond.
"I don't know if it exists anywhere else with other teams," Lynnanne Knippel said.
The team gave the city something to rally around after the Oct. 1 mass shooting on the Strip, she said, and their success has been a nice bonus.
"You feel like you're part of their story, too," she said.
Yvette Reyes, 40, said she brought her family to send-off to cheer on the Golden Knights and "send them a little bit of Vegas love." Like the Knippels and many others, the Reyes family is new to hockey fandom.
Michael Reyes, 37, never attended a team sendoff before and was surprised at the large turnout. Their 9-year-old son, Jacob, was swimming in a gray jersey that draped down to his knees. Asked who wins the series, Jacob had a ready answer.
"Knights," he said, adding his favorite player is goaltender Marc-Andre Fleury.
Playoff series tend to stoke the flames of rivalries, and one fan embraced the budding rivalry between the Knights and the Kings in a unique way.
He donned a number 28 jersey, forward Will Carrier's number, but with the name "DOUGHTY SLYR" stitched on the back. Kings defenseman Drew Doughty was suspended for Friday's game after an illegal hit to Carrier's head in game 1.
He picked up the custom jersey before Friday's game, and he plans to wear it on Tuesday when he attends game 4 in Los Angeles.
He and his wife, Shalom Stephens, moved to Las Vegas from Vermont a year ago Sunday. She cheered for the New York Rangers and the Montreal Canadiens before moving here, but she's added the Golden Knights to her favorite teams.
"This is the best thing that we could have to help welcome us to the city," he said.
A handful of fans grouped around a Metropolitan Police Department officer handing out Knights car flags. One of the fans, Alvaro Rivas, 29, grew up in Anaheim watching the Ducks, but he has now lived in Las Vegas for several years and backs the Golden Knights. He still has family out in Anaheim, so it's fun to tease them as rival fans.
"It's history in the making," he said.
As Knights forward James Neal drove by, Foley, the team owner, waved and called out a friendly, "Hey! There goes Neal."
Dozens of fans nearby whistled and whooped as he looped his sports car through the winding path out of the packed practice facility lot.
"They're all in, aren't they?" Foley said.
Contact Mike Shoro at mshoro@reviewjournal.com or 702-387-5290. Follow @mike_shoro on Twitter.