Golden Knights find too many Capitals in Fleury's face
Updated May 29, 2018 - 10:51 pm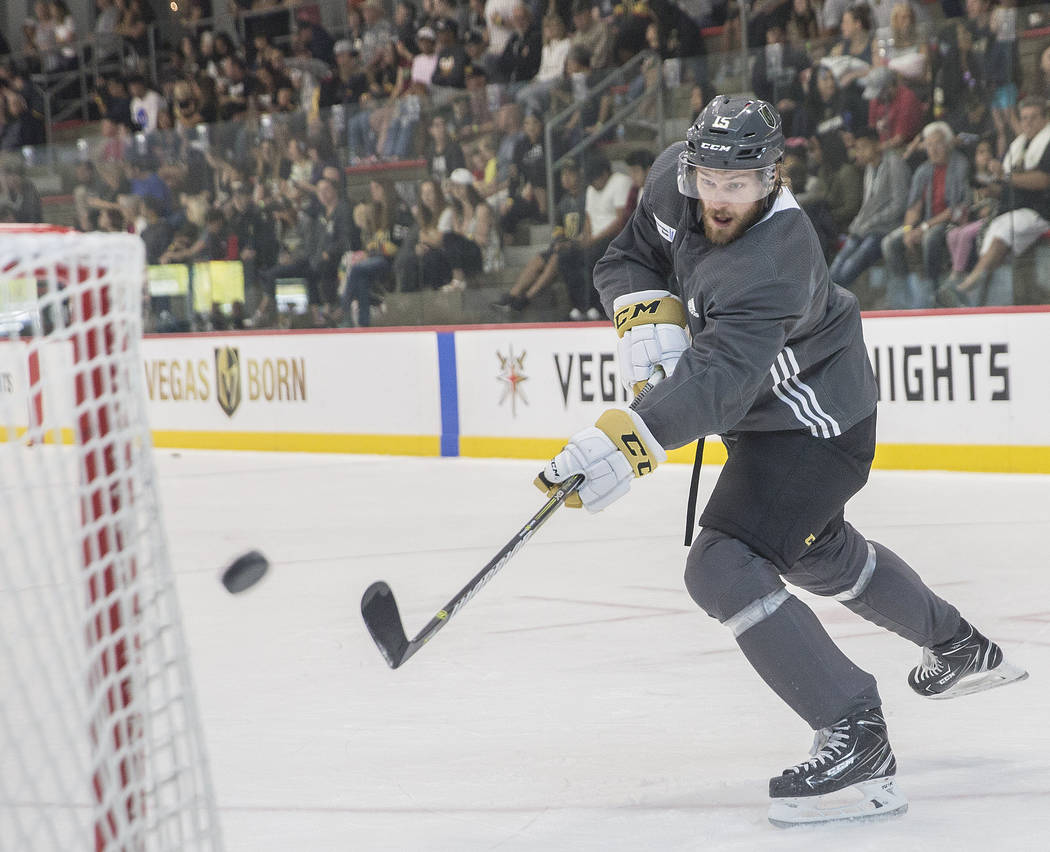 By all accounts, the opening game of the Stanley Cup Final made for entertaining viewing, with 10 goals, four lead changes and end-to-end action for 60 minutes.
Nothing personal, but Golden Knights goaltender Marc-Andre Fleury wouldn't mind if Game 2 was a little more boring.
"I hope so," he said Tuesday at City National Arena. "It was exciting to watch, I think, but not the goalie's favorite, I'll say."
The Knights maneuvered through Monday's 6-4 victory over Washington like a fearless teen driver on a joyride, weaving through traffic and flirting with danger at every turn before safely arriving at their destination.
Expect a less hazardous trip when the best-of-seven series continues at 5 p.m. Wednesday at T-Mobile Arena.
"I'm sure it was great for the fans on TV," Knights coach Gerard Gallant said. "We were a little bit loose last night in the (defensive) zone. We've got to be a little bit tighter. Again, that comes from having some time off. You can work on stuff in practice, but you want to make sure guys aren't getting hurt in practice, so you do as much as you can.
"It wasn't brutal last night, but our (defensive) zone was a lot better in the Winnipeg series than it was in the first game (Monday) night. And I'm not worried about it. I know we'll be a lot better (Wednesday) night."
Game 1 was a retro, 1980s affair, with at least one borderline hit from Washington's Tom Wilson and wide-open play from both teams.
It was great value for the announced crowd 18,575, but maybe not for the players involved.
"Obviously the fans love it, stuff like that," defenseman Colin Miller said. "But I think if you would have asked us, we would have liked a little bit cleaner game. I think some of those turnovers in the neutral zone, you get in trouble with such a good offensive team like Washington. Definitely fun to watch, but if you'd have asked (Gallant), he probably would have wanted it a little tighter."
The Knights entered the Stanley Cup Final allowing 1.8 goals per game, which ranks No. 2 behind Los Angeles (1.75 in four games).
They allowed three or fewer goals in 12 of their first 15 postseason games, but had several defensive breakdowns against Washington following a seven-day layoff.
"Communication was off a little, so a couple switches were off and gave them a little too much time," defenseman Luca Sbisa said. "I think we were a bit hesitant. I don't know if it was maybe because it was the first game of the Stanley Cup Final, but it's just a matter of focusing on those little details."
As Fleury noted, two of Washington's four goals had nothing to do with the Knights' defensive coverage. Brett Connolly tipped in the Capitals' first goal, and Fleury accidentally kicked the puck into his own net early in the third period.
Washington's other goals were the result of breakdowns.
In the first period, Nicklas Backstrom skated through the slot unchecked, and when T.J. Oshie lost control of the puck on a wraparound attempt, Backstrom was able to corral the loose puck and chip a backhander past Fleury for a 2-1 lead.
Similarly, Washington defenseman John Carlson got loose in the slot during the second period and put the Capitals on top 3-2 after Oshie's no-look pass left Fleury stranded.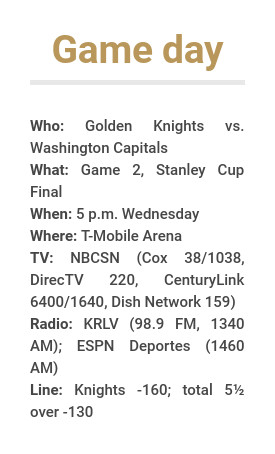 In addition, Carlson hit the post twice, and Washington's Lars Eller had a chance in the final minute that was broken up by Knights defenseman Brayden McNabb.
"The Backstrom goal, that's our line. We've got to be better there, for sure," forward James Neal said. "Some costly turnovers, some errors. But at the end of the day, for them, they'll be mad at themselves for having a tough game, and for us, we're mad at ourselves for not being sharp enough. But we'll reset here and have a better one (Wednesday)."
Contact David Schoen at dschoen@reviewjournal.com or 702-387-5203. Follow @DavidSchoenLVRJ on Twitter.
Three storylines
1. Don't let up. History tells us that the winner of Game 1 captures the Stanley Cup 78 percent of the time. But the Capitals fell behind in their first two series and came back to win, and the Golden Knights don't want to head to Washington with the series tied.
2. Bounce back. Knights goaltender Marc-Andre Fleury didn't play his best game of the postseason Monday, though his performance wasn't nearly as bad as some made it out to be. And Washington's Braden Holtby wasn't sharp, either. Look for both netminders to elevate their game.
3. Control the emotions. Washington's Tom Wilson avoided a suspension for his third-period check on Jonathan Marchessault. The Knights need to stick to their game plan and can't get caught up trying to exact retribution.
David Schoen Review-Journal