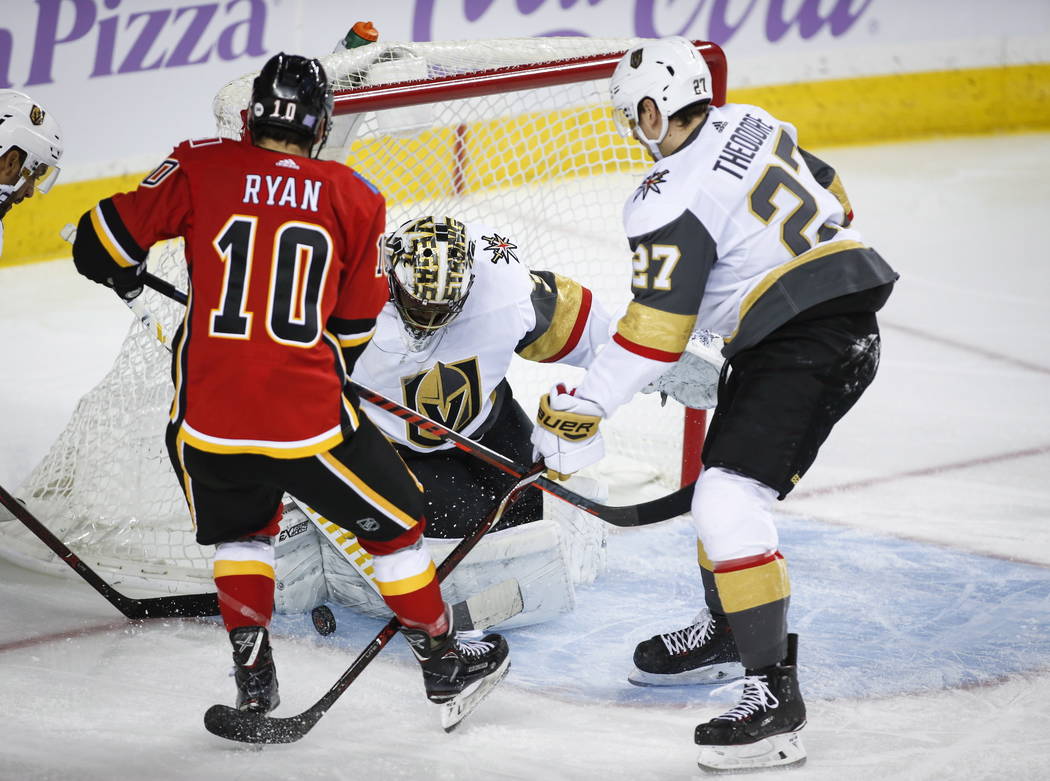 LOS ANGELES — The sight of Golden Knights goaltender Marc-Andre Fleury fiddling with his wrist during postgame interviews Thursday was another reminder that he's going to need time off.
That time could be this weekend.
A stretch of three games in four days continues against the Los Angeles Kings at 1 p.m. Saturday before a Sunday night home game against the Dallas Stars.
Backup goaltender Malcolm Subban could start at least one of the games. The former first-round pick is 0-4 this season and hasn't played since a 7-2 loss Nov. 19 in Calgary.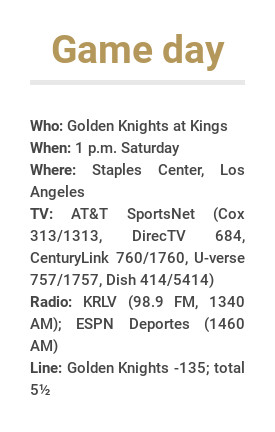 But Subban insists he will be prepared for his next opportunity.
"Staying positive can (be difficult)," he said. "You want to get in there and play, but it's easier when the team is winning to watch from the sidelines. (Fleury) has been great and getting the job done, so it's not like we've lost seven or eight in a row. You never want your time to come at the expense of another, but that's why I stay ready. You never know what's going to happen."
Subban has a 4.02 goals against average and .859 save percentage after posting 2.68 and .910 with a 13-4 record in 22 games last season.
Fleury, who said his wrist is OK after he took a shot in Thursday's 4-3 victory over Chicago that hit "mostly shoulder," added that he's confident in Subban despite his drop-off in numbers.
"Just keep practicing hard and keep his head in it," Fleury said when asked what advice he has given Subban. "I've been through it. It's not easy to not play regularly, so practicing hard is all you can do. He'll be fine, I'm sure."
Subban's starts have come on the road against mostly explosive offenses. The Knights were struggling earlier in the season and allowing too many quality chances around him.
Still, the 24-year-old knows it's his job to stop shots. He needs to rebuild his confidence, but playing is about the only way to do that.
"Of course you want wins as a goalie, but I don't know if it's just for your confidence," he said. "It's why you play the game — to win. At the end of the day, no matter what else is happening on the ice, if you lose, you ask yourself what you could have done better to change the outcome. I always look at myself first."
Fleury, 34, is on pace for the most games and minutes of his career. His outstanding play and Subban's struggles have made it difficult for the Knights to rest him.
"(Fleury) is fresh right now, but it's going to be wear-and-tear sooner or later," coach Gerard Gallant said. "We've had a busy schedule, and he has played so well, so it's hard to say he's not fresh when he's the (NHL's) Third Star of the Month for November. We'll ride it while we can. It takes nothing away from (Subban). He just hasn't had a chance to get in a groove. He hasn't played many games, and those he has have been tough games on the road. But that's his job, and he knows it."
More Golden Knights: Follow at reviewjournal.com/GoldenKnights and @HockeyinVegas on Twitter.
Contact Adam Hill at ahill@reviewjournal.com or 702-277-8028. Follow @AdamHillLVRJ on Twitter.
Three storylines
1. Don't overlook the Kings. Los Angeles looks more like court jesters than Kings when you glance at the standings, but Knights coach Gerard Gallant doesn't see it that way. "LA is a real good team. They've had a tough go and lost a lot of close games. They're frustrated and want to play better hockey, so we'll go in there knowing they're a real good team. They're last in the division, but you look at their roster and (they have good players)."
2. Keep it special. The Knights' penalty kill has been spectacular recently, but the power play also has come alive. The unit has scored in eight of the past 10 games, going 9-for-31 (29 percent).
3. First things first. While the second line has been sensational, the first line came alive Thursday against Chicago. Reilly Smith and Jonathan Marchessault each scored a goal, and Smith had two assists. Marchessault and William Karlsson each added an assist, and all three had ratings of plus-2 in a 4-3.
Adam Hill Review-Journal