Golden Knights' Reaves avoids further discipline for Tom Wilson hit
Updated December 5, 2018 - 5:48 pm
Ryan Reaves greeted the media Wednesday wearing a black T-shirt from a brand called Violent Gentlemen.
As if the Golden Knights winger needed to provide a reminder.
"I slept fine last night," Reaves said after his rough-and-tumble encounter Tuesday with the Stanley Cup champion Washington Capitals and chief adversary Tom Wilson.
Reaves escaped any supplemental discipline from the league's Department of Player Safety for his second-period sideswipe of Wilson and will play Thursday against the Chicago Blackhawks at T-Mobile Arena.
Ryan Reaves' hit on Tom Wilson last night, which resulted in a major penalty/game misconduct for interference and also knocked Wilson out of the game with injury, will not result in any supplementary discipline by the NHL.

— Bob McKenzie (@TSNBobMcKenzie) December 5, 2018
He maintained a clear conscience about the play after Wednesday's optional skate.
"I think everyone in this locker room knew it was a clean hit," Reaves said. "I think the call was maybe a little bit, maybe they didn't want the game to get out of hand. But wrong call."
Knights coach Gerard Gallant started the line of Pierre-Edouard Bellemare, William Carrier and Reaves for the opening faceoff and tried to match them as often as possible against Washington's top line, which includes Wilson and Alex Ovechkin.
The heavyweights had multiple run-ins during the first period of the Knights' 5-3 victory, including one sequence when they collided near the blue line at the whistle and Reaves was seen laughing when the 6-foot-4-inch, 218-pound Wilson went down.
Late in the second period, Wilson released the puck and was blindsided by the 225-pound Reaves, who received a five-minute major for interference and a game misconduct. Wilson left with an upper-body injury and did not return.
"You look at those hits and you say, 'That's a tough hit,' you know what I mean?" Gallant said. "They say 0.6 (seconds) for interference. It was less than that when you tape it from the time he moved the puck to getting hit. It was a legal hit. There's nothing wrong with the hit. It's unfortunate someone got hurt, but that's what happens with those hits. When they're unprepared to take the hit, people get hurt."
Capitals first-year coach Todd Reirden said after the game he thought Reaves went out of his way to hit Wilson late.
Reaves' hit was deemed not worthy of a suspension because the primary point of contact was Wilson's shoulder, not his head.
Wilson's helmet popped off from the hit, and he smacked his head after falling to the ice. He stayed down for two or three minutes, then was helped to the Capitals' locker room.
By rule, Reaves received an automatic game misconduct with his five-minute major because Wilson suffered an injury to his face or head.
"Reaves targeted him the entire game," Reirden said. "You could hear it on every faceoff, you could hear the things that were being said. It's a blindside hit where an unsuspecting player hits his head on the ice. That's disappointing. You could put two and two together, but he targeted him the entire game, so you can figure that out from there."
Wilson escaped discipline from the NHL last week for a similar late hit on New Jersey's Brett Seney because there was no contact to the head.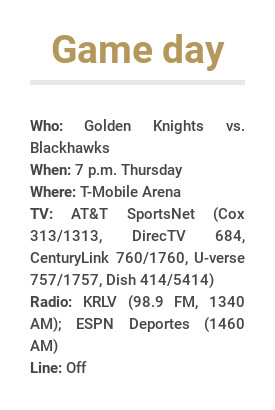 Wilson has been suspended four times in his career, including an illegal hit to the head on St. Louis' Oskar Sundqvist during the preseason that cost him the opening 16 games. (His suspension was reduced from 20 games by an independent arbitrator.)
Reaves' lone career suspension came in 2016 when he was given three games for boarding San Jose's Matt Tennyson.
"I'm not going out there and looking to get vengeance for other teams, no," Reaves said. "But he's a physical guy that obviously there was a matchup that (Gallant) wanted. I wanted to win the physical matchup. That was the game plan going in.
"I don't want him running around doing that to my guys, so I thought I would be the initiator, and that's just how it went."
The incident overshadowed another solid effort from the Knights, who have won six of their past seven entering the game against Chicago.
The Knights killed off the five-minute major to Reaves, allowing two shots on goal, and rallied with four goals in the third period.
"I think our play of late has proved that we're still a good team," Reaves said. "Now we've got to keep climbing, because this division is tight right now and we've got to start creating some space and gaining some ground."
More Golden Knights: Follow online at reviewjournal.com/GoldenKnightsand @HockeyinVegas on Twitter.
Contact David Schoen at dschoen@reviewjournal.com or 702-387-5203. Follow @DavidSchoenLVRJ on Twitter.
Three storylines
1. Payback in mind. The Golden Knights set a franchise record for goals in an 8-3 victory at Chicago on Nov. 27. The Blackhawks are playing the second game of a back-to-back. They had lost four straight entering Tuesday's game at Anaheim and are sixth in the Central Division.
2. Guarding the fortress. After a slow start at home, the Knights have won three straight and six of their past seven games at T-Mobile Arena, outscoring opponents 26-10 in that stretch with four shutouts. The Knights are 8-3-1 at home overall, which ranks third in the Western Conference by points percentage.
3. Playing short-handed. The Knights' penalty kill was 4-for-4 vs. Washington, including the five-minute major to Ryan Reaves, and has killed off 17 straight power plays dating to Nov. 21 against Arizona. The Knights rank third in the league (84.9 percent) and No. 1 at home on the PK.
David Schoen Review-Journal