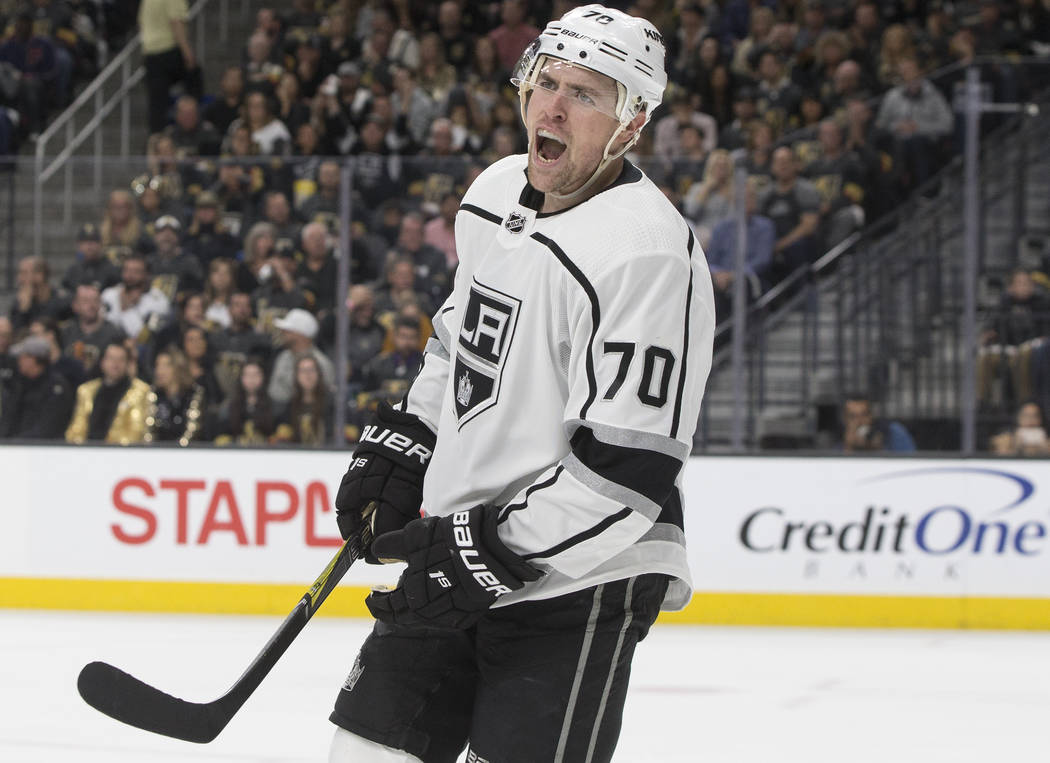 Los Angeles knew what it faced when the Kings got the news their already depleted defense would be without star Drew Doughty for Friday's Western Conference quarterfinals Game 2 against the Golden Knights at T-Mobile Arena.
With the suspended Doughty joining injured Jake Muzzin and Derek Forbort on the inactive list, the Kings needed major contributions from some unproven blueliners.
"We feel pretty good about the guys coming in that they can give us some valuable minutes like they have all year," Kings coach John Stevens said before the game. "We look at it as a real opportunity for these guys to come in and play and show us what they can do. Every kid wants to play in this situation. Every kid wants to play this time of year. They've worked extremely hard to stay ready for this type of situation."
It showed, even though the Knights prevailed for a 2-1 double-overtime victory that gave them a 2-0 series lead.
Paul LaDue, who played in only 12 games in the regular season while spending much of the year in the American Hockey League, scored the Kings' first goal of the series to tie the game at 1-1 in the second period.
He combined with the five other active defensemen to mostly keep the Knights in check.
It also doesn't hurt to have one of the best goaltenders in the world on the back end to clean up any mistakes.
Jonathan Quick, a two-time Stanley Cup winner, stopped 34 of the 35 shots he faced in regulation and was stellar throughout overtime before Erik Haula's game-winner on the Golden Knights' 56th shot of the night.
Alec Martinez and Oscar Fantenberg each played more than 40 minutes and combined for nine hits and 12 blocked shots. Kevin Gravel, a healthy scratch in Game 1, gave the Kings 20:05 of ice time.
"You want to play in big situations, and it doesn't get any bigger than the playoffs," Gravel said before the game. "It's an opportunity for someone to step in for us, and it's going to take a collective effort for everyone to pick up the slack. It's exciting."
Gravel was on the ice for the first-period power-play goal by Alex Tuch when he got behind the defenders and corralled a blast from Jonathan Marchessault after it hit the boards behind the net, tapping it in for a goal.
Now Los Angeles gets Doughty back, though Muzzin still hasn't taken contact in practice and Forbort's status remains in doubt.
The Kings didn't believe they should have had to take the ice without their leader Friday night.
"My opinion of Drew Doughty is that he's the best player at that position in the world, and he defended that play exactly as we would expect him to defend that play," Stevens said of Doughty's hit on William Carrier on Wednesday. "As long as I'm on this earth, I will agree to disagree with that decision."
It was the first suspension of Doughty's career, which spans more than 850 games, including the postseason.
"I did not intend to injure him," Doughty said of Carrier, who was in the lineup for Game 2. "Did I intend to separate him from the puck and hit him? Yeah, for sure, but I'm a defenseman. That's my job. That's what I do. I feel terrible that I hit him in the head, and if he's having any problems, I feel awful about that, but I would do it all over again. I would make that hit and try to separate him from the puck.
"That's the way we play the game. You've got to play physical. You want me to just let that guy get to the net and get a scoring chance? I'm not going to let him do that. I did not at all intend to hit him in the head, and I 100 percent got his shoulder first. I definitely hit the head after that. Maybe it's a penalty call or something like that, but a suspension? In the playoffs? I don't think so."
More Golden Knights: Follow all of our Golden Knights coverage online at reviewjournal.com/GoldenKnights and @HockeyinVegas on Twitter.
Contact Adam Hill at ahill@reviewjournal.com or 702-277-8028. Follow @AdamHillLVRJ on Twitter.