Knights' Haula hopes he's on path to stardom with career season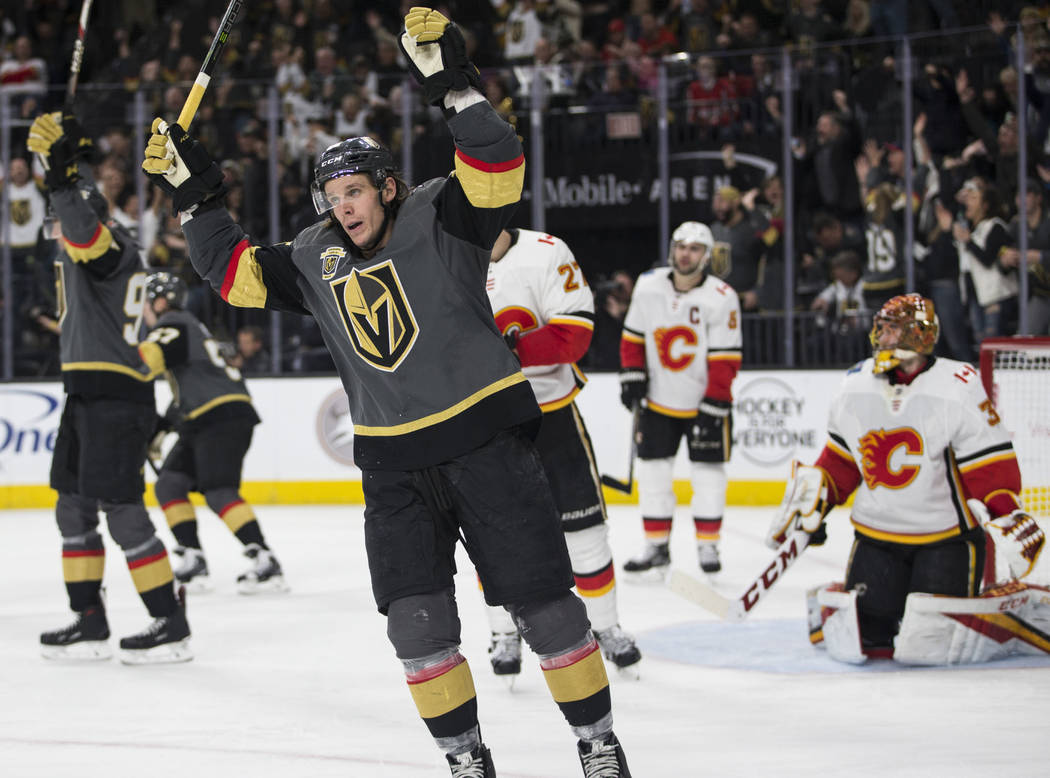 VANCOUVER, British Columbia — In the newspaper world, the number 30 signifies the end. In Erik Haula's world, 30 might mean the beginning of stardom.
With three games remaining in the regular season, including Tuesday against the Vancouver Canucks at Rogers Arena, the Golden Knights center is a goal away from reaching 30 for the year. As he enjoys a career season with 55 points, Haula has taken advantage of his opportunity as an expansion draft selection from the Minnesota Wild last June.
"I think I can play as a top-six forward," said Haula, whose previous career high was in 2015-16 when he had 34 points. "I just wanted to see what I could do in this league, and it's been good. I've had a lot of fun doing it.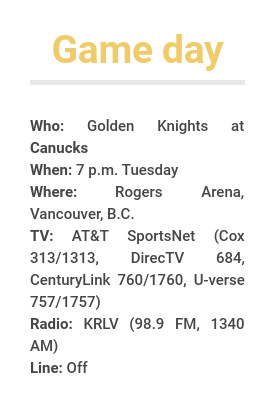 "People can look at it and think what they want of what I am and what I'm not, and that's fine. I'll play wherever I'm played."
If Haula does hit 30, it will likely come in the third period or during a power play. He has scored 16 of his 29 goals during the final 20 minutes and he has 12 power-play goals.
"I never played power play in Minnesota," Haula said of his his four seasons with the Wild. "In college (at the University of Minnesota), I like to think I was successful on the power play. But the pro level, for me, it was doing other things to get in the lineup, get my foot in the door, whether it was penalty kill or whatever it was. I was trying to do those things and be noticed in some way."
Knights defenseman Nate Schmidt, who also was Haula's teammate in college, isn't surprised at his success.
"We all kind of thought this would be the path that he'd take," said Schmidt, who is having a career year himself with with five goals and 36 points. "But the NHL makes you do mysterious things in order to get in. You have to somehow manufacture your way into the lineup and just get an opportunity, and then you kind of roll with it. You've got to carve out your little niche.
"But for him, I always thought that he could do that in this league. Me personally, I was really hoping this would be what we would have from him this year."
No matter how much success he has, Haula always thinks he can do better.
"I think that's been the biggest key I've learned from experienced players is to never get too high and never get too low and just try to stay even-keeled and do the same things," Haula said. "If you look at individual goals, I'd like to get (one) goal sooner than later so I don't have to think about it. I've been successful so far with doing what I do night in and night out. So thinking about it or trying to change anything, it's just going to hurt me."
His teammates are trying to get him the puck. He's had several excellent opportunities since he scored No. 29 last Wednesday against Arizona. He had three shots on goal in Saturday's 3-2 win over San Jose.
"I'm really happy for him, honestly," Schmidt said. "It's good to see a guy be rewarded after putting in the time being a penalty-killing, bottom-six forward.
"I hope he gets there. And if he doesn't, you've got to think that next year he's just going to be that much more hungry to go get it."
Contact Steve Carp at scarp@reviewjournal.com or 702-387-2913. Follow @stevecarprj on Twitter.
Three storylines
1. The Hangover, Part 2? A week ago, the Knights celebrated clinching a playoff berth and they lost their next game. Having clinched the Pacific Division Saturday, will they be flat against the Canucks?
2. Will Whitecloud debut? Defenseman Zach Whitecloud has been with the team for three weeks since signing as a college free agent. Will the Bemidji State star finally crack the lineup?
3. Who's in goal? Goaltender Marc-Andre Fleury did most of the heavy lifting to help get the Knights to the division title. Does Malcolm Subban return to the net against Vancouver after a strong effort last Friday when he beat St. Louis?
Steve Carp Las Vegas Review-Journal