Las Vegas' NHL team officially named Vegas Golden Knights
November 22, 2016 - 11:33 pm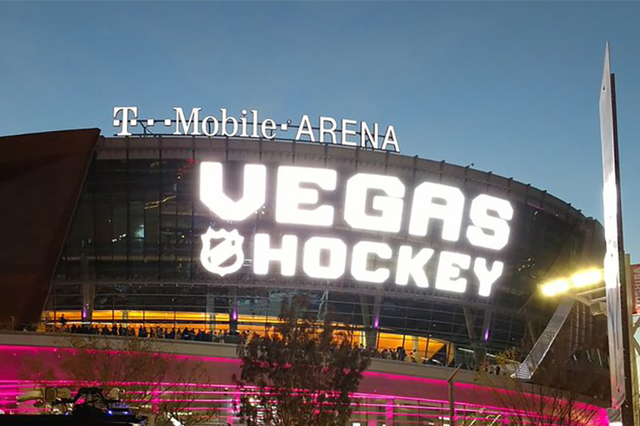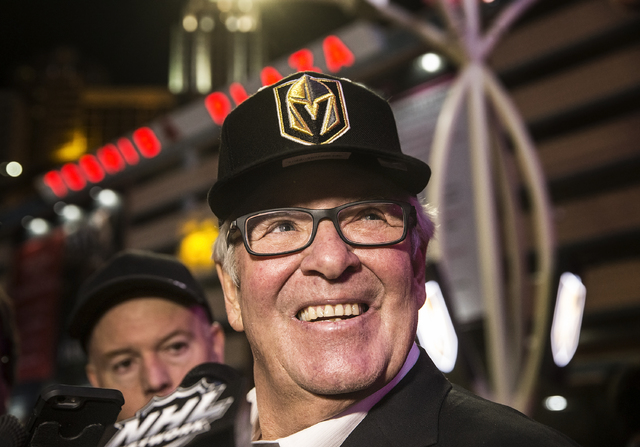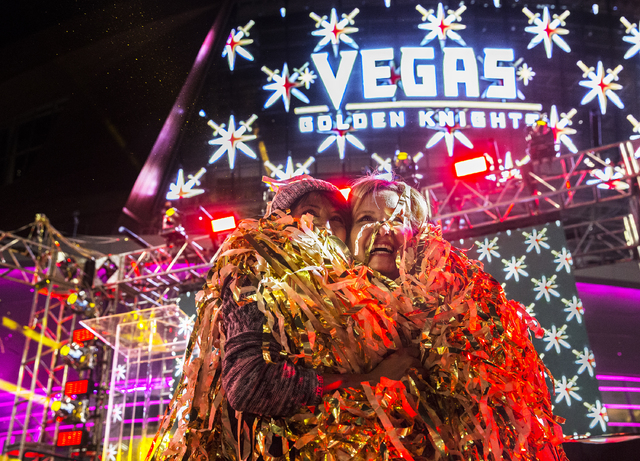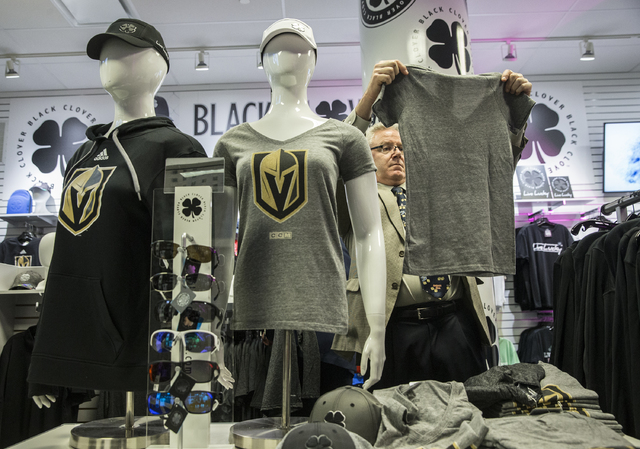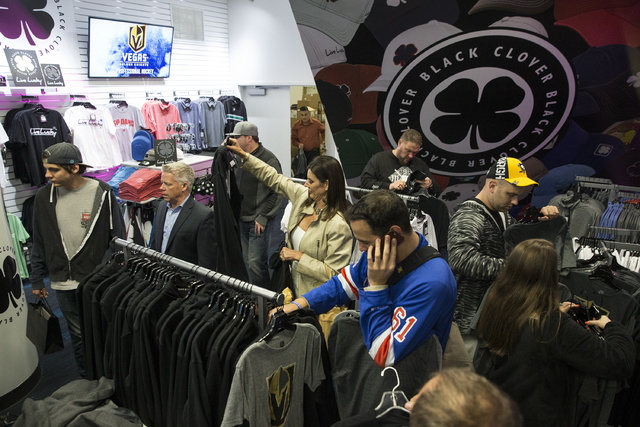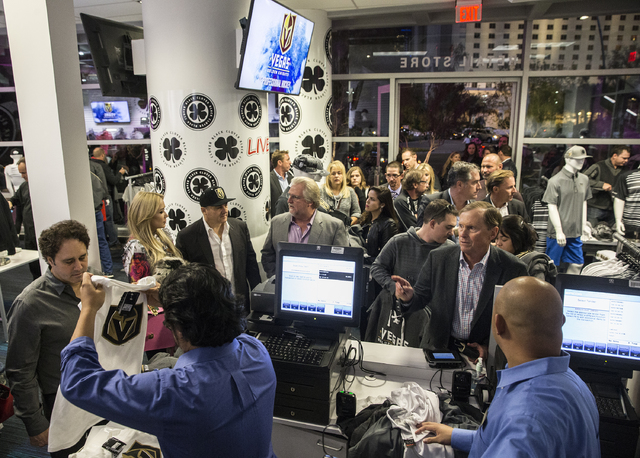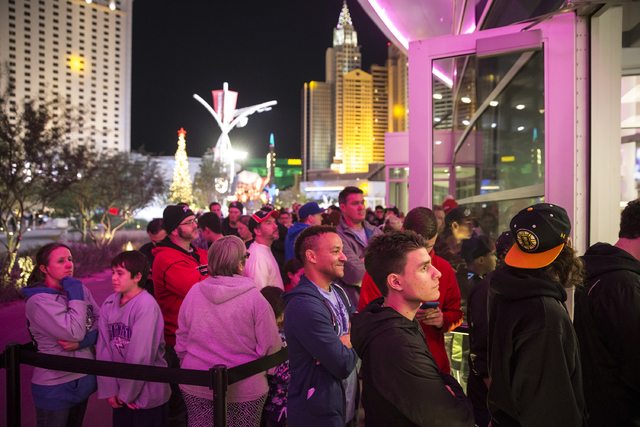 Welcome to the world, the Vegas Golden Knights.
Tuesday evening, a brand was born that will bring worldwide publicity to the city and an identity for an expansion hockey team which will represent Nevada as the state's first major league professional sports franchise.
The Golden Knights' name was announced amid fanfare at Toshiba Plaza as an estimated 5,000 people waited outside the team's home, T-Mobile Arena. They listened to speeches from team majority owner Bill Foley, general manager George McPhee and NHL commissioner Gary Bettman before the revealing of the nickname, colors and logo.
There was a glitch in the video preceding the announcement which prompted Foley to say, "We'll do better on the rink than that."
"This is really an important step for us," Foley said. "Since we were awarded the franchise in June, we were the Las Vegas hockey team. Now, we have our name and our identity. We are the Vegas Golden Knights."
Bettman said at the ceremony: "This team now has an identity that is all for the fans. If this is indicative of the support this town has, I look forward to one day returning here and presenting the team with the Stanley Cup."
OFFICIAL: We are now YOUR Vegas Golden Knights. #BoldInGold https://t.co/6m5bthPyIY

— Vegas Golden Knights (@GoldenKnights) November 23, 2016
Foley said he purposely left off the word "Las" for the team name because he said locals call the town "Vegas" and thought he could connect better with them.
"In talking to locals, everyone seems to call it 'Vegas,'" Foley said. "I also thought 'Las Vegas Golden Knights' was too long. So we shortened it and it sounds great to me."
Same for McPhee.
"Everyone knows where Vegas is," he said.
Foley, a West Point graduate, was originally going to call the team the Black Knights. He backed off because he was afraid of the social and political repercussions of naming the team after his alma mater.
While he didn't get the name he desired, he did get West Point's colors for his team. The Knights will wear black, gold, steel gray, white and red in their uniforms, which will be made by adidas and are expected to be available late spring after the company replaces Reebok as the NHL's official sportswear supplier.
Officials said the Knights' home jersey will be primarily steel gray with black and gold trim, along with white and red accents. The road uniform will be white with black, gold, gray and red. In the NHL, the home uniform is dark and the road jersey is white.
The crest, which primarily is black and gold with some gray, has a knight's helmet with a "V' on the face within a five-sided shield. The shoulder logo has two swords intersecting and will be white, red and gold on a black background. The uniforms will be unveiled at a later date.
The team's website was also unveiled Tuesday and will be nhl.com/goldenknights and the team's Twitter account will be @goldenknights. On Facebook, the account is "Vegas Golden Knights."
Long before the NHL granted Foley his franchise on June 22, he had been inundated with suggestions on what to call his team. There were hundreds of names, from the creative to the absurd. The NHL also preferred he not consider a name that had gambling ties or implications, which was fine by him.
He did consider the name "Knighthawks" but he said he couldn't create a culture around the bird. Same for "Scorpions," "Sidewinders" and "Desert Hawks."
"We looked hard at those names but the connection wasn't quite what I was looking for," Foley said.
The truth is, Foley had always believed his team would be some sort of Knights. To him, the Knight represents nobility, toughness, fearlessness and camaraderie, the qualities he wants his team to exemplify when it hits the ice next October.
"I'm very keen on this culture," Foley said. "Hockey players are soldiers. They look after each other. It's not about them. it's about the team. I wanted a name that represented that and I think with our name and our logo, we have it."
Foley believes the look will be accepted, not only in Las Vegas but internationally. With the team name and logo now in place, he can start selling the Knights' brand.
"We want to be the world's NHL team," Foley said. "Las Vegas has a worldwide reputation and we are Las Vegas' team. I know we're going to sell a lot of jerseys, once we have them to sell."
Contact Steve Carp at scarp@reviewjournal.com or 702-387-2913. Follow @stevecarprj on Twitter.
Watch the live stream below:
RELATED
Las Vegas' NHL team officially named Vegas Golden Knights
Fans share thoughts on name, logo of Vegas Golden Knights
NHL commissioner Gary Bettman gets booed but happy to be in Vegas
Some will like Golden Knights, others won't, but it's about winning
Want to keep up with all the hockey updates? Follow our Twitter: @HockeyinVegas