No captain? No problem when it comes to leadership for Knights
Updated April 17, 2018 - 11:24 pm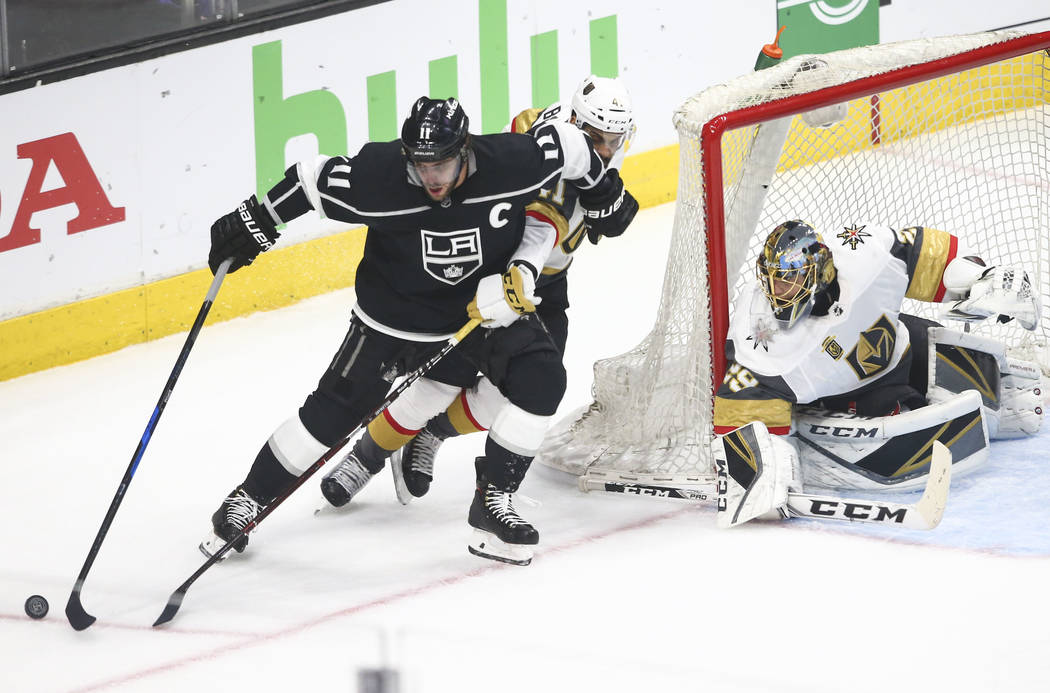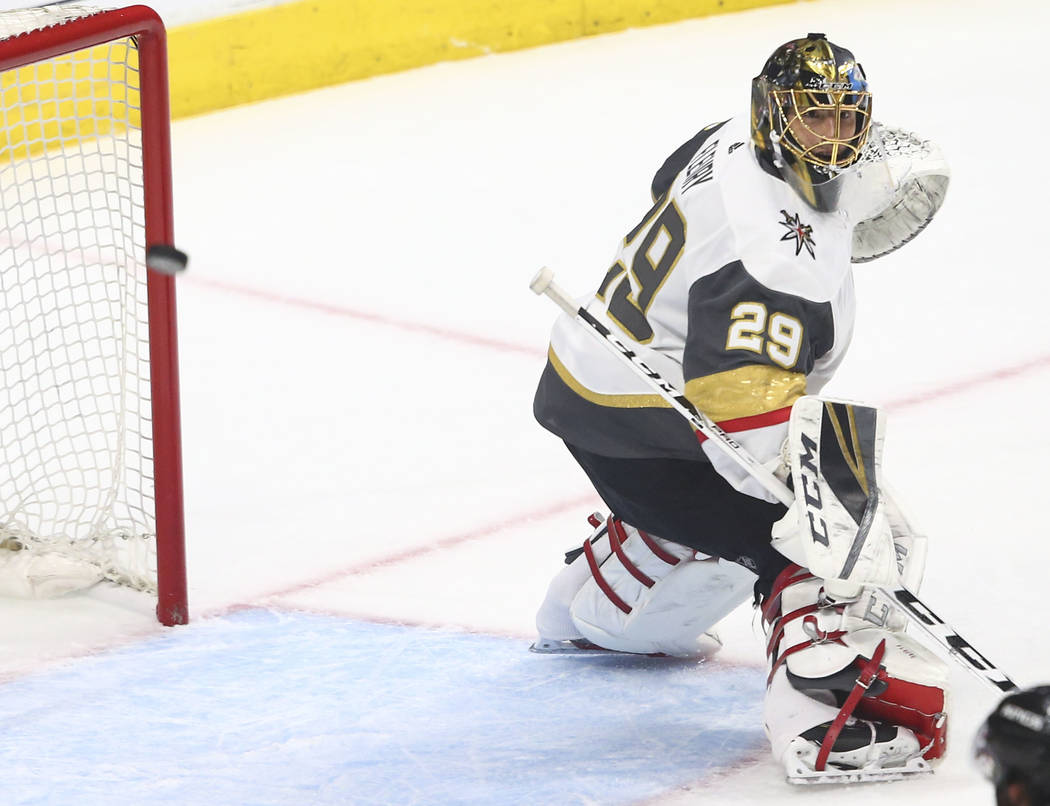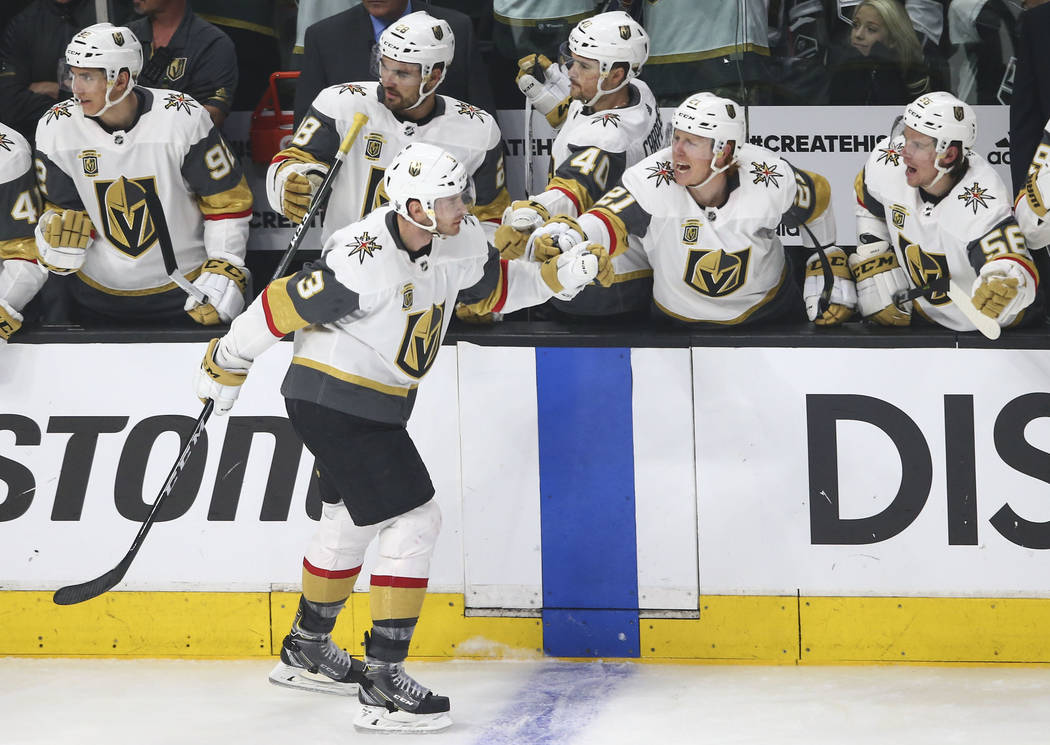 LOS ANGELES — So far, the Golden Knights have had a lot going for themselves on their maiden voyage to the Stanley Cup playoffs. But the one thing they don't have — a captain — hasn't been an issue.
There has been no lack of leadership in the team's locker room all season. That continued in the postseason as the Knights closed out the Los Angeles Kings, winning 1-0 and sweeping the best-of-seven series 4-0.
The Knights had to survive an opening 20 minutes that saw the Kings dominate. But the Kings were unable to solve goaltender Marc-Andre Fleury, who made 14 saves in the first period en route to a 31-save performance and his second shutout of these playoffs.
And when they got to the sanctuary of their locker room, James Neal, Deryk Engelland, David Perron and Pierre-Edouard Bellemare, the core of the team's leadership group, were able to help the team refocus.
"It was pretty straight-forward," Engelland said. "They came out flying and we didn't respond. But in the second, we did a lot better job and pushed back a little bit. I think (Fleury) did a hell of a job keeping us in it.
"Everyone has a voice. The leadership group has been good all year and we just had to calm down, push back and get back to our game."
Neal said things weren't that bad considering the game was still scoreless.
"We felt like we were in pretty good shape and we knew we were capable of playing better," Neal said. "It was a great job finishing it off (Tuesday)."
The message got through as the Knights and Brayden McNabb's goal 4:04 into the period appeared to give the team a huge lift.
"We knew what we had to do," Perron said. "It was a tough first period but we weathered the storm and we were able to regroup and play the way we know how the rest of the game."
Bellemare said there was time to straighten things out.
"We knew we didn't have our best period, but we also knew we had a lot left in the tank," he said. "We said we hadn't started the game yet. That was it. We talked about moving the puck forward and supporting each other."
There was no panic, even when the Kings were making that final push late in the game. Of course, when Fleury is doing his thing in goal, it takes a lot of the pressure off everyone. And even though no one has a "C" on their sweater, if Fleury were allowed to wear one, he probably would be the team's choice. As far as Neal's concerned, Fleury is the captain.
"He's been motivated all year," Neal said of Fleury. "You'd think a guy with three Cups would be satisfied, but he's been the backbone and our captain all year, so I was really happy to see the way he played. He was amazing."
More Golden Knights: Follow all of our Golden Knights coverage online at reviewjournal.com/GoldenKnights and @HockeyinVegas on Twitter.
Contact Steve Carp at scarp@reviewjournal.com or 702-387-2913. Follow @stevecarprj on Twitter.