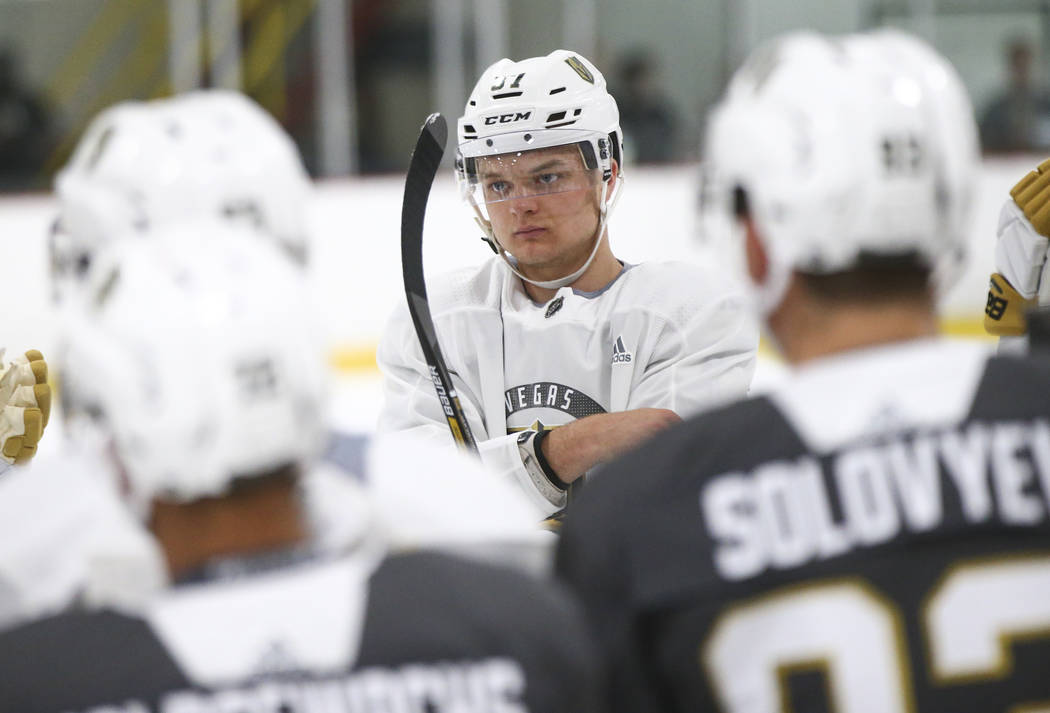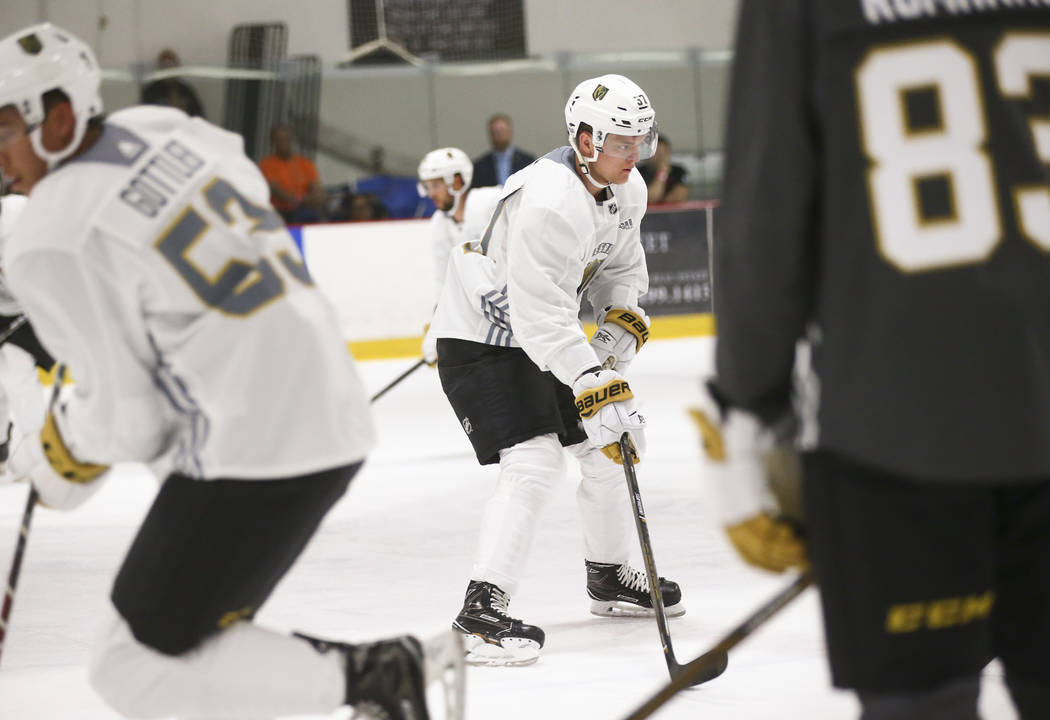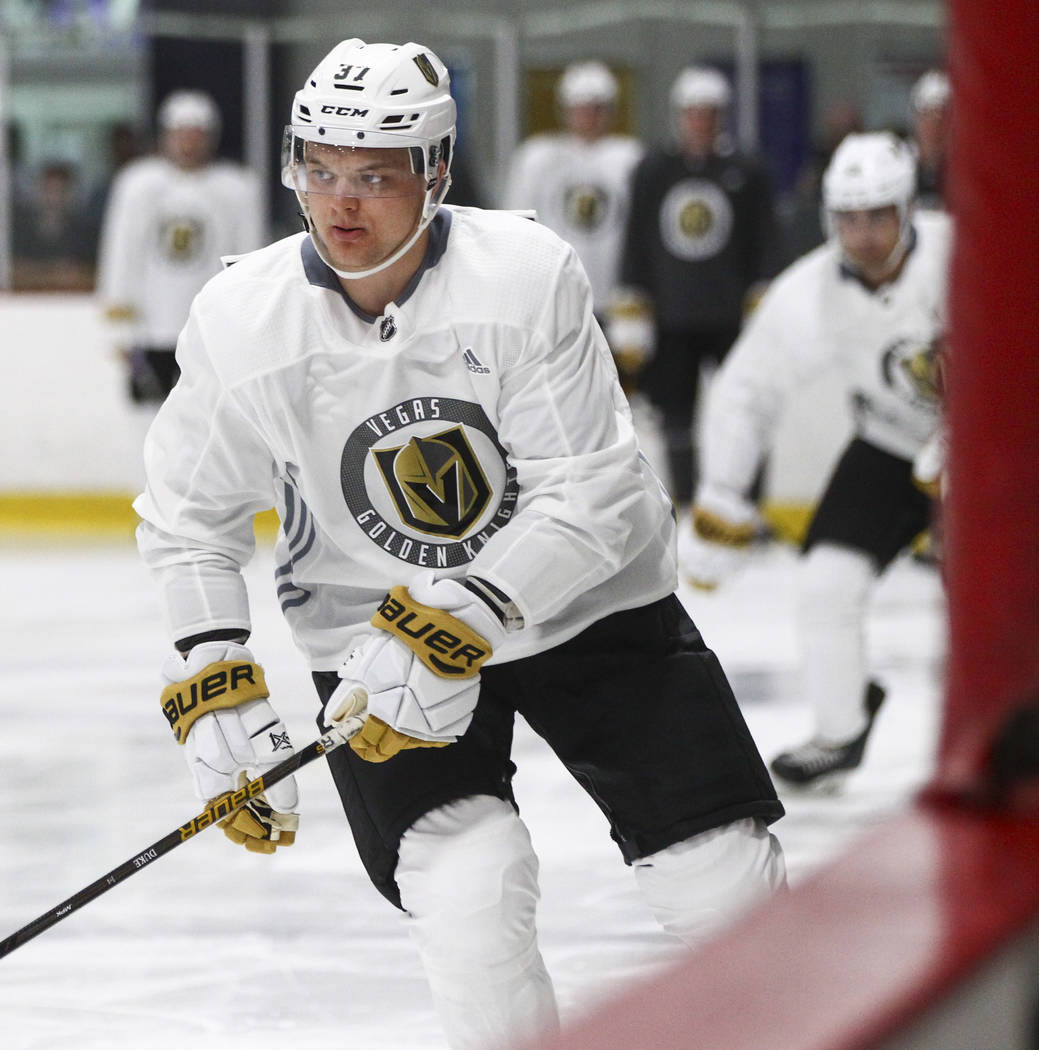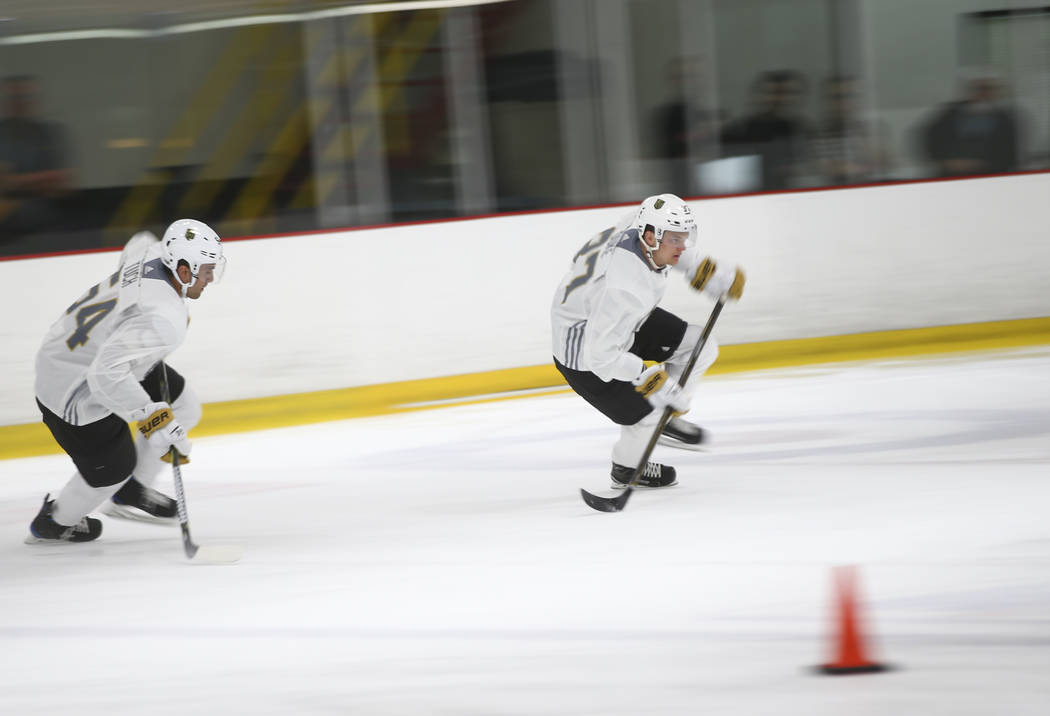 Reid Duke knows how to make a good first impression.
Duke, the first player signed by the Golden Knights, spotted owner Bill Foley before the start of the team's development camp on Tuesday and made sure to shake his hand.
"That was the first time I've actually met him," Duke said. "It was quick, brief, but it was good to meet him and say, 'Hi.' "
Pleasantries aside, Duke was among the 45 players hoping to stand out to the Knights' brass this week at Las Vegas Ice Center.
The 6-foot, 192-pound center skated during the first of two one-hour practices and was paired frequently during drills with prospect Alex Tuch.
"I've been waiting for this for three or four months now," Duke said. "It's exciting to get out, see the guys, even the fans. To see that many people here means a lot to us, and I'm just really happy to get things going."
Duke, 21, made history in March when he was signed by the Knights as an unrestricted free agent. He went on to lead Brandon of the junior Western Hockey League in goals (37) and points (71).
Duke signed a player tryout contract with the Chicago Wolves of the American Hockey League in April, but did not dress during the Calder Cup playoffs.
"Honestly, it's kind of been a blur," Duke said of the past four months. "This is my first crack at this, so I'm going to do everything I can to put my best foot forward. I want to give myself every opportunity to play, not only pro but in the NHL this year. That's my goal this summer."
Duke said he has been working out since the end of the AHL season in preparation for camp, which runs through Saturday. His skating and puck movement stood out during the first practice.
"He's come along," said Wil Nichol, the Knights' director of player development. "His time with Chicago, in the end, has helped him with his preparation to this point."
Interior secretary pep talk
Knights owner Bill Foley and Interior Secretary Ryan Zinke have been friends for about 10 years.
So when Foley told Zinke he wanted someone to speak to the team's rookies and prospects in advance of this week's development camp, Zinke stepped up to the plate.
Rather, the ice.
Zinke, a former Navy Seal, addressed the Knights' young players before camp and shared some of his stories about serving in the military. He had been in Pahrump on Monday meeting with state and local officials while authorizing federal money for Lincoln and Nye counties.
"He did a great job. He talked about duty, and about never giving up, always advancing and going forward," Foley said. "(The players) loved it. It resonated with them. It's all part of the Knight culture. The warrior class."
Foley said he's pleased with the way the culture is coming together and complimented the players' effort Tuesday.
"Hockey players are warriors. They're hard workers. They always want to be the very best," Foley said. "That's what these guys are doing. They're working hard. It's great."
First-rounders settle in
First-round picks Cody Glass and Nick Suzuki made their debuts on Tuesday afternoon at the Las Vegas Ice Center.
Suzuki was with the first group and skated from about 2:30 to 3:30 p.m. Glass was with the second group and went from roughly 4:15 to 5:15.
Suzuki, 17, said he didn't feel much pressure despite being a first-round pick skating among a group of free agents and later-round picks.
"There's a lot of good players that are here," Suzuki said. "We're all just getting our first taste of Vegas."
Glass said it's "unbelievable" to be in Las Vegas and thought he performed pretty well.
"You just want to take it all in. It's development camp — just have a lot of fun," Glass said. "You have no pressure on you. You're just trying to have fun."
More Golden Knights: Follow all of our Golden Knights coverage online at reviewjournal.com/GoldenKnights and @HockeyinVegas on Twitter.
Contact David Schoen at dschoen@reviewjournal.com or 702-387-5203. Follow @DavidSchoenLVRJ on Twitter. Contact Sam Gordon at sgordon@reviewjournal.com. Follow @BySamGordon on Twitter.