3 takeaways from Golden Knights' loss: Sharks bite late
Updated November 15, 2022 - 11:32 pm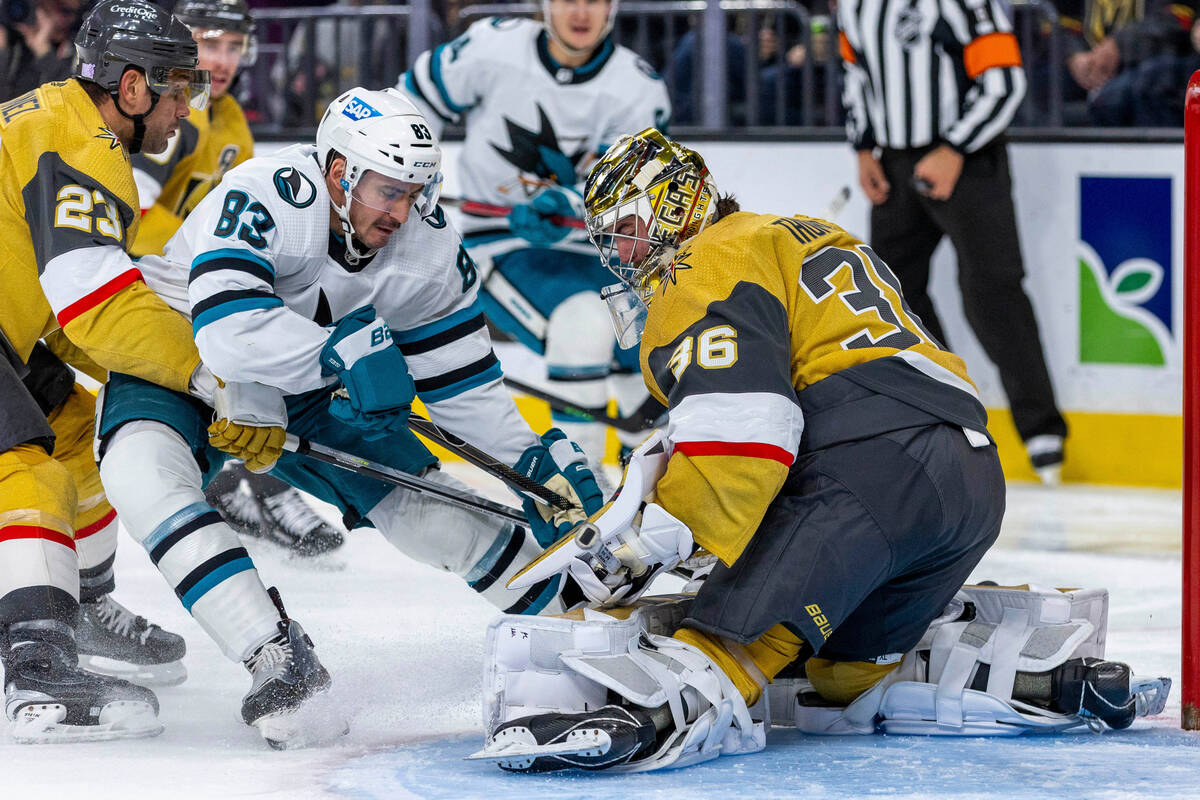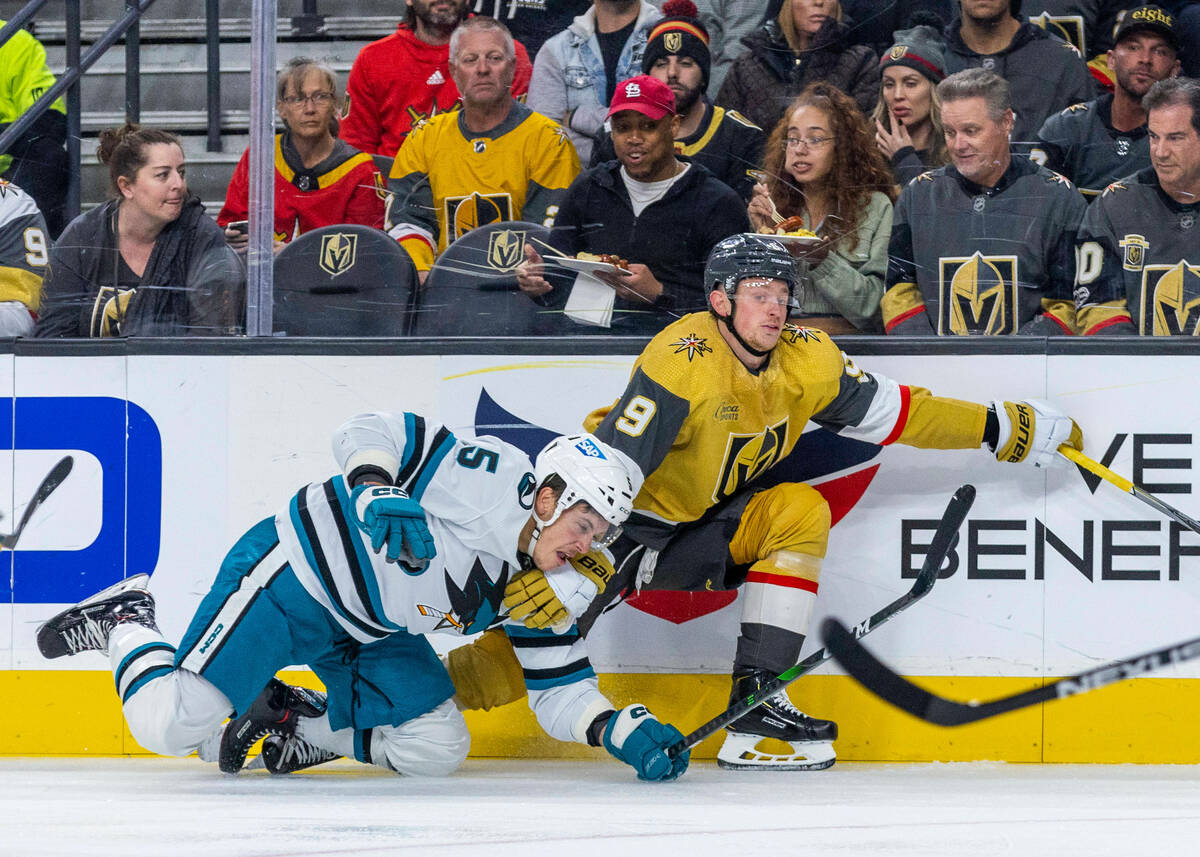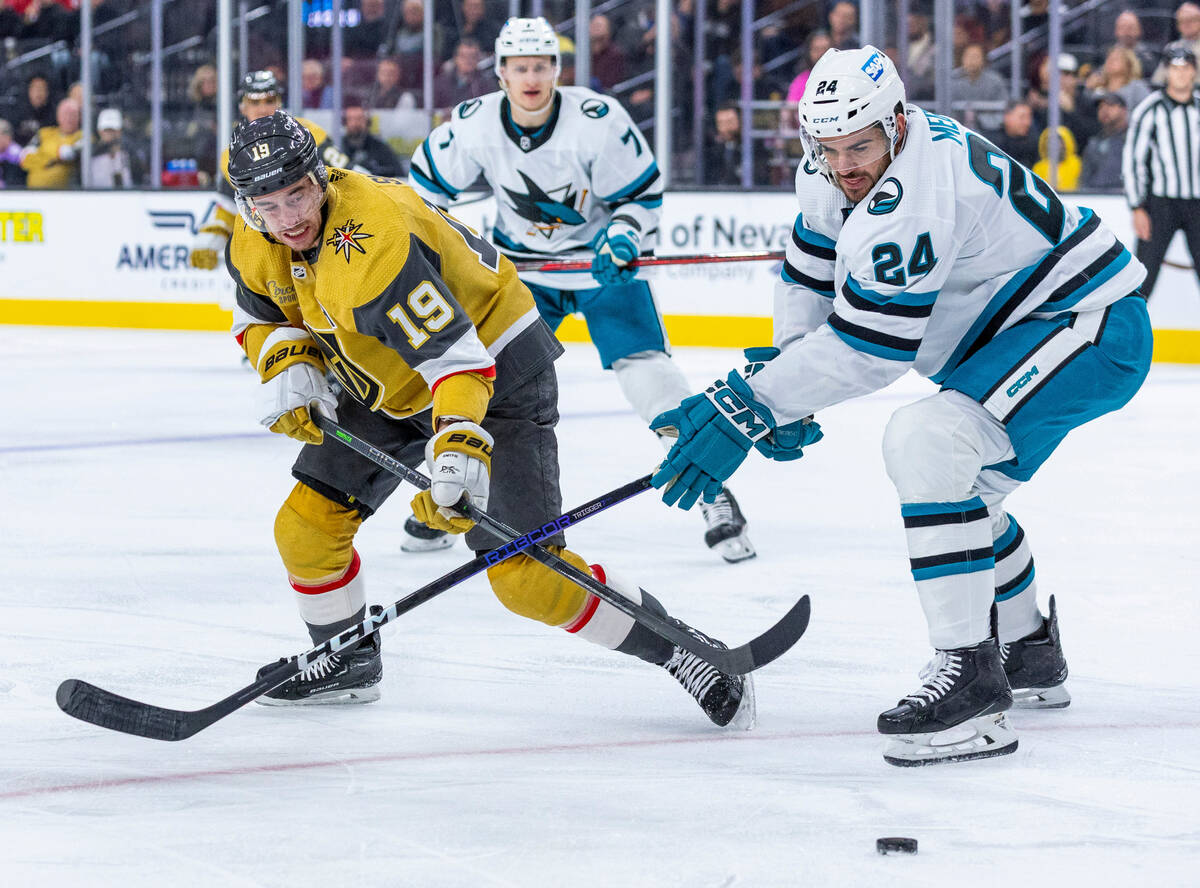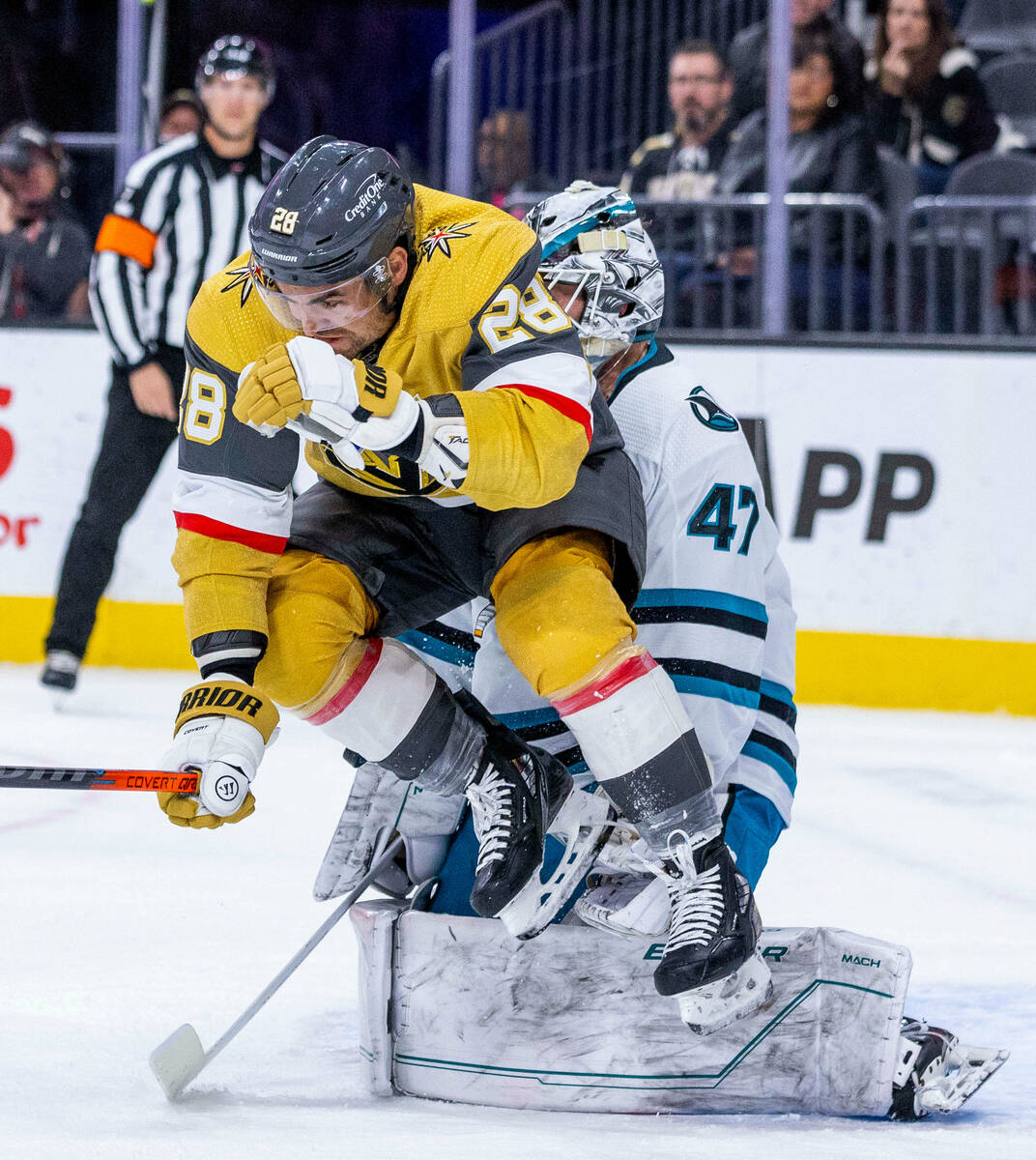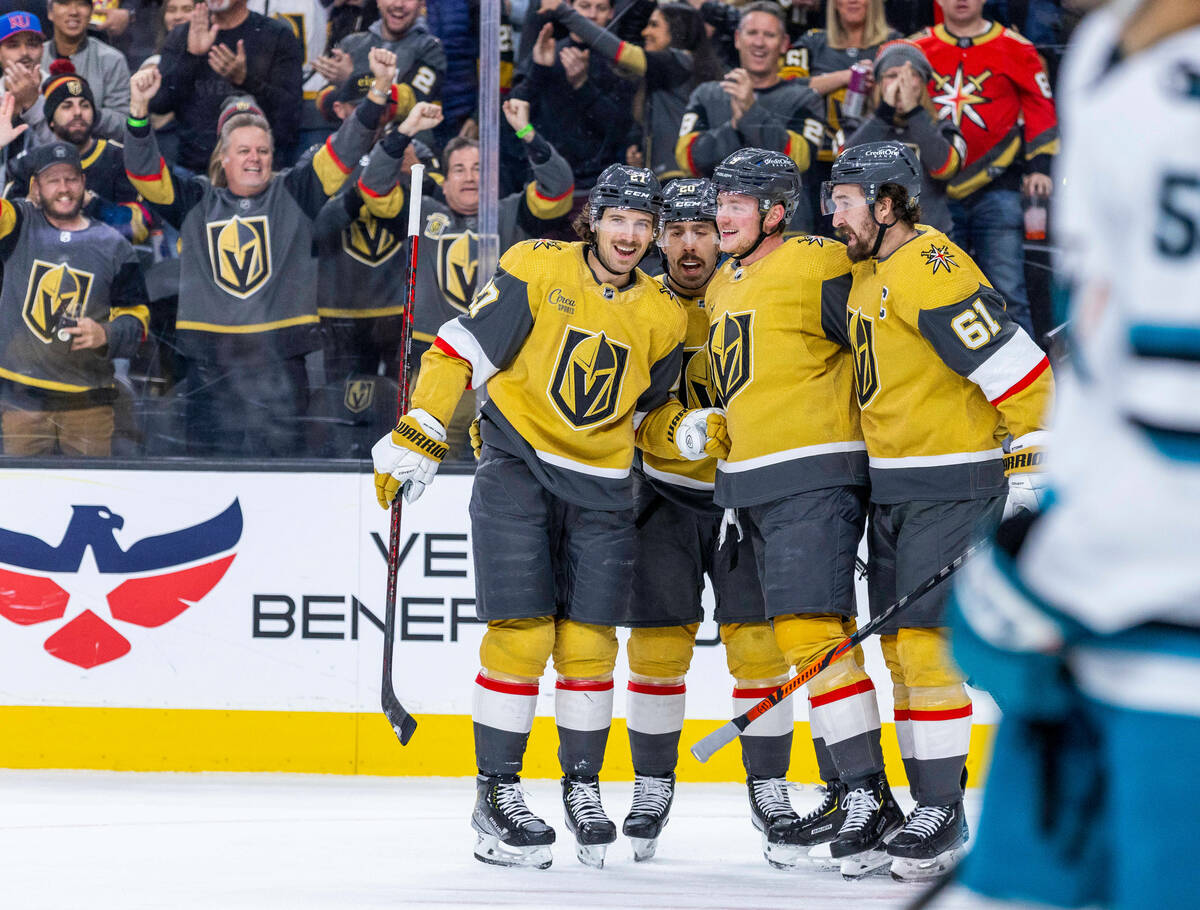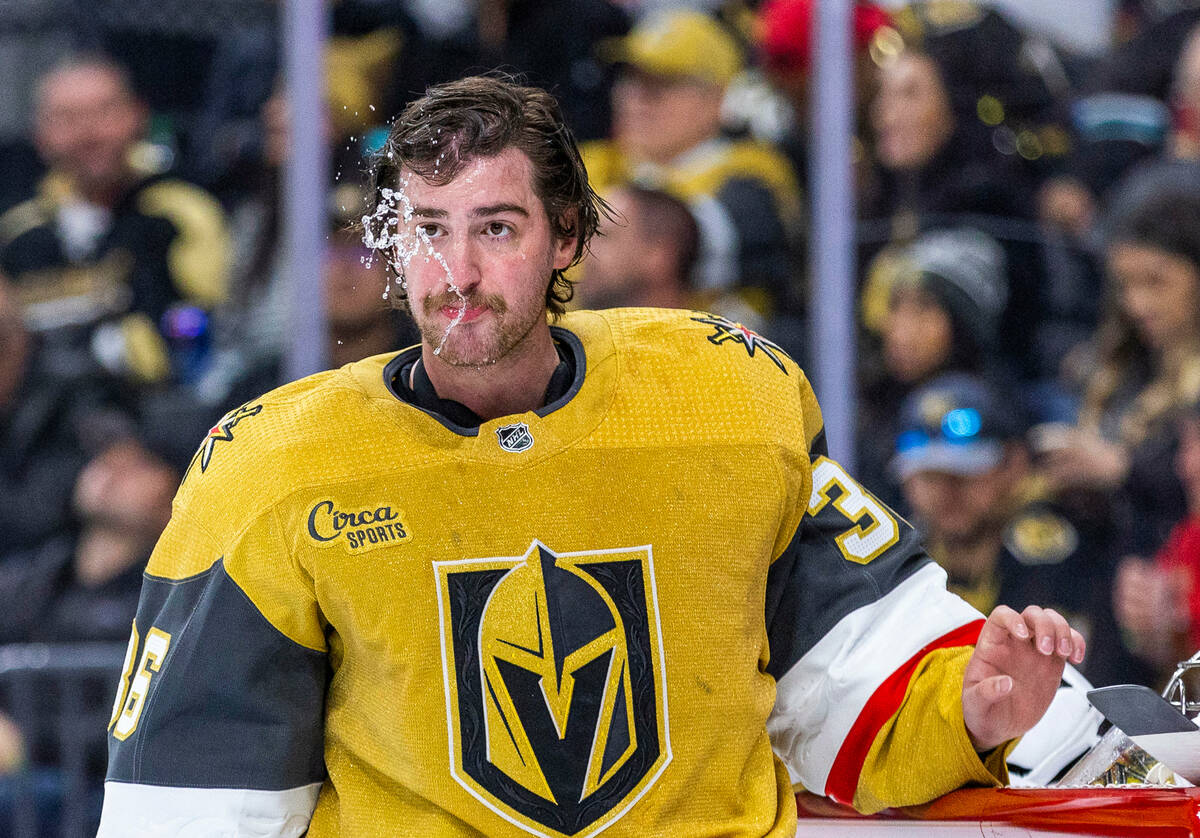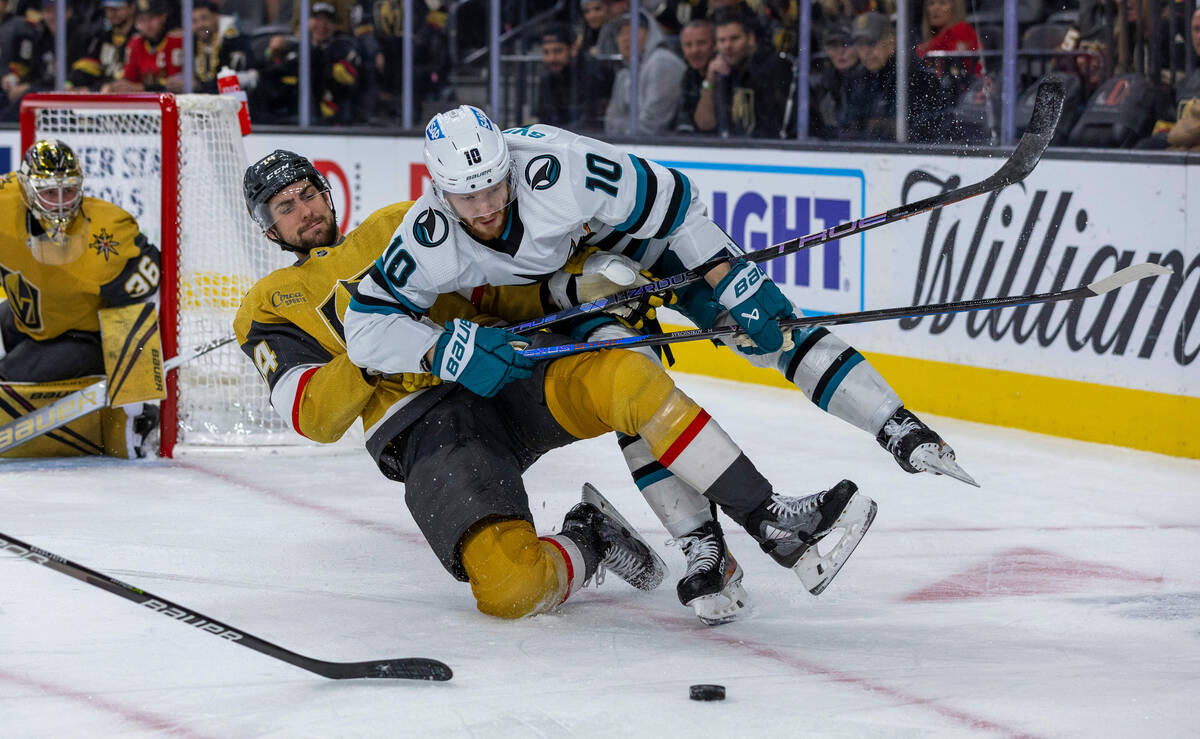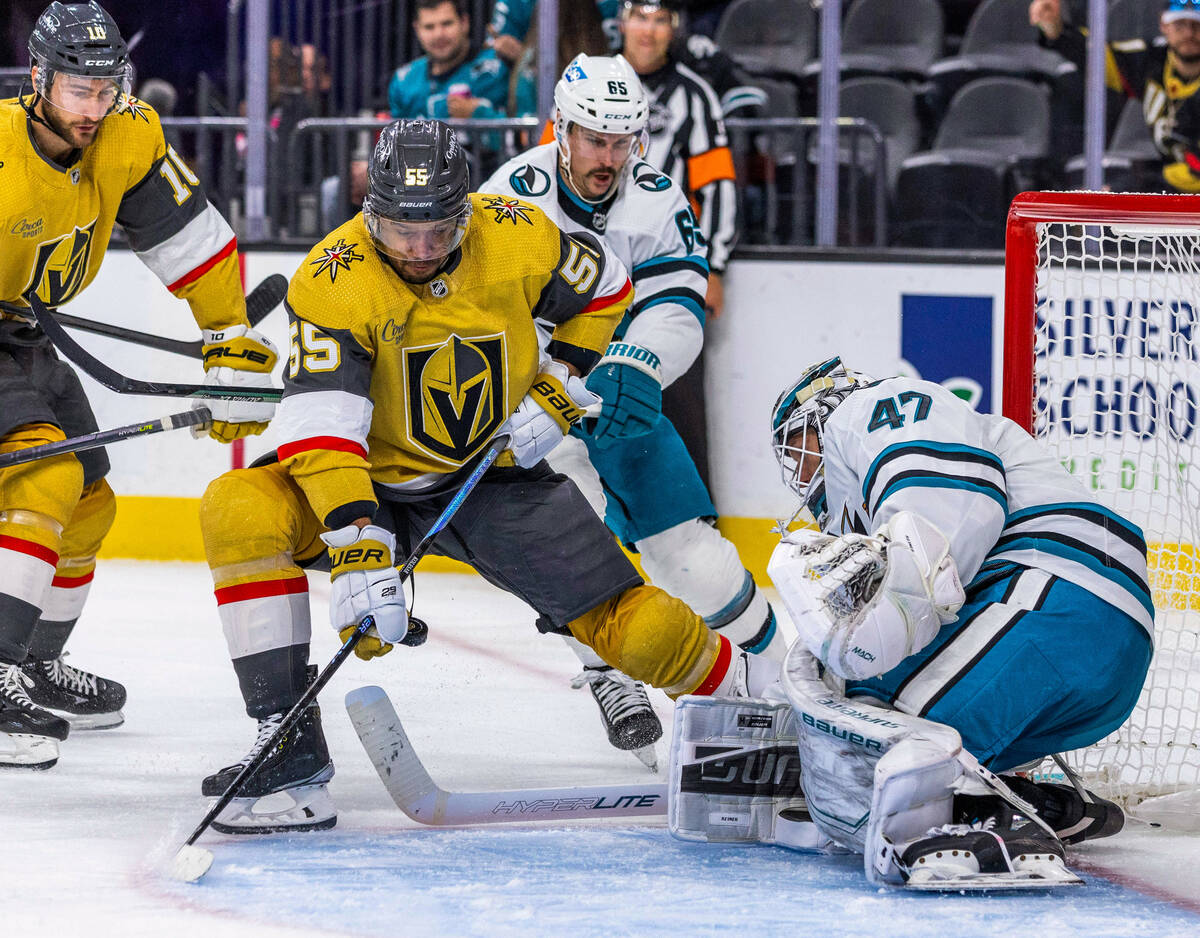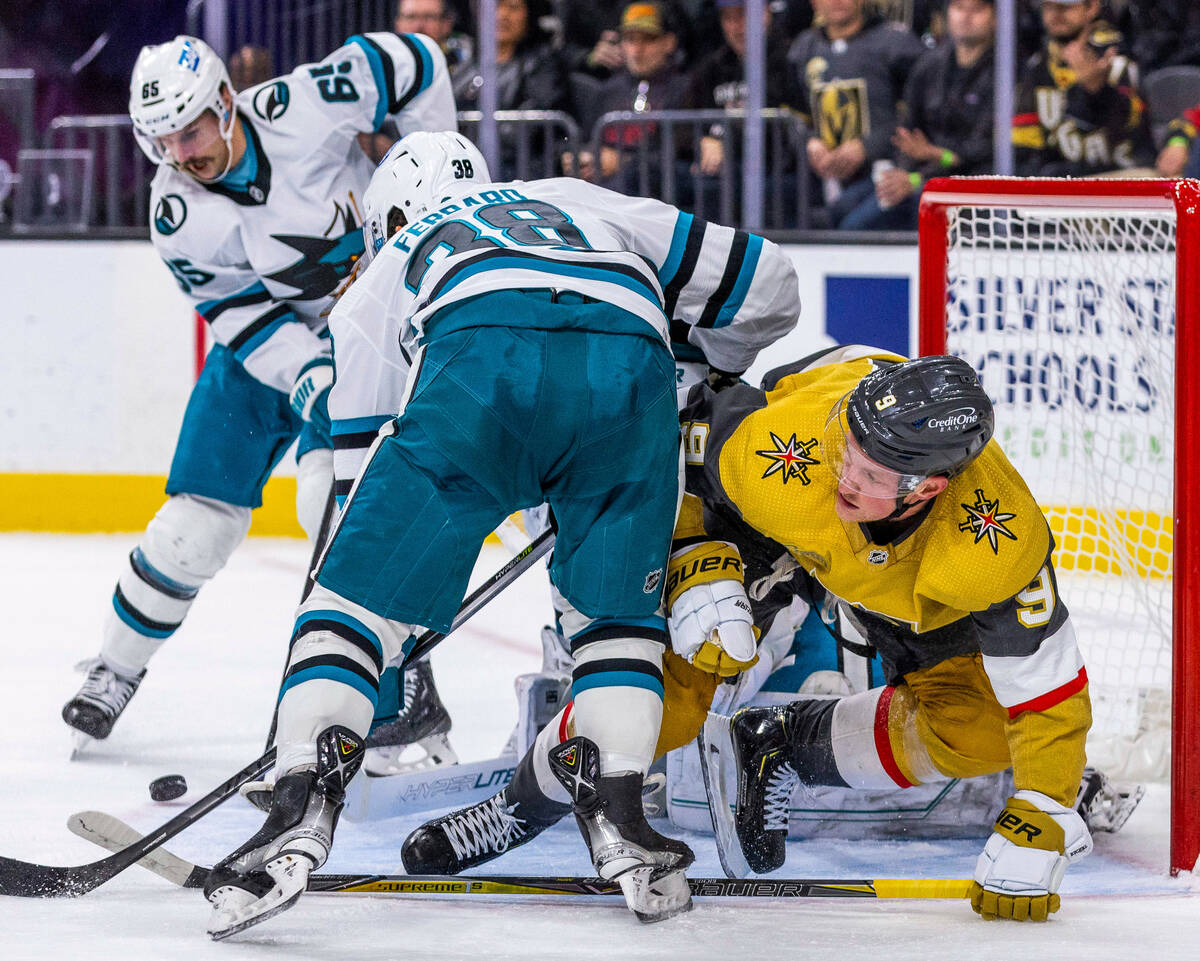 Timo Meier punched the air with his right fist as he skated through the left circle of the Golden Knights' zone.
It wasn't as dramatic as the celebration the San Jose Sharks left wing authored the last time he was in T-Mobile Arena. But it stung the Knights all the same.
Meier drew a trip from left wing Reilly Smith with 3:45 remaining and scored a go-ahead goal on the subsequent power play to deliver a dramatic 5-2 victory for the Sharks on Tuesday in front of an announced crowd of 17,899. His goal with 2:48 left put his team ahead 3-2, and San Jose scored two empty-net goals from there.
The last time Meier delivered a gut punch to the Knights was April 24, when his last-second game-tying goal led to a shootout loss that crushed their playoff hopes. This time, his flair for the dramatic gave the Sharks (6-9-3) their second-ever regulation win in 25 all-time meetings between the sides.
The Knights (13-4-0) lost two straight for the first time all season.
"They just (hung) around and (hung) around, got a power play and got a nice goal," left wing Jonathan Marchessault said. "Just a bad night for us."
The Knights started strong coming off a 3-2 loss to the St. Louis Blues on Saturday, which ended their nine-game winning streak one shy of the franchise record. Center Jack Eichel scored with 3.9 seconds left in the first period for a 1-0 lead.
The Sharks angered the crowd with their game-tying goal. Marchessault lost his stick while battling defenseman Mario Ferraro at the offensive blue line. He talked to an official on his way off the ice after not drawing a slashing penalty.
San Jose went the other way and scored with play not stopping. Right wing Luke Kunin scored his third goal on a rebound 8:05 into the second period for his 100th NHL point.
Marchessault answered back for the Knights. He scored on a perfectly placed shot over goaltender James Reimer's left shoulder to put his team back ahead with 4:07 remaining in the second.
But the Knights, who entered Tuesday 7-0-0 when leading after two periods, couldn't close out the game.
Left wing Matt Nieto tied the score 1:03 into the third. That set the stage for Meier's dramatic finish. Center Logan Couture and Ferraro finished off the Sharks' victory with two empty-net goals.
The five goals were the most the Knights have allowed in a game this season. They fell to 19-2-4 against the Sharks and 1-1-1 in their past three meetings.
"I just walked off the bench 10 minutes ago pretty unhappy we let a third-period lead get away," coach Bruce Cassidy said. "Good teams do not do that."
Here are three takeaways from the loss:
1. Poor play
Cassidy wasn't happy with Nieto's game-tying goal.
The play started with the left wing holding the offensive zone after intercepting a clearing attempt by captain Mark Stone. He sent the puck below the goal line, where two Sharks and three Knights chased after it.
That left goaltender Logan Thompson with no defenders in front of him. That's not supposed to happen. It meant when right wing Alexander Barabonov won a board battle, Nieto was open and had enough time to make a backhand move to beat Thompson.
Cassidy said "that should never happen" and called it "just a bad goal to give up."
"Too many turnovers, too many bad defensive plays at our end," defenseman Shea Theodore said. "That's some stuff we have to clean up."
2. Power-play contrast
Meier's late game-winner came just after the Knights had a power-play chance of their own. They didn't capitalize.
The Knights, who entered Tuesday 5-for-14 on the power play in November, were 0-for-3 against the Sharks. San Jose's second-ranked penalty kill gave up only two shots in six minutes. The Sharks were also 1-for-2 on the power play.
3. Eichel's milestone
Eichel's goal was the 400th point of his career. It took him 426 games to get there.
The 26-year-old leads the Knights with 20 points in 17 games. His goal was his 10th of the season, making him the 14th player in the NHL to reach double digits this season.
Contact Ben Gotz at bgotz@reviewjournal.com. Follow @BenSGotz on Twitter.