3 takeaways from Knights' win: 3 down, 1 to go for Cup finals
Updated May 23, 2023 - 10:49 pm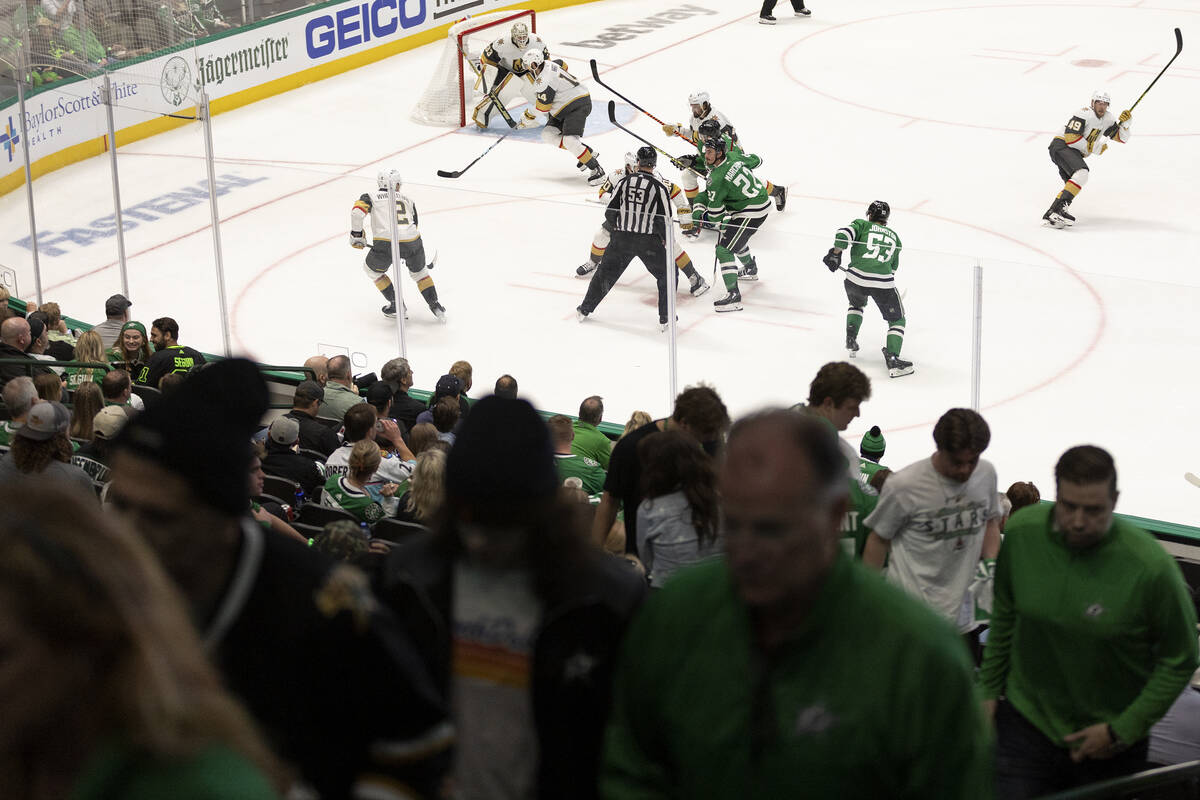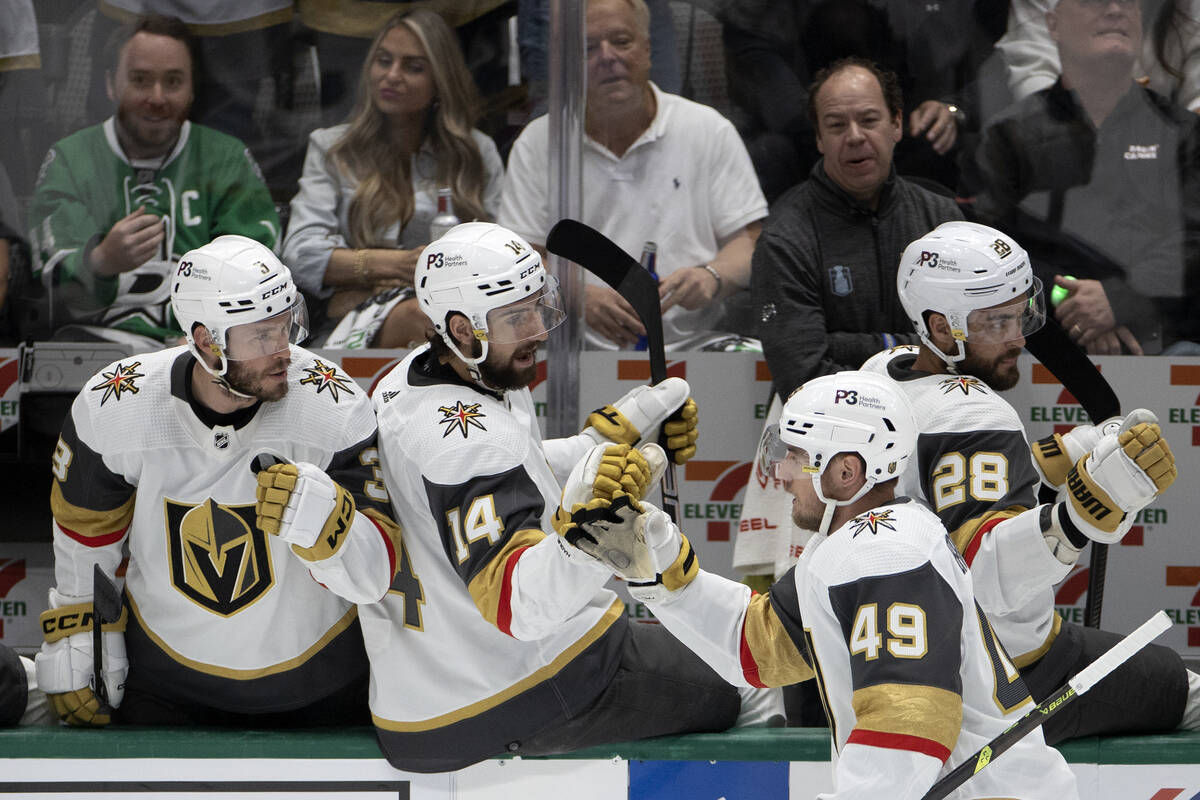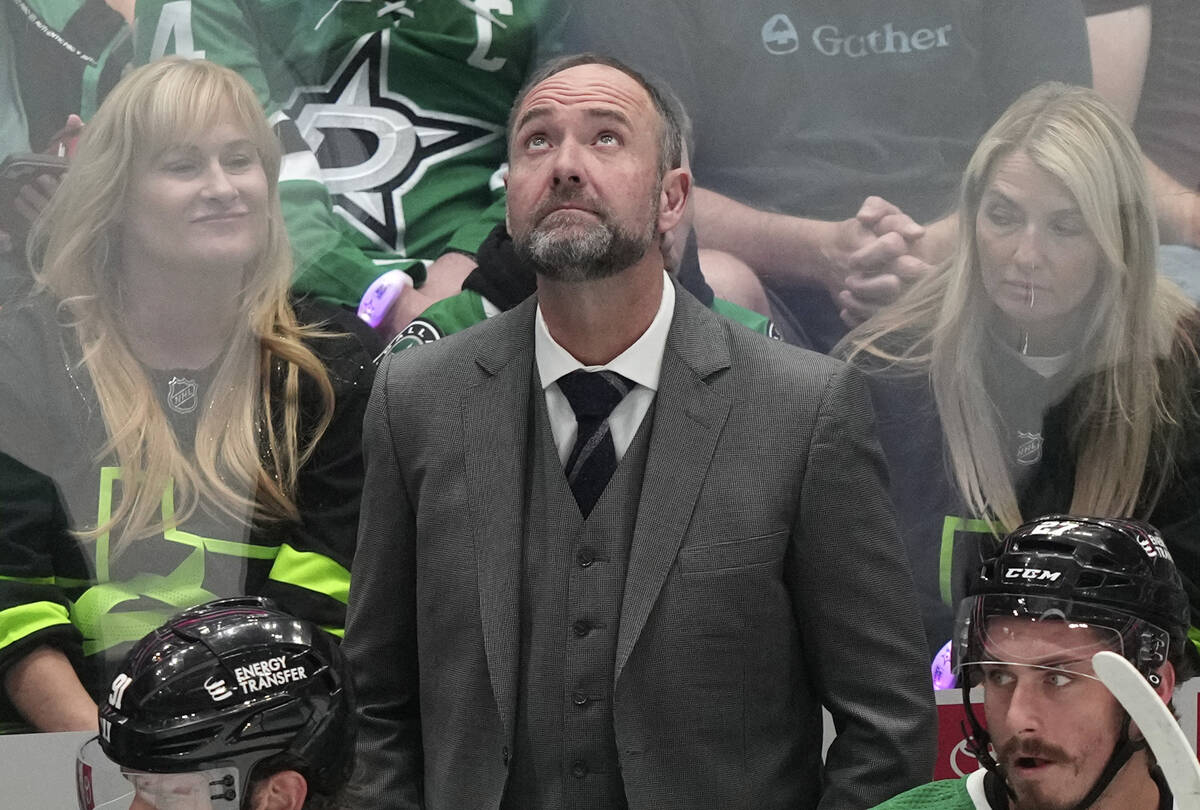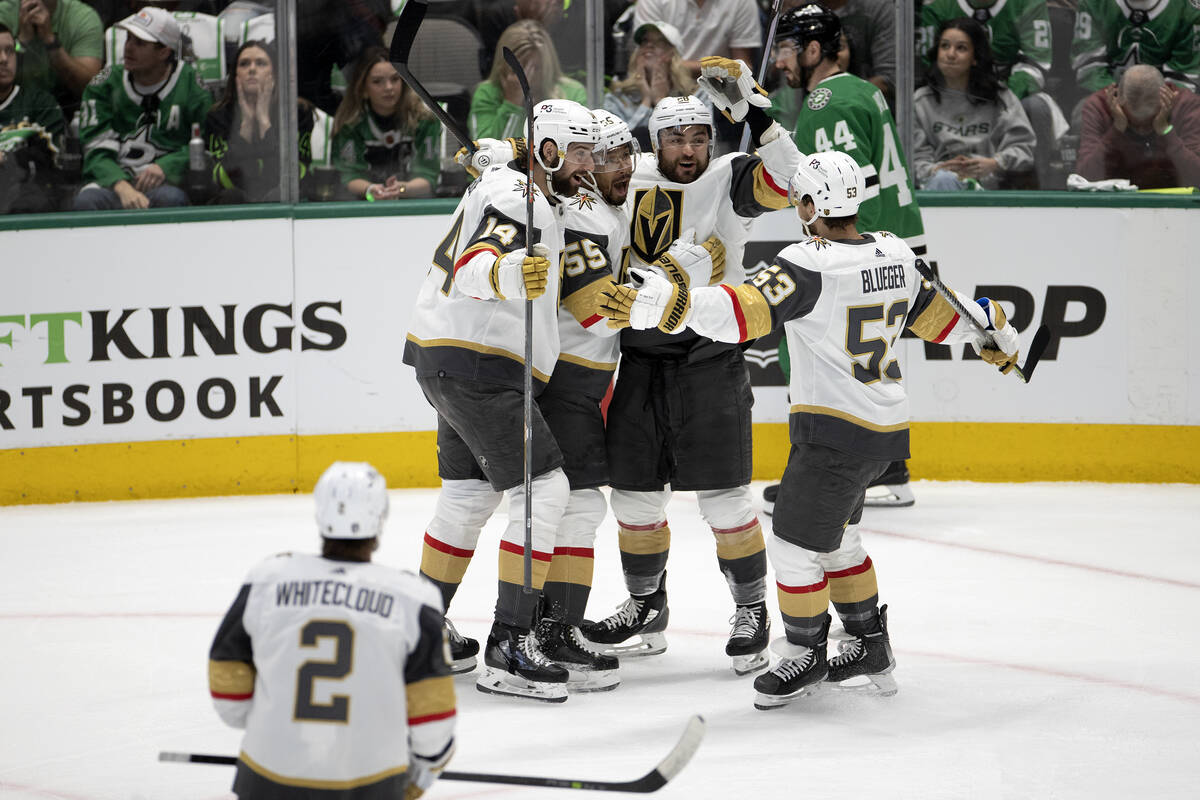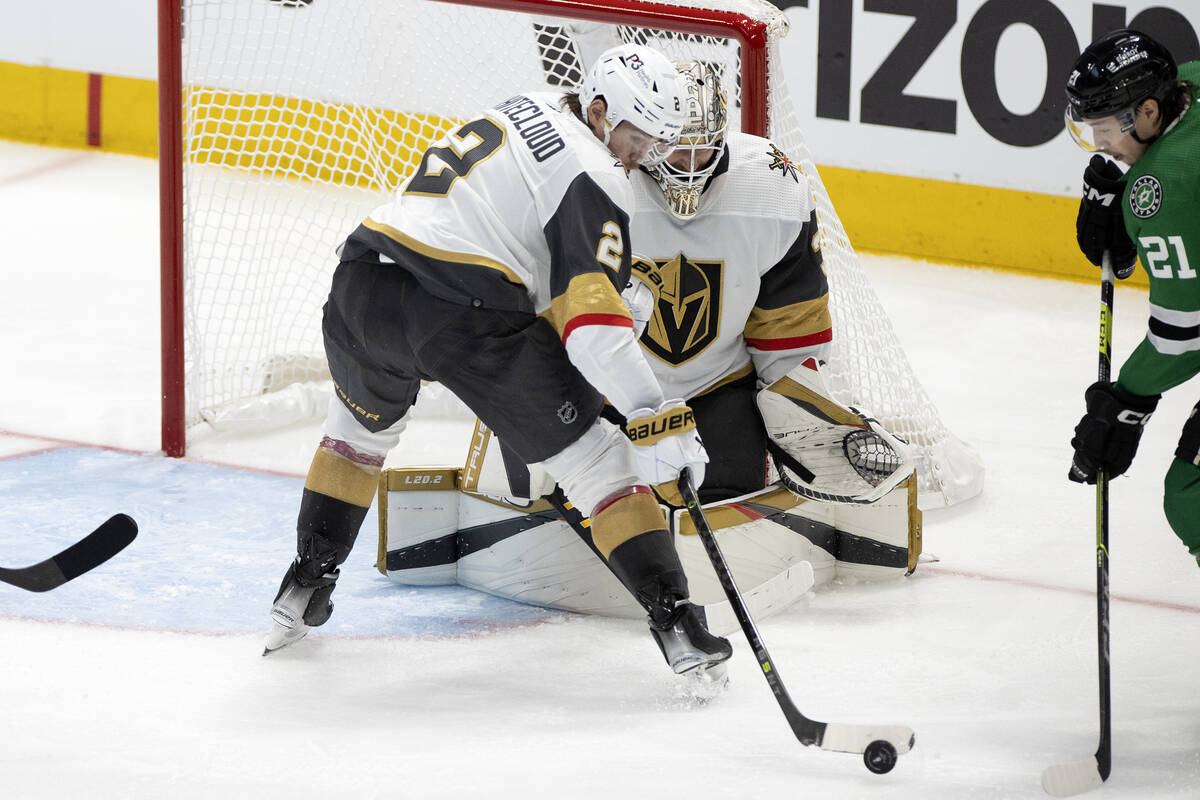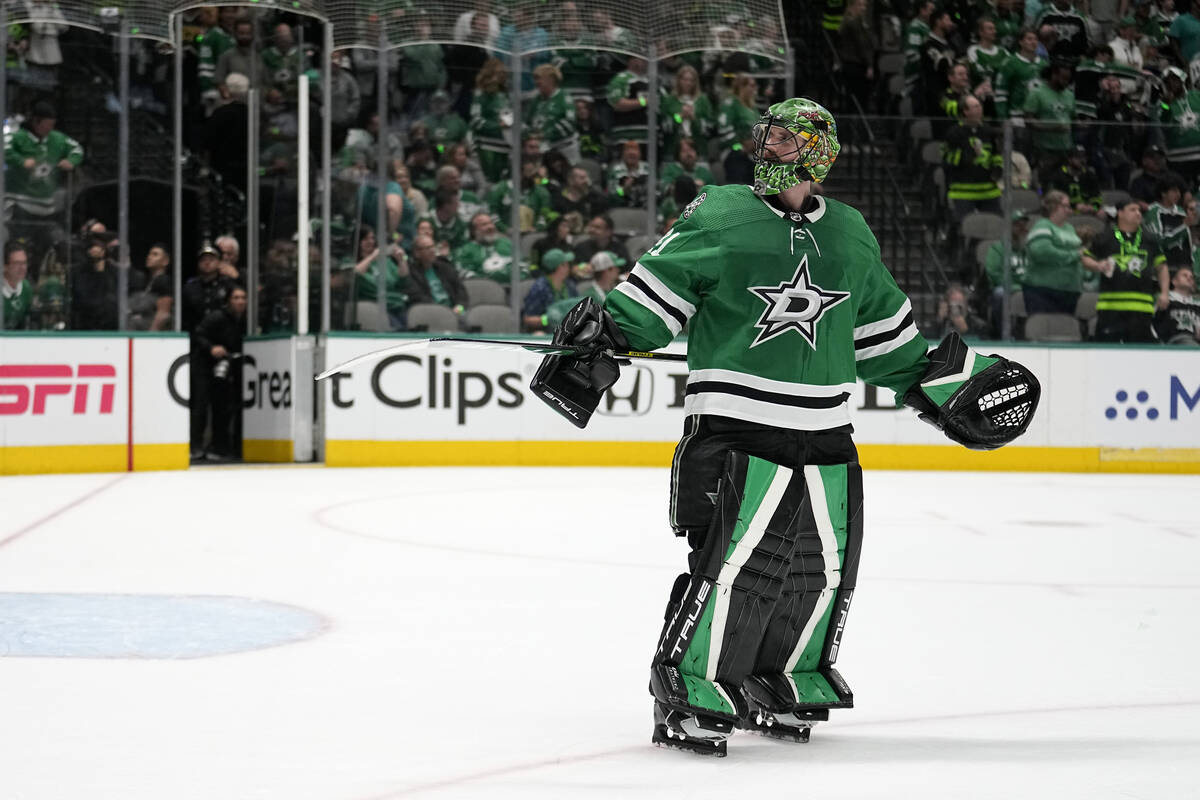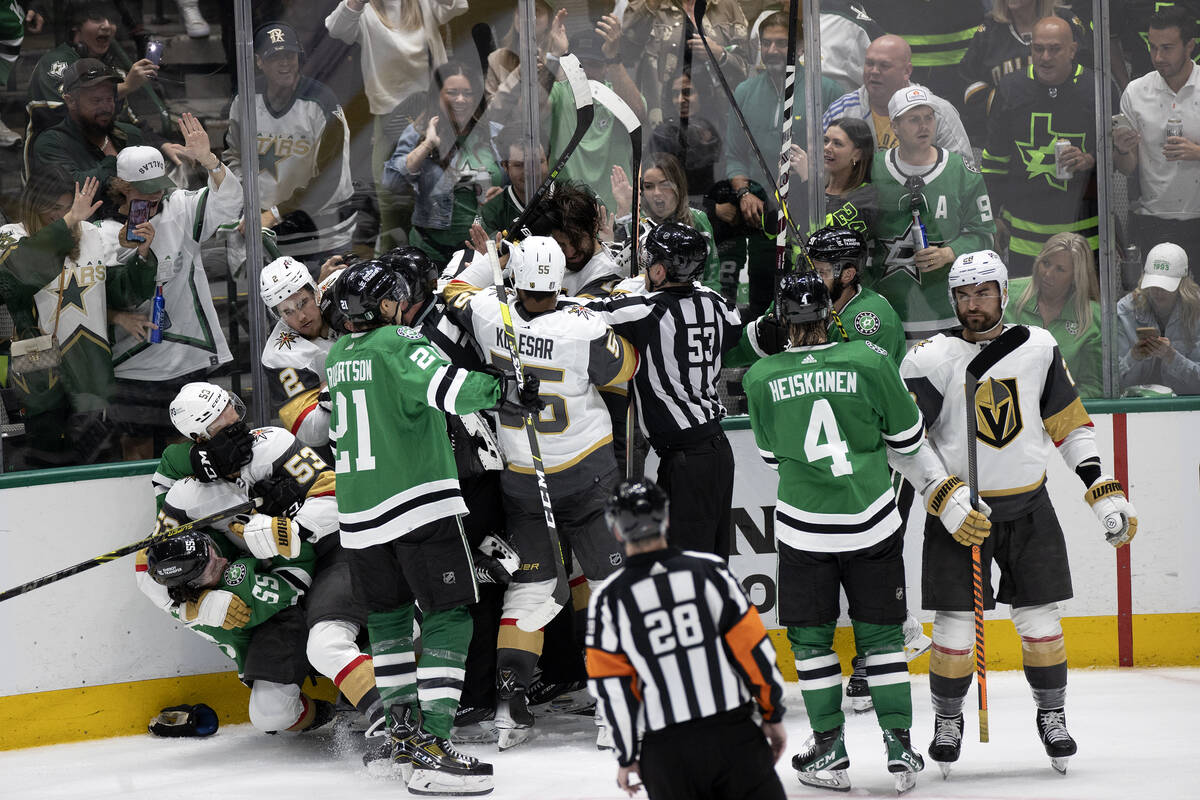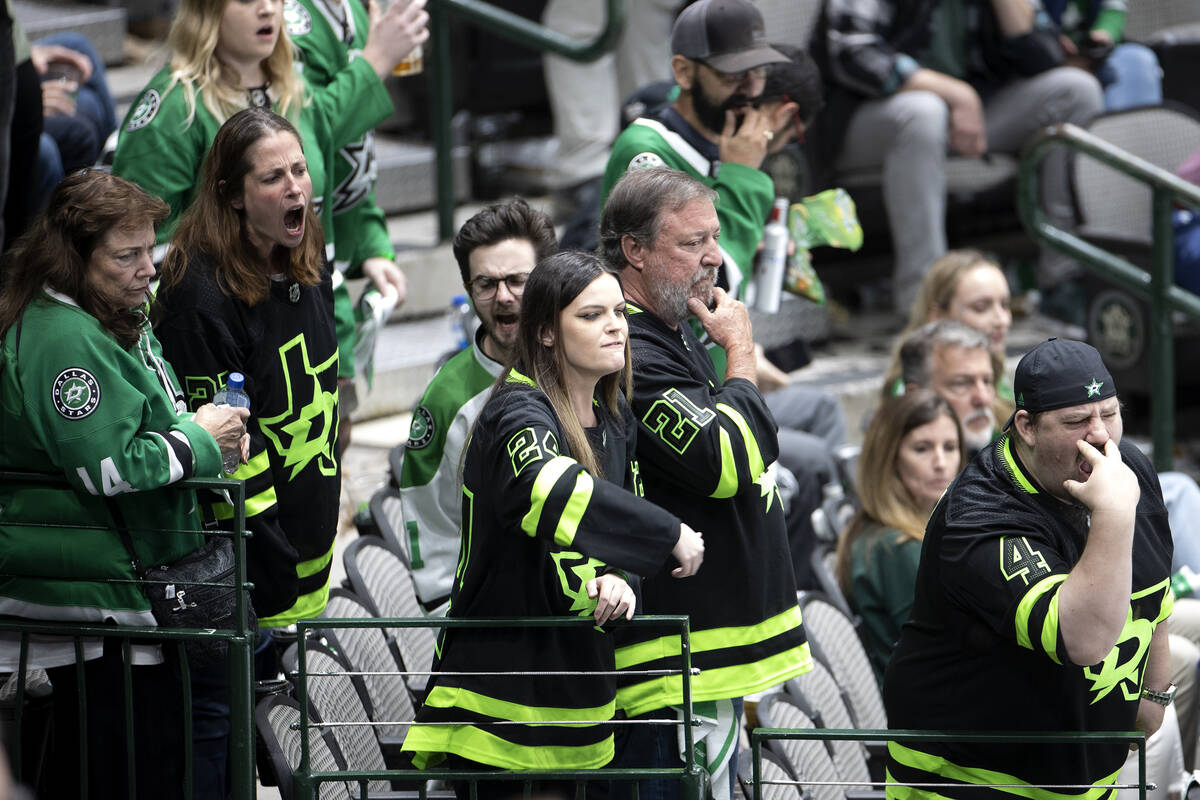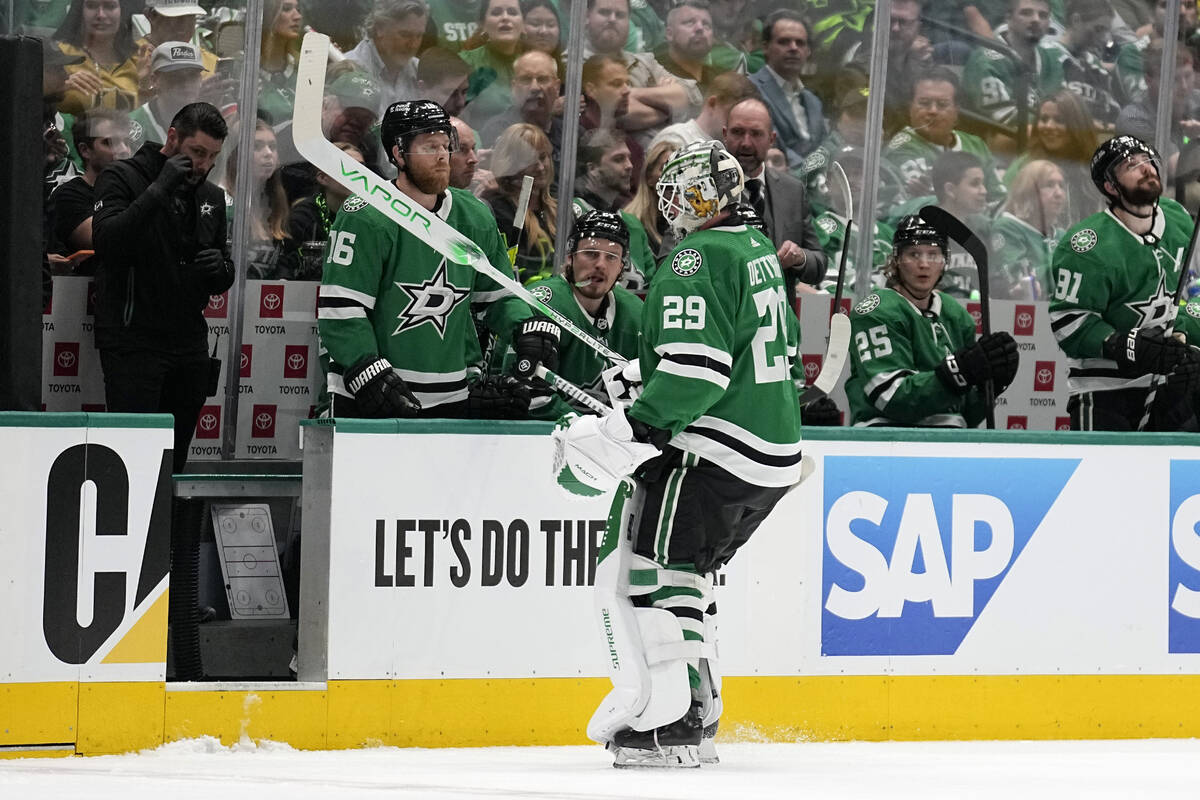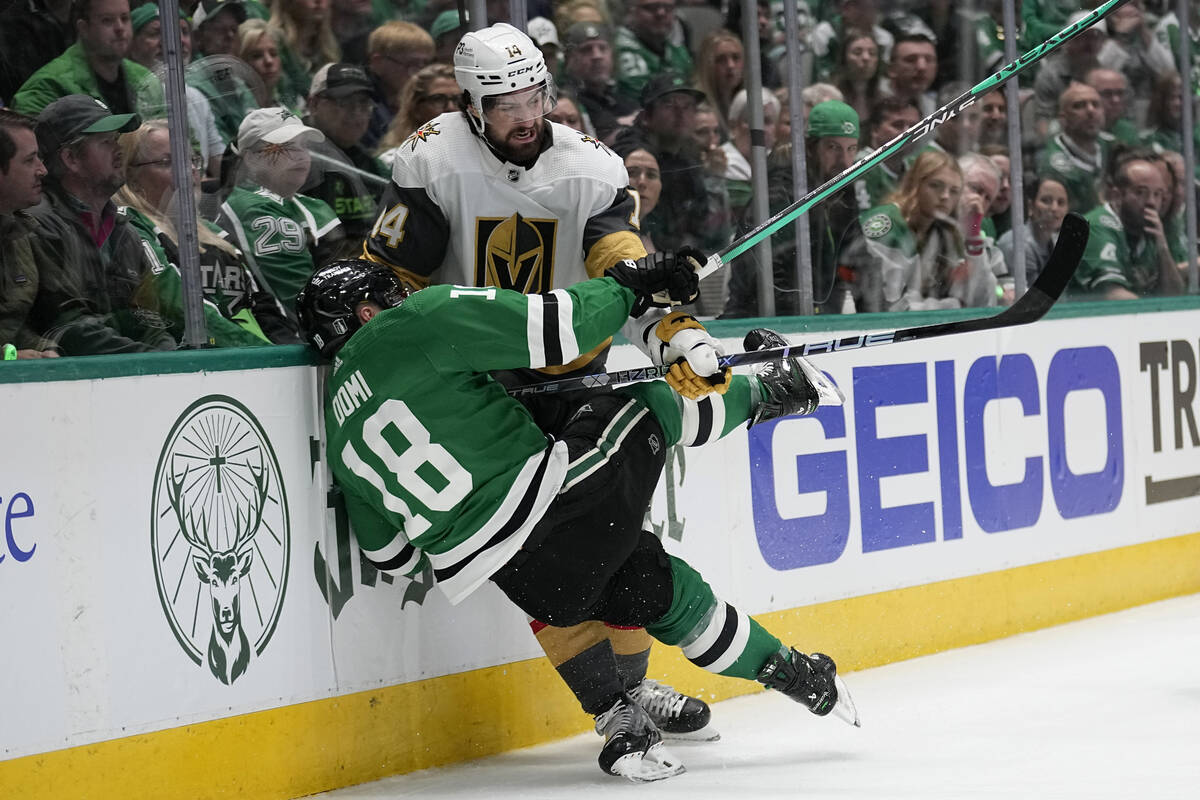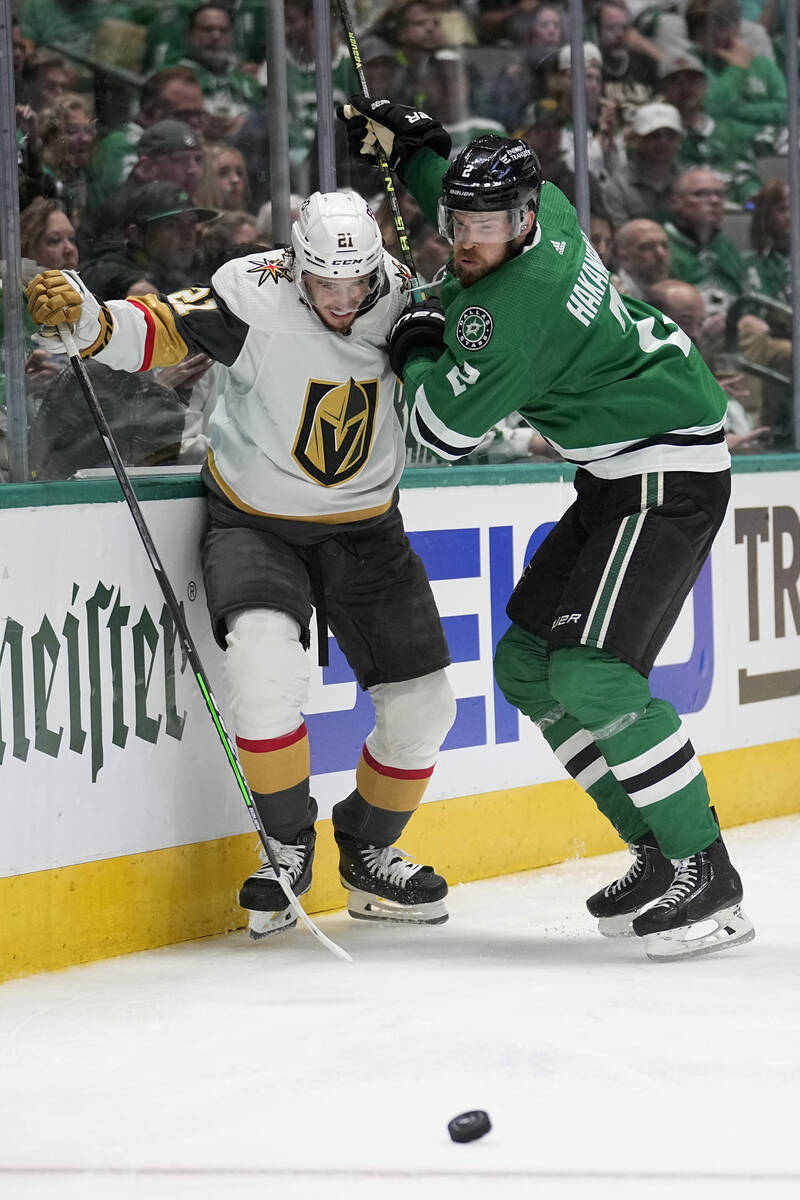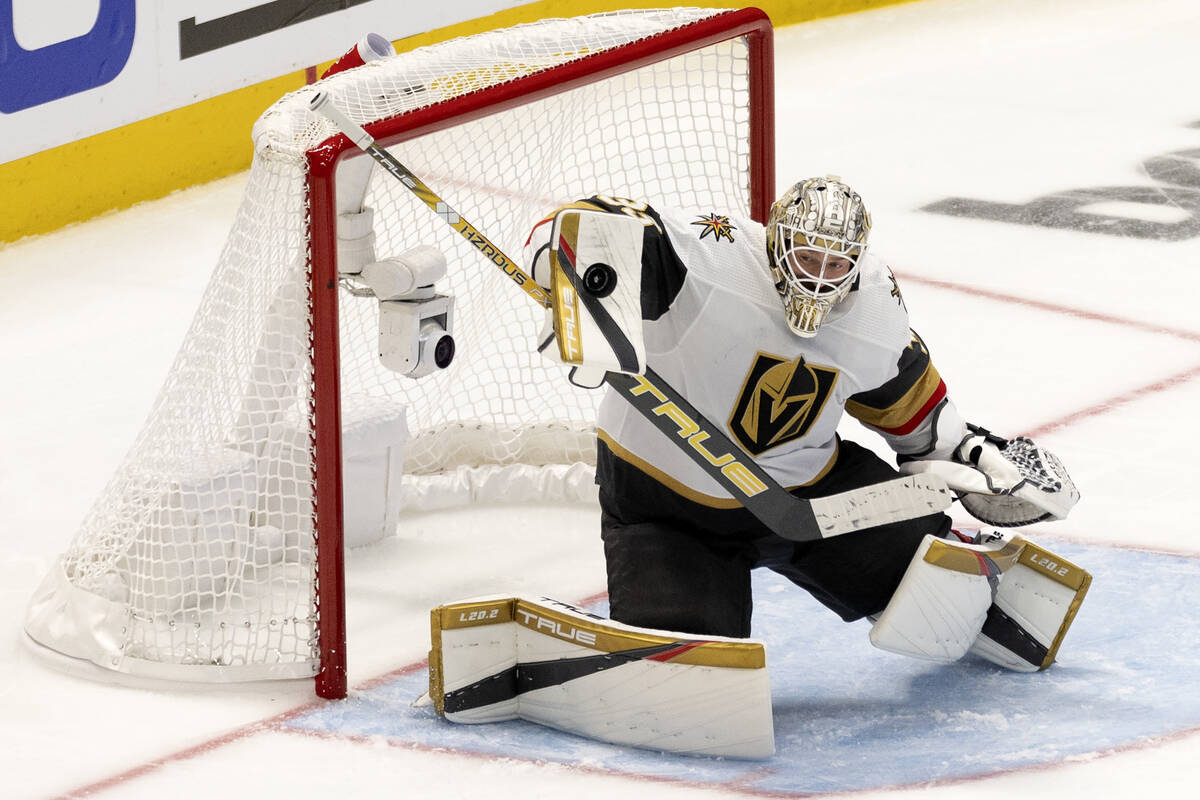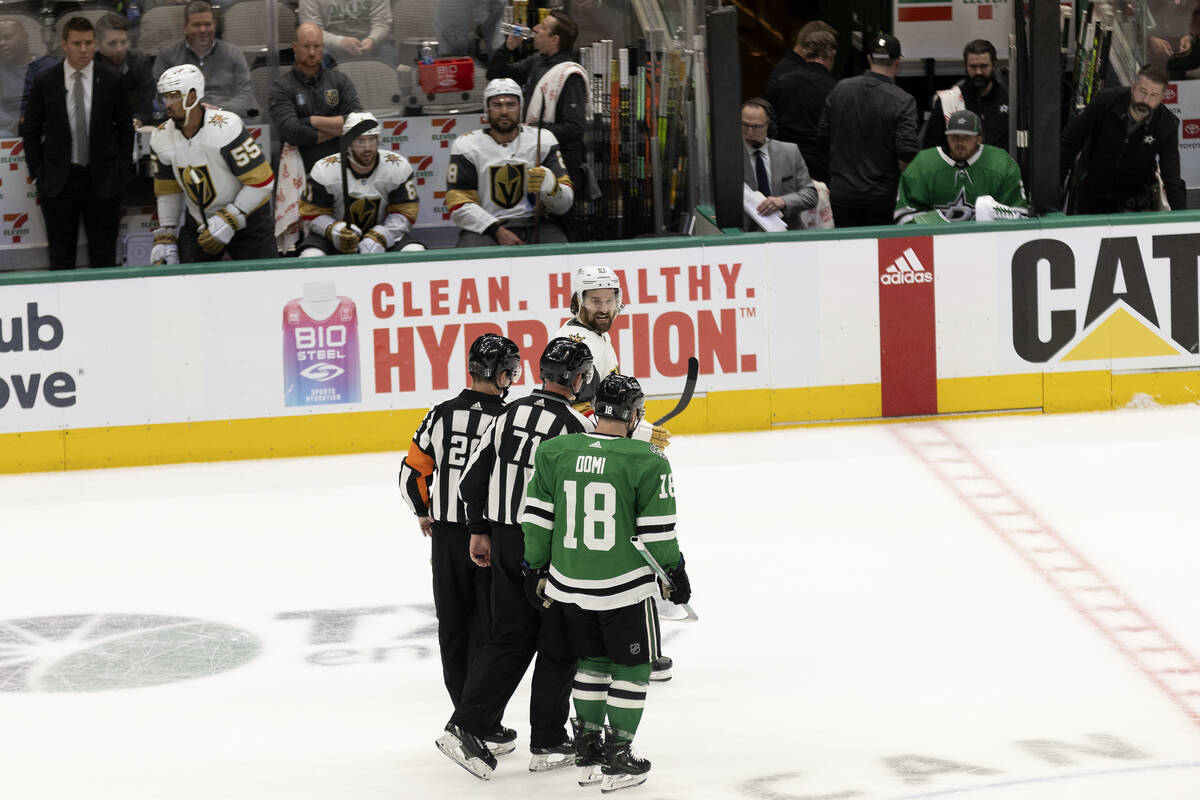 DALLAS — Max Domi was sent to the locker room, and the objects descended onto the ice.
The Dallas Stars center showed his frustration Tuesday by taking a cross-checking, roughing and 10-minute misconduct penalty against Golden Knights defenseman Nic Hague with his team down 4-0. The announced crowd of 18,532 reacted by hurling projectiles onto the playing surface, which forced the second period to stop 21.6 seconds early.
The ugly sequence was clear evidence of what has happened three games into the Western Conference Final. The Knights have annoyed, vexed and irritated the Stars and their fans at every turn, taking a 3-0 series lead after a 4-0 victory.
Their latest win has them one away from returning to the Stanley Cup Final. The Knights have gotten this close by driving Dallas to the point of desperation, then soaring above the fray when the temperature gets turned up.
"We got a big win and now turn the page to the next one," Hague said. "We did exactly what we needed to do – stuck together, scored some big goals. When they started running around, we just kept pushing forward."
The Knights couldn't have scripted the start to Game 3 much better. For the Stars, it couldn't have been worse.
American Airlines Center was amped despite the Stars being in a 2-0 hole after overtime losses at T-Mobile Arena. The Knights zapped that energy immediately when right wing Jonathan Marchessault scored 1:11 in off a feed from center Jack Eichel.
It didn't stop there. Left wing Ivan Barbashev scored a power-play goal 4:46 later, and left wing William Carrier chased goaltender Jake Oettinger 1:13 after that with his first goal of the playoffs.
Oettinger was pulled for the third time in 16 games this postseason after allowing three goals on five shots. The Knights led 3-0 just 7:10 into the first period, becoming the eighth-fastest team to score three goals in the round before the Cup final.
"We wanted to come out hard in the first," center Nicolas Roy said. "We were able to do it."
To make matters worse for the Stars, they had to chase the game short-handed. Captain Jamie Benn received a five-minute major and game misconduct for cross-checking Mark Stone when the Knights captain was down on the ice 1:53 into the first. The Stars lost right wing Evgenii Dadonov to a lower-body injury 9:32 later.
Dallas didn't come close to getting even on the scoreboard. Goaltender Adin Hill made 34 saves for his first playoff shutout.
The Stars' aggravation came out in other ways. They took three second-period penalties — one resulting in Alex Pietrangelo's goal that made the score 4-0 one second after a power play expired — before the one that made fans explode.
Domi was called for cross-checking Hague in the corner. He then hit Hague in the face out of frustration to get his roughing minor and 10-minute misconduct. Hague got an unsportsmanlike conduct penalty after giving Domi a thumbs-up for his futile attempt at changing the momentum.
The objects hitting the ice afterward led to both teams returning to their locker rooms ahead of schedule. The scoreboard displayed the NHL's fan code of conduct to discourage future incidents.
The Knights are now in position to win the Western Conference for the first time since their inaugural season of 2018.
It would take a collapse unseen in NHL history for them to not advance. Teams that take a 3-0 series lead in the playoffs are 200-4 overall, and 46-0 the round before the Cup final.
"When some (expletive) stuff happens, we've got a lot of guys that are going to step up for one another," Barbashev said. "But those games, you just got to let it go a little bit, because at this point they might want to get some power-play time. We did a really good job just keep focusing on the game."
Here are three takeaways from the win:
1. Hill stops all
Fans had one last gift for Hill to start the third period. He got popcorn thrown at him as he headed back onto the ice.
"I guess everything was just hitting me tonight," he said.
It was a great line after a fantastic game. Hill improved to 6-1 this postseason and became the third goaltender in Knights history after Marc-Andre Fleury and Laurent Brossoit to post a five-game winning streak in the playoffs.
Coach Bruce Cassidy made sure to point out one save in particular. Hill stopped a short-handed chance from right wing Ty Dellandrea 5:49 in, and Barbashev scored eight seconds later.
2. Barbashev shines
The Knights' trade for Barbashev keeps looking smarter and smarter.
He had another standout game, recording a goal and two assists for his first-ever three-point game in the playoffs. Barbashev, a 2019 Stanley Cup champion with the St. Louis Blues, has 13 points in 14 games in his first postseason with the Knights.
"It's everything he does," Roy said. "He's physical, really good defensively, and he's playing well with (Eichel and Marchessault) on the first line."
3. Howden exits early
Left wing Brett Howden didn't finish the game because of a lower-body injury.
Cassidy said he didn't think the injury was serious. Howden has six points in the playoffs and scored the overtime winner in Game 1 of the series.
Contact Ben Gotz at bgotz@reviewjournal.com. Follow @BenSGotz on Twitter.
Series schedule
Knights lead 3-0
Game 1 — Golden Knights 4, Stars 3 (OT)
Game 2 — Golden Knights 3, Stars 2 (OT)
Game 3 — Golden Knights 4, Stars 0
Game 4 — 5 p.m. Thursday, American Airlines Center (ESPN)
Game 5* — 5 p.m. Saturday, T-Mobile Arena (KTNV-13)
Game 6* — 5 p.m. Monday, American Airlines Center (ESPN)
Game 7* — 6 p.m. May 31, T-Mobile Arena (ESPN)
* If necessary
All games will be broadcast on KKGK (98.9 FM, 1340 AM)