3 takeaways from Knights' win: Defensive effort closes out Game 5
Updated May 13, 2023 - 8:31 am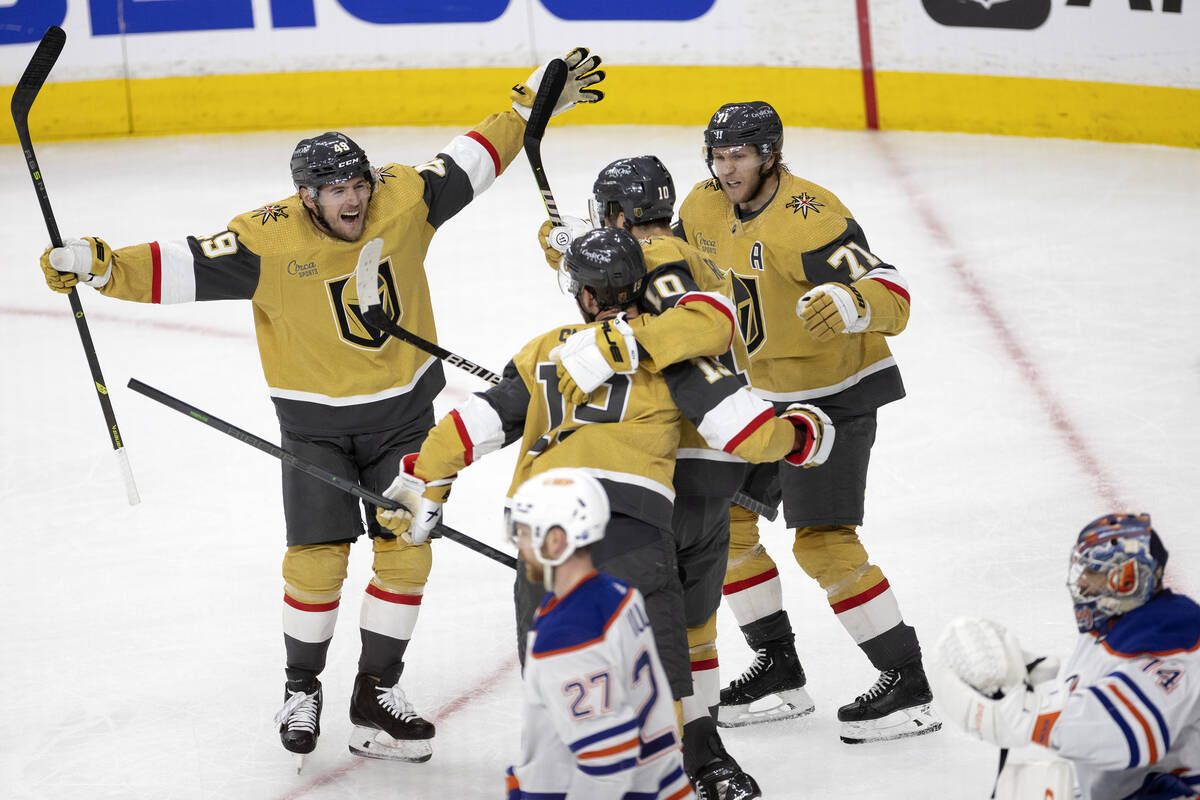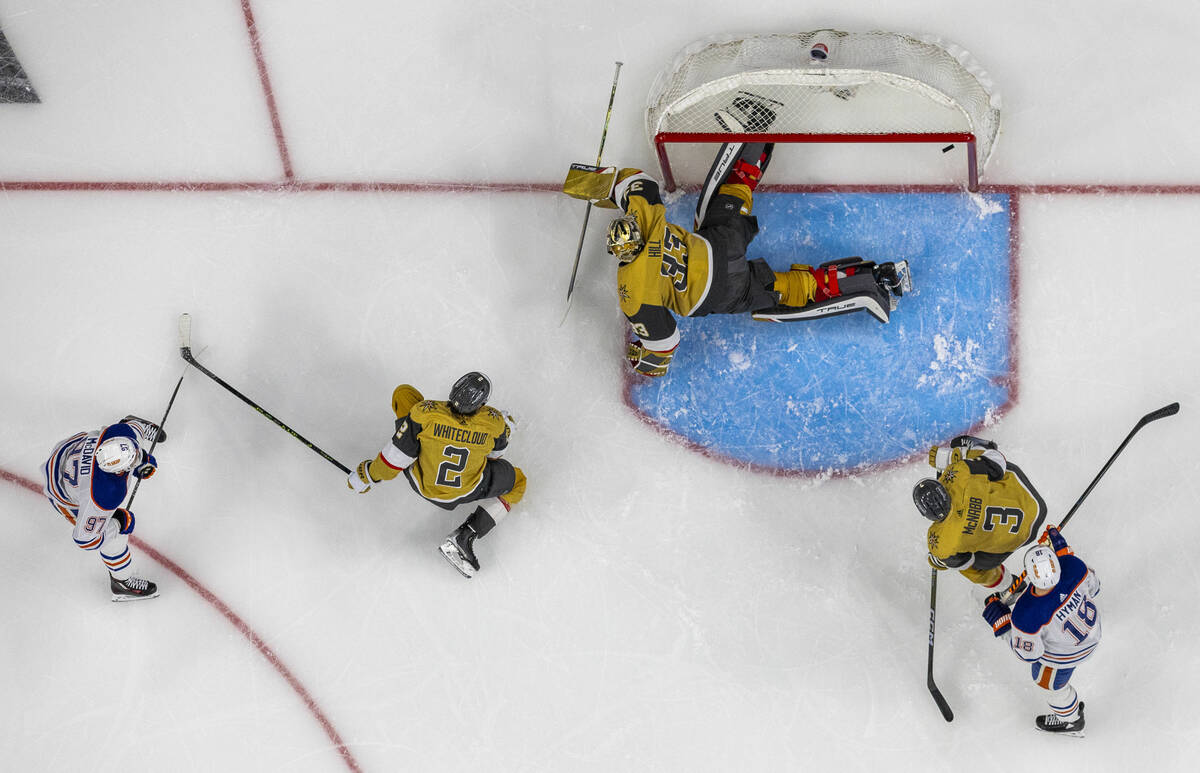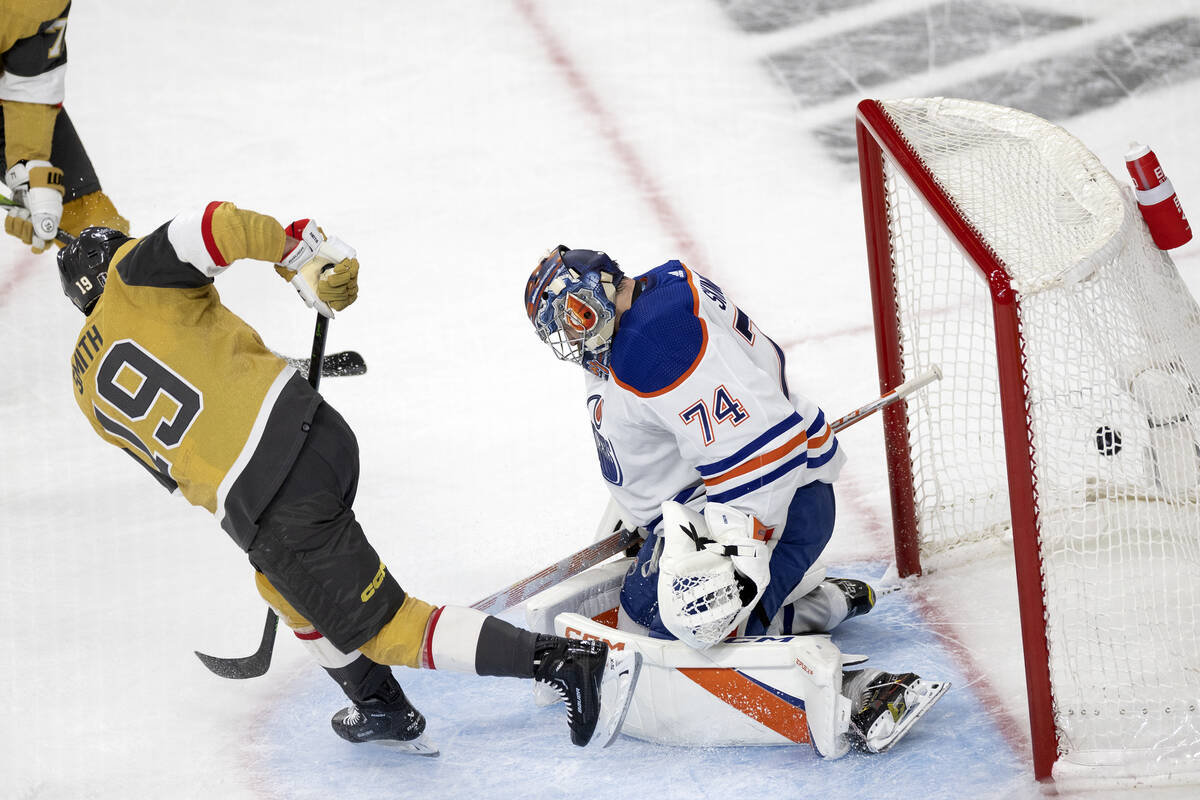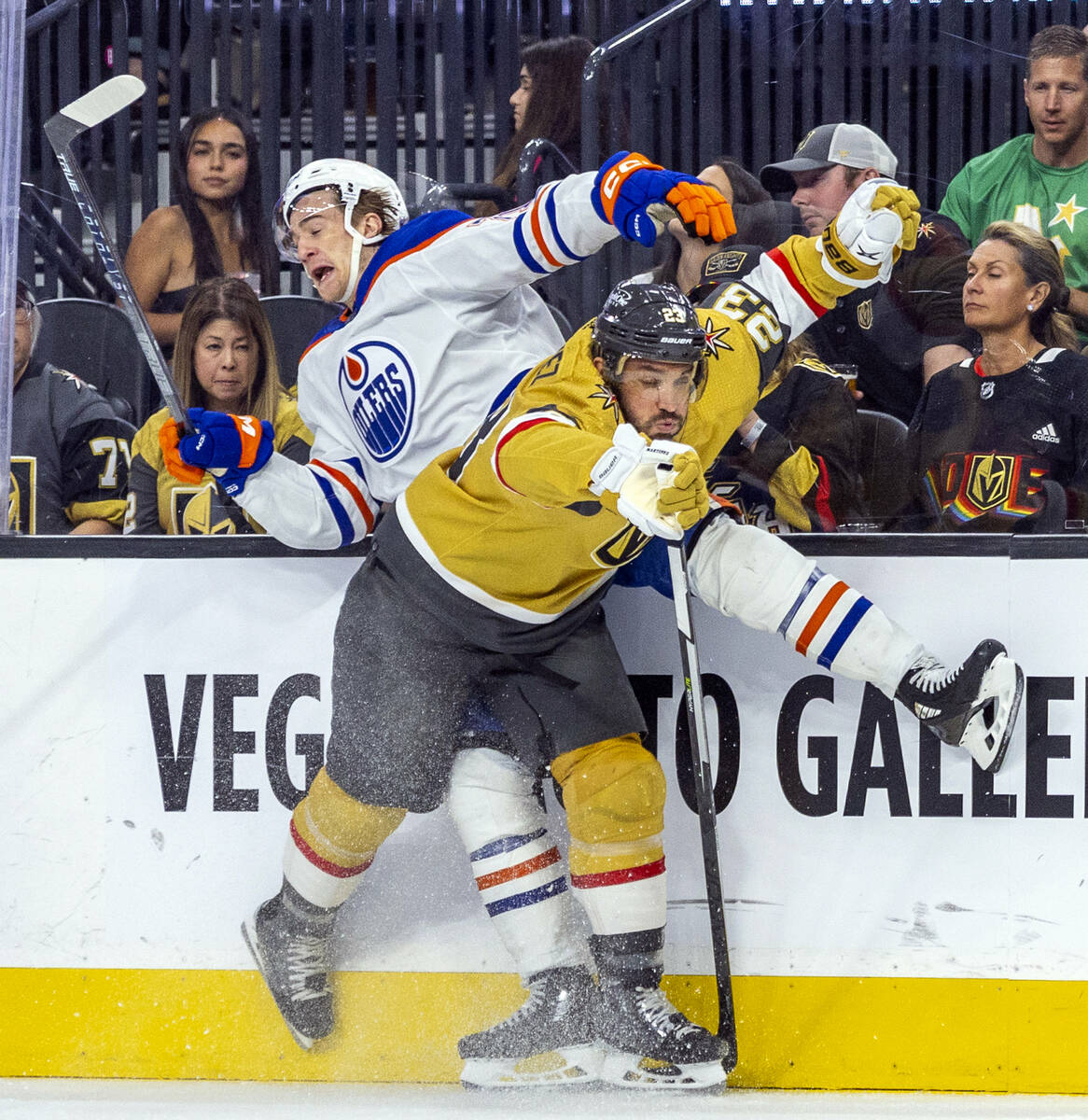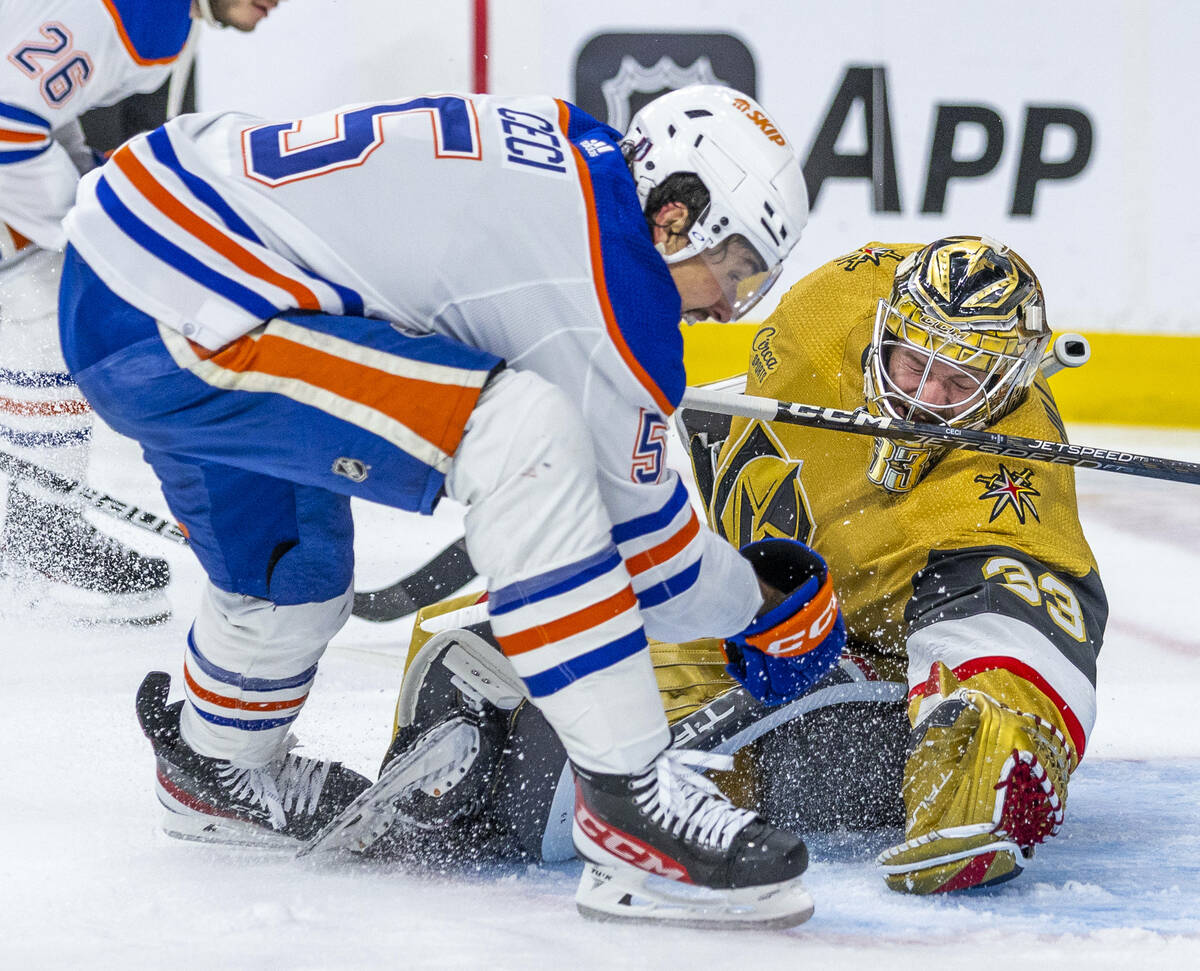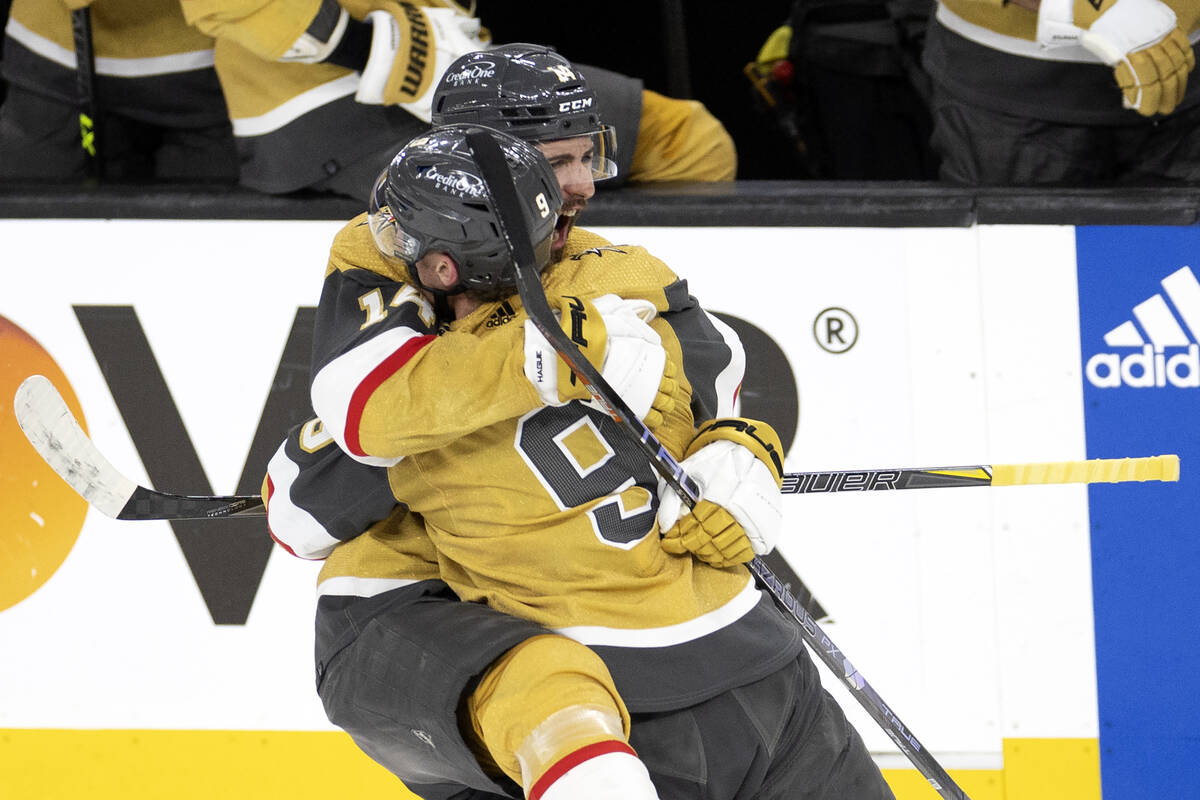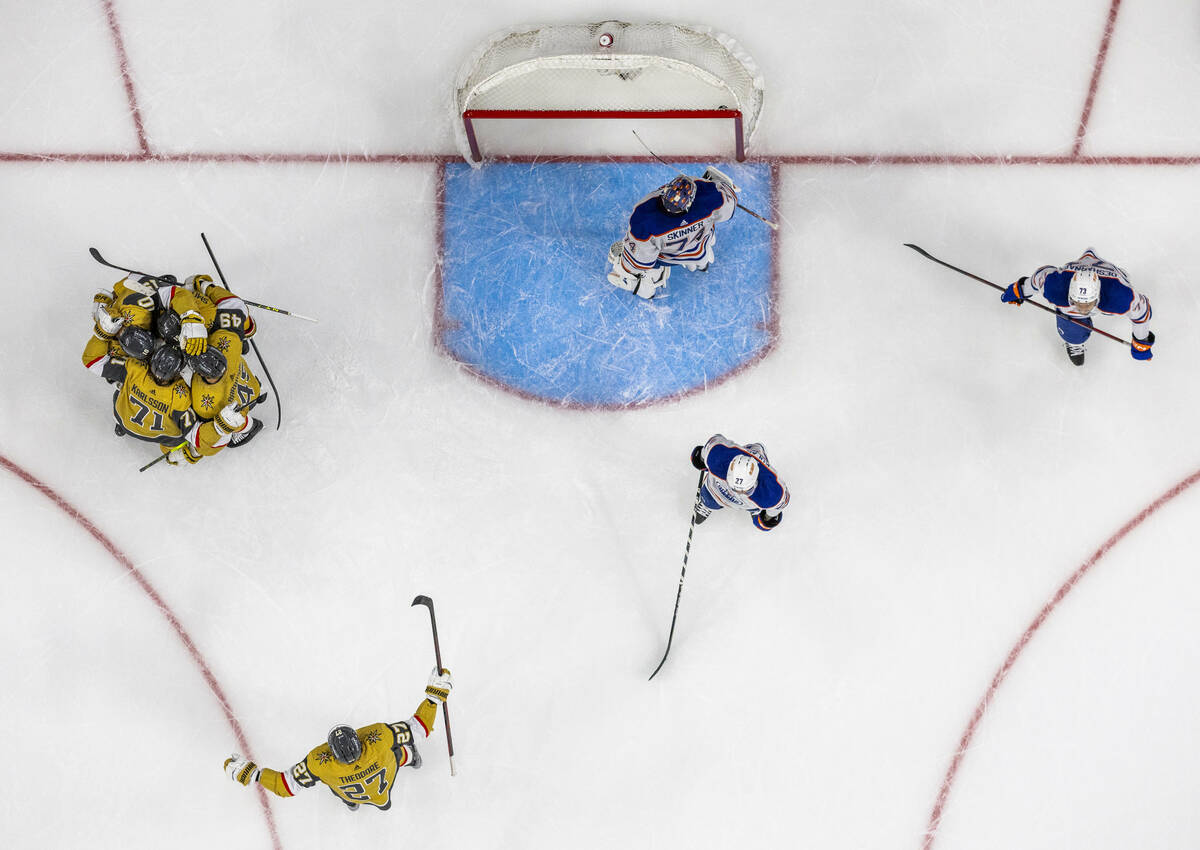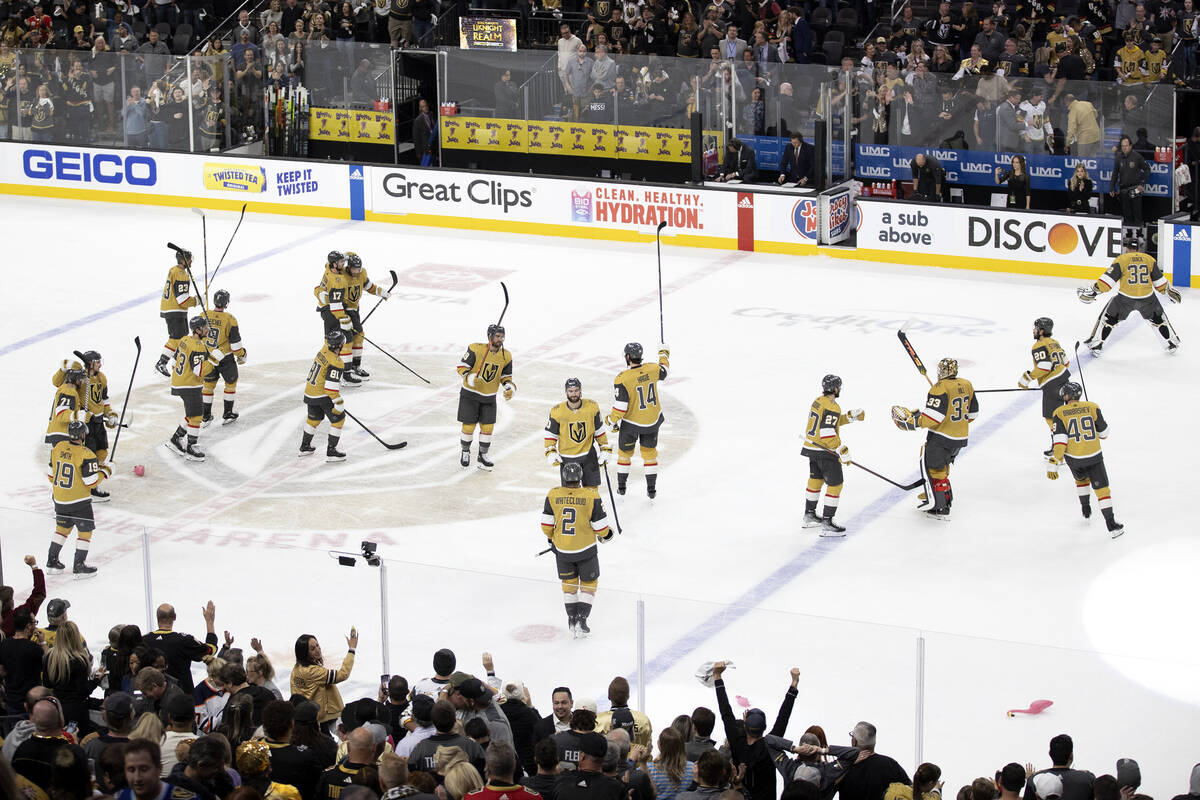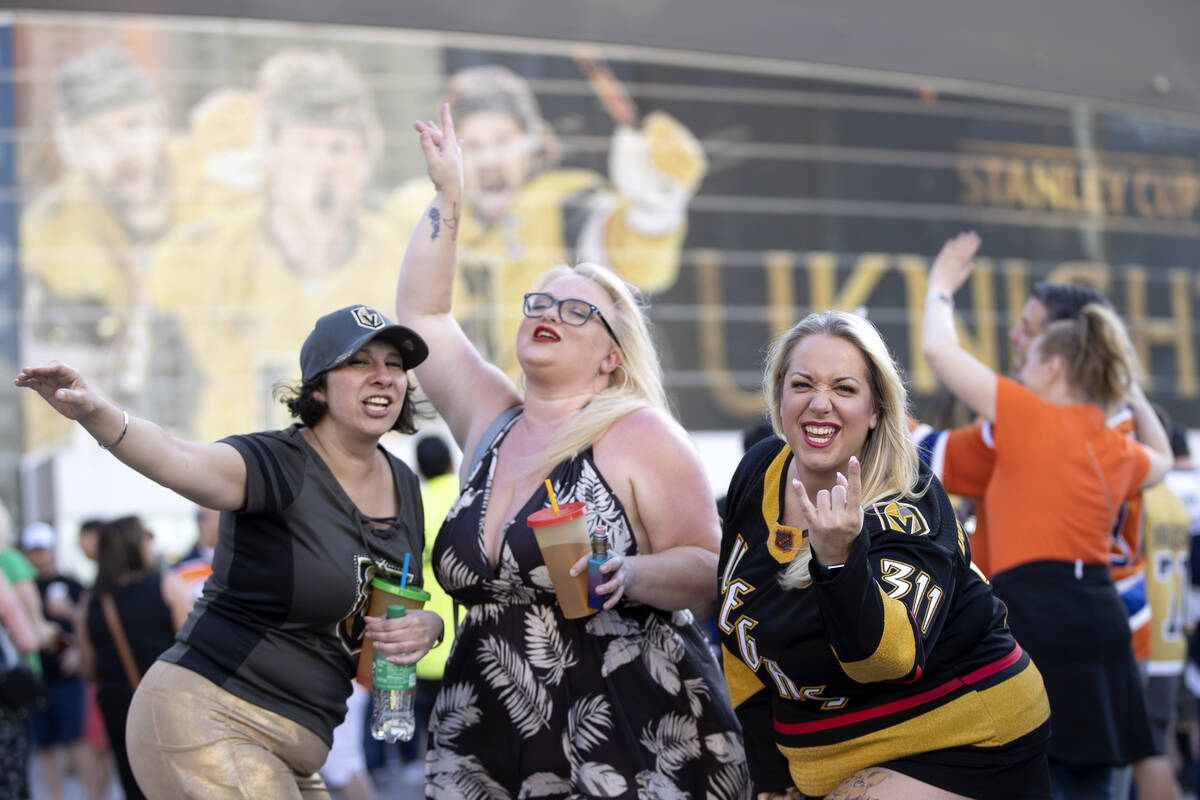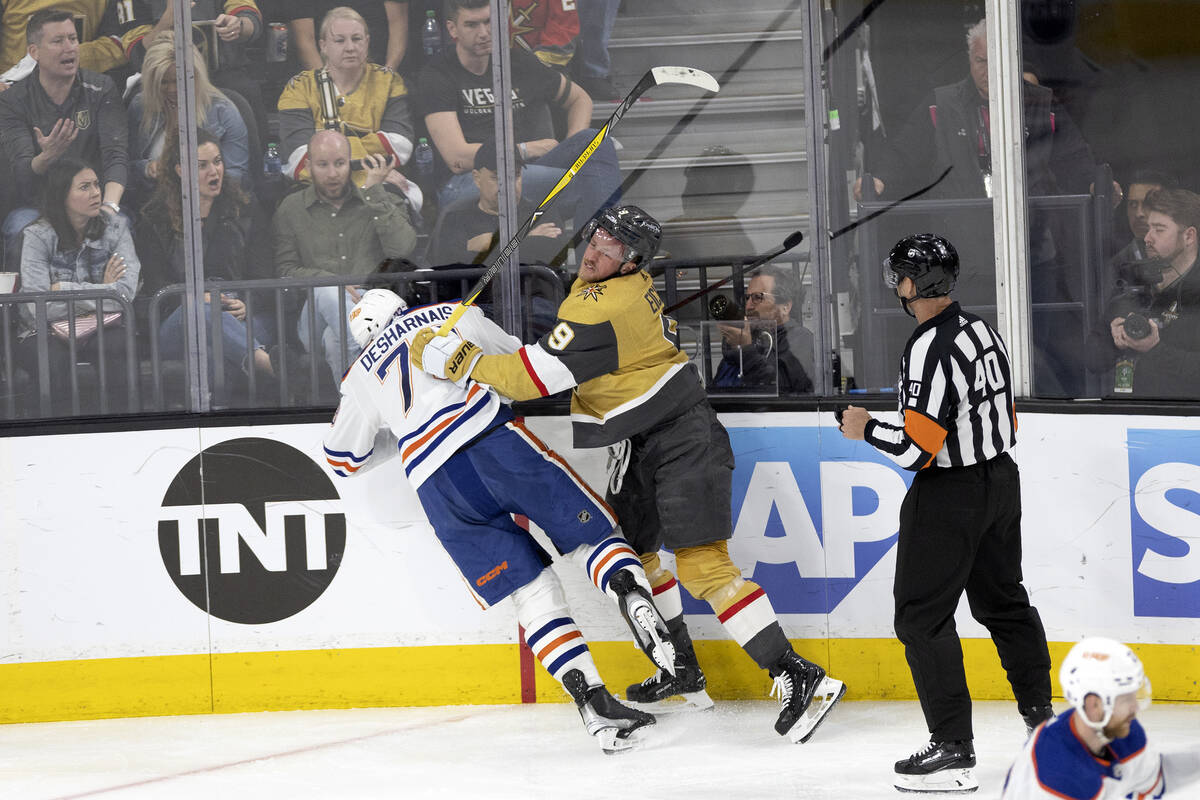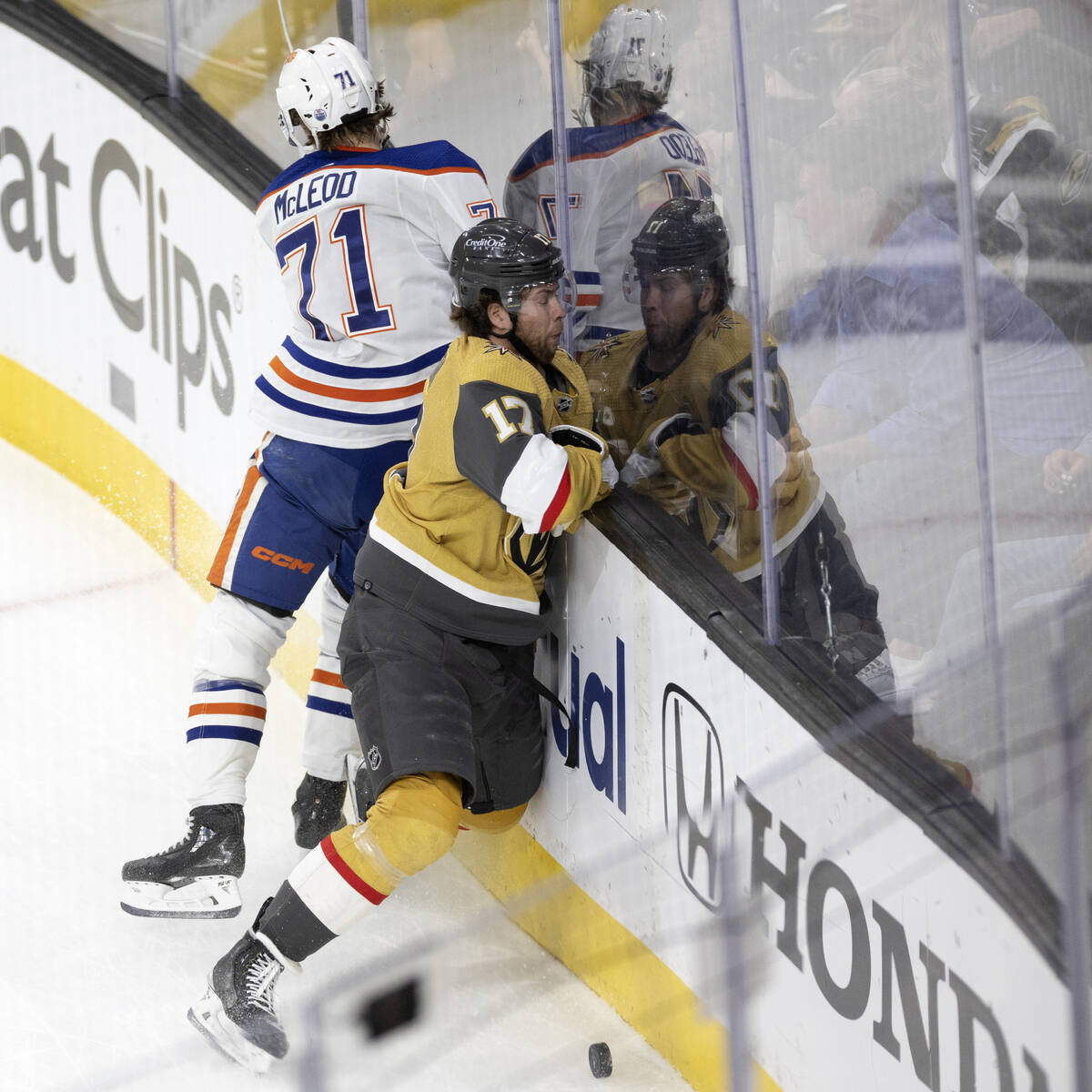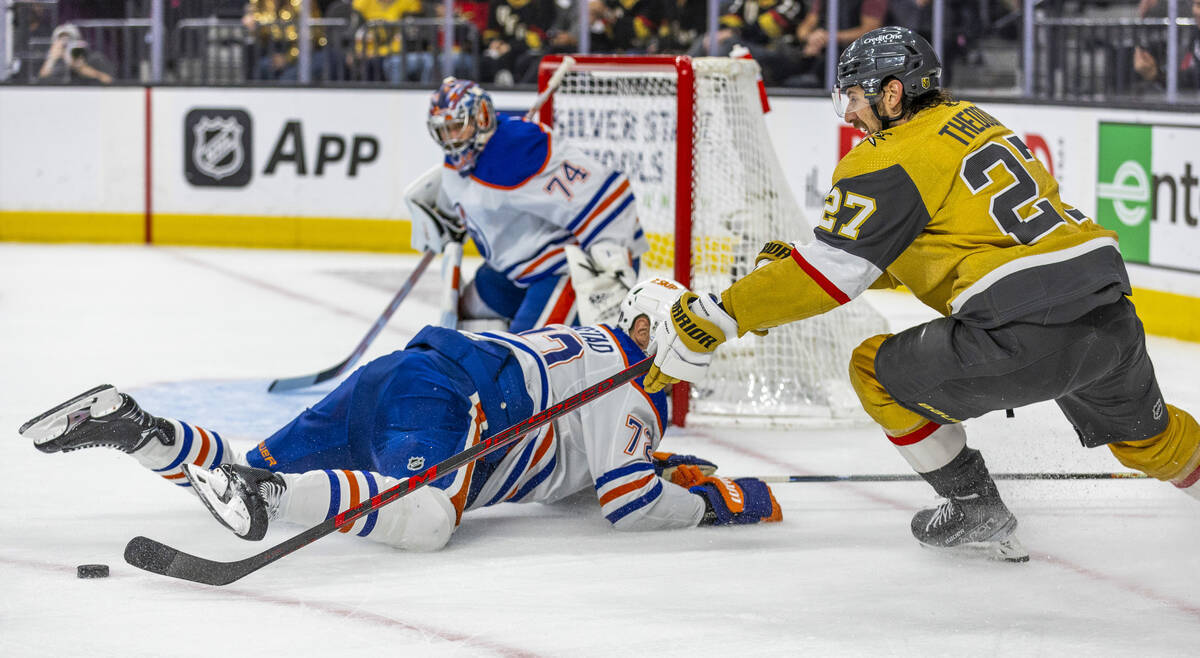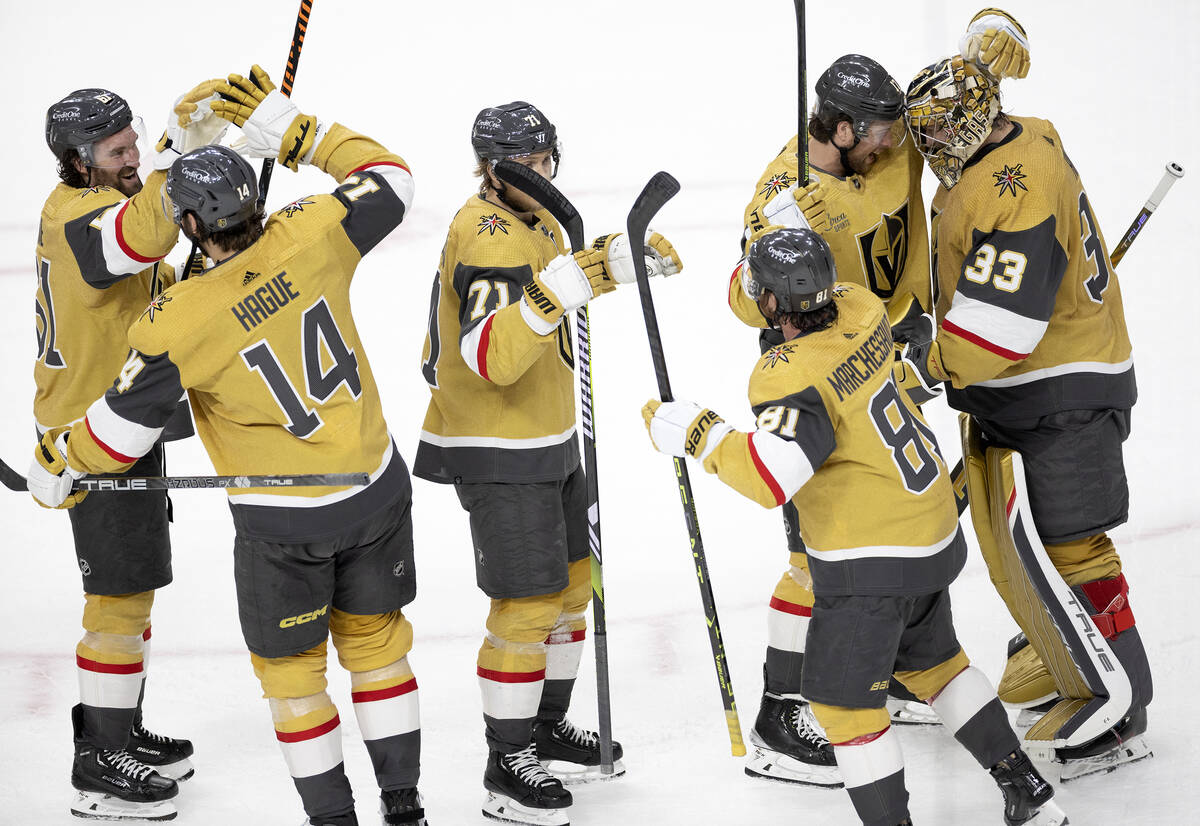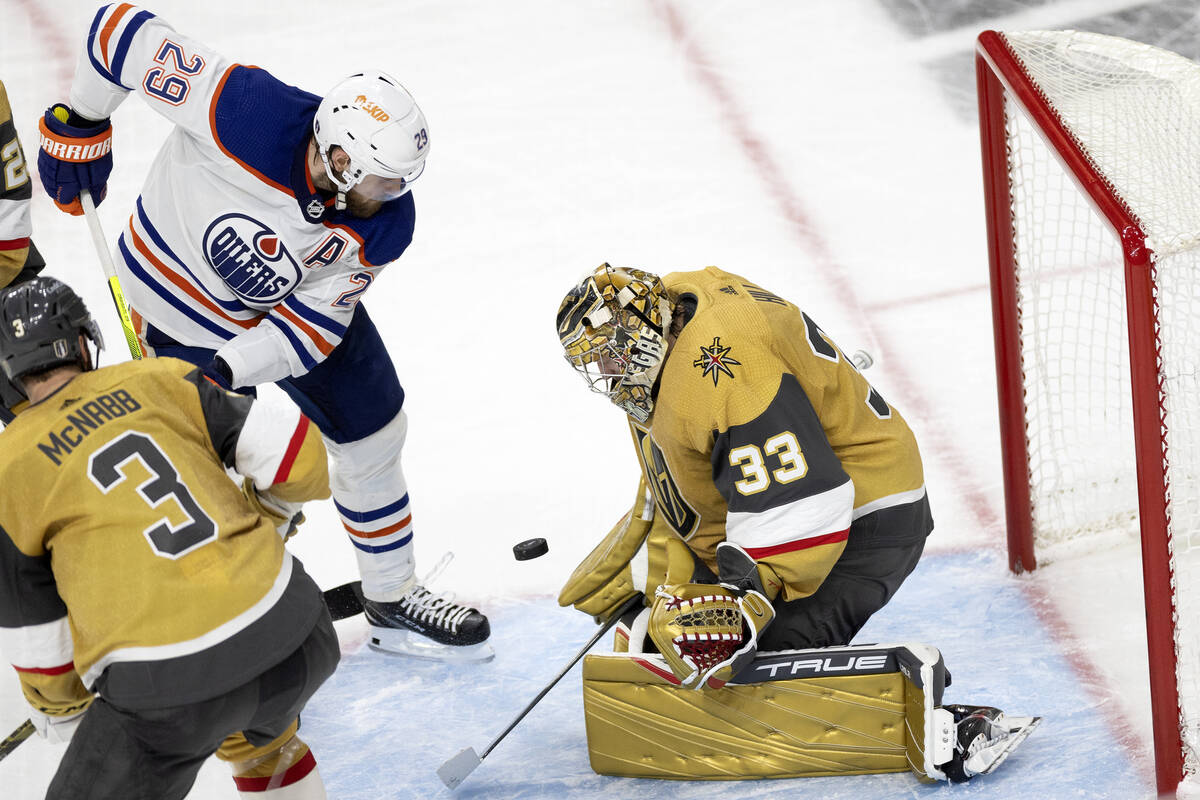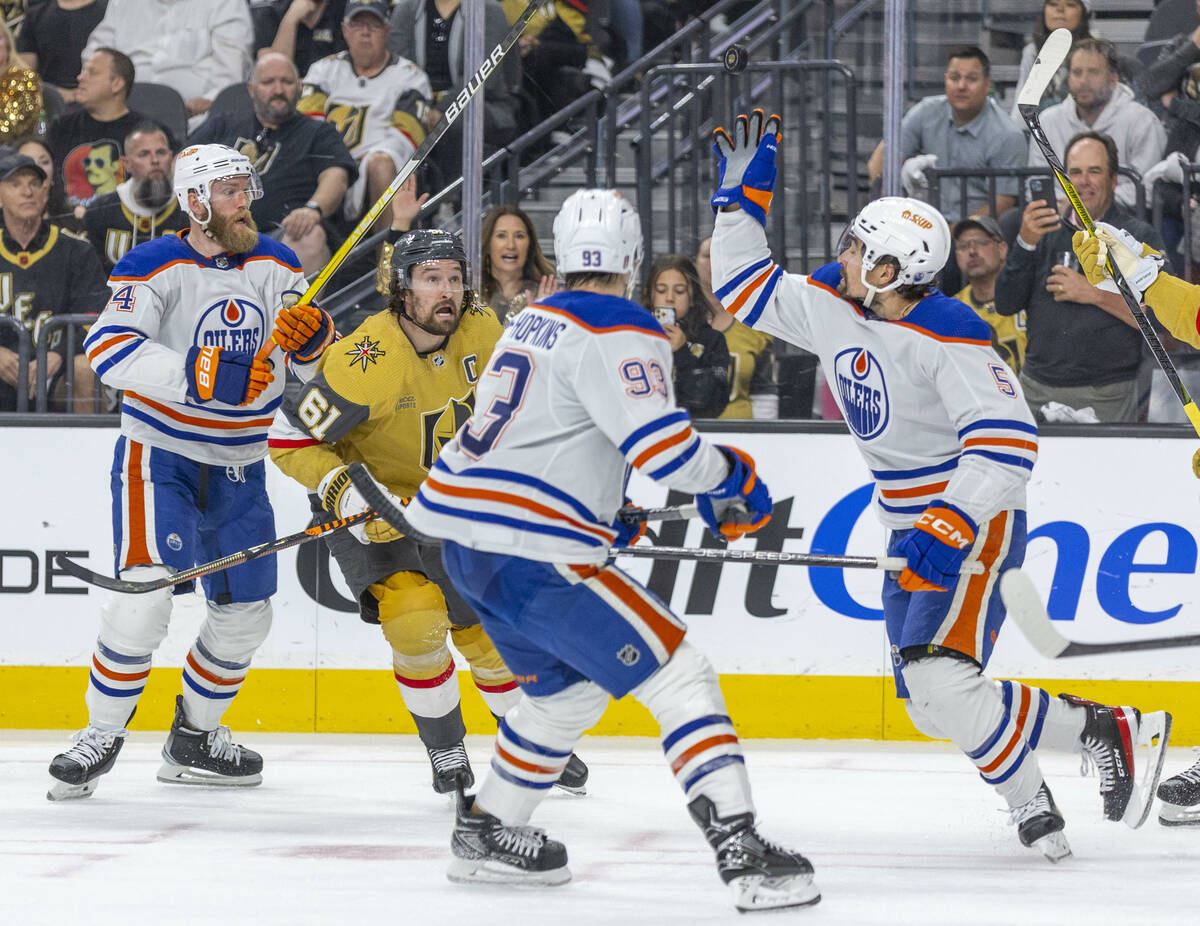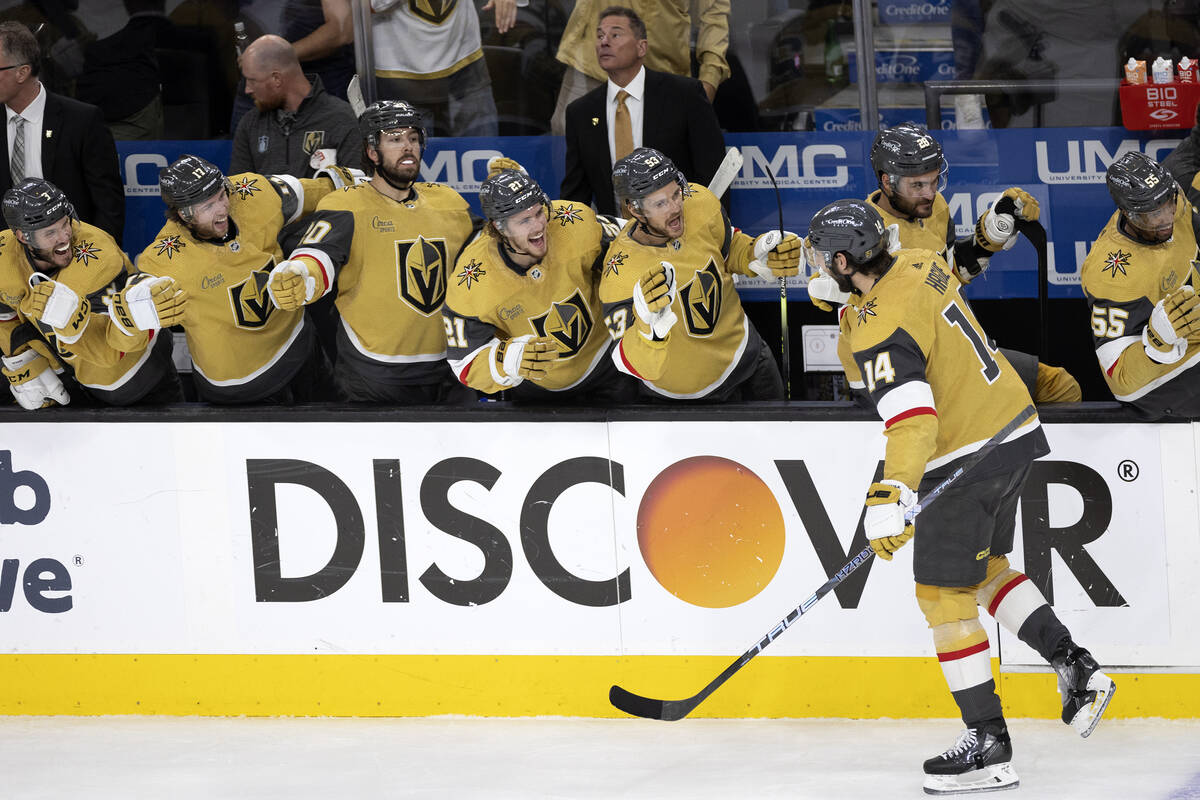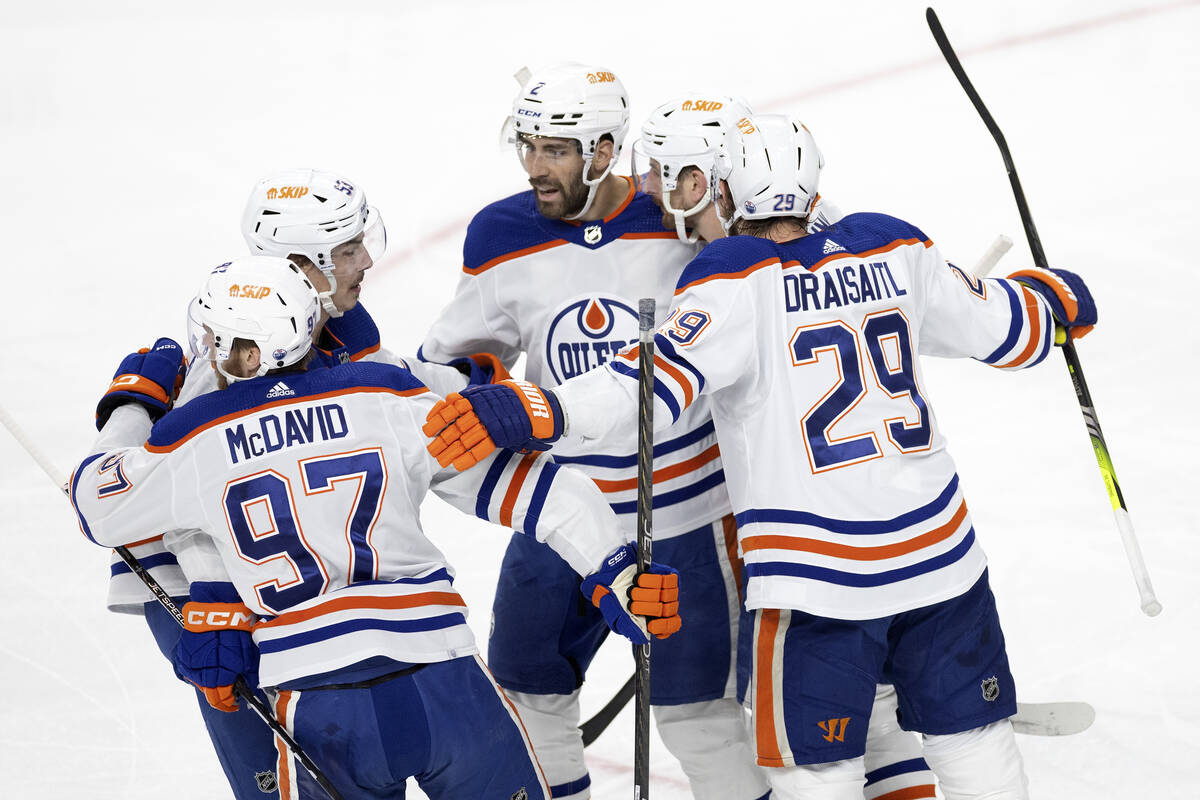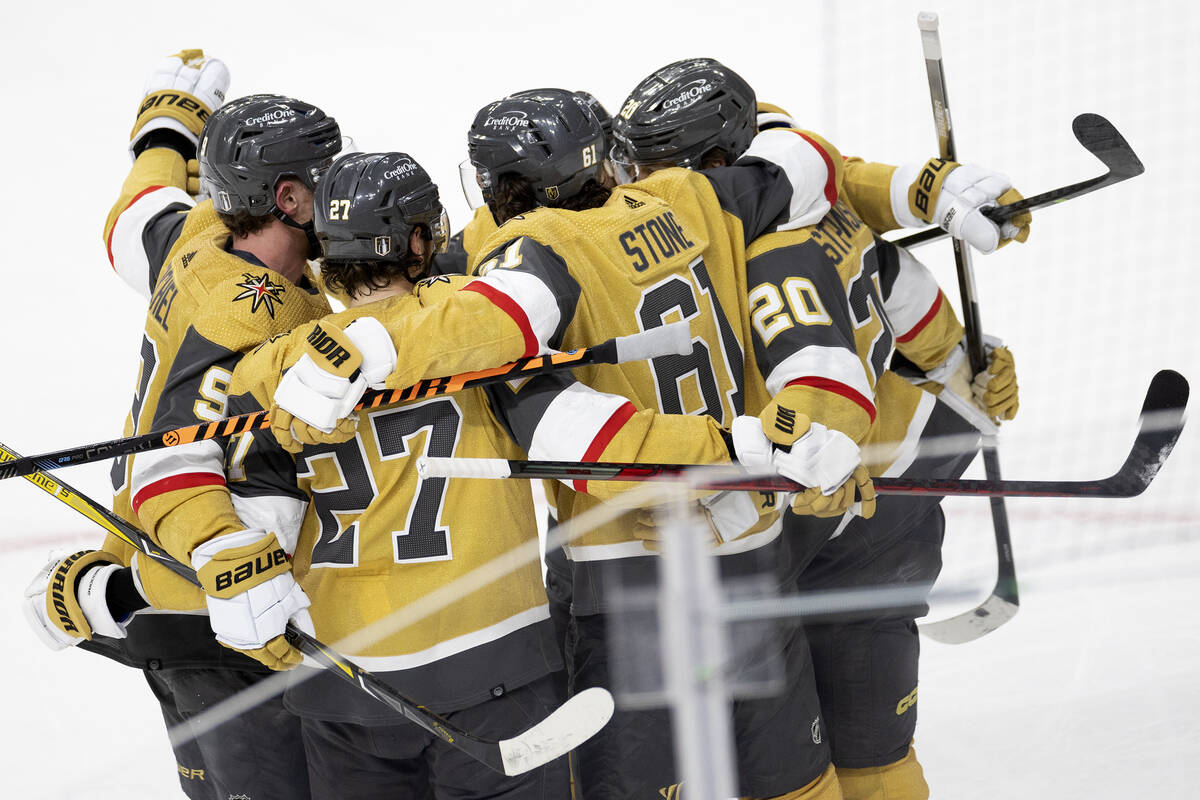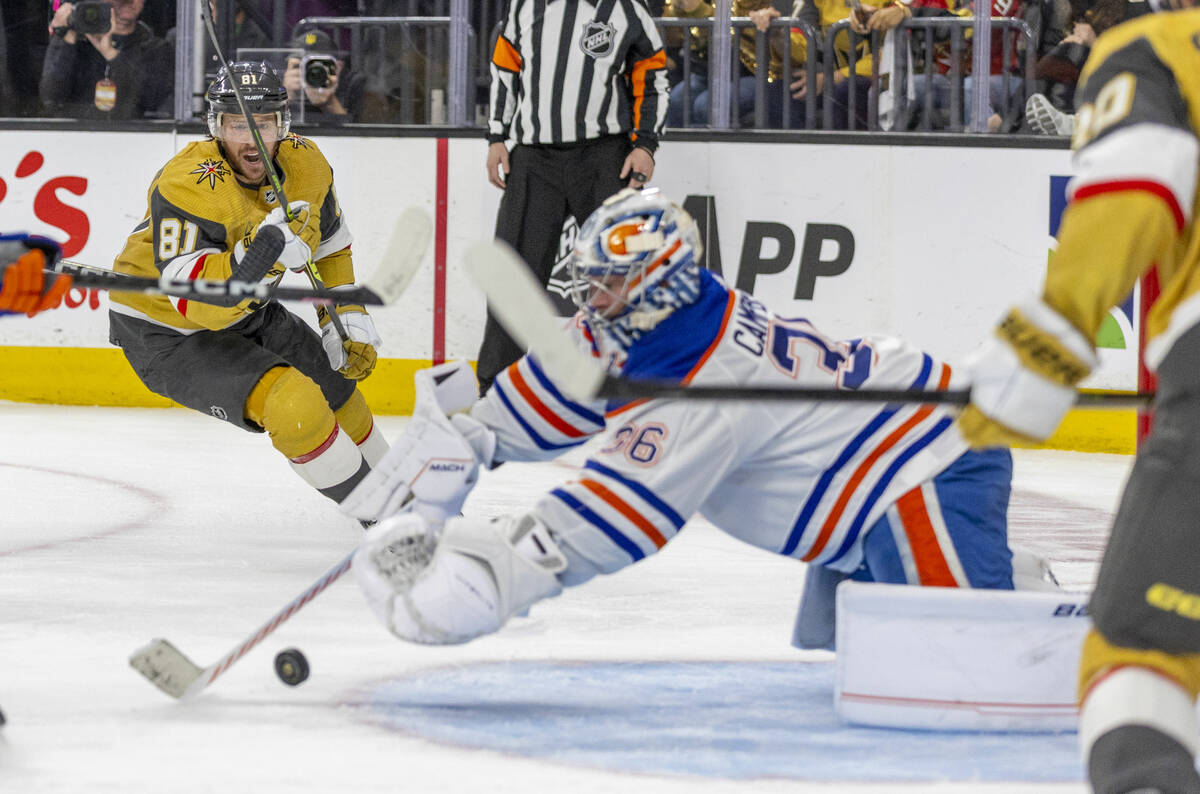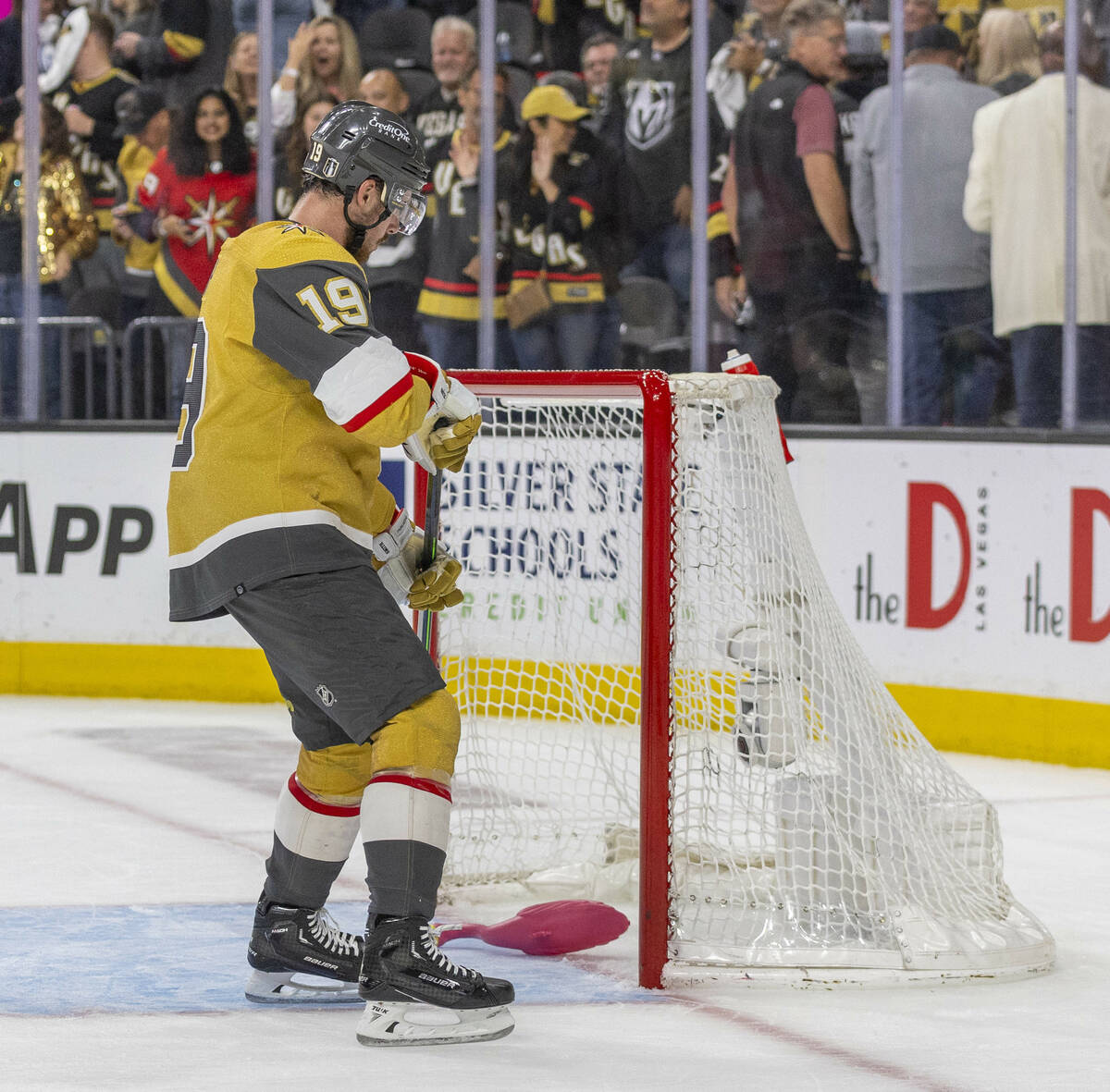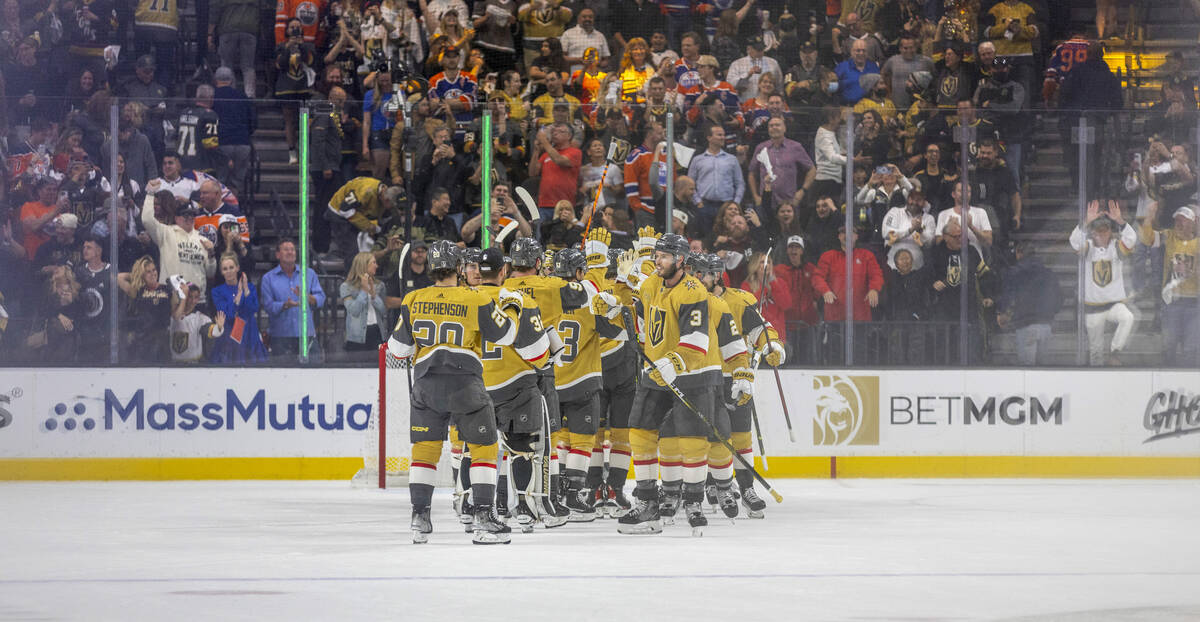 The Golden Knights' largest crowd of the season was on its feet for a full minute to cheer every escape from the defensive zone, every cleared puck down the ice.
The Knights needed to defend a one-goal lead for 17:40 against the best offensive team in the NHL without their No. 1 defenseman Friday at T-Mobile Arena. Through determination, effort and a lift from an announced crowd of 18,519, they got it done.
Goaltender Adin Hill, in his second career playoff start, stopped the final eight shots he faced to close out the Knights' 4-3 lead in Game 5 of their second-round series against the Edmonton Oilers.
The Oilers got within a goal on center Connor McDavid's second power-play tally 2:40 into the third period. They couldn't close the gap any further.
The win gives the Knights a 3-2 series lead. They can reach their fourth semifinal in six seasons with a victory in Sunday's Game 6 at Rogers Place. The winner of Game 5 when a series is tied 2-2 advances 78.9 percent of the time.
"That was as loud as it can get," right wing Jonathan Marchessault said. "It was unbelievable, to be honest. … I'm sure it was a stressful game for (our fans). We stuck with it. We controlled our emotions tonight, and I thought we were the better team."
The Knights' excellent final defensive push didn't come without stress.
They flipped a 2-1 deficit to a 4-2 lead in the second period after the fastest three playoff goals in franchise history. Captain Mark Stone, left wing Reilly Smith and defenseman Nic Hague scored 89 seconds apart to chase rookie goaltender Stuart Skinner for the second time in the series.
Skinner, who gave up four goals on 23 shots, was also pulled in Game 3.
The sequence appeared to put the Knights in control. Then one play put the outcome back in flux.
Right wing Keegan Kolesar was given a five-minute major penalty for boarding defenseman Mattias Ekholm with 24 seconds remaining in the second period. That gave the Oilers' top-ranked power play — which scored on its first two opportunities — a lot of time to work with on a fresh sheet of ice to start the third.
Making the task more daunting, the Knights were playing without No. 1 defenseman and top penalty killer Alex Pietrangelo. He was suspended one game for slashing Edmonton center Leon Draisaitl at the end of Game 4.
McDavid scored once for the Oilers with 1:56 left in the power play. Edmonton didn't get anything else. Hill turned aside the other six shots he faced during the penalty kill to keep the Knights ahead.
"We knew we could use that five-minute penalty as a momentum swing for us if we killed if properly," Marchessault said. "I think one goal out of five minutes for us, it's a win."
Edmonton couldn't find another goal even when backup goaltender Jack Campbell left the net with less than two minutes to play.
The Knights have won Game 6 both times in their history when they've won Game 5 of a 2-2 series.
"Say what you want about the game, whatever happens out there, we found a way to get it done," Hague said. "That's all that matters to us in here."
Here are three takeaways from the win:
1. Class of 2015 shines
The top two picks in the 2015 NHL draft put on a show Friday night.
Center Jack Eichel, taken second overall, had a goal and two assists for his third three-point game of the playoffs. He also drew two penalties 44 seconds apart in the second period to give the Knights a five-on-three power play.
Eichel's 13 points in the postseason lead the team. They're also the most in franchise history through 10 playoff games
"First go-round in the playoffs and he wants to make a difference," coach Bruce Cassidy said. "I think you're seeing a guy rise up to the occasion, every game a little bit more."
McDavid, the first overall pick, impressive as well. He scored twice for his fifth multipoint game of the series the same day he was named a Hart Trophy finalist for the fifth time in eight seasons.
The 26-year-old's 19 points in 11 playoff games lead the NHL.
2. Power play fights back
The Knights trailed 2-1 after the first period because of special teams.
The Oilers scored on both of their power-play opportunities. The Knights were 0-for-3 on theirs, putting them in an 0-for-14 slump on the man advantage.
The five-on-three Eichel drew changed things. Stone and Smith scored 29 seconds apart to give the Knights two power-play goals in quick succession. It was Smith's first goal of the playoffs.
The two tallies helped the Knights survive Edmonton's three goals on the power play because they had a 2-0 edge in goals at five-on-five.
"We just, we needed to find a way to get one," Eichel said. "It didn't matter. We needed to get one."
3. Lineup changes
Both teams made changes with their No. 1 defensemen suspended for Game 5.
Defenseman Ben Hutton made his second appearance of the playoffs with Pietrangelo out. Hutton took Pietrangelo's spot on the first pair with defenseman Alec Martinez and on the point of the second power-play unit.
The Oilers put in Philip Broberg for defenseman Darnell Nurse, who was suspended for instigating a fight with Hague with 50 seconds left in Game 4. Broberg took two holding penalties in 6:01 of ice time.
Center Teddy Blueger also made his playoff debut for the Knights on the fourth line. Nicolas Roy bumped up to second-line right wing, and right wing Michael Amadio was a healthy scratch.
Contact Ben Gotz at bgotz@reviewjournal.com. Follow @BenSGotz on Twitter.
Series glance
Game 1 — Knights 6, Oilers 4
Game 2 — Oilers 5, Knights 1
Game 3 — Knights 5, Oilers 1
Game 4 — Oilers 4, Knights 1
Game 5 — Knights 4, Oilers 3
Game 6 — TBD Sunday, Rogers Place (TBA)
Game 7* — TBD Tuesday, T-Mobile Arena (TNT)
* If necessary