5 goalies the Knights could target before trade deadline
Updated March 1, 2023 - 1:29 pm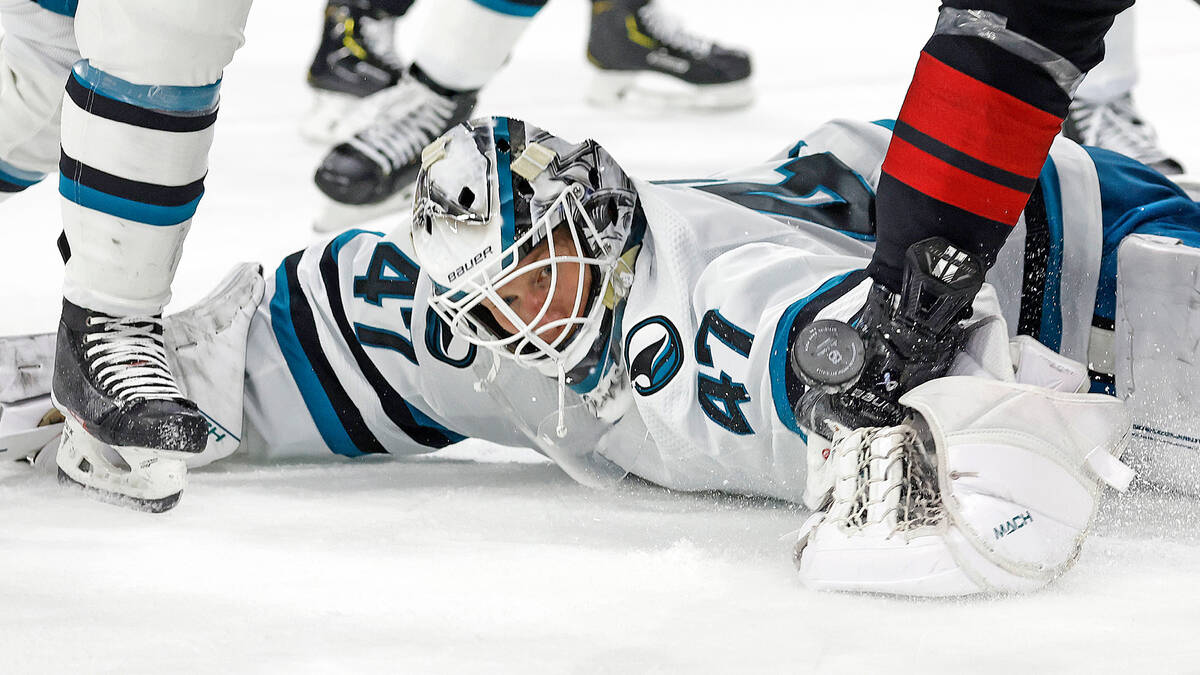 The Golden Knights' goaltending remains a question mark before Friday's NHL trade deadline. Just not for the reasons anyone expected.
The Knights have gotten quality play in net despite Robin Lehner missing the season because of hip surgery. Rookie goaltender Logan Thompson made the Pacific Division All-Star team. Adin Hill and Laurent Brossoit performed well. The Knights' .909 team save percentage ranks eighth in the NHL.
General manager Kelly McCrimmon said Sunday he's happy with all three goaltenders. It's just a matter of keeping them healthy.
Thompson is week to week after suffering a lower-body injury Feb. 9. It's unclear when he might return, though he isn't expected to miss the rest of the season.
Brossoit is day to day with a lower-body injury. He was placed on injured reserve Monday after missing the start of the season recovering from hip surgery.
Hill is the only one healthy now, though he recently didn't dress for two games after suffering a "bump" Feb. 18. His 24 appearances are one off his career high.
The setup leaves the Knights with a question before the deadline arrives at noon Friday: Is it worth adding a goaltender? They have approximately $6.5 million in spending power. But they might not need reinforcements if they think Thompson or Brossoit will be available soon.
Here are some goaltenders on expiring contracts who could be available if the Knights decide to go shopping. Goalies on long-term deals such as Anaheim's John Gibson, Arizona's Karel Vejmelka and Vancouver's Thatcher Demko also have a chance of getting moved, but adding them would be much more complicated with Lehner and Thompson locked in for two seasons after this one.
Cam Talbot, Ottawa Senators
Knights fans might remember Talbot from his incredible duel with Marc-Andre Fleury in Game 1 of the 2021 playoffs.
Talbot and the Minnesota Wild won that one 1-0 in overtime but lost the series 4-3. He finished with a .923 save percentage and two shutouts against the Knights.
Talbot, 35, is now posting solid numbers on a middling Senators team fighting to get into the playoff picture. The 10-year veteran is 13-14-1 with a .905 save percentage and 2.87 goals-against average.
Talbot brings plenty of postseason experience, something Thompson, Hill and Brossoit lack. He's 15-16 in the playoffs with a .921 save percentage.
Jonathan Quick, Columbus Blue Jackets
Quick hasn't been a Blue Jacket for long, as he was acquired Wednesday in a trade with the Los Angeles Kings for defenseman Vladislav Gavrikov and goaltender Joonas Korpisalo.
It likely wouldn't be too difficult to convince Columbus, which has the worst record in the NHL, to move him again.
The 37-year-old has had an unbelievable career. He's won two Stanley Cups and two Jennings Trophies, and the Conn Smythe Trophy (playoff MVP) once. Quick is 49-43 in the postseason with a .921 save percentage.
The main question is what he has left to contribute in his 16th season. His .876 save percentage this season is third-worst among goaltenders who have played at least 10 games.
Semyon Varlamov, New York Islanders
Varlamov has been a steady, reliable netminder most of his 15-year NHL career and has finished in the top five of the Vezina Trophy voting twice.
The 34-year-old also has a Knights' connection. President of hockey operations George McPhee drafted Varlamov 23rd overall in 2006 with the Washington Capitals.
The main question with Varlamov, 11-7-2 with a .914 save percentage and 2.68 goals-against average this season, is if it's possible to acquire him. The Islanders are battling for a playoff spot in the Eastern Conference and might not be interested in giving up their insurance policy for star goaltender Ilya Sorokin.
Jake Allen, Montreal Canadiens,
and James Reimer, San Jose Sharks
Allen and Reimer are similar targets.
They're veterans with solid track records. They're also going through difficult seasons, making it unclear if they would be an upgrade on the Knights' current options.
Allen, 32, is 13-18-2 on the rebuilding Canadiens with an .895 save percentage. His 3.42 goals-against average is the highest of his 10-year career.
Reimer, 35, has a save percentage below .900 (.895) for the first time in his 13 seasons. He's 9-15-6.
Contact Ben Gotz at bgotz@reviewjournal.com. Follow @BenSGotz on Twitter.
Up next
Who: Golden Knights vs. Hurricanes
When: 7 p.m. Wednesday
Where: T-Mobile Arena
TV: TNT
Radio: KKGK (98.9 FM, 1340 AM)
Line: Hurricanes -135; total 5½