Golden Knights' offensive drought continues in loss to Stars
Updated September 6, 2020 - 10:42 pm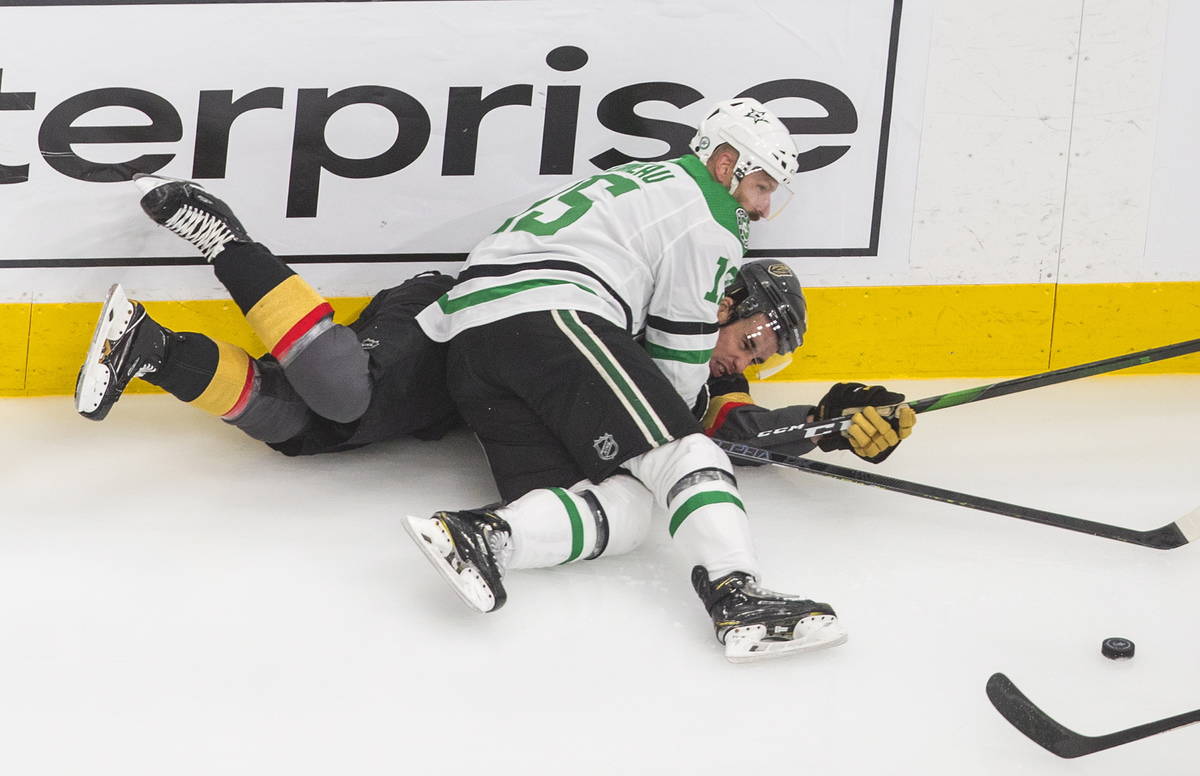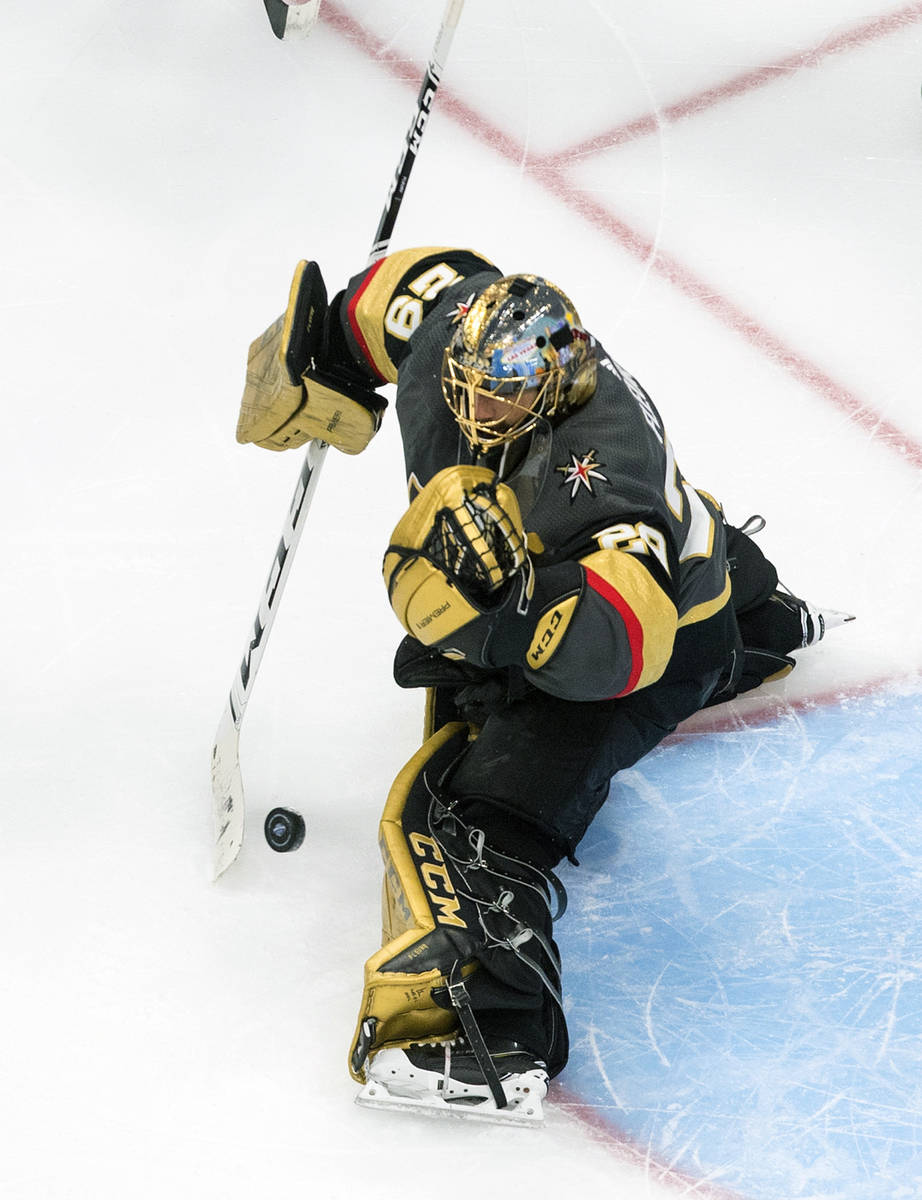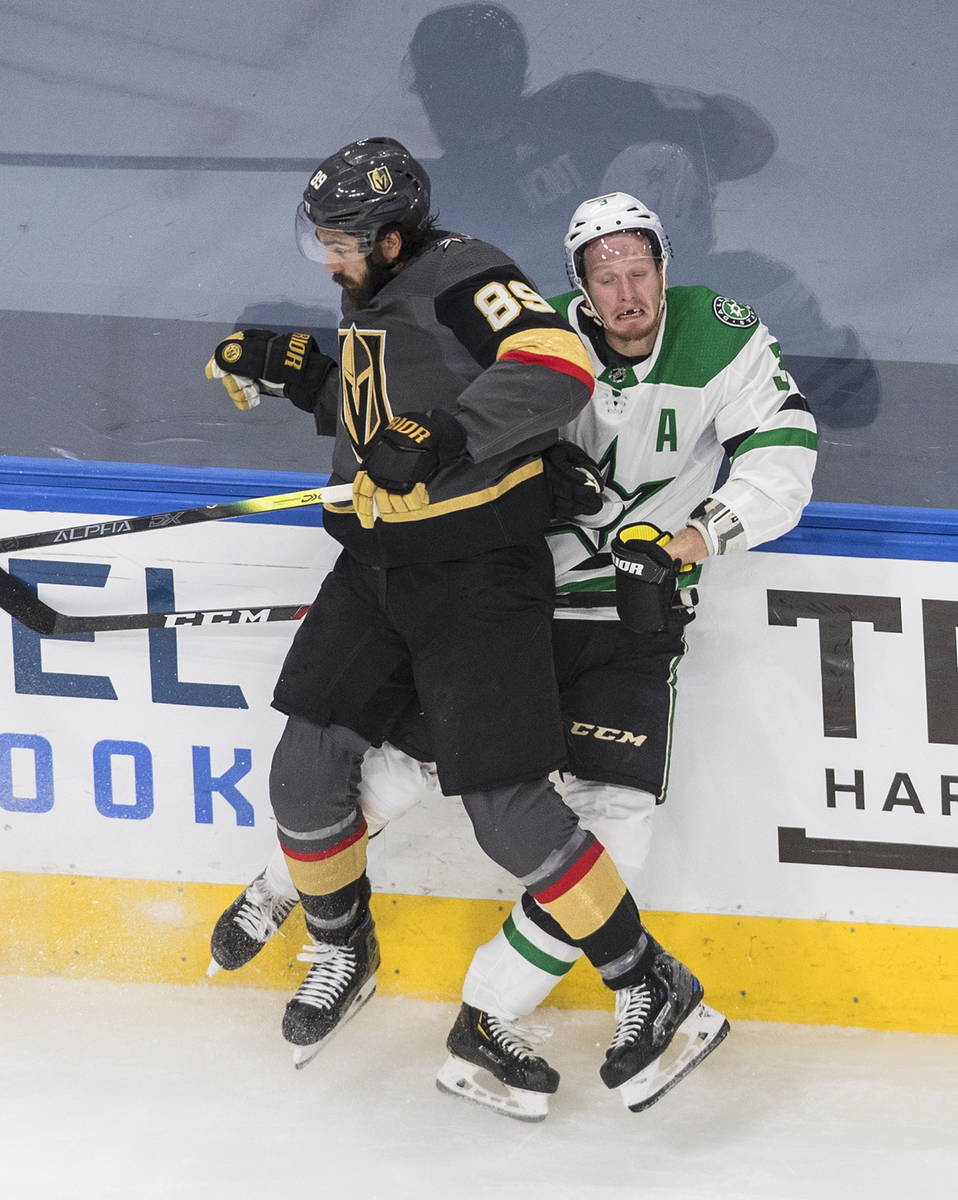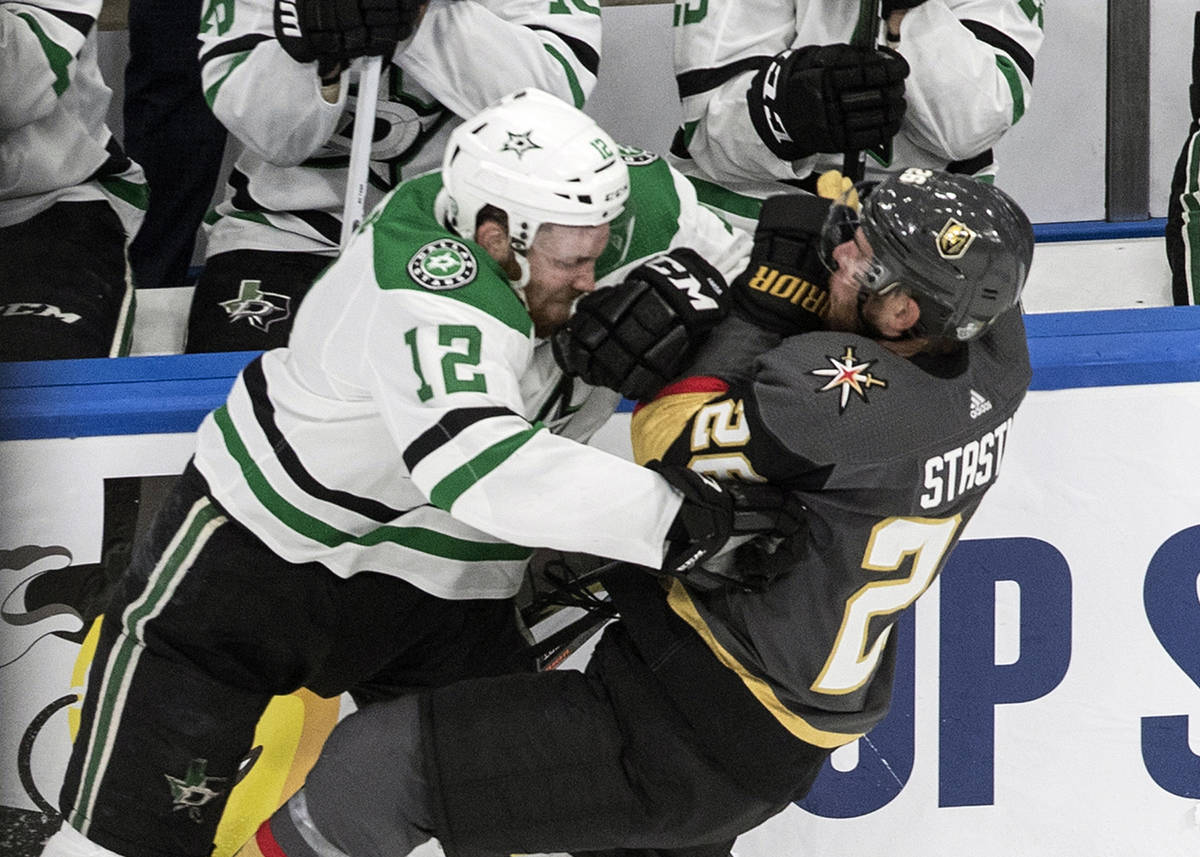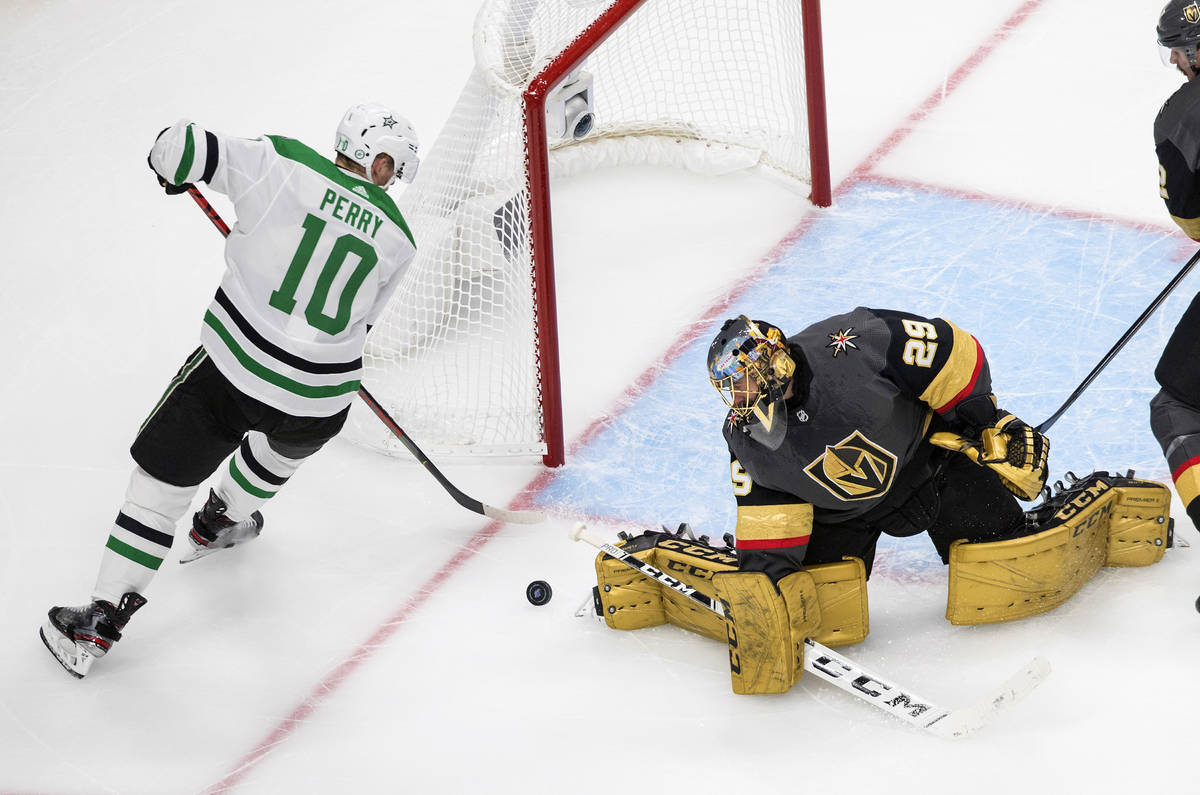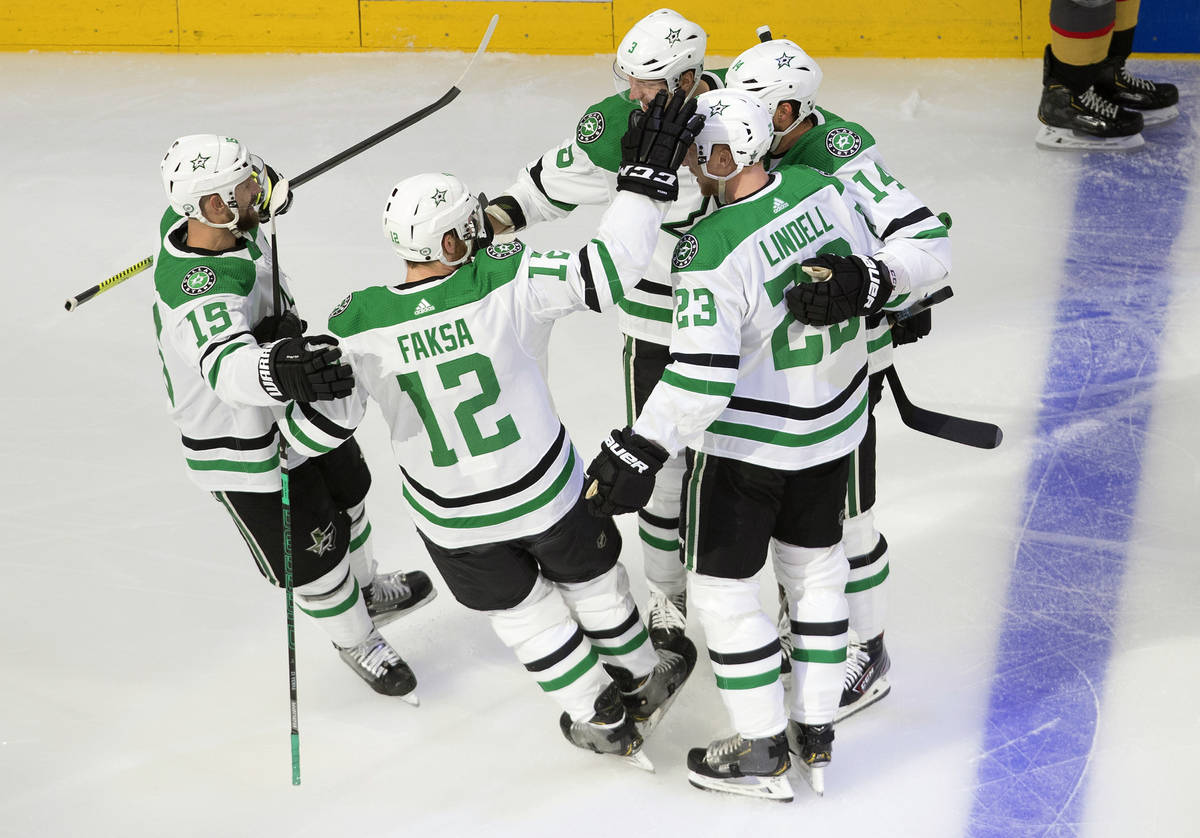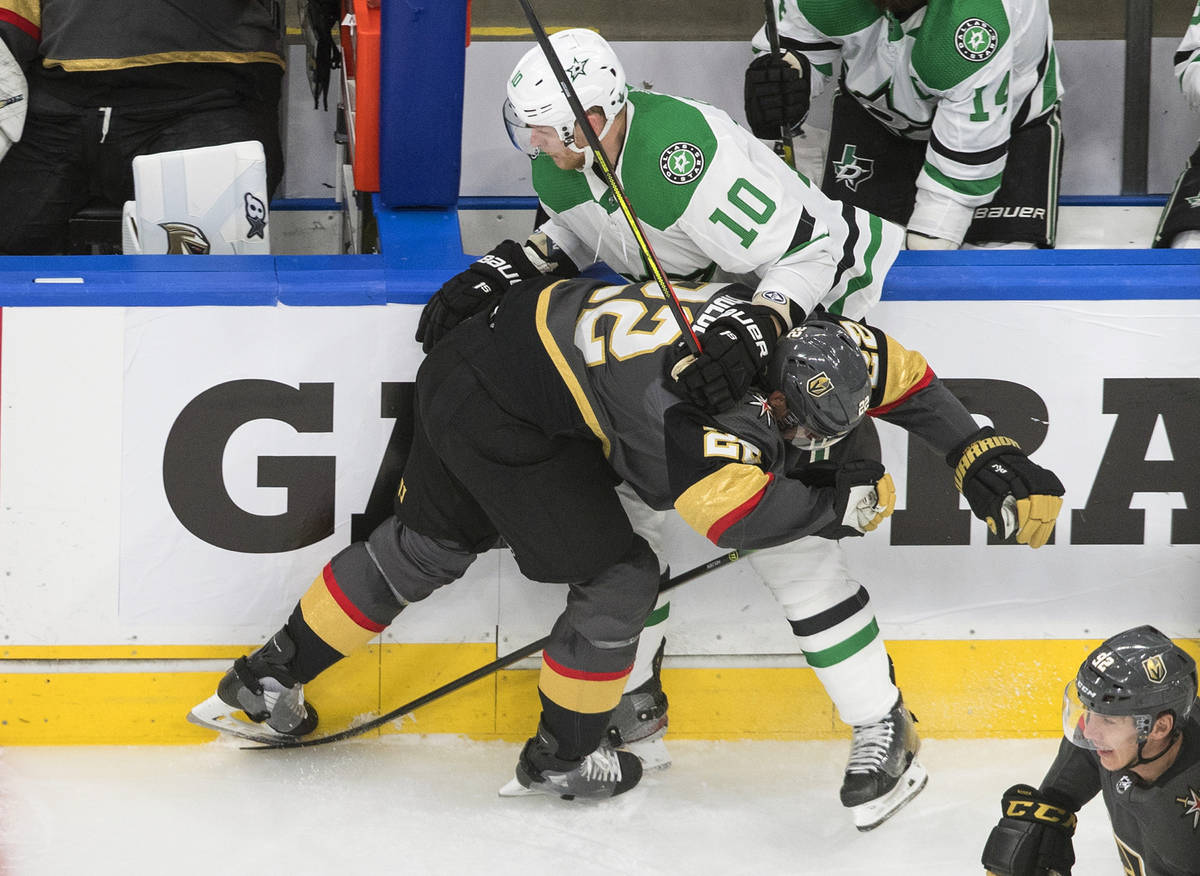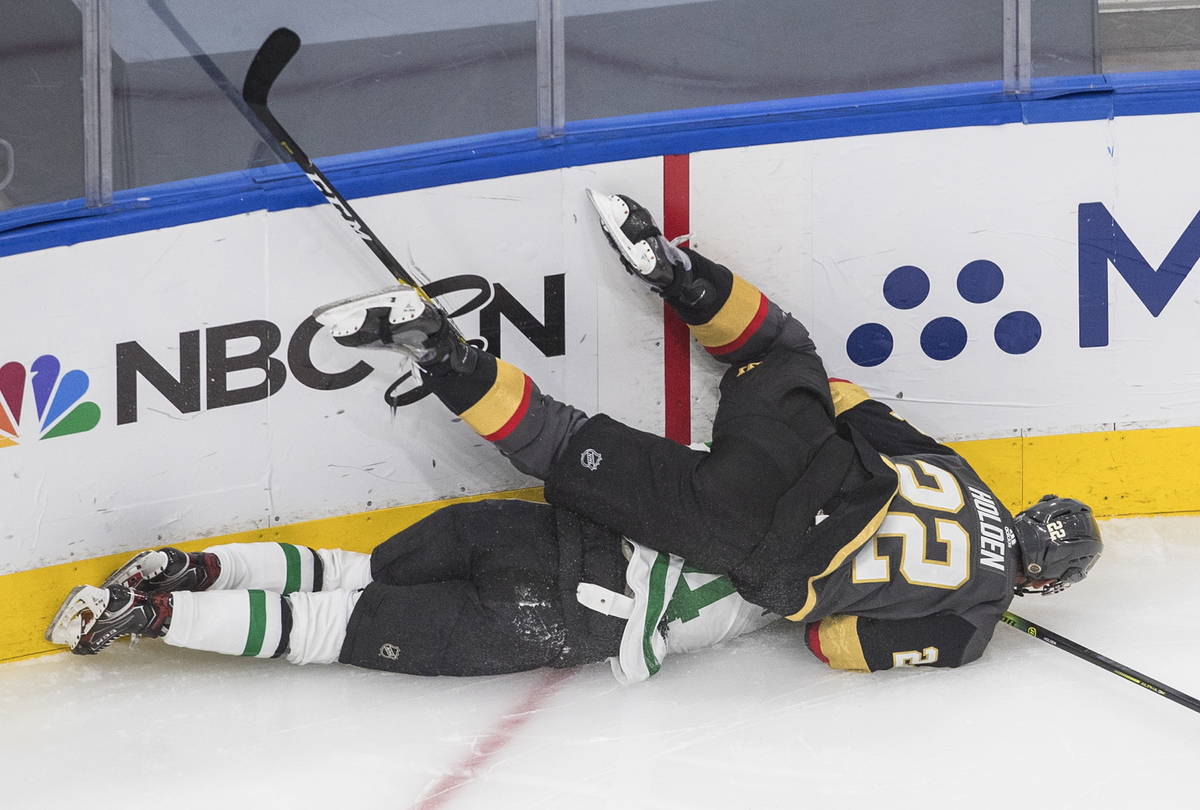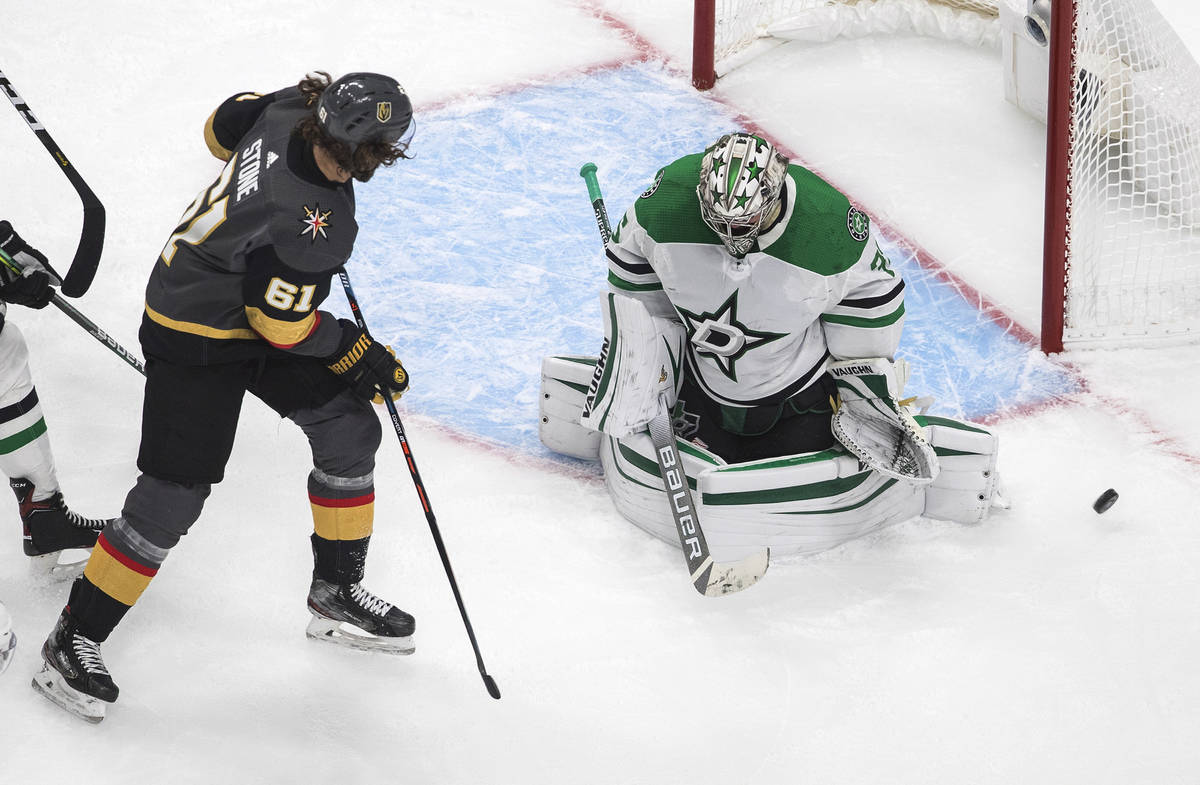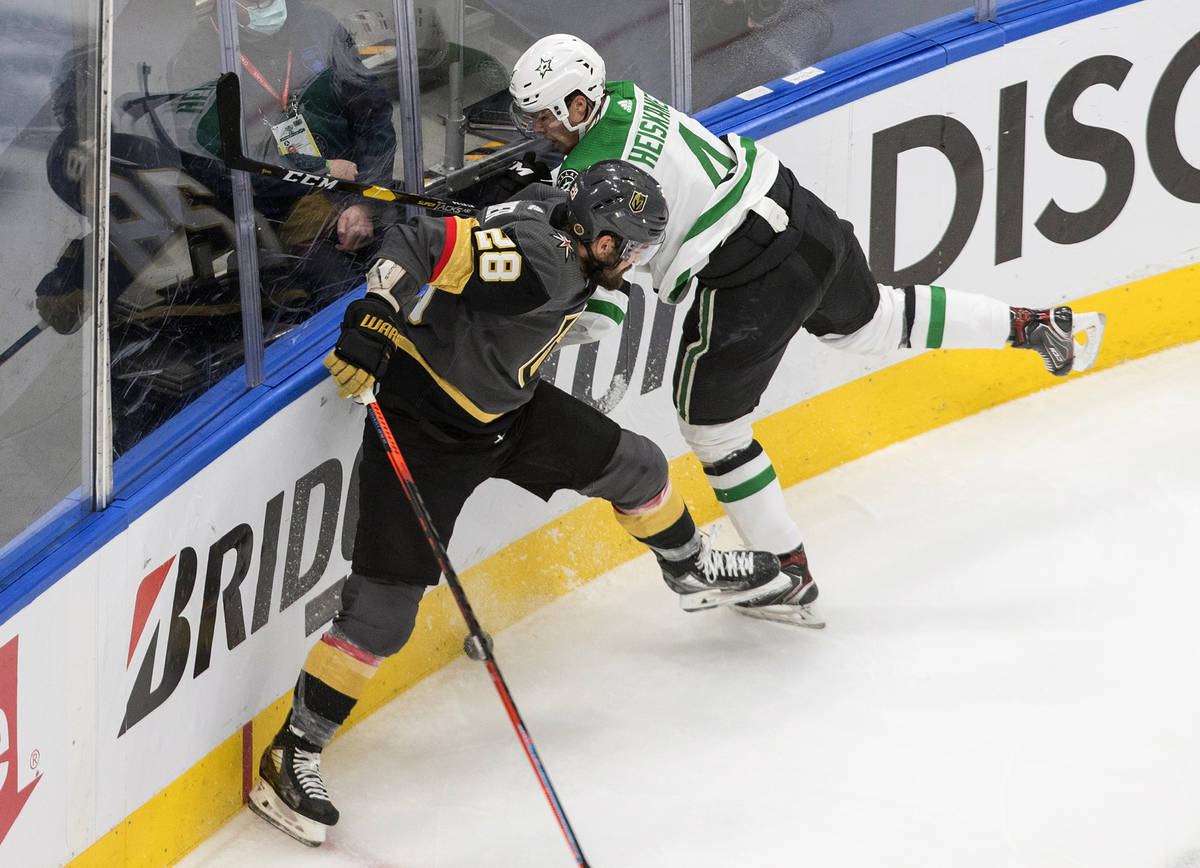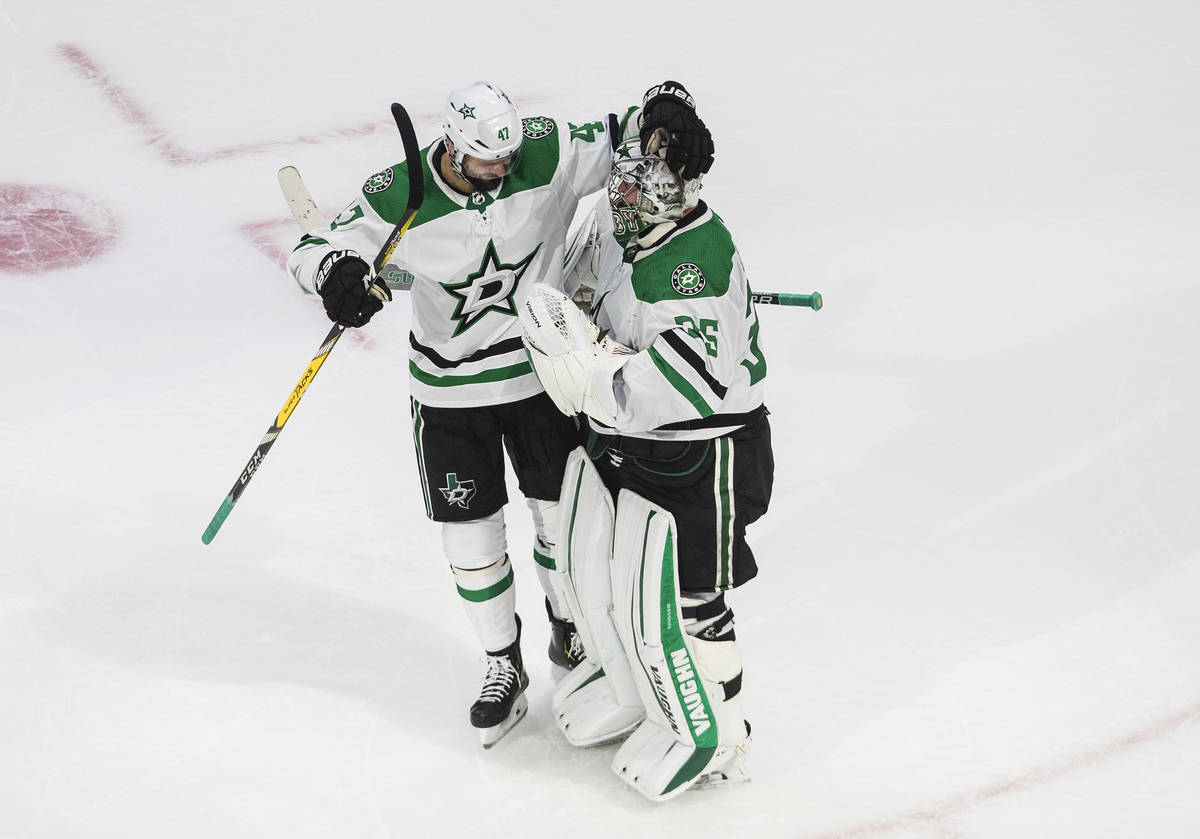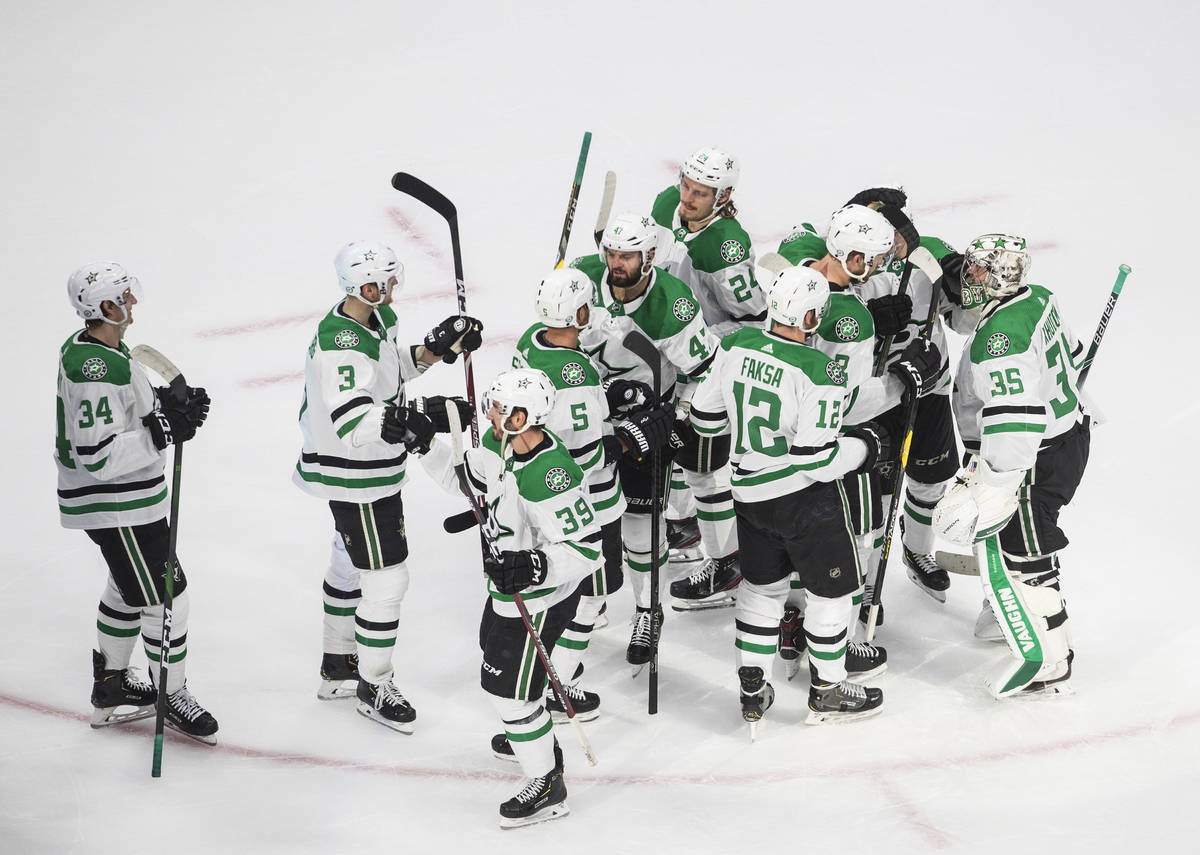 Coming off an emotional Game 7 victory two nights earlier, Golden Knights coach Pete DeBoer reached deep into his psychological playbook in an attempt to prevent a letdown Sunday.
But Marc-Andre Fleury's return didn't help the Knights break out of their offensive slump.
The Knights were shut out for the second time in the past three games, losing 1-0 to the Dallas Stars in Game 1 of the Western Conference Final.
The best-of-seven series continues Tuesday at Rogers Place in Edmonton, Alberta.
Since the conference format began in 1982, teams that win Game 1 of the conference finals go on to capture the series 63.5 percent of the time, according to NHL public relations.
"Tonight just took us too long to get into the game," Knights defenseman Nate Schmidt said. "It took us too long to get that energy, that fire, that bravado that you need to play in these types of games.
"You got to be able to be on your toes from the drop of the puck to be successful when it gets down to this few teams."
Defenseman John Klingberg scored for the Stars at 2:36 of the first period, and goaltender Anton Khudobin made it stand up with 25 saves for his first career playoff shutout.
The Knights were playing their third game in four nights and couldn't muster much of an attack against the Stars, who finished the regular season with the second-best goals against in the league and reverted to that style to protect the early advantage.
Dallas bottled up the neutral zone and held the Knights to a postseason-low 48 shots attempts.
Schmidt finished with a team-high six shots on goal; no other player had more than three.
"The last 20 minutes we started to play a little bit better because we started to get our feet moving finally, and we started getting close to each other to make some plays," Schmidt said. "That game is a lot more out of reach if it's not for (Fleury) for the first two periods. It's the truth."
Since a 5-3 victory in Game 4 of the conference semifinals, the Knights' offense has produced two goals by defenseman Shea Theodore — one at five-on-five and the other on the power play —and scored twice with an empty net.
William Karlsson and Mark Stone each have one goal in the past seven games, while Reilly Smith and Jonathan Marchessault haven't scored since Game 1 against Vancouver.
"This is going to be a different series, and we're going to have to get our head around that and find a way to create offense," DeBoer said. "And it's not going to look or feel like the Chicago series or like the Vancouver series.
"You've got to find a way. You get what you deserve in this league a lot of nights. We just didn't put in enough work in order to earn a win."
Fleury received his second start since Aug. 15 after Robin Lehner played three games in four days to wrap up the conference semifinals.
Wearing his gold pad setup, Fleury made 24 consecutive stops after allowing a goal on the first shot he faced to give the Knights an opportunity to steal the victory.
He fell to 3-1 in the postseason with a 2.27 goals-against average and .910 save percentage.
"I think for me the biggest change was all the traffic they had in front of the net," Fleury said. "They threw a lot of pucks from different angles, but everybody's going to the net to try to screen me or tip pucks and get rebounds. For me, that was the biggest change, trying to find pucks through bodies."
The Knights were without right wing Ryan Reaves, who served a one-game suspension for a check to the head of Vancouver's Tyler Motte in Game 7 of the conference semifinals.
Dallas, making its first appearance in the conference finals since 2008, carried over the momentum from its Game 7 victory against Colorado and got off to a physical start in the opening period.
Jamie Benn's drive during an odd-man rush was blocked by defenseman Zach Whitecloud, but Klingberg swooped in to control the loose puck in the slot and sent a wrist shot past Fleury 2:36 into the period.
"I still think that I have so much confidence in this team and the way that we play," Fleury said. "I think we can learn from our mistake here tonight. We need a little more juice right from the start. But not too worried about it. We'll be fine."
Contact David Schoen at dschoen@reviewjournal.com or 702-387-5203. Follow @DavidSchoenLVRJ on Twitter.
Series schedule
Game 1 — Stars 1, Golden Knights 0
Game 2 — 5 p.m. Tuesday (NBCSN)
Game 3 — 5 p.m. Thursday (NBCSN)
Game 4 — 5 p.m. Saturday (KSNV-3)
*Game 5 — 5 p.m. Sept. 14 (NBCSN)
*Game 6 — 5 p.m. Sept. 16 (NBCSN)
*Game 7 — 6 p.m. Sept. 18 (NBCSN)
*If necessary