Grading the Knights: How does team look entering home stretch?
Updated February 15, 2023 - 7:13 pm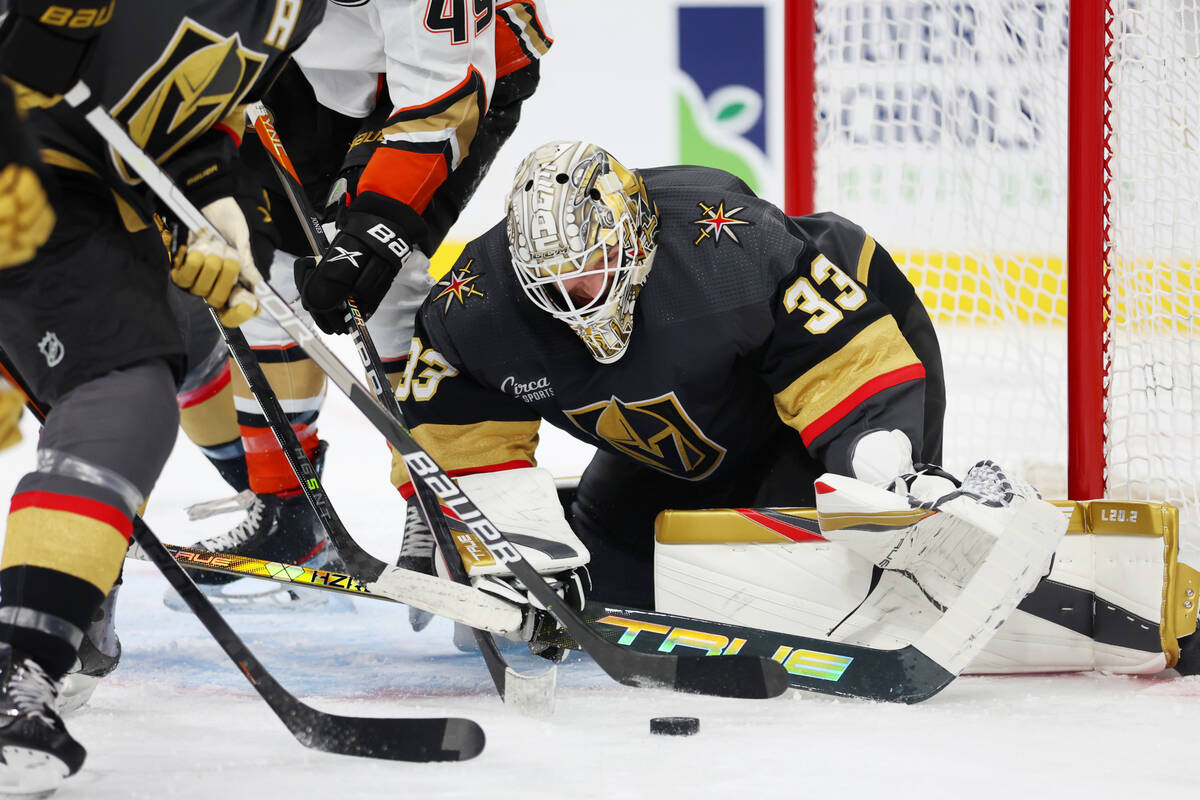 Golden Knights coach Bruce Cassidy views the NHL season in three parts.
The first third is about creating an identity. The middle third is about experimenting, especially as injuries arise. The final third is "winning time."
That's where the Knights find themselves now.
They have 28 games left to set themselves up for another deep playoff run. They're first in the Pacific Division entering Tuesday's games and two points behind Dallas for the most in the Western Conference.
The competition down the stretch should be fierce. Los Angeles, Seattle and Edmonton are nipping at the Knights' heels. The team knows all too well how fast things can go sideways, as last season's slide out of the playoffs showed.
That's why the Knights are focused on taking care of business now.
"We need to build this thing so (by the start of the playoffs) we are rock solid, ready to go and hopefully avoid the stressful situations of the last week of having to scoreboard watch the whole time," Cassidy said. "That was the message coming out of the (All Star) break."
The Knights have done well with a 3-0 record since returning to play. Here's a look at the team's overall performance this season:
Forwards
(Listed by points)
■ Left wing/center Chandler Stephenson — The first-time All Star is on pace to set a career high in points for the fourth straight season. He's also winning 59.8 percent of his faceoffs, fourth in the NHL among players who have taken at least 100 draws.
■ Center Jack Eichel — He's put a recent cold spell behind him with four points in his past two games. If he can recapture his early-season magic — when he had 29 points in 26 games — it would go a long way toward boosting the Knights' chances.
■ Right wing Mark Stone — The team's captain was having a tremendous two-way impact yet again before undergoing back surgery Jan. 31. Overcoming his absence will be a tall task.
■ Center William Karlsson — He's having what has become a typical season, scoring at a 56-point pace while providing good defensive value. His 37 points are better than the 35 he scored last season.
■ Left wing Reilly Smith — He leads the team with 19 goals, putting him in line to get 20 for the fifth time. His four short-handed goals are the most in the league.
■ Right wing Jonathan Marchessault — His current 12-game goal drought is his longest with the Knights. The team needs one of its top snipers to start scoring again.
■ Right wing Phil Kessel — He's heated up recently with four goals and three assists in his past seven games. He seems to have found a role on Stephenson's wing after cycling through linemates earlier this season.
■ Center Nicolas Roy — His 10 goals and 23 points are strong for a fourth-line center. He helps make the Knights one of the NHL's best teams down the middle.
■ Left wing William Carrier — He's set career highs with 14 goals and 22 points. He's simply been a beast, which is why his plus-12 rating at five-on-five is tied for second-best on the Knights.
■ Left wing/right wing/center Michael Amadio — He's produced when given opportunities to play higher up in the lineup. He has eight goals and five assists in his past 21 games.
■ Left wing Paul Cotter — He has 10 goals in 36 games as a rookie. He's still only 23, but appears to be finding his footing in the NHL.
■ Right wing Keegan Kolesar — His hard work on the fourth line shouldn't go unappreciated. He's plus-7 at five-on-five, which ranks sixth on the Knights.
■ Center Brett Howden — He has two points in his past two games, including an impressive goal Sunday against Anaheim. The Knights have to hope that's a good sign after Howden missed two months with a lower-body injury.
■ Jonas Rondbjerg — He recorded one assist in 13 games with the Knights. He forechecks hard and now is playing for the Silver Knights, waiting for his next opportunity.
GRADE: Three of five sticks
There's a lot to like about how the Knights have performed up front. Stephenson has taken another step. Carrier, Roy and Kolesar have provided depth. Kessel, Amadio and Cotter are finding roles that fit. The question is whether that's going to be enough if Stone doesn't return or comes back limited. The Knights are ranked 15th in the NHL in goals per game (3.22) even with their captain making 43 appearances. Some top players need to take a step forward, or the team might look for help before the March 3 trade deadline.
Defensemen
(Listed by points)
■ Alex Pietrangelo — His all-around impact has been impressive in his third season with the Knights. He's averaging 24:18 of ice time, which ranks 14th in the NHL.
■ Shea Theodore — Good things tend to happen when he's on the ice. His plus-16 rating at five-on-five is the best on the team, even though he missed almost two months with a lower-body injury.
■ Brayden McNabb — He's the only defenseman who has played in every game. He's been so important to the Knights' success because of his communication, physicality and shot blocking.
■ Nic Hague — He was briefly elevated to the top pair with Pietrangelo and held his own. Now he's back on the third pair, where Ottawa coach D.J. Smith said Hague and partner Zach Whitecloud form the best five-six combo in the NHL.
■ Alec Martinez — He continues to lead the league in blocked shots with 158. He sets the tone for the rest of the blue line, because Pietrangelo (sixth), McNabb (tied for seventh) and Hague (tied for 32nd) are high on the leaderboard.
■ Zach Whitecloud — A lower-body injury knocked him out for nearly two months, but he got back in the lineup Feb. 7 against Nashville. His steady presence is huge for the Knights' depth.
■ Daniil Miromanov — His offensive skill and instincts popped when he got another look in the NHL. He's recovering from a lower-body injury.
■ Ben Hutton — He's provided value as a veteran presence who is ready whenever injuries arise. His two goals are tied for the third-most on the blue line
■ Kaedan Korczak — The 22-year-old rookie looked as if he belonged for most of his 10-game stint in the NHL. He still has plenty of room to grow, but he's a nice piece for the future.
■ Brayden Pachal — The Silver Knights captain and American Hockey League All-Star did well in his nine-game cameo. The 23-year-old rarely makes mistakes that get his team into trouble.
GRADE: Four of five pucks
Injuries hit the blue line hard, but the group has performed well despite the adversity. Pietrangelo and McNabb are delivering rock-solid efforts. Call-ups Miromanov, Korczak and Pachal are filling in when needed. The team defense has been excellent as a result. The Knights are allowing the second-fewest high-danger scoring chances per 60 minutes in the NHL, according to the website Natural Stat Trick. The defense corps rarely hands opponents an easy opportunity.
Goaltenders
(Listed by starts)
■ Logan Thompson — The 25-year-old was an All-Star as a rookie because of his 20-13-3 record and .914 save percentage. His past three starts were excellent before he suffered a lower-body injury Feb. 9 in Minnesota.
■ Adin Hill — He's been up-and-down in his first season with the Knights, but more up lately with a .934 save percentage in his past eight appearances. He will need to take on a larger role with Thompson out.
GRADE: 3½ of five nets
The Knights' .907 team save percentage ranks 11th in the NHL. Their strong defense deserves plenty of credit for that, but so do Thompson and Hill. They have stabilized the goaltending position with Robin Lehner out for the season because of hip surgery. It will be up to Hill and veteran Laurent Brossoit to maintain that standard while Thompson recovers.
Special teams
■ Power play — The Knights are 14th in the NHL at 22.5 percent but 1-for-21 since Stone's injury. They miss his presence on the goal line and in front of the net.
■ Penalty kill — This unit is trending in the opposite direction as the power play. The Knights are 17th in the league at 79.4 percent. But they are 27 of 31 in 2023, second-best in that span behind Presidents' Trophy-leading Boston.
GRADE: Three of five penalty boxes
The Knights have gotten middle of the pack results on special teams, which should make it an area of focus down the stretch. The interesting thing is they don't get a lot of practice. They have taken the fewest penalties in the NHL (154) and also have drawn the least (169). Their games tend to stay at five-on-five.
Contact Ben Gotz at bgotz@reviewjournal.com. Follow @BenSGotz on Twitter.
Up next
Who: Sharks at Golden Knights
When: 7 p.m. Thursday
Where: T-Mobile Arena
TV: AT&T SportsNet
Radio: KKGK (98.9 FM, 1340 AM)