'Ruthless and in a good way' explains Golden Knights' success
Updated June 3, 2023 - 9:34 am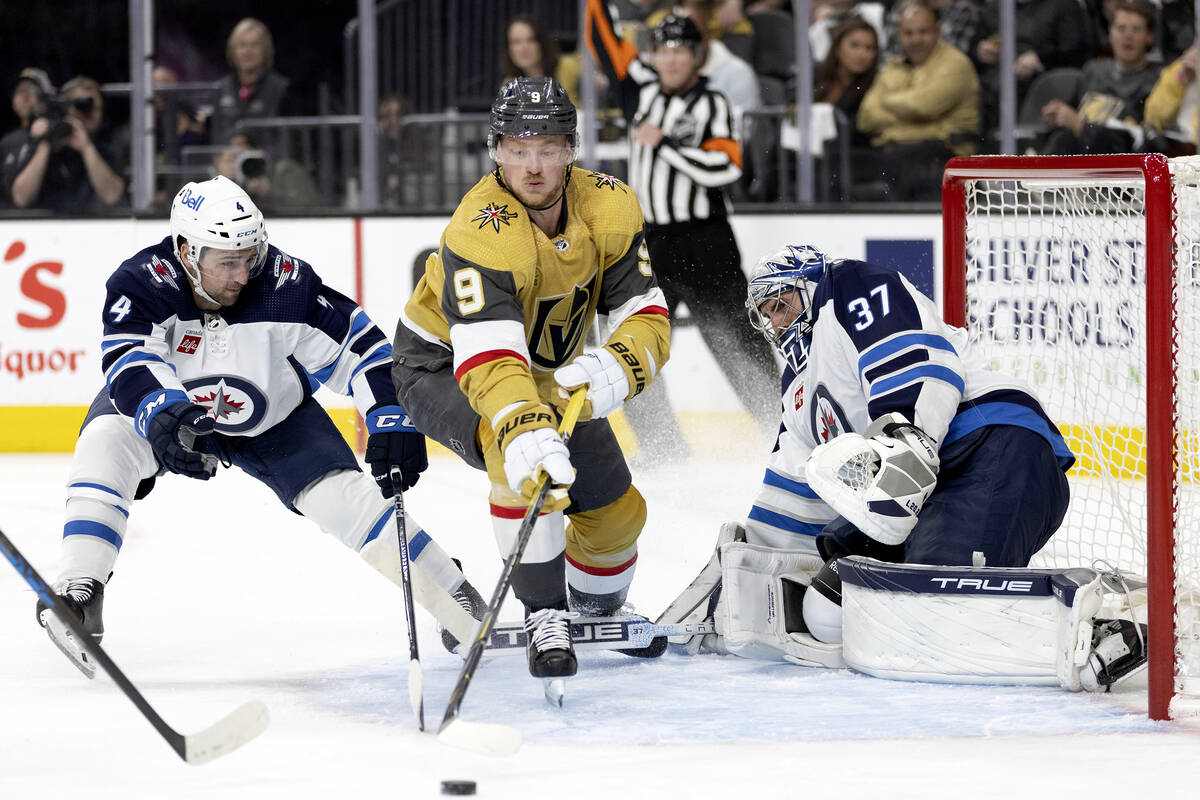 The three words stretched zone to zone on the T-Mobile Arena ice when the Golden Knights began their first playoff series April 11, 2018.
"Welcome to impossible."
The simple phrase summed up the magic the Knights conjured in their inaugural season. There were no better words for an expansion team creating an unbreakable bond with its city, then taking the NHL by storm to reach the Stanley Cup Final. The group never stopped overcoming the odds until falling three wins short of the ultimate goal in Game 5 against the Washington Capitals.
The team that has gotten the Knights back to the same stage five years later is far different. No longer is this a ragtag collection of misfits that came together to form an unbelievable underdog. These Knights have earned a pedigree after turning their initial incredible run into sustained success. They've had expectations.
The franchise has spent the past five years building itself into a hockey heavyweight worthy of this moment. The Knights made aggressive — and at times controversial — moves to create one of the NHL's best rosters.
They have one step left to complete the process they began after their inaugural season. Finish the job against the Florida Panthers, starting with Game 1 on Saturday at T-Mobile Arena.
"The first year, everybody is on a contract year and overplaying what we really were," said left wing William Carrier, one of six original Knights still with the franchise. "We overachieved. It was more of an emotional year. This time it's more that we deserve to be here."
'Ruthless and in a good way'
The Knights set the tone for their path back to the final in the months following the Washington loss.
Third-leading scorer David Perron went to St. Louis as a free agent. Left wing James Neal, who finished fourth on the team in goals, was also allowed to walk.
The Knights knew they needed to set their sights high to construct a club capable of lifting the Cup. They needed game changers to transform from a fun story to a feared franchise.
"We sure felt when we looked at the makeup of our roster that if we were going to be a contending team, we needed to make some changes," said general manager Kelly McCrimmon, one of the Knights' chief architects, along with president of hockey operations George McPhee. "We needed to make it better. No disrespect or disregard to the year one team, but effectively in some respects we felt we caught lightning in a bottle with that year."
That path came with a cost.
The Knights couldn't be reckless with their salary cap dollars knowing the money the type of players they coveted commanded. It also meant deviating from the draft-and-develop model of a traditional expansion team. The Knights weren't waiting for their window to win to open. They were in it and acted accordingly.
Their first major move was adding Montreal Canadiens captain Max Pacioretty, a left wing with a wicked wrist shot described as "magic" by one of his college coaches. It cost the Knights 2017 first-round pick Nick Suzuki to make the deal.
It was a move they were willing to make. The Knights, spurred by their start and owner Bill Foley's desire to win, began pushing their chips to the middle faster than anyone at their poker table expected.
Decisions that McCrimmon called "damn tough" often followed.
Beyond parting with prospect capital, Perron and Neal weren't the last significant players to leave the franchise. Fan favorites Nate Schmidt and Ryan Reaves were traded in 2020 and 2021, respectively. Pacioretty was dealt to Carolina last summer. What stung supporters the most was the decision to ship goaltender Marc-Andre Fleury to the Chicago Blackhawks in 2021.
The fractures that formed in the fan base as a result remain two years later. Fleury had been the heart and soul of the team for four seasons and was coming off a Vezina Trophy win for the NHL's best goaltender.
The Knights thought it was time to move on. More often than not, their instincts have been correct. Their calculated choices kept the franchise pushing forward and paved the way for what was to come next.
"You could almost describe them as being ruthless and in a good way," said Turner Sports analyst Anson Carter, who played 674 NHL games. "As players, we want to be in a situation where you have a chance to win. And a lot of teams talk the talk, but they don't really walk the walk."
Blockbuster additions
Pacioretty was only a preview of what was to come.
The Knights thought in order to take the next step they needed the type of talent teams wouldn't give away in an expansion draft. They were on the lookout for stars, and ones that filled specific gaps on the roster.
The next one to arrive was a familiar face for McCrimmon.
As the owner of the Western Hockey League's Brandon Wheat Kings, he had a front-row seat in watching a Winnipeg native named Mark Stone progress from sixth-round pick to one of Canada's top junior players.
More than what Stone brought to the ice — which was plenty, considering his intelligence and stick work made him one of the best two-way forwards in the world — he added passion and personality to a locker room with his competitive fire.
The Knights acquired him from the Ottawa Senators at the 2019 trade deadline for a package that included 2017 first-round pick Erik Brannstrom. Stone was named the club's first captain 23 months later.
"He's definitely a guy you want to be around, you want to win with," defenseman Shea Theodore said. "We all want to see his excitement."
The next item on the Knights' wish list was a No. 1 defenseman who could shut down the kind of nasty, high-end skill players that playoff opponents tend to provide.
It was a difficult box to check. But the Knights found the perfect candidate during the 2020 offseason in Alex Pietrangelo, a Stanley Cup-winning captain with the St. Louis Blues.
The Knights secured his services with a seven-year, $61.6 million contract, a franchise-record fee for a free agent. Pietrangelo's arrival led to a domino effect that included Schmidt's and center Paul Stastny's exit. It also gave the team one of the NHL's best all-around blue liners.
There was one more piece to the puzzle still to come. It didn't come without sacrifice, either.
The Knights wanted a No. 1 center to open up their offense after being stymied in semifinal losses in 2020 and 2021. The Buffalo Sabres had one they were willing to part with in Jack Eichel, their captain and face of the franchise since being selected second overall in 2015.
The Knights again paid what was necessary. Original misfit Alex Tuch and 2019 first-round pick Peyton Krebs led the package that went Buffalo's way. Eichel became the difference-maker the Knights were seeking, leading the team in scoring in their second run to the final.
"They've added that top end that you don't get in an expansion draft," Panthers coach Paul Maurice said. "They got a No. 1 center, and that makes them so much deeper at center ice. … Pure leader, shooter in Mark Stone, bring that driver into your room, and then a No. 1 defenseman (in Pietrangelo). So they found their needs and filled them very well."
Hidden gems
The Knights' current star power — and their conviction to do what it took to get it — separates them from their first team. It's made them better.
That's not the only way this group has evolved.
The inaugural season was such a success because the Knights plucked overlooked talents from other teams and found roles that made them shine. It's a skill they have used to create a complete lineup with no weaknesses for opponents to exploit.
The Knights' overtime heroes this postseason serve as an illustrative example.
Waiver wire pickup Michael Amadio ended Game 3 of the Knights' first-round series against the Winnipeg Jets. Left wing Brett Howden finished Game 1 of the Western Conference Final, less than two years after being acquired for a fourth-round pick. Perhaps the Knights' savviest addition of all closed out Game 2 against the Dallas Stars two days after Howden's winner.
Center Chandler Stephenson, part of the Capitals' championship club in 2018, cost a fifth-round pick in December 2019. He's since blossomed into an All Star. His speed and vision have made him a first-rate fit next to Stone, and they have been a near-perfect partnership the past four seasons.
"(I was) just happy to get a new start," Stephenson said. "To be here now, it's pretty amazing."
The success stories don't stop there.
Starting goaltender Adin Hill? Brought in for a fourth-round pick in a trade with the rival San Jose Sharks. Defenseman Zach Whitecloud? A college free agent.
Those frequent finds have given the Knights one of the league's best rosters. Their forward group runs four lines deep. They might have the league's best blue line one through six.
Last step
The careful construction of a team studded with stars, surrounded by a strong supporting cast and backed by difficult decisions hasn't only resulted in a trip back to the final.
It's made the Knights one of the NHL's more successful teams for years.
Their 50 playoff wins in the past six seasons are second to the Tampa Bay Lightning, who have won two of the past three Stanley Cups. The Knights' four semifinal appearances are more than 11 active franchises have made.
The one thing they're still missing is the trophy they've built this team to win. The Knights have pursued one prize with each trade they've made, each player they've parted with. They're four wins from claiming it for themselves and proving each maneuver was worth it.
Even if they don't, their results speak for themselves. The Knights haven't done things the traditional way. Maybe that's why their success has been so special.
"A lot of teams would love to have the success that we've had over not just my time but the whole organization's time," Stone said. "But for us, now it's about getting over that hump."
Contact Ben Gotz at bgotz@reviewjournal.com. Follow @BenSGotz on Twitter.
Knights roster breakdown
How each player from the previous game's lineup was acquired:
Trade (10): Ivan Barbashev, Jack Eichel, Adin Hill, Brett Howden, Keegan Kolesar, Alec Martinez, Jonathan Quick, Nicolas Roy, Chandler Stephenson, Mark Stone
Expansion draft (6): William Carrier, William Karlsson, Jonathan Marchessault, Brayden McNabb, Reilly Smith, Shea Theodore
NHL free agency (1): Alex Pietrangelo
NHL draft (1): Nic Hague
College free agency (1): Zach Whitecloud
Waiver claim (1): Michael Amadio