'Warrior' or 'stupidity?' Alec Martinez sets standard for blocking shots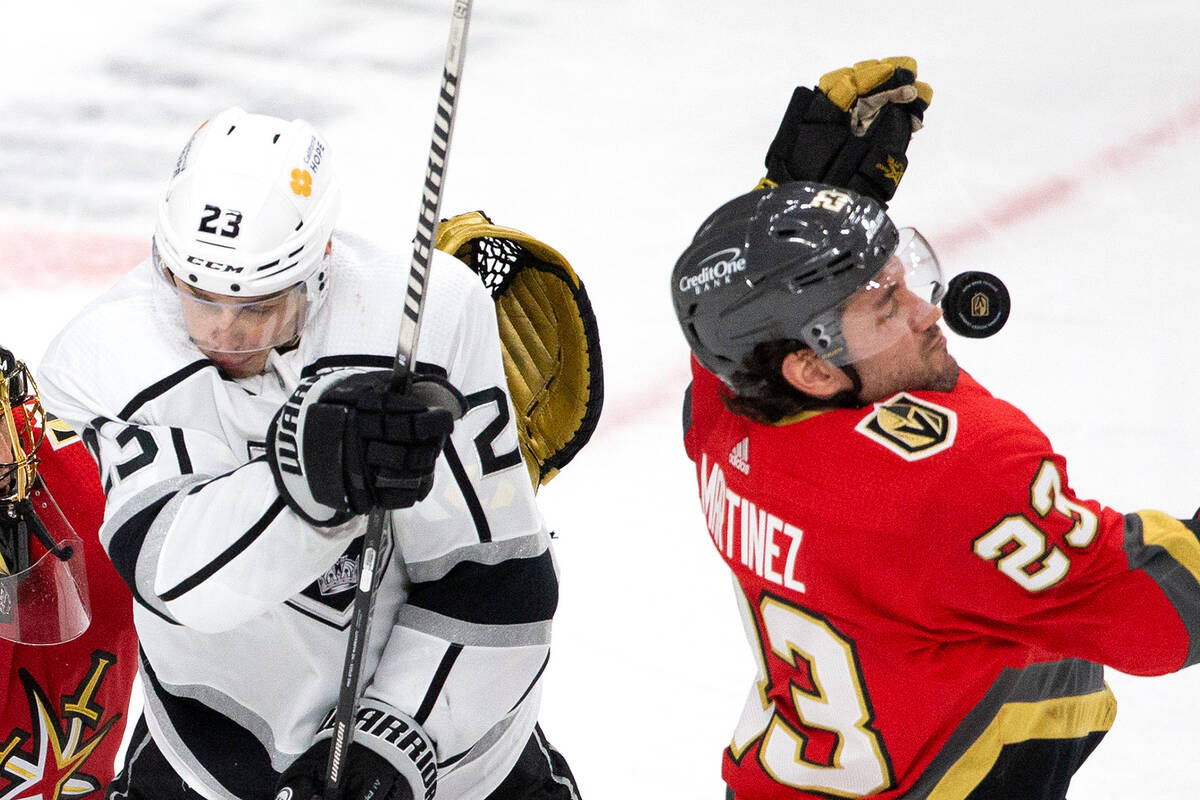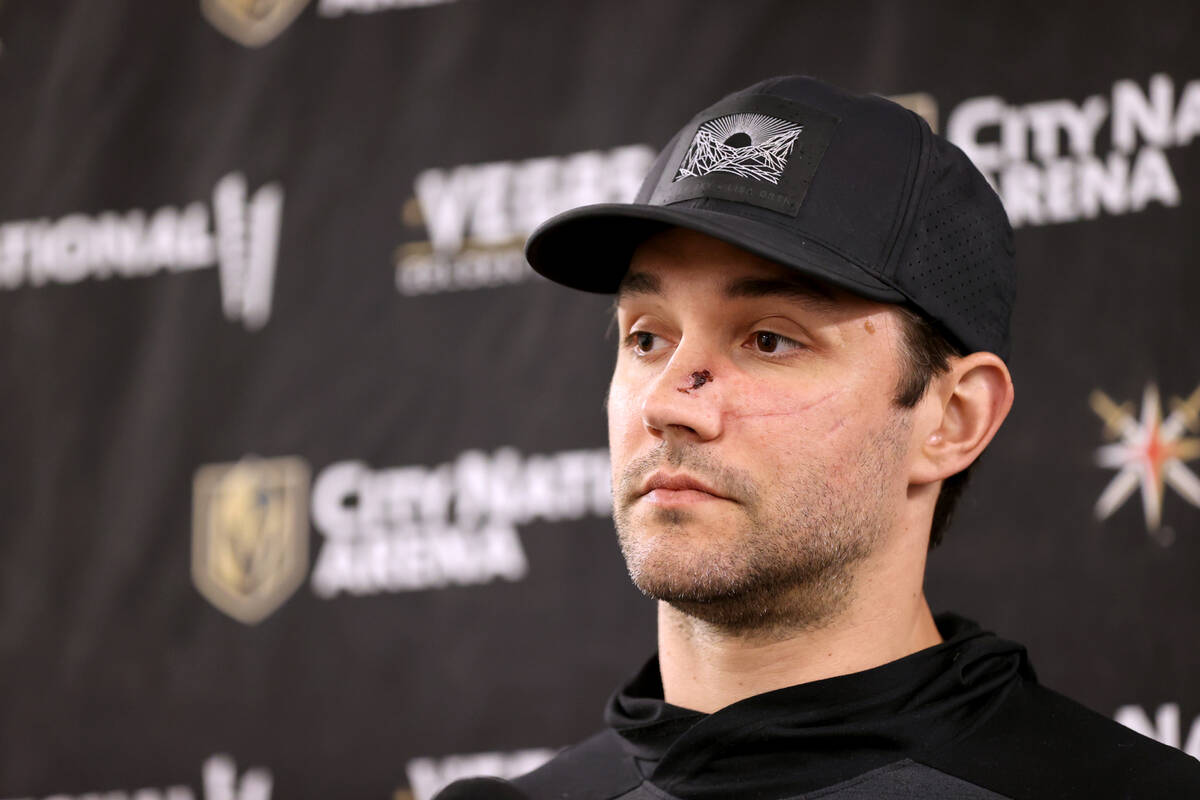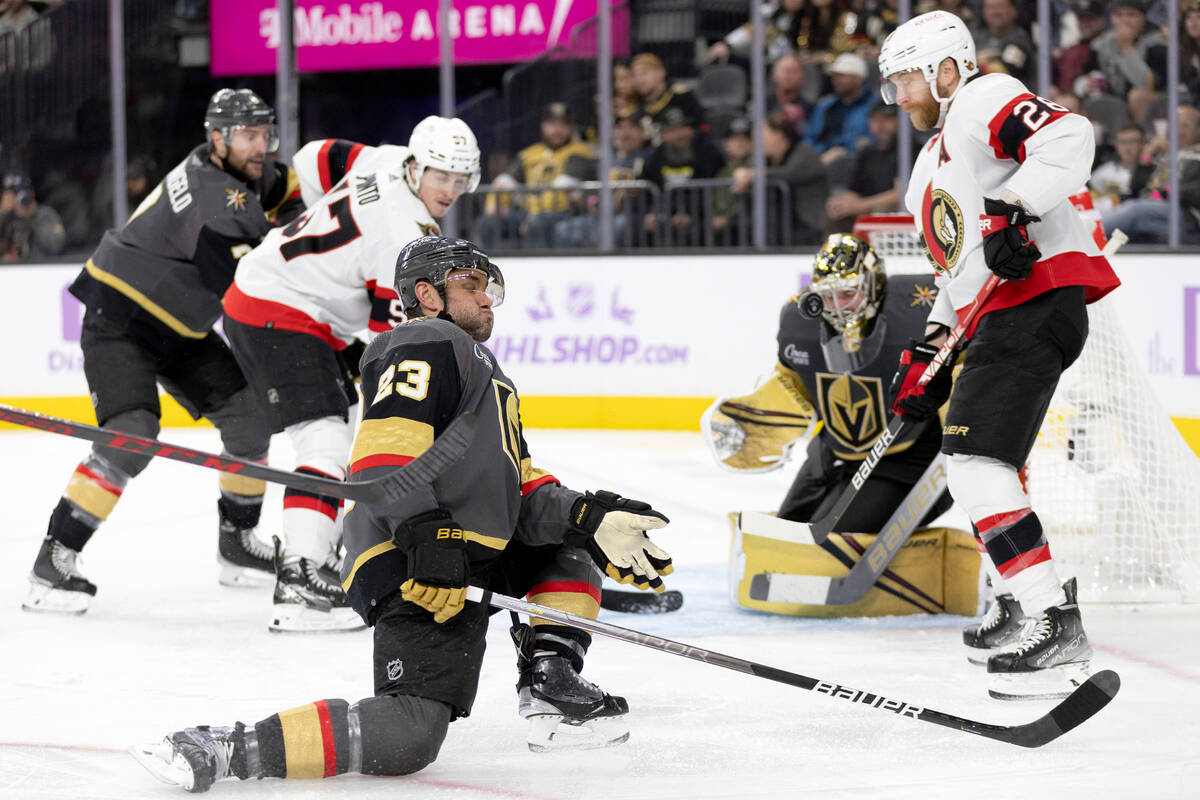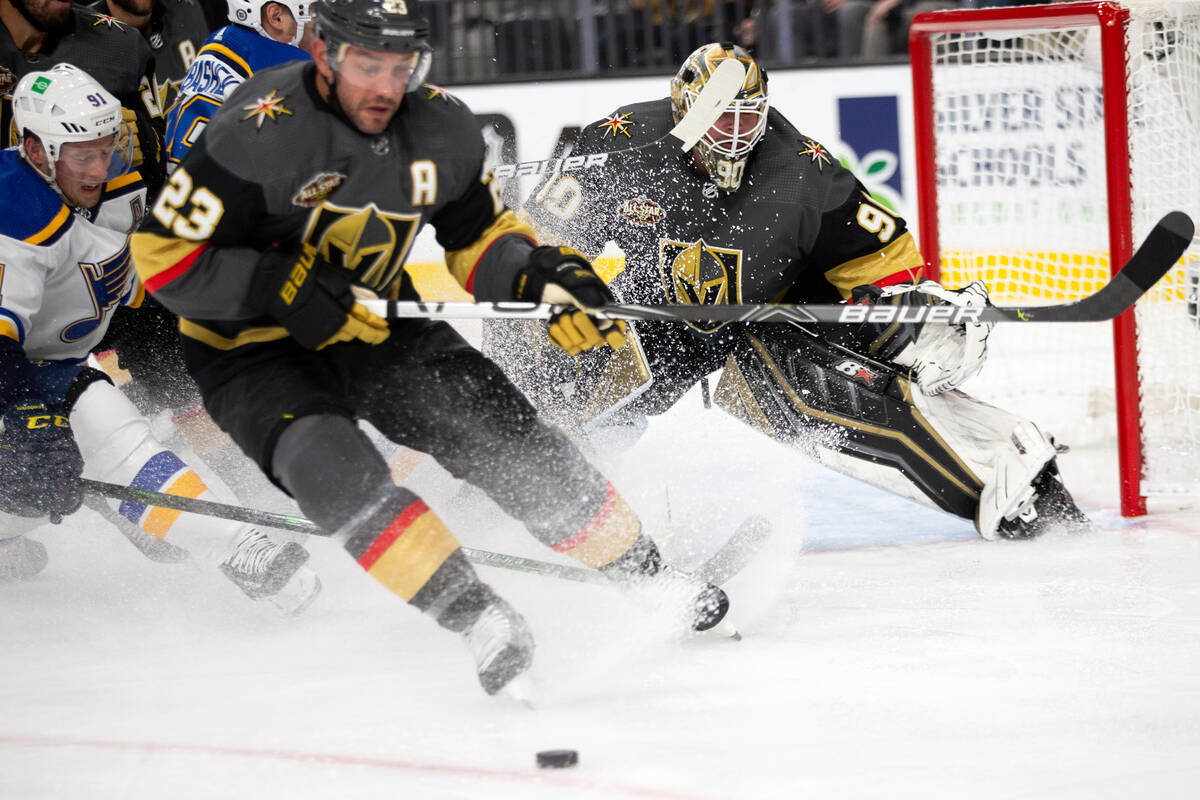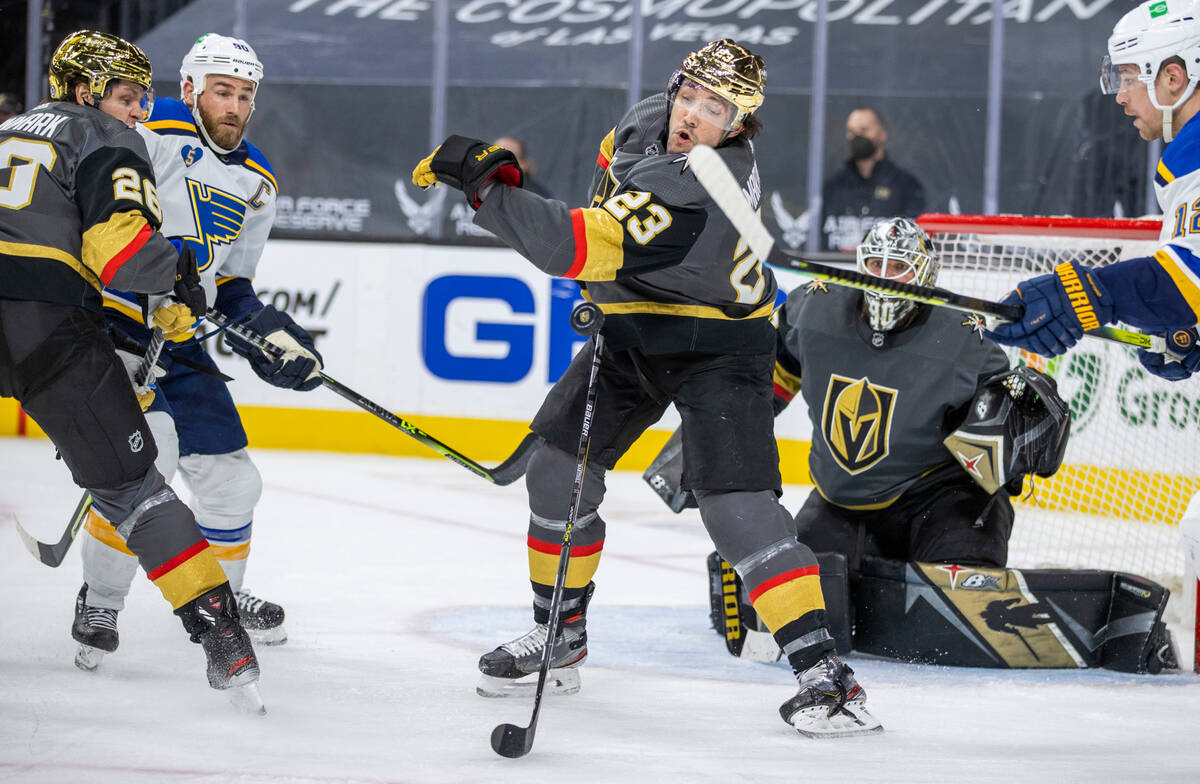 Nic Hague said it's "the warrior attribute."
Alec Martinez said it's "a lot of stupidity."
That's what the Golden Knights defensemen said it takes to be a good shot blocker in the NHL. Martinez would know. No one does it more often than he does.
Martinez has 202 blocks this season, 36 more than any other player. It doesn't matter if it's a wrist shot, slap shot or one-timer. If someone shoots it, Martinez is likely to get in front of it.
That he's still willing to do so at age 35 and with two Stanley Cups to his name speaks to his toughness and tenacity. And those are key qualities if one wants to be the best at putting their body in front of flying rubber discs.
For Martinez, what's now second nature started as a way to survive. That he's still playing that way is the reason he's one of the Knights' most respected players.
"When I was younger, I was searching for anything that could get me into the lineup and keep me there," Martinez said. "That was one of them. I just tried to work on it."
Tips and tricks
Martinez can't give away his "trade secrets."
He doesn't want to reveal the exact techniques that have allowed him to block 1,589 shots and counting since his rookie season in 2010-11. That's the eighth-most in the NHL in that span. His 6.51 blocks per 60 minutes are better than everyone above him on that list except for defenseman Kris Russell (7.76).
Most of what Martinez has picked up has come from practice.
John Stevens, a Knights assistant coach who was in Los Angeles for the beginning of Martinez's career, used to fire foam pucks at his defensemen so they could learn to block shots without hurting themselves. Martinez took to it as a fourth-round pick who needed to show he belonged.
He's had plenty of reps in games since then.
That experience helps Martinez read a shot when it comes off an opponent's stick blade. He can anticipate whether it's going to be a scorching one-timer or a soft wrister and adjust accordingly.
He's also learned to work with his equipment managers to put extra protection where he needs it. Anything to help ease the pain when a shot comes off a skate or shin pad. That said, Martinez did admit "it seems like the ones that really sting always manage to find the one spot that you don't have any padding."
All those extra edges have helped him sustain a 14-year career. Martinez doesn't have the size Hague or partner Alex Pietrangelo bring to the blue line, or the skating of teammate Shea Theodore. He had to find his own way to stick around.
"He's got to find different ways to keep the puck out of his net," coach Bruce Cassidy said. "Good gaps. Being able to close off plays with good angles. And be willing to block a shot if he doesn't have those first two things. It's a great element."
'Warrior'
Despite everything he has learned over the years, Martinez blocks more shots than anyone else because of one thing: his will.
He's fine living with the aches and pains that come with the punishment he takes if it gives his team a better chance of winning. His teammates call him "warrior" — a nickname the understated veteran despises — for a reason.
There have been times Martinez has been in a no-contact jersey at a Knights practice while recovering from an injury and has still gotten in the way of shots.
"It's not an easy thing to do," defenseman Brayden McNabb said. "But he does it second nature."
Part of Martinez's willingness and commitment come from tasting the fruits of his labor. He blocked 15 shots in 20 games in the 2012 postseason to help the Los Angeles Kings win the Stanley Cup.
Two years later, his more famous contributions to his second championship with the Kings were his series-clinching overtime goals in the Western Conference Finals and Stanley Cup Final. But he still blocked 50 shots in 26 games.
"I think it's one of those little things that's necessary to win," Martinez said.
The ultimate example of Martinez's toughness came in his second season with the Knights.
He broke his foot against the St. Louis Blues on May 8, 2021. He missed the final four regular-season games, but didn't sit out once during the postseason.
Instead, Martinez blocked 72 shots in 19 playoff games despite being a pending unrestricted free agent. No other NHL player had more than 52.
"He'll be first in line to step in front of a shot whenever we need him to," Hague said. "That's why he's a winner."
Ripples
Martinez's shot blocking has an important side effect: It removes the excuses for his teammates.
If the oldest skater on the roster, who is tied for the most Stanley Cup titles with right wing Phil Kessel, can do it, why can't everyone else?
That has led to blocks being "part of our identity," defenseman Zach Whitecloud said.
The Knights have the most in the NHL with 1,212. Their next opponent, the Philadelphia Flyers, are second with 1,165.
The entire blue line gets in on the action. McNabb (fifth), Pietrangelo (10th) and Hague (tied for 40th) are all high on the league leaderboard. Whitecloud also would be if he hadn't missed 21 games with a lower-body injury.
Cassidy believes Martinez deserves some of the credit for that.
"I do think it bleeds through the rest of the group," Cassidy said. "It's a compliment to him. He's a leader in that area. Guys want to not let him down and make sure they do their part in there as well."
Whitecloud said it's easier to block a shot when he sees leaders such as Martinez and Pietrangelo do it, two players who have won championships. They set the standard for the defense corps.
The Knights might view the "warrior" label as a way to bust Martinez's chops in the locker room. Their actions show there's plenty of admiration behind it, too.
"He's only (two) years older than me, but I follow his lead, too, right?" Pietrangelo said. "There's a reason why he's won a few times. He's a tough guy out there. It's fun to watch. Sometimes it's painful. He does a job not a lot of guys will do."
Contact Ben Gotz at bgotz@reviewjournal.com. Follow @BenSGotz on Twitter.
Up next
Who: Golden Knights at Flyers
When: 4 p.m. Tuesday
Where: Wells Fargo Center, Philadelphia
TV: AT&T SportsNet
Radio: KKGK (98.9 FM, 1340 AM)