Clark, Centennial head north with eye on state golf title
October 14, 2018 - 7:29 pm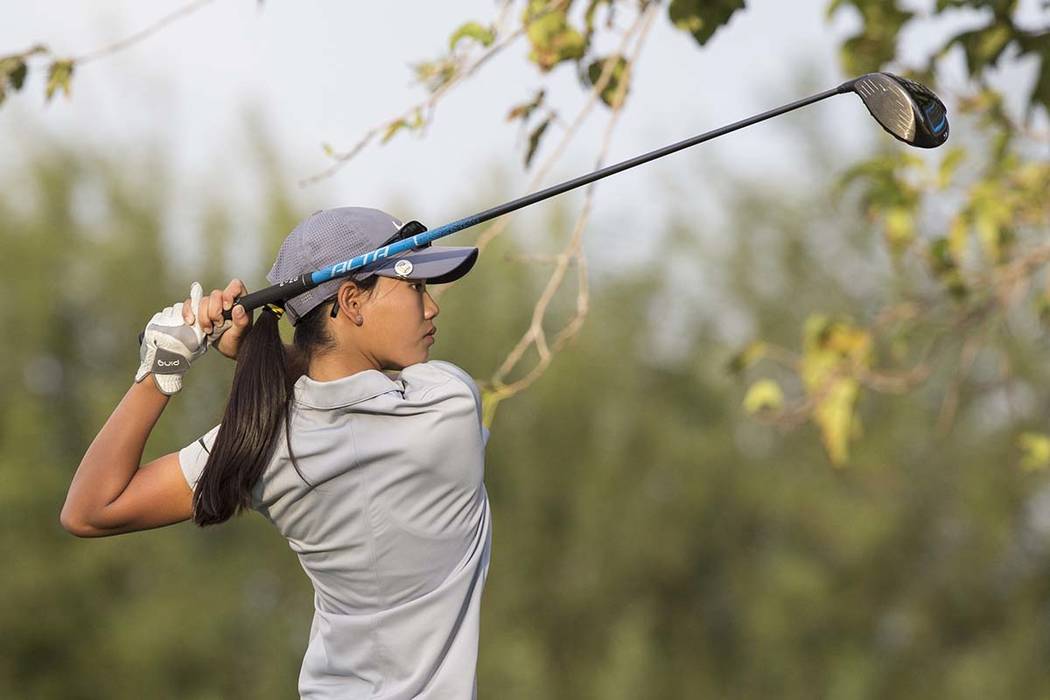 For the first time in half a decade, Nevada will have a new state girls golf champion.
When the Class 4A tournament begins Monday at Dayton Valley Golf Course, it will do so without four-time defending champion Coronado, which did not have enough golfers in the region tournament to qualify for state.
The door is open for a new name at the top.
"I feel bad that Coronado is not going to have a team going up there, but a new team is getting crowned this year and we'll try and do the best we can up there with the six teams," Centennial coach Charlie Cerrone said.
Centennial has never won a state title, and is riding high after a Mountain Region championship last week, its second straight region title. McKenzi Hall won the individual tournament, and the Bulldogs overtook Faith Lutheran after trailing on the first day to win by five strokes.
"We're going to work as hard as we can this weekend to prepare ourselves for next week," Centennial junior Hailey Stevenson said after the region tournament. "We're not sure how it's going to go, but we're going to try our best."
Clark was the other Southern Nevada region champion, claiming the Desert Region title by 11 strokes over second-place Bishop Gorman. The Chargers broke a streak of four consecutive second place finishes in the Southern Region tournament when they were a Division I-A (now Class 3A) team.
Last week was their first title at any level.
"I know that state is going to be a completely different environment, very new," Clark sophomore and individual champion Riana Mission said. "I just want our team and myself to do the best we can and be excited."
Mission had the biggest margin of victory for any region winner, shooting 6-under 138 and claiming the Desert Region by seven strokes. Hall birdied the final two holes to beat Faith Lutheran's Gracie Olkowski by one stroke. Lily Landt of Wooster won the Northern Region title by five strokes.
Maybe Reno, which won the Northern Region team title, is the favorite because it has the least amount of travel. Maybe it's Centennial, which has two region straight titles itching for the first state crown. Maybe it's Clark, hoping to ride the hot hand of Mission. Maybe it's Bishop Gorman, Faith Lutheran or Bishop Manogue, all of which have a chip on their shoulder after coming in second in region.
"When you have four or five teams that can vie for the championship, it just makes the whole atmosphere a little more kinetic," Clark coach Aaron Dehne said. "Now people aren't saying well we're playing for second or playing for third or whatever, but now there's a legitimate chance they can be champions."
More preps: Follow all of our Nevada Preps coverage online at nevadapreps.com and @NevadaPreps on Twitter.
Contact Justin Emerson at jemerson@reviewjournal.com or (702) 387-2944. Follow @J15Emerson on Twitter.
State golf schedule
Class 4A
Monday at Dayton Valley, 10:00 a.m.
Tuesday at Dayton Valley, 10:00 a.m.
Class 3A
Monday at Schaffer's Mill, 10:00 a.m.
Tuesday at Schaffer's Mill, 10:00 a.m.