Reflection Bay to host college golf tournaments
Updated January 31, 2023 - 1:00 pm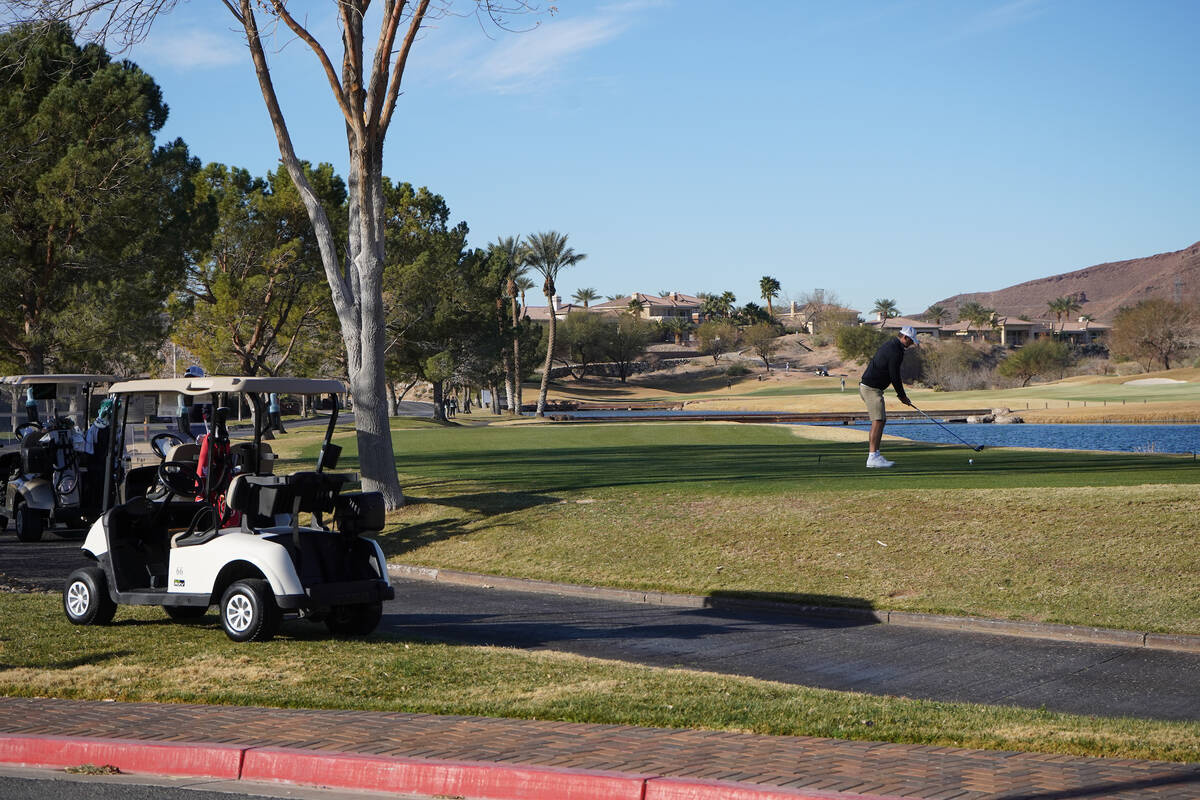 Reflection Bay is about to become one of the hubs of college golf.
The Lake Las Vegas course is hosting three major college tournaments, putting the spotlight on a layout with plenty of water and other challenges that make it one of the top courses in the state. For these events, organizers will alter the layout daily.
"We set the golf course up to make the golfers have to think their way around," said Eric Dutt, manager of operations at Reflection Bay. "They'll see three different setups with regards to yardages and hole locations. We want them to have to hit every club in their bag, not just tip the course out each day."
The ability to change the course from one day to the next is typical of a Jack Nicklaus design.
The first event in the series will be the Lake Las Vegas Intercollegiate Invitational from Feb. 28-March 3. It features a number of Division I men's teams, including Louisiana, South Florida, Arkansas State, Arkansas-Little Rock, Rocky Mountain, Winthrop, Middle Tennessee State, Alabama Birmingham, Michigan, Pacific, Kansas, New Mexico State, Central Arkansas, Kansas City, Stetson and Long Beach.
Next up is the Rocky Mountain Intercollegiate at Lake Las Vegas being held at Reflection Bay for the third consecutive year. The tournament, set for March 6-8, features men's and women's teams, including many of the top NAIA schools.
The final event in the series will be the Frontier Conference Championships from April 16-19. It will feature the top teams in the conference, with the lineup to be determined in mid-March.
"Reflection Bay has become one of the top courses in Southern Nevada for college athletes," said Jon Openshaw, general manager of Reflection Bay. "We have created an environment where collegiate golfers can get great experience on a top-rated course in one of the most beautiful areas in the state. It is always an honor to host collegiate teams here and offer them a unique setting to showcase their skills."
Reflection Bay has hosted a number of big events, including the Wendy's 3-Tour Challenge for 10 years. The event featured teams of PGA Tour, LPGA Tour and Champions Tour players in the same event and was part of the offseason calendar from 1998 to 2007. Reflection Bay also hosted the Nevada State Amateur for men and women in 2020.
Reflection Bay was rated as the seventh-best course in Nevada by Golf Digest last year in the magazine's annual Best Courses You Can Play rankings.
Throwing down the gauntlet
Immediately after winning the PGA Tour's Farmers Insurance Open at Torrey Pines over the weekend, champion Max Homa issued a shout-out to Las Vegas LPGA star Danielle Kang, noting she had challenged him to catch her in victories.
"She's got six and a major, and I got six now," Homa said. "I'm coming DK."
Homa's first of his six wins came in May 2019. Only Rory McIlroy (eight) and Patrick Cantlay (seven) have more victories on the PGA Tour over that same period.
World beaters
Taylor Montgomery's rapid rise in the Official World Golf Rankings continued this week when he hit a personal high at No. 51. But that only makes him the fifth-highest-ranked player to call Las Vegas home. Xander Schauffele (No. 6), Collin Morikawa (No. 7), Seamus Power (No. 28) and Kurt Kitayama (No. 43) are top-50 players.
Greg Robertson covers golf for the Review-Journal. He can be reached at grobertson@reviewjournal.com.
Pro schedule
PGA Tour
Event: Pebble Beach Pro-Am
When: Thursday, Friday, noon-3 p.m. (TGC); Saturday, Sunday, 10 a.m.-noon (TGC), noon-4 p.m. (KLAS-8)
Where: Pebble Beach Golf Links, Pebble Beach, Calif.
Purse: $9 million
2022 champion: Tom Hoge