Tiger Woods, Phil Mickelson start 'The Match' smack talk in Las Vegas
November 20, 2018 - 5:27 pm
Updated November 20, 2018 - 5:48 pm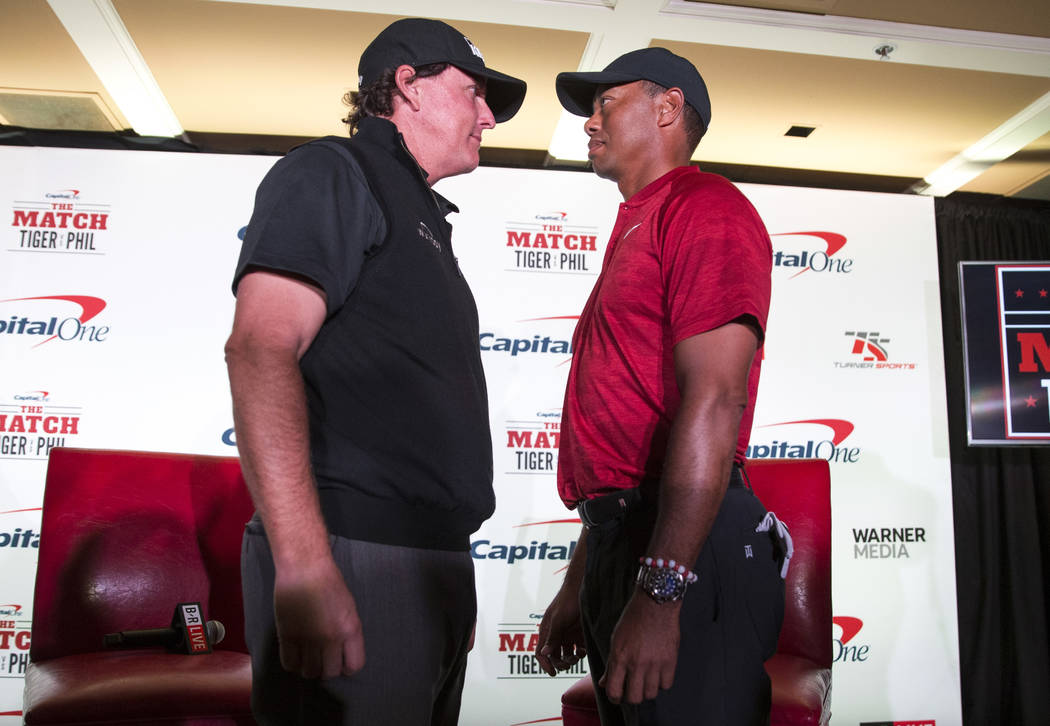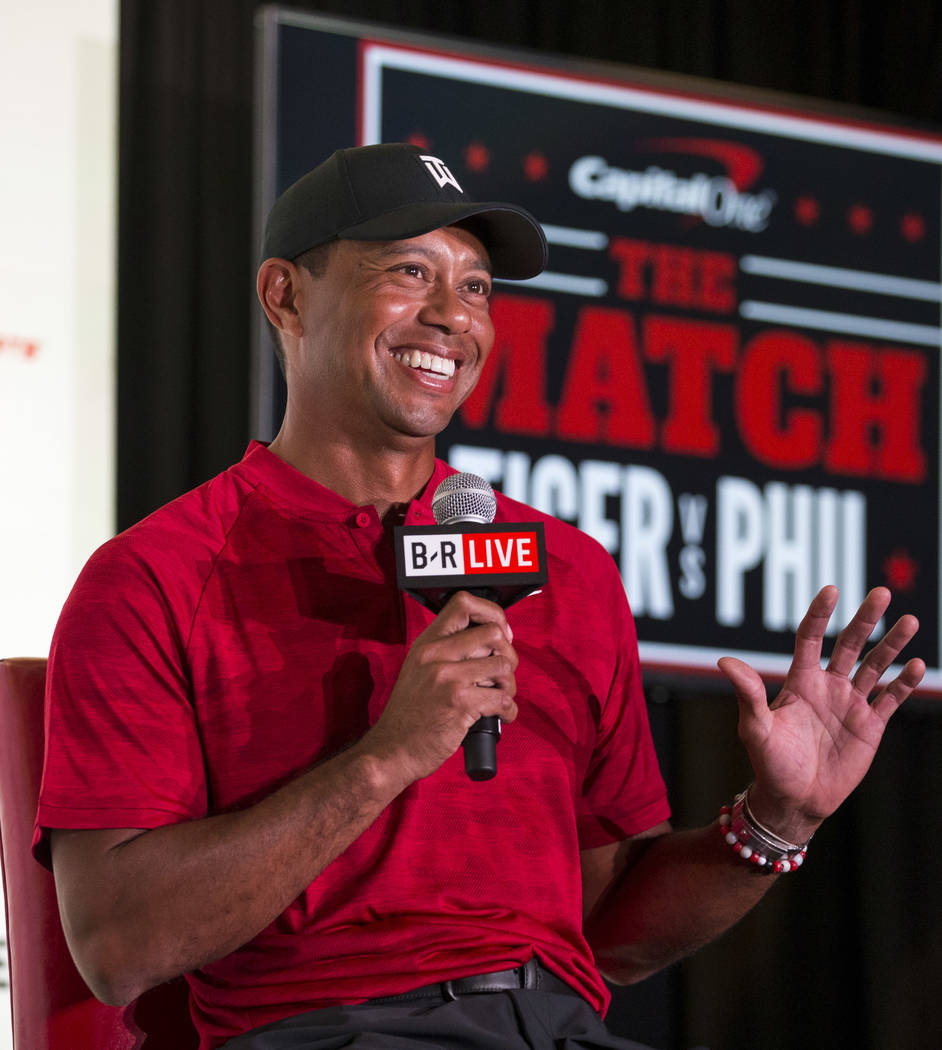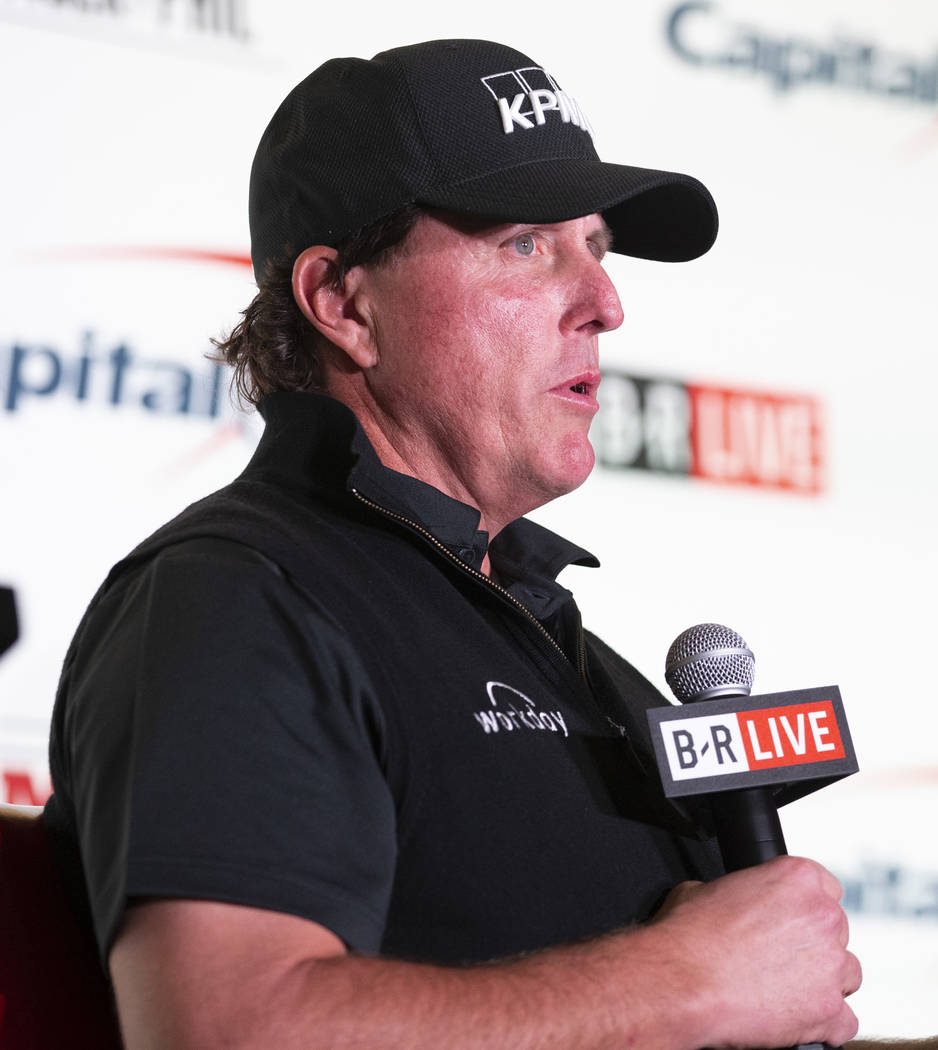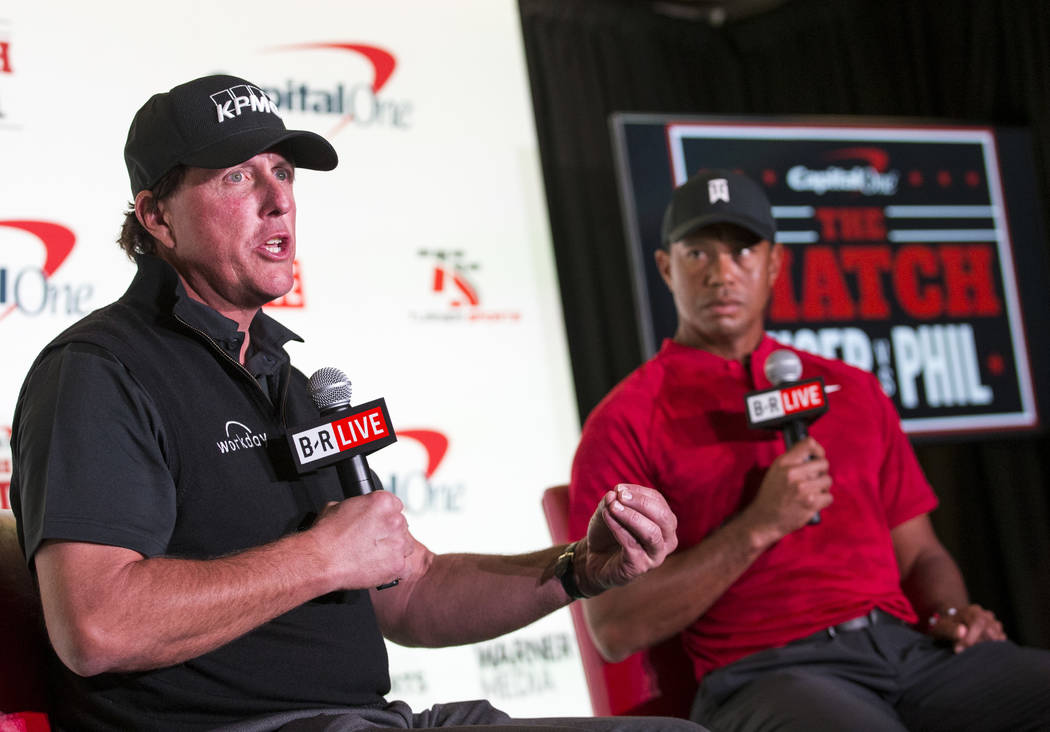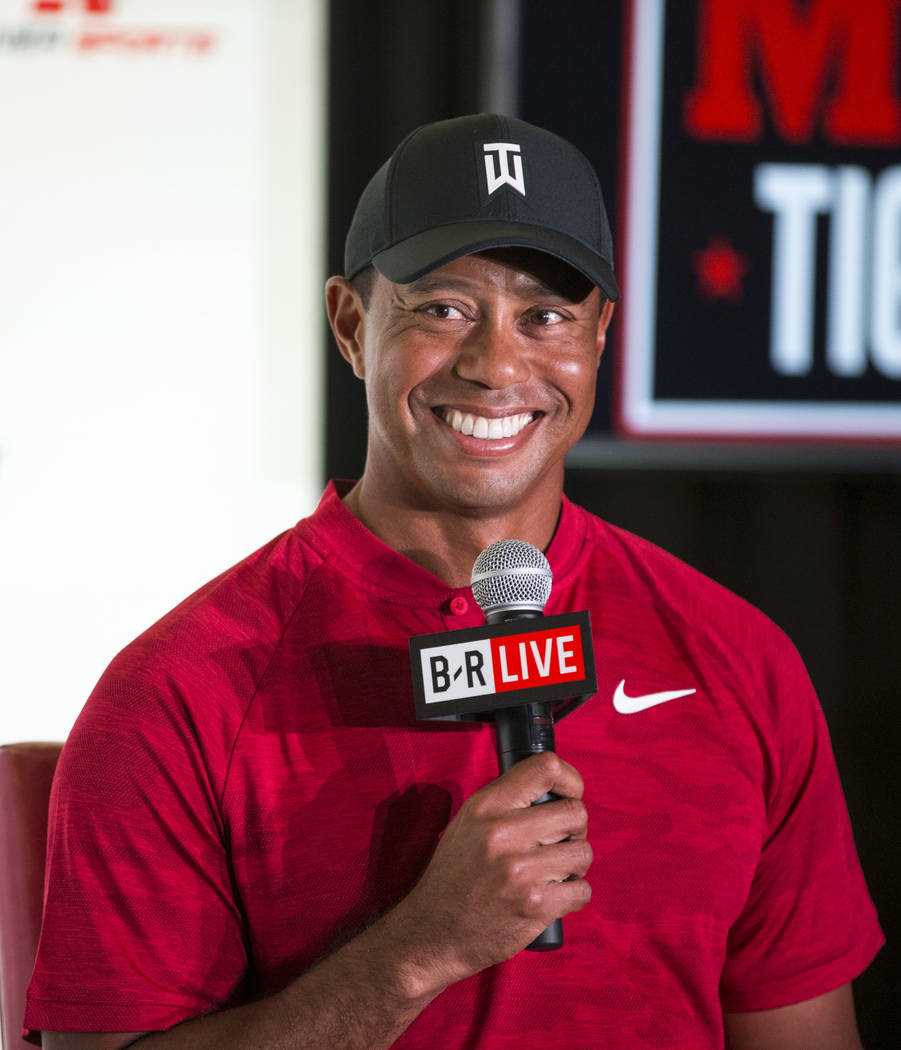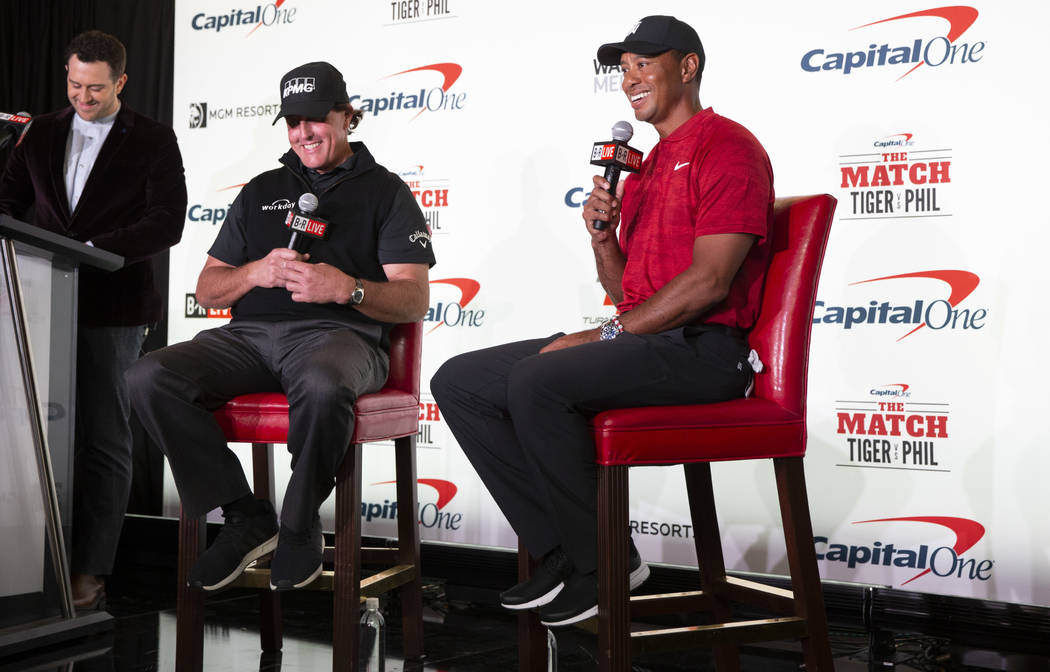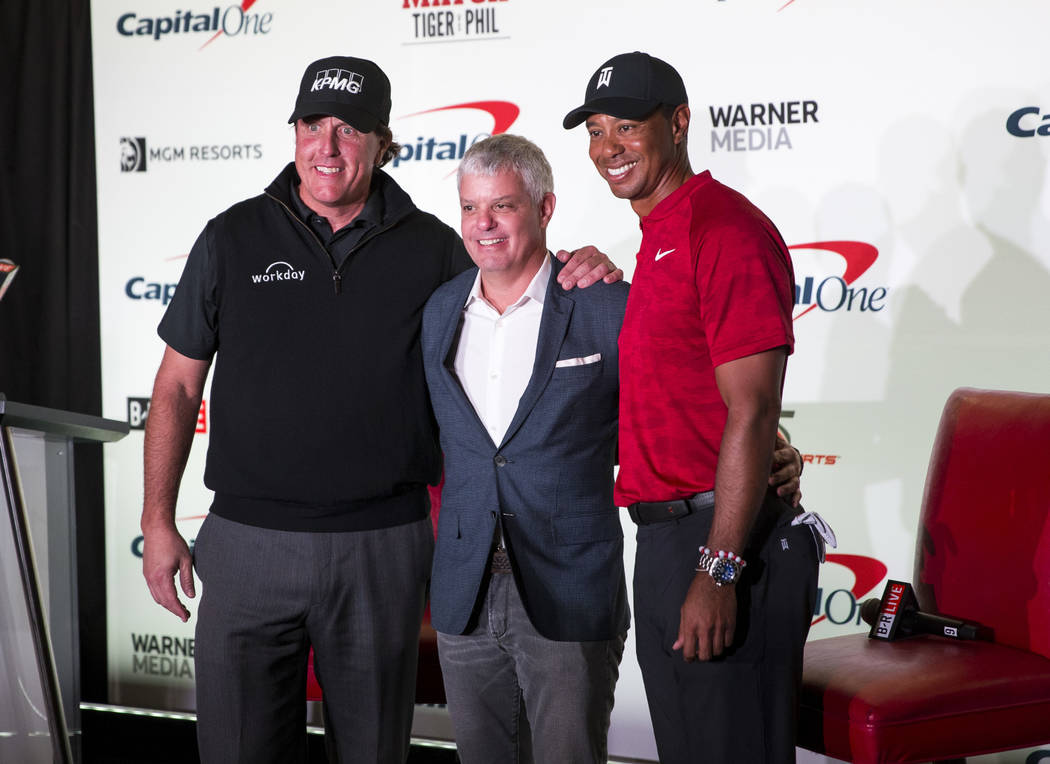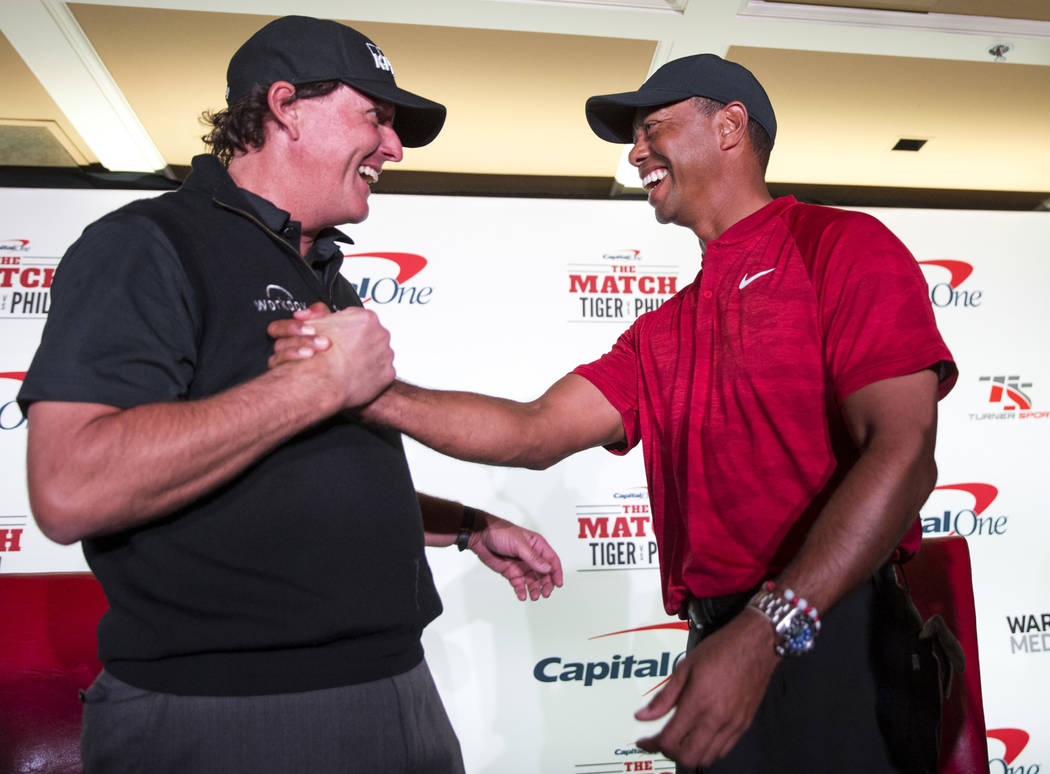 Tiger Woods and Phil Mickelson peered deep into each other's souls during a typical Las Vegas stare-down — ala boxing and UFC — to end their news conference three days prior to The Match — Friday's $9 million, winner-take-all, pay-per-view golf duel at Shadow Creek.
"Tiger has a mean stare-down; it's not nice at all," Mickelson said about an hour after the conference was over as the two walked off the Shadow Creek practice green following a video shoot. "He saw me making birdie on the first hole; that's what I know he saw."
Tiger retorted, "I did not see you making birdie on (No.) 1. I saw someone sticking the club in the ground and hitting it in the water on 1."
And so it began, one of the biggest sports exhibitions in Las Vegas history, right up there with Evel Knievel jumping the Caesars Palace fountains and Floyd Mayweather jr. dancing around with Conor McGregor in the boxing ring.
The stare-down probably won't be the final look the two throw each other's way because it will get real at noon the day after Thanksgiving when they will play the par-4, 415-yard first hole.
Mickelson got the side-bet action (officially called side challenges during the telecast) rolling during the media event when he said he would make that birdie on one and convinced Woods to wager $200,000 on it. All side bet proceeds go to one or the other's charities.
If Tiger and Phil — or as Mickelson would prefer, Phil and Tiger — put on as good of a show during The Match as they did on Tuesday, it most likely will be worth the $19.99 price to watch it.
There was trash talk, complimentary quotes about each other's games and how they stack up in history during the 45-minute session. Throughout, it appeared winning the match will matter to the two, even if their own $9 million isn't on the line as many fans wished.
It could possibly mean a bit more to Mickelson because he trails Woods in total career major wins (14-5) and total PGA Tour victories (80-43).
"I think this has been a very good thing for me because the last month when I usually shut it down (after the season), I have been working out and grinding and working on my game every day," Mickelson said. "To have a unique opportunity to do something I haven't done too much in my career, to get a leg up on Tiger in anything, even if it is a one-day event (is important to me).
"It would be great to win the $9 million, but I just don't want to lose to him and give him the satisfaction."
The @tigerwoods @PhilMickelson Vegas-style stare down today st Shadow Creek prior to Friday's "The Match" 9 million, winner-take-all duel on pay-per-view.#TheMatch #TigervsPhil pic.twitter.com/B0ZjaMJQc4

— Vegas Golf Insider (@LVGolfInsider) November 20, 2018
Mickelson said the part about potentially losing through clenched teeth and then added, "The bragging rights are going to be even worse than the money. Every time I see you (Tiger), I want to rub it in and I don't want it to be rubbed in to me. I want to be able to sit in the Masters champions locker room and talk smack."
As usual, Tiger got the final word as he usually does with Mickelson.
"We have been going at it for two decades and we've had our moments in regular tour events, world golf championships and major championships," Woods said. "We've gone toe to toe against each other and I have always enjoyed it because I knew he was going to be tough, he was going to pull off shots that no one has ever seen before and I would have to find out a way to get the job done. It's always been jaded towards my side, so hence I really like it."
Freelance writer Brian Hurlburt can be reached at bhurlburt5@gmail.com or @LVGolfInsider.
The Match
Who: Tiger Woods vs. Phil Mickelson.
What: A $9 million winner-take-all golf round.
When: Noon.
Where: Shadow Creek Golf Club, North Las Vegas.
Tickets: None for the public.
TV: Pay-per-view on cable, satellite and streaming.
Cost: $19.95.