Las Vegas rock climber wins award for promising young participant
January 26, 2016 - 11:09 pm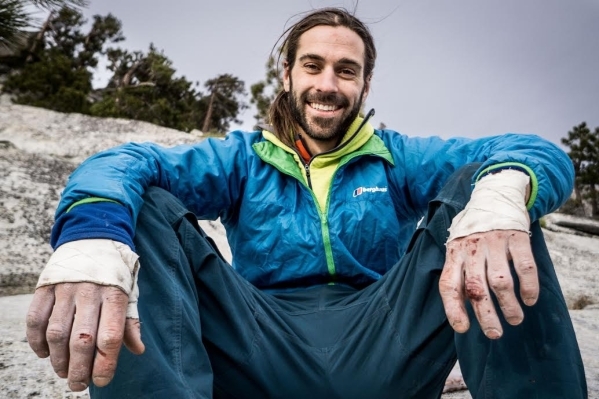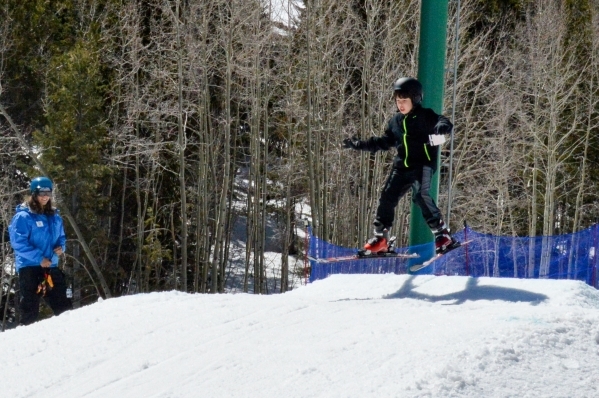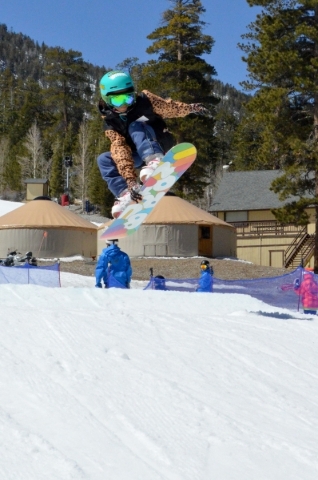 Las Vegas rock climber David Allfrey got a big nod from the American Alpine Club last week, winning the prestigious Robert Hicks Bates Award.
The annual award recognizes a young climber who has exhibited exceptional skill and character in the climbing or mountaineering arts, and who has outstanding promise for future accomplishment.
Having made significant ascents from the Baffin Islands to Yosemite, the ACC took note when in 2014 then 29-year-old Allfrey decided to challenge himself to climb seven big walls on El Capitan in Yosemite in seven days.
He recruited professional climber Alex Honnold as his partner. The two set four speed records in the process. In the ACC's announcement, committee chair Rolando Garibotti said, "This is a step up as far as El Cap climbing goes."
Allfrey, originally from San Jose, California, started climbing as a kid with his parents. He took a hiatus in his teens and then returned to the sport about 10 years ago with a laser focus on big wall climbing.
He moved to Las Vegas three years ago for the easy access to world class climbing and now juggles a training schedule that's anywhere from 25 to 60 hours a week for undertakings like the "Yosemite 7 in 7" with making a living washing windows and occasionally rigging for trade shows on the Strip. He will attend the ACC's award reception in Washington in February.
"This is such a huge honor," said Allfrey. "I've put in a lot of time and effort to become a good big wall climber. It's really nice to have people like the leadership at the American Alpine Club recognize that effort."
In his backyard of Red Rock, Allfrey has ticked many hard routes. He is one of four people to make a free ascent of Desert Solitaire, a 12 pitch 5.13b on the Rainbow Wall in Red Rock.
With an award from one of the most prestigious organizations in the outdoor world, chances are that soon Allfrey will be able to hang up his window-washing gear. To follow his upcoming alpine expedition in Alberta, Canada, visit www.davidallfrey.com.
Who's that girl?
If you've Googled "4-wheel drive truck" lately, you may find local pro-climbing athlete Alex Johnson popping up alongside your adventures around the Internet. The North Face team athlete is now featured in a series of online GMC commercials that are short vignettes about her life as a climber in Las Vegas.
Over the past 15 years, Johnson has stacked up a heap of podium finishes in international competition, including being a World Cup gold medalist. Alex is also a Southern Nevada Climbers Coalition board member, and she coaches local youth teams.
They're back!
* Vegas PBS is bringing back its popular series "Outdoor Nevada." Originally aired in the late 1990s, today's updated version features host and actor John Burke, who has been busy traveling Nevada having all types of adventures around our great state. The show's half-hour episodes include four segments that are different adventures.
"Outdoor Nevada" premieres at 7:30 p.m. Wednesday and will air regularly at that time each week. It will reair episodes at 4 p.m. Saturdays and 11 a.m. Sundays.
* Another local favorite also has been resurrected: The Dirty Vert Zipline & Hill Run is back in action. The race is April 30, and registration is now open.
A joint effort by Desert Dash and Flightlinez, in this running and zipline race, participants run up Red Mountain in Bootleg Canyon and descend via zipline. Hold onto your Nike's because zipline speeds can reach as high as 60 mph.
During the past two years, organizers have redesigned the race. This year's race offers waves starting every 30 minutes and four-hour blocks. The runners who rack up the most runs up and rides down in the four-hour period will be crowned Lumberjack and Lumberjill. For more information, visit www.desertdash.com.
And the winners are …
Local ladies Renee Michaels and Jaymie Hajewski were podium finishers in last weekend's USASA Grand Canyon Series freeski and snowboard contest at Lee Canyon. Michaels took first in the Open Class Slopestyle, and Hajewski took second in the Women's Jam in the 18-22-year-old category.
If you have a young skier or snowboarder at home, Saturday is Lee Canyon's Lil' Air contest. The contest is designed for beginners, and skiers and snowboarders are divided into two age categories, 4-8 and 9-14.
With a mini-slopestyle run and obstacles such as jumps, rails and other challenges, the top three skiing and snowboarding competitors in each age group will receive prizes. Registration is at 9:30 a.m. to noon, and the contest starts at 1:30 p.m. on Rabbit Peak.
Stephanie Forte is a local longtime rock climber and snowboarder. She is one of the voices of Beyond Vegas, a social media community that helps to connect people to outdoor adventures in Southern Nevada. If you are hosting an outdoor event, send information to steph@beyondvegas.com. Follow her on Twitter: @StephNForte
Calendar
Running
Saturday: LV Track Club 6k & 2M Bruce, Trent Park, 8 a.m.
Saturday: LV Ultimate Wine Run, Lake Las Vegas, 3:30 p.m.
Triathlon
Saturday: LV Tri Club Duathlon, Cottonwood Canyon, 9-10:30 a.m.
Saturday: LV Tri Club Youth Duathlon, Cottonwood Canyon, 10:30-10:50 a.m.
Hiking
Saturday: Sunset Hike, Fossil Ridge Trail, Red Rock Canyon
Saturday: Spring Monitoring Hike, Mount Charleston, 8 a.m.-2 p.m.
Sunday: SMYC Guided Trail Hike with Friends of NV Wilderness, Red Rock Canyon
Snow sports
Saturday: Lil' Air Competition, Lee Canyon, 1:30 p.m.