The Lights FC plays its fourth and final exhibition game at Orange County SC at 11 a.m. on Friday.
Here are three things to look for in the match:
1. A league of their own
After three preseason games against Major League Soccer teams, the Lights are going to get their first look at a fellow United Soccer League club.
The match should give a glimpse into how the team compares to its competition, and it will function as a dress rehearsal for the Lights' March 17 regular-season opener at Fresno FC.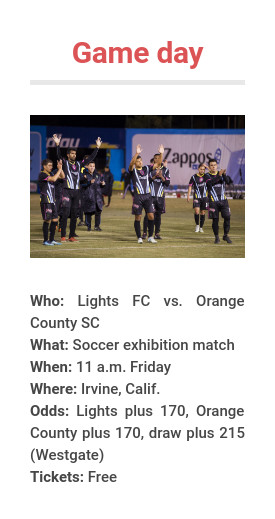 "It's really a big opportunity to prove ourselves," defender Marco Cesar Jaime Jr. said. "I'm excited. I'm more excited than the games before."
The match will also give the team an early look at Orange County, which finished 10th in the Western Conference last season and missed the playoffs. The Lights travel to Orange County again Aug. 15 and host the club on Sept. 26.
"I'm looking forward to it," midfielder Matt Thomas said. "It should be good to kind of see where we're at."
2. Defense, anyone?
The Lights defense has been trending the wrong way this preseason, allowing two, three then four goals in its three exhibition games.
The team is still working to find a comfort level in coach Jose Luis Sanchez Sola's aggressive system, which helps it create chances but leaves it open to counterattacks.
"It's very risky," assistant coach Isidro Sanchez said after the team's 4-2 loss to D.C. United on Feb. 24. "Today we received four goals, but we could have received seven. Today we scored two goals but we could have scored four."
To make the system work better the Lights need to cut down on turnovers on their own side of the field and communicate better when it comes to positioning. If they can't on Friday, they no longer have the excuse of playing up a league.
"We all believe in the idea, in (Sola's) idea," defender Miguel Garduno said. "We're going to have to work harder."
3. Final battles
The Lights starting lineup has been consistent most of the preseason but players will still try to lock up roles on Friday.
Forwards Isaac Diaz, Samuel Ochoa and Juan Jose Calderon, midfielders Julian Portugal, Carlos Alvarez and Alex Mendoza, defenders Garduno, Joel Huiqui and Marcelo Alatorre and goalkeeper Angel Alvarez have gotten most of the playing time in training camp, accounting for 10 spots in the starting 11.
Players in the mix to be the 11th man include defenders Christian Torres and Juan Herrera, as well as midfielder Daigo Kobayashi. Sola's selections against Orange County could show which direction he's leaning with his starters and seven-man bench, though he's said he will mix up his lineups throughout the season.
"I maybe play one (player), maybe play another but if you have competition, it's the same," Sola said. "If (someone) can't play, no stay in my team."
Contact Ben Gotz at bgotz@reviewjournal.com. Follow @BenSGotz on Twitter.